I've never loved an overuse of slogans or cartoons on kids' clothes. Sure, I let my daughter pick out what she likes, but I'm not going to go overboard for my baby boy with "Daddy's handsome son" on everything he wears.
I went to the store in the wintertime to find cute matching pjs for my kids (a girl and a boy), and literally nothing was gender neutral enough: It was either hot pink ballerinas and purple butterflies OR dark green dinosaurs and red race cars, with nothing in between. I just couldn't get past how gendered everything was: Why can't we just have some nice neutrals once in a while??
So I went on a hunt for the best places to buy cute baby boy clothes – without slogans, without overly gendered motifs.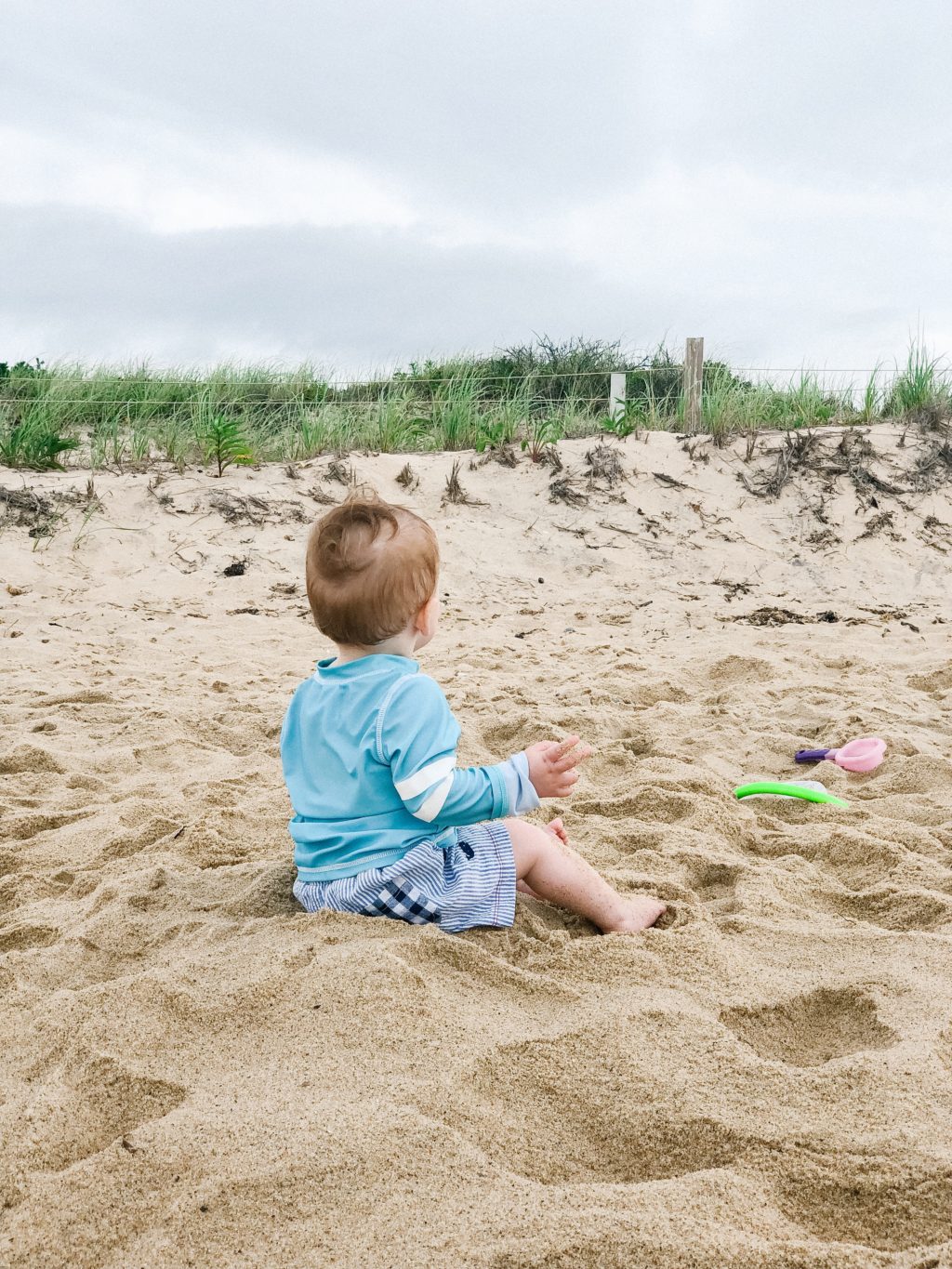 For affordable baby boy clothes
H&M has adorable sets, like overalls and a t-shirt. I also really like their baby t-shirts because they have snaps at the neck, while most other brands (Carters, Old Navy) don't have those. If you have a baby with a big noggin, those snaps are key!
Old Navy is where I buy shoes and some swim items. I've also found pajamas in the boys' section that are gender neutral enough to buy matching sibling jammies!
Burts Bees has really sweet prints on their pajamas (zip ups, short sets, and long sleeve sets). I buy them on sale at Target, paying around $10 apiece.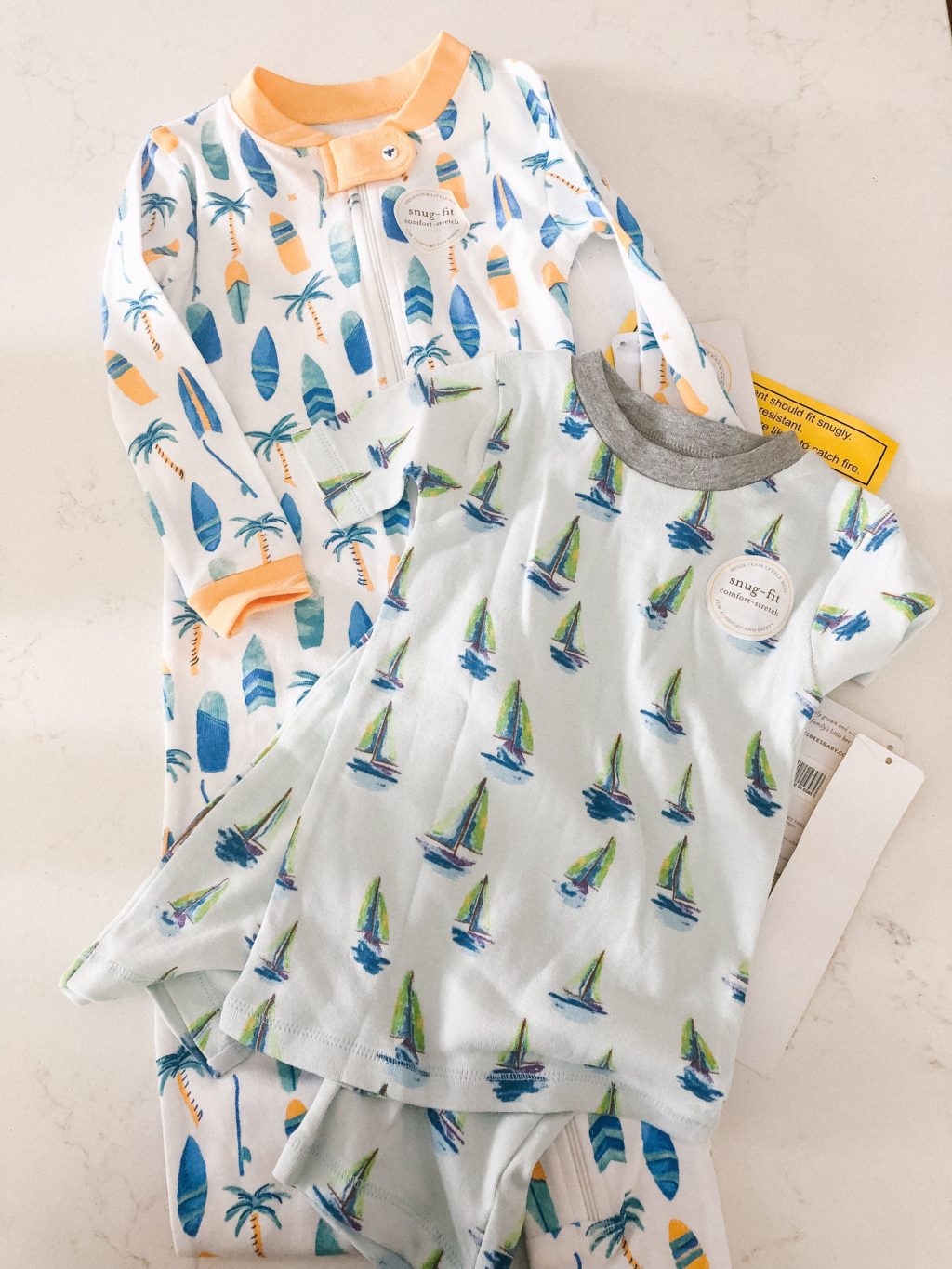 For mid-range clothing
Gap Baby has some adorable (and SOFT) sweatsuits.
For swimsuits, I love Smocked Auctions (you can get anything monogrammed!). Their swimwear includes a lot of rash guards with UPF50, which make beach days so much easier (fewer surfaces to apply sunscreen!). They have a whole collection of "mouse ears" designs that include really cute sibling sets if you're going on a vacation!
Hope and Henry, a brand you can easily find on both Target and Amazon, has the sweetest sweater-and-pant sets, rompers, and sibling matching sets. I chose their navy blue sweater set for our family pictures last fall.
Little Sleepies has very soft bamboo jammies, and the prints are neutral enough that they can be "boy" or "girl" prints. My kids have a few matching pajama sets from this brand.
Hanna Andersson makes some of our favorite pajamas. They're hand-me-down quality, and if you hit the sales right you can get them for a steal. A new pair at full price will cost around $40, but at sale time you can find them for $11-20! (I also love how many options they have for family matching pajamas, especially around the holidays!)
Nordstrom Baby snap-up pajamas are probably my favorite 0-9 month pjs. They're soft and the prints are always adorable.


For higher-end clothing
Nantucket Kids is another of my favorite brands for kids clothing. Their fabrics are soft, wash well, and still look brand new after 20 washes. I shop them at the end of the season for the next year to get the best deals (e.g. a $80 sweatshirt marked down to $25!).
The Beaufort Bonnet Company has super cute, traditional/classic childrenswear. I find them to be best for special occasion wear.