I was thinking about closets the other day and realized that pretty much no closet upstairs has a door anymore. I don't know when that became a "thing" of mine, but with the renovation we removed all of the closet doors and just made closets part of the decor!
In our toddler's room, we have a closet system that we installed a couple of years before she was born. It originally housed all of my clothes, since our master bedroom's closet was really inefficient/small for two people. Now it's the perfect setup for easily finding her clothes!
When I posted these photos on Instagram, I got a lot of questions about what hangers we use. I bought this set of hangers from Amazon, and I liked them so much that I bought another set for the new baby's room, too.
How I organize my toddler's closet
On the top rack, I keep jackets/sweatshirts or heavier pieces like sweater dresses. The bottom rack holds new clothes, plus her robes and a few costume/dress up items for easy reach. The rack on the left holds everyday clothes, dresses, etc.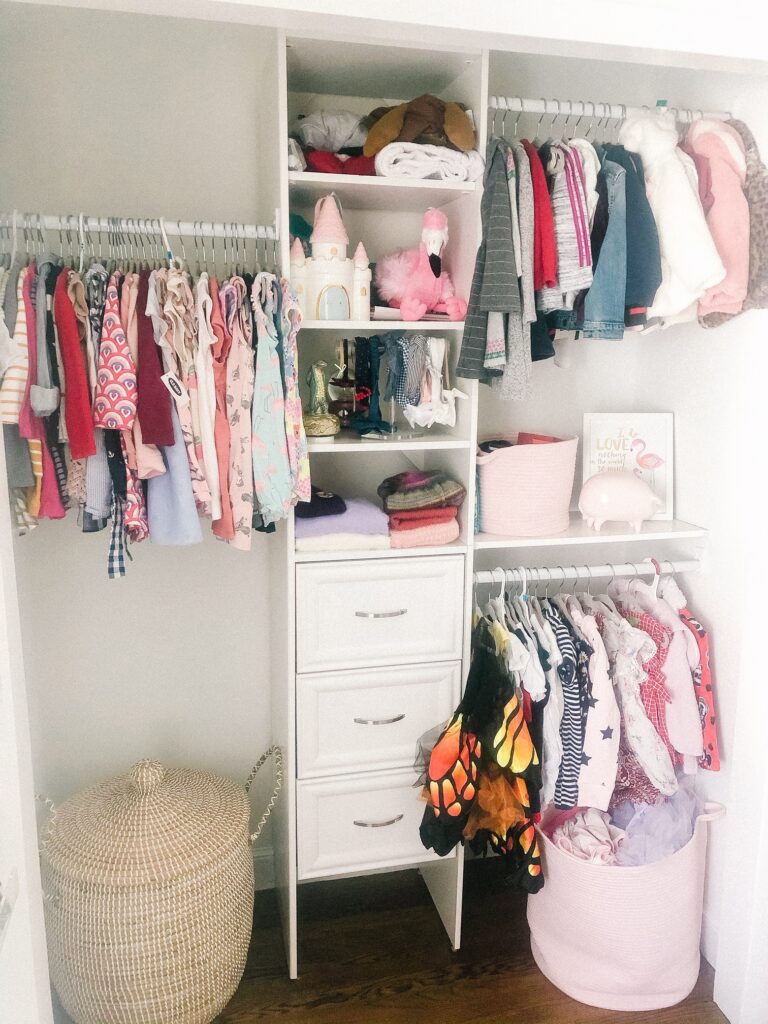 I love the drawers for extra organization, so I have a place to put her swimsuits, extra sheets, and other things that just don't fit well in her dresser. One drawer usually has some items that are a little too big but will fit soon-ish.
The hamper was a HomeGoods find, but I found some similar ones online!
And the pink bin on the right side holds anything that is suddenly too small. It saves me from having to constantly pull out bins to reorganize clothes that no longer fit the little miss. This way I just put it into the bin, and about once a month I will do that organization.
Closet shelves
The shelves are another great part about this closet system, because I can display some things like her castle piggy bank or the stuffed flamingo that was at my baby shower.
On the top shelf I keep all of her sweatshirts, which she doesn't wear too often but are easy to grab if I know we'll be out and it will get chilly.
I also have a jewelry holder for all of her headband bows (on the wall we also have a bow holder that holds the clip bows!). The lizard music box was mine as a child!
The bottom shelf holds folded sweaters and jumpers.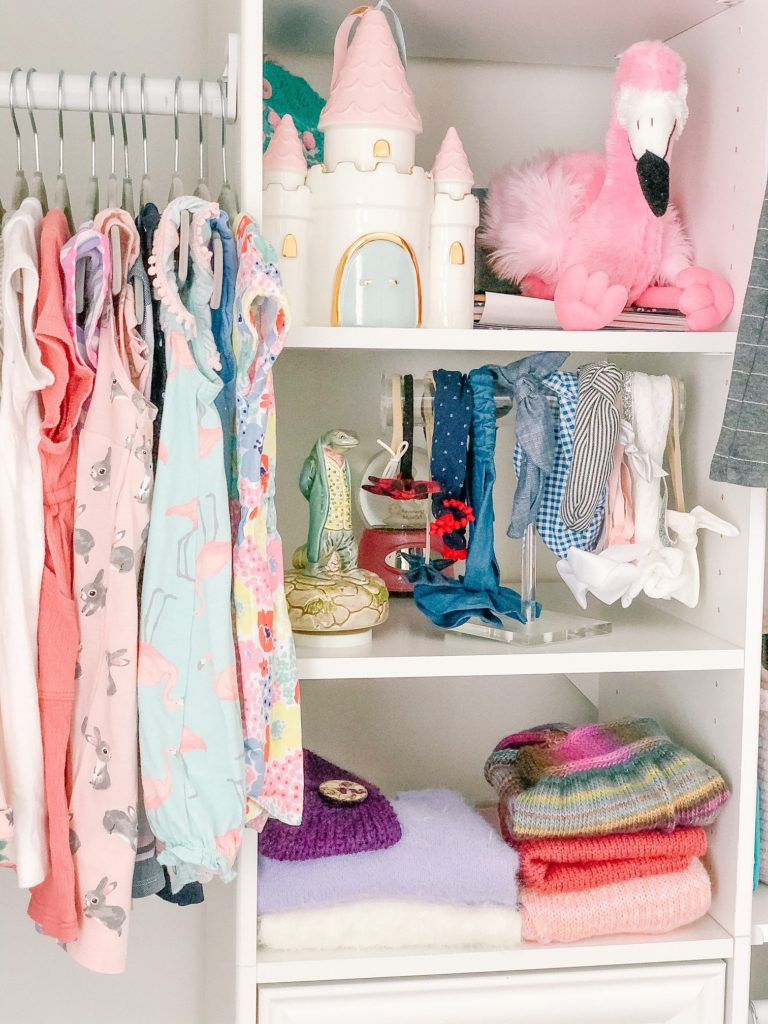 All in all, this closet system has been really versatile, from my clothes to my toddler's clothes! I am switching out one of the other closets in the house to have a very similar system (just larger, as it's a bigger closet), because we like it that much.
I should note that we installed this closet system ourselves: It took a couple of hours, but it was easy enough to do and came with pretty good instructions! The closet system cost about $200 total, which is an absolute steal compared to what's out there.
Shop the post:

You might also want to check out the best brands for tall babies & toddlers and where to buy cute baby boy clothes.
P.S. If you're in an organizing mood, you'll also want to check out my garage stroller organization system you could hang on your garage wall, basement wall, wherever you have space.