I won't lie, I'm partially blogging my Disney World packing list so I have it for the future. I read list after list before we went, plus scoured the internet for the cutest toddler Disney outfits. Now I want to share my info so you all have it for your future trips, too. Note: I had this post fully written out and ready to go, and totally forgot about it! I wrote it right after our trip to Orlando in the spring.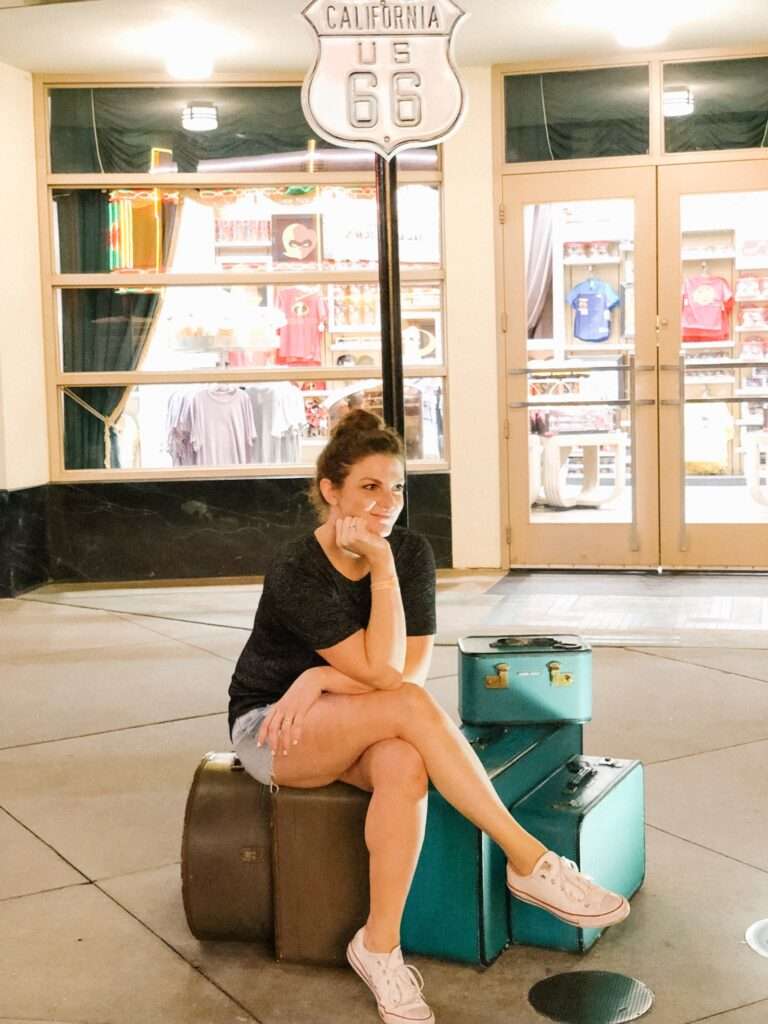 I'm not exactly a newbie to Disney – I've been a few times, including once in elementary school, once in high school, and once four years ago.
BUT I'm always amazed at the things I realize I should have brought (or the things I brought and then can't figure out WHY I brought them). The last time we went was a little different because we had a stroller to push around the entire time, which meant an automatic stuff-holder for our time in the parks.
Here's our 5 day itinerary for our Orlando Disney trip with a toddler.
Our Orlando Itinerary: 5 Days in Orlando
Day 1: Fly from Boston to Orlando, pick up our rental car, and check into the Four Seasons Orlando. You can read my Four Seasons Orlando hotel review post or see what major mistake we made in booking our flights at those posts!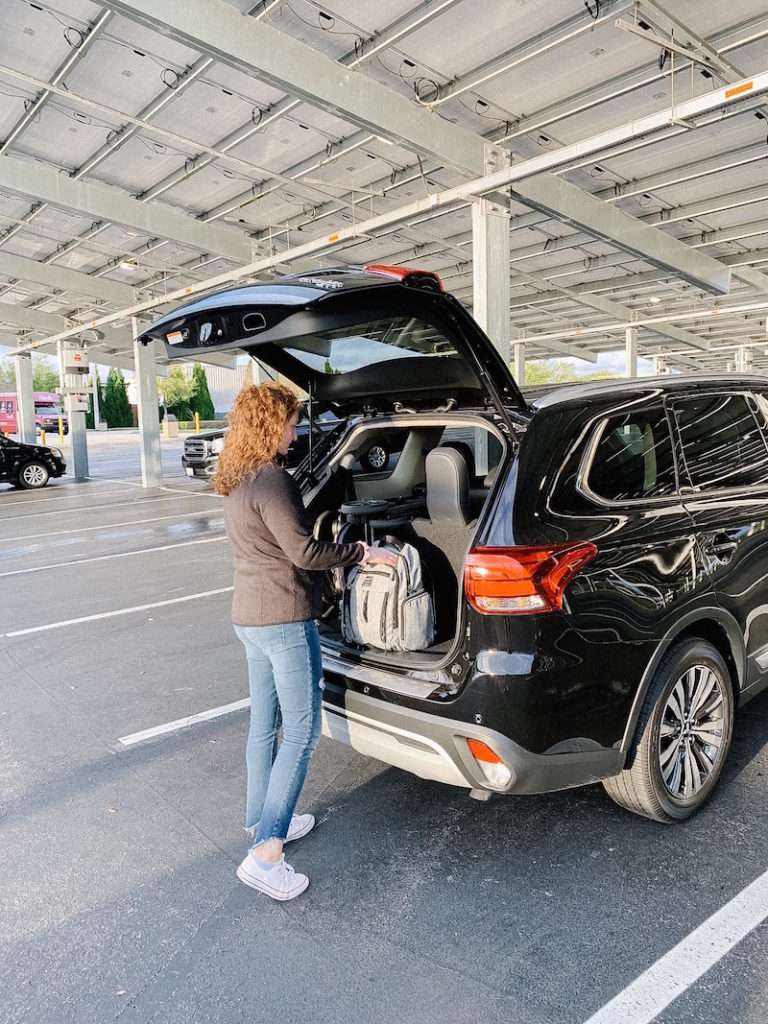 Day 2: Character breakfast in the morning, followed by a pool day. (This was originally the day we had planned to go to Magic Kingdom, but E was just having the time of her life at the FS splash pad. We were relaxed and decided to head to Magic Kingdom the next day instead, and to enjoy the pool this day.) We all enjoyed dinner at the hotel restaurant. Then Grandma stayed at the hotel with E for bedtime. Nighttime meant Disney After Hours at Hollywood Studios for the adults.
Day 3: Morning pool time, E's nap, then afternoon at Magic Kingdom. At night I went to the resort's spa and dinner with my mom and sister.
Day 4: Pool day! The forecast for days 5 and 6 looked cold (upper 50s) and rainy, so we wanted to soak up every bit of sun we could. This night we went to Disney Springs for dinner.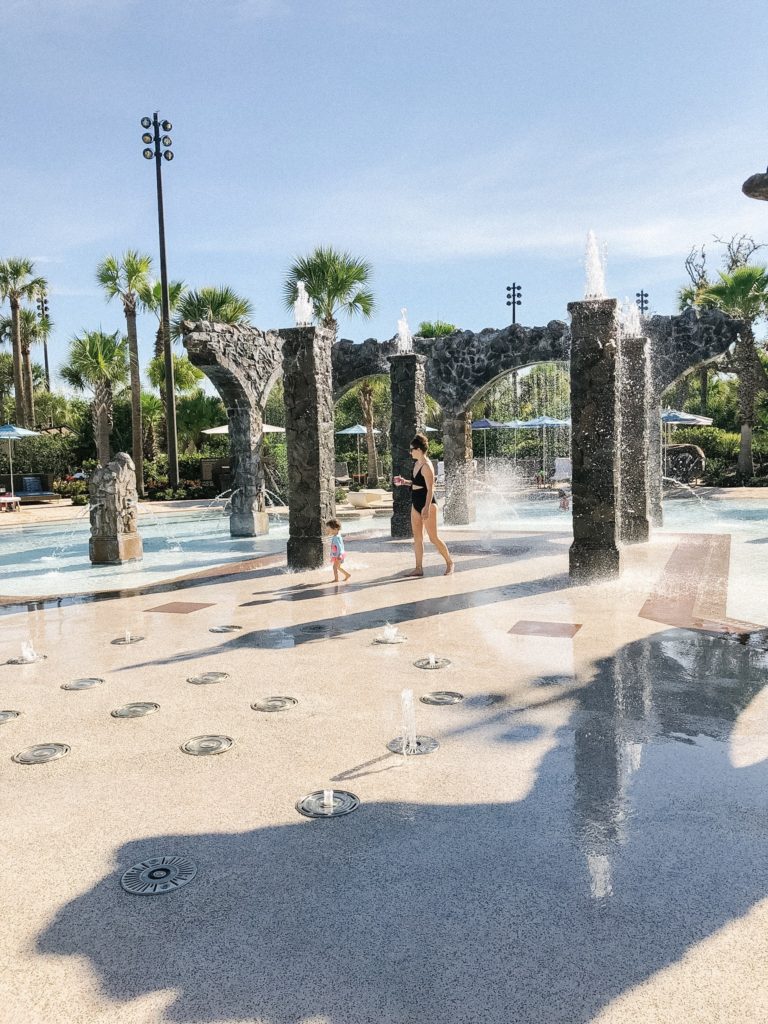 Day 5: Legoland trip. My husband loved LEGO as a kid, so it was fun for him to spend the day here. E loved it, too!
Day 6: Breakfast, packing, and then to the airport to fly back from Orlando to Boston
Disney packing list
Stroller and car seat. We were going to be staying off property and knew we would need a car seat because we rented a car, so we brought our car seat from home. I checked it in this car seat travel bag (bought on Amazon). I would recommend writing your last name on the bag in Sharpie, because I saw 2 of the same bags with car seats come off the luggage belt.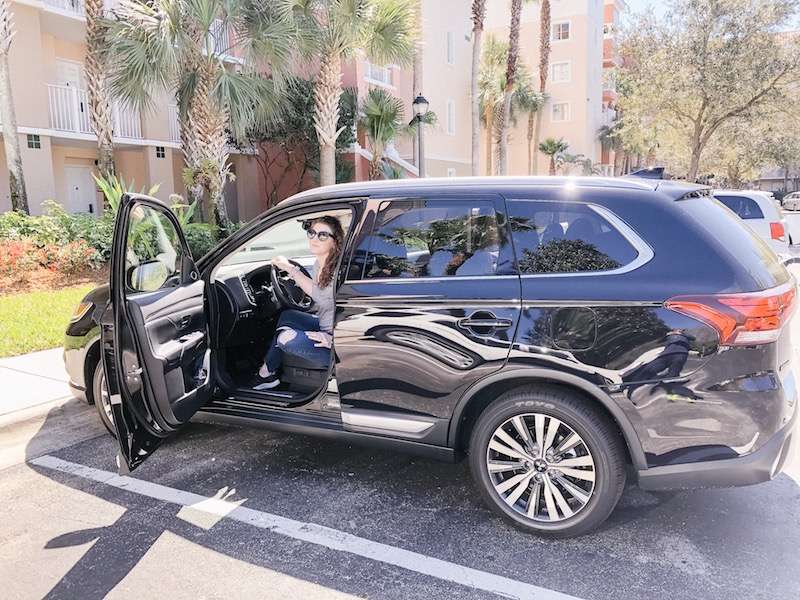 Diaper bag backpack. We love our travel backpack. We bought it when we went out to CA last year, and now it comes on trips with us everywhere. It fits everything we need plus has the little insulated pouch for stuff that needs to stay cold. This was key in the 80+ degree heat at Disney!
Swimsuits. I put swimsuits for me and E in my carry on, plus packed a few extras in our luggage. We planned to only do parks in the afternoons and spend our mornings at the pool, so it was important for us to have multiple swimsuits just in case ours hadn't dried yet. 3 reusable swim diapers plus a couple of disposable ones just in case, plus a swim cover up for each of us. (I should have brought 2 swim cover ups for E because she was double fisting chocolate gelato one day and it got all.over.everything.)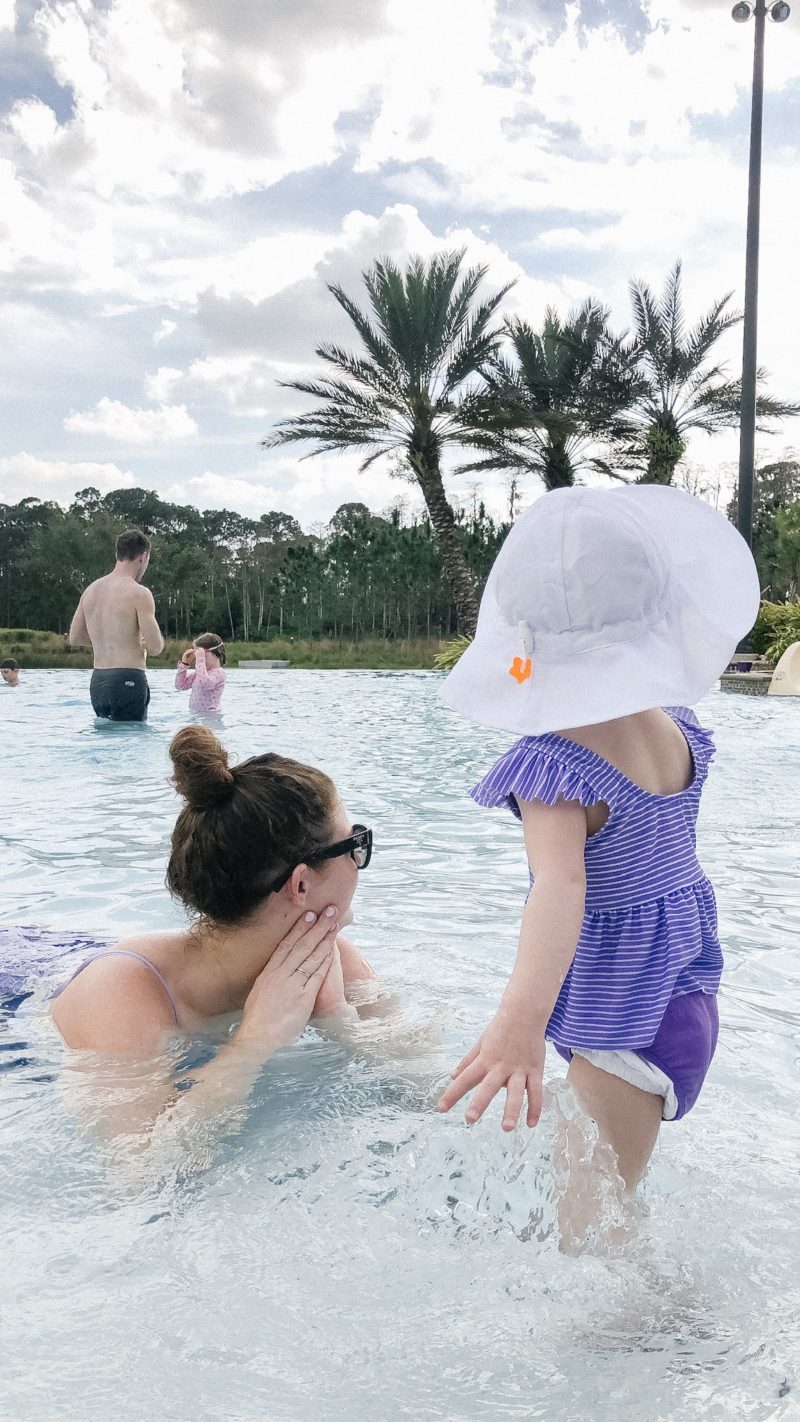 Hot-weather clothes. Living in New England, March weather is pretty cold. (When I wrote this, it was only 23 degrees outside with snow in the forecast.) But when I looked at the Florida forecast, we had 4 days of 80+ degree weather and then 2 days of a "cold front" with weather in the 60s. Because of this, most of the clothing we packed looked like this: dresses, shorts, and t-shirts. But because of the cooler weather, I also packed a pair of jeans for me and 2 pairs of leggings for E, plus a sweatshirt for her and layers (a jean jacket for her and a zip up for me). For shoes I packed sneakers and jellies for E, and for myself flats that go with everything, flip flops, athletic sneakers, and my flatter Converse. We ended up wearing all of this!
Ziploc bags. If you catch my Instagram Stories before any trip, you'll know that I pack like a super Type A person sometimes, including Ziploc bags labeled for Pool Day 1, Pool Day 2 (each with a swimmie diaper and swimsuit), Magic Kingdom (princess themed bubble and matching hair bow), Character Breakfast (Minnie themed bubble and matching hair bow), etc. It's just easier so when I'm pulling out clothing, I can give T the entire bag and tell him that's E's outfit for the event/day. Plus, these bags are great to have at the end of the trip when you're trying to separate laundry, pack up your toiletries that could leak, etc.
Snacks. There are a ton of food options around the parks, but I always keep E's favorite fruit and veggie pouches in our diaper bag at home, so I did that in FL, too. I also packed animal crackers and cheddar bunnies. You never know when you'll have to wait in a long line, so it's better to have stuff on hand.
Sunscreen and hats. Super important, especially if you spend 4 months wrapped in a million layers at home and then suddenly are exposing your skin to the sun! I packed a sun hat for E, sunscreen in SPF 30 for us and SPF 50 for her.
You might also like: How to Do Disney World with a Toddler
Disney packing list – bags and what's in our diaper bag for park days
We did a night at Disney After Hours (highly recommend if you're into rides) during which I only carried a fanny pack. 1992, I'm back.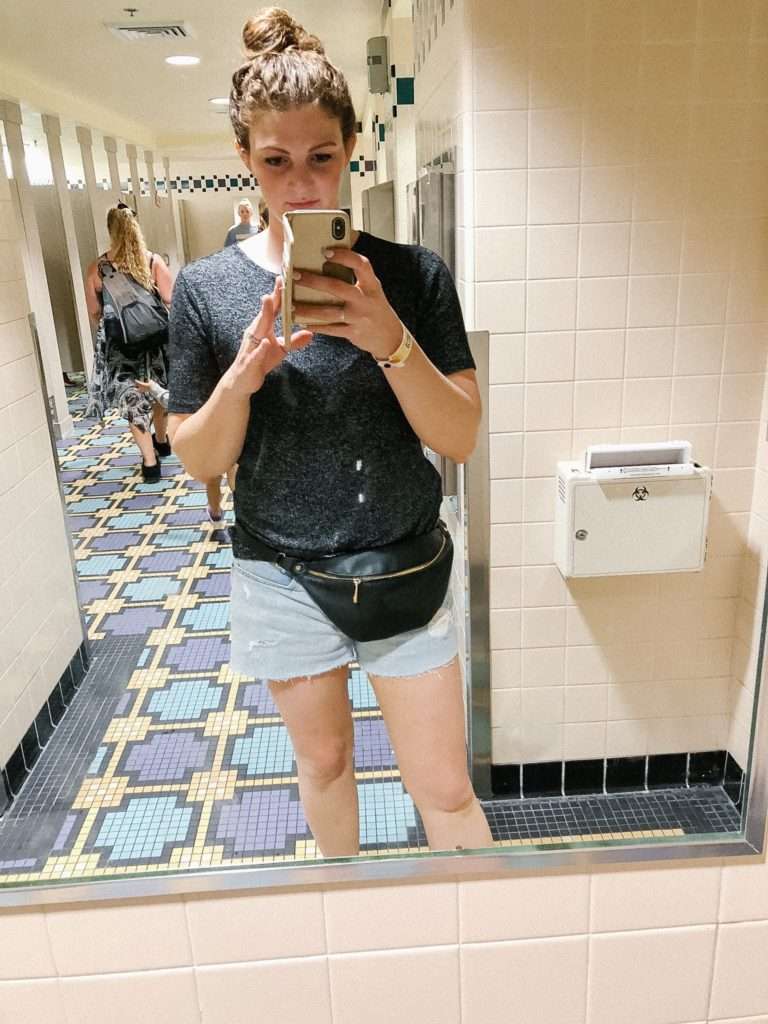 We brought our everyday stroller from home, which we used throughout the trip. I left my normal tote bag (diaper bag) at home and instead brought our backpack diaper bag, which we brought with us on rides and left in the bottom of the stroller the rest of the time. Our diaper backpack has an insulated pocket on the side, a wipes pocket on the other side, and lots of different zip pockets to keep everything within reach.

Related post: Our Night at Disney After Hours
My fanny pack was AMAZING for keeping the most important things within reach. In there I kept my Disney ticket (no magic bands for our family this trip), my iPhone with credit card and ID, my lipstick, and sunglasses. My Minnie ears were on my head, but on the rides where I thought I might lose them I just took them off and held those (no need to put them in a bag!).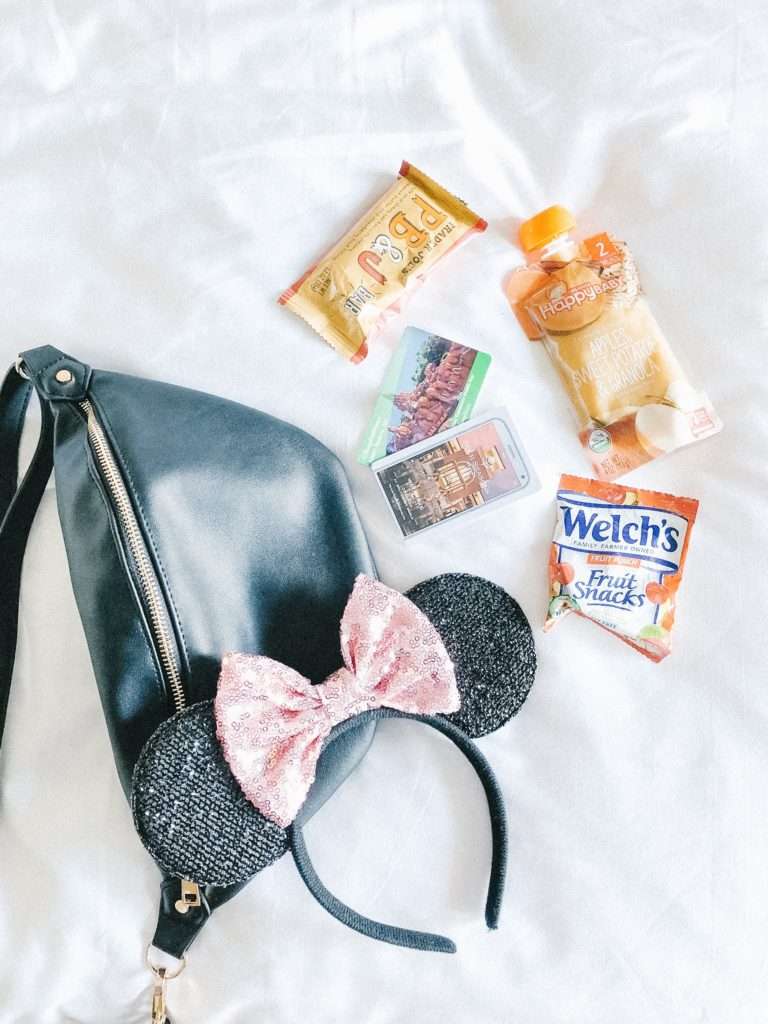 Here's what I had in the diaper bag:
5 diapers
wipes
sanitizing wipes for hands and tables
ibu profen for babies and adults (you never know who might need what)
an extra outfit for E and an extra shirt for me
extra socks for me and E, just in case we went too close to a splash pad or something
sunscreen (this is the one I use for E)
hats, including a wide-brim sun hat for E
I should have brought a small ice pack to keep in the insulated pocket, but we forgot that.


Note: If there had been rain in the forecast, I would have also packed ponchos; we've used them in the past. I didn't think we would need them for this trip and I'm glad I didn't bring them. We just weren't going to be in the parks for a full day and could be flexible on when we went.
P.S. It can be hard to travel to warmer weather from New England in the winter because once you return, it's likely still freezing. The adults all left our jackets in the car when we got to the airport, and I just packed E's winter coat and hat in our suitcase once we checked in. That way she had it to wear out of the airport once we returned, and the adults could just tough it out 😉
Did I miss anything??