We first flew with E when she was 6 months old, and it was much easier than I had anticipated. Then she started to crawl, and then walk, and then climb, and we traveled more locally. We hadn't done any air travel with her since then until this recent trip, and you guys… Flying with a toddler is a completely different thing from flying with an infant!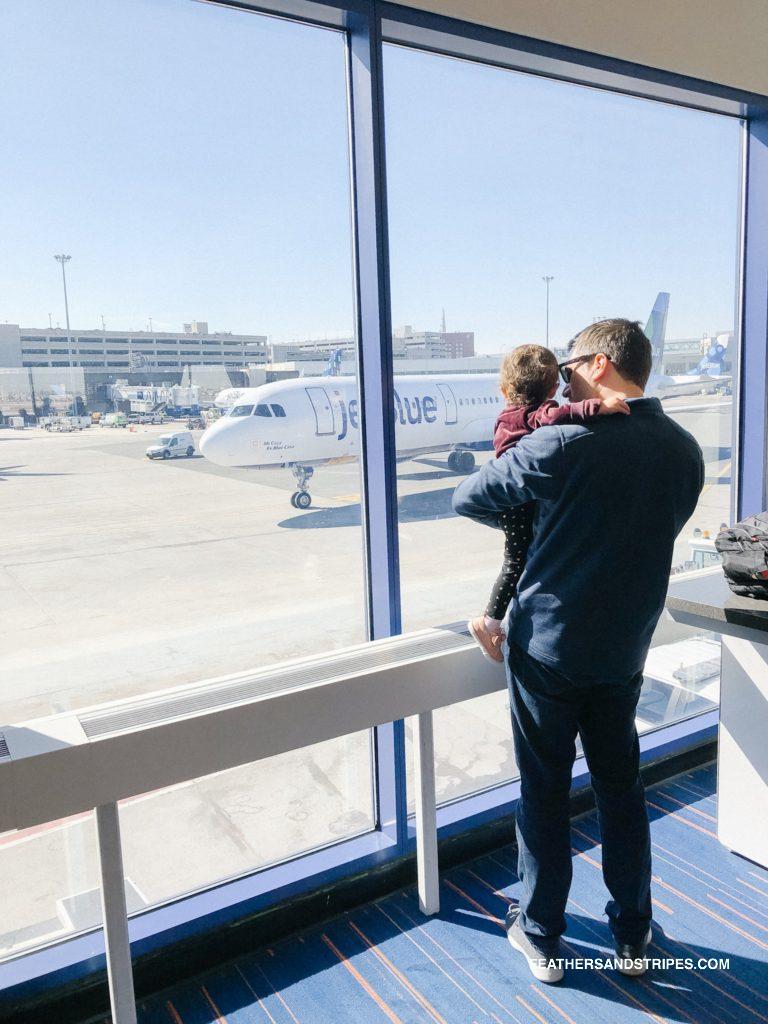 First let's talk about the big mistake we made…
We chose an early afternoon flight, expecting that naptime would happen as normal (just on the flight). We should have known better. Skipping crib naps is probably fine if your little one can sleep anywhere, but we know that E doesn't sleep outside of her crib (or a pack n play). Not sure why I thought she'd just magically fall asleep on the plane… Our reality was that she didn't take a nap at all on that first day and was basically falling asleep in her mac n cheese at dinner.
In the future we'll probably book an early morning (so we'll land before our typical naptime) or a later afternoon flight. Try to travel when it's most convenient to your toddler's sleep. Because we all know that a tired toddler is NOT a happy toddler.
Tips for Flying with a Toddler
Bring snacks from home. E's meal times and snack times differ a lot depending on the day. I make sure to pack plenty of snacks, and pack food that I know she will eat. You don't want to be on a long flight and find out that they only have snacks your kiddo isn't interested in. We brought pouches and animal crackers in our diaper bag.
Note: We have only flown JetBlue with E, but we were allowed to bring a personal item just for her, which was her diaper bag. That way we had one bag that was all for her stuff and I was still able to bring my carry on + personal item.
Bring their sippy cup, water bottle, or whatever they normally drink out of. It's hard to ask a toddler to drink out of an open cup if she normally drinks out of a sippy cup. Bring whatever you use at home for the flight. (Trust me: It makes things so much easier!) You can go through TSA with liquids in the baby's/toddler's cup, as long as they are under the age of 2. (This probably differs by airport!) Whether it's milk or water, we've traveled with both.
Pack an activity bag. I bought these clear bags and packed an activity bag (the largest size, with handles) for our flight, which included three books, a coloring book with markers that only mark on that special paper, and a couple of small toys.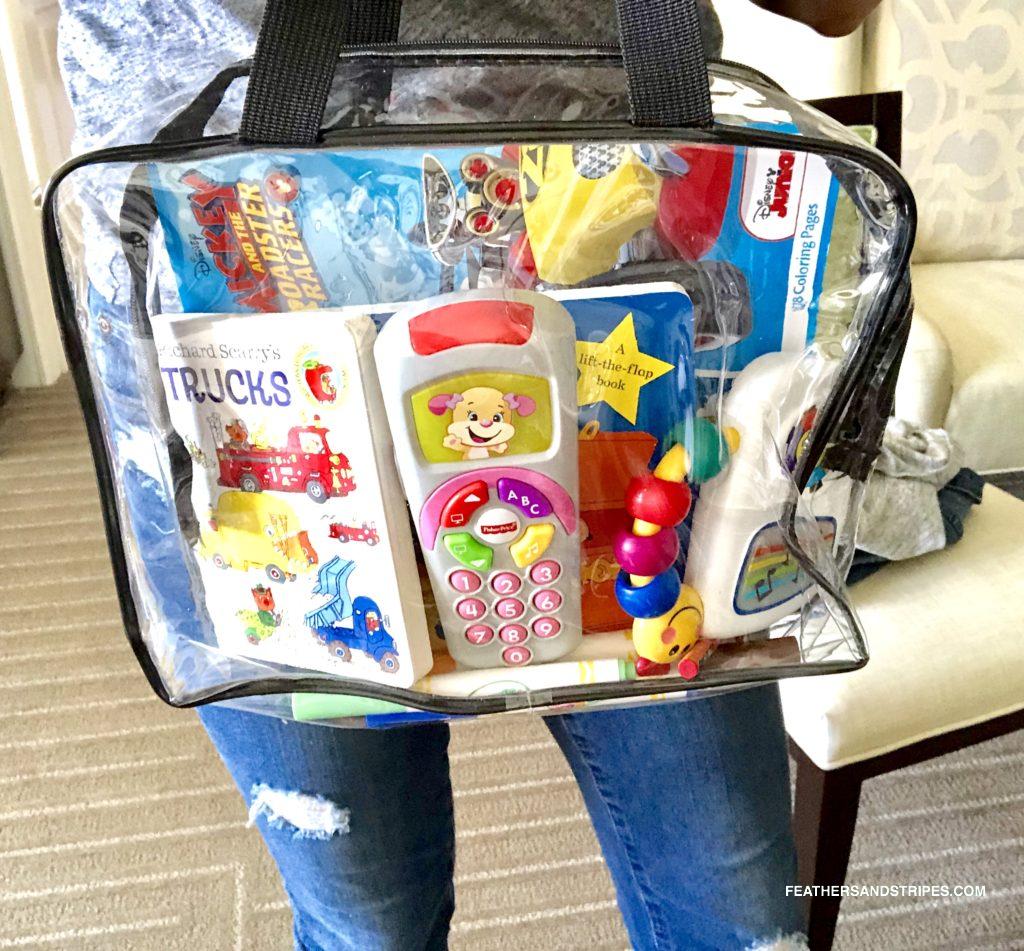 Bring a toy or book they've never seen before. Raid the Target dollar section for small toys that your kids haven't seen before. The novelty comes in handy if they need some entertainment! I found window clings in the dollar section around Valentine's Day and brought those with us. We didn't use them on the flight but they came in handy at our hotel. In case you need book ideas, these are some of our favorite books for flights or long car rides:

Bring something that can help during takeoff and landing. We're fortunate that E uses a Wubbanub for comfort when she's really upset, so we brought him with us for her to use during take off and landing. I always worry about her ears on flights.
Use your stroller all the way to the gate. We use our stroller through security and check it at the gate. That way I can be sure that I'm not chasing a toddler through the airport 😉 We use this stroller and it's light enough that I can fold it and pick it up with one hand (important when you're carrying bags and/or a toddler at the same time!). Some people check everything right away, but I prefer to keep our stroller with us so we can use it.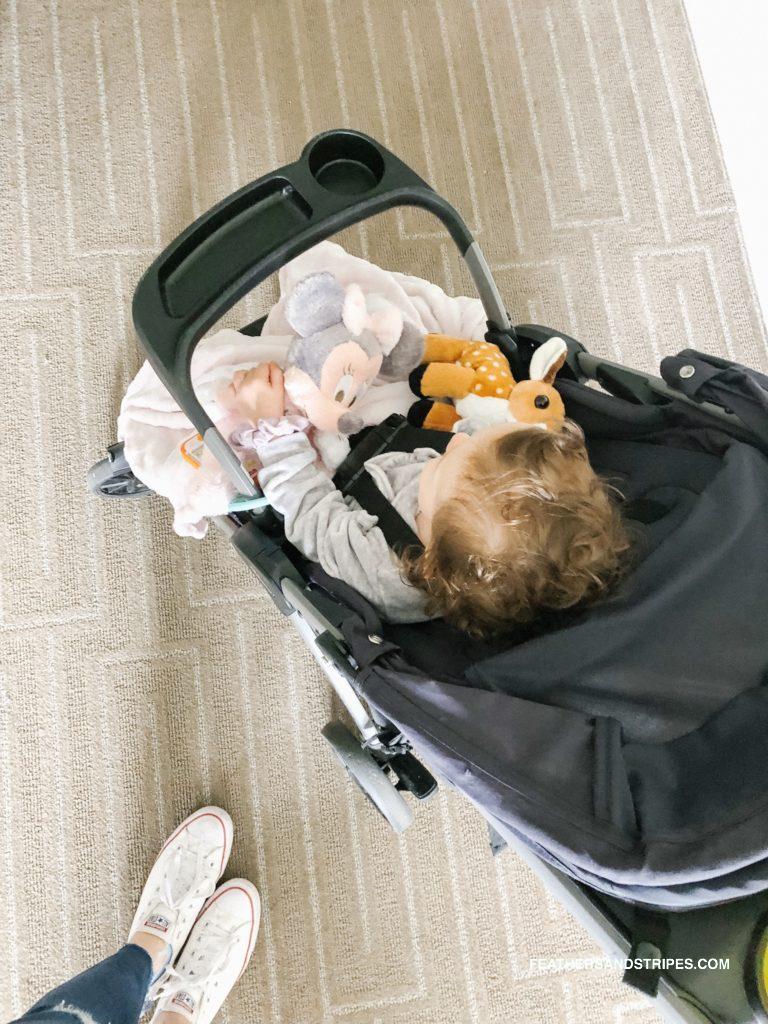 Related post: Flying with a Baby
Remember that everyone on that plane was a baby once, and also remember that you'll probably never see them again. I've been on flights with screaming children (before having one of my own), and I remember thinking that I felt badly for that child who was having a rough time. If anyone gets angry, that's on them. The chances you'll run into those people again are pretty slim, and even if you do, who cares. If you're tending to your little one and trying to make the situation better, no one will give you a hard time. And if you need help, always ask the flight attendants. It's their job to make sure your experience in the sky is a good one!
Shop the post:

P.S. Our Disney World packing list and a review of our time at Four Seasons Orlando coming soon!