If you've been following along on social media, you'll have seen that we recently jetted off to Orlando to spend a few days in the sun. I've been to a LOT of hotels, and there are only a few that I've regretted not booking for a longer stay. Four Seasons Orlando easily falls into that group! We had the most magical time at FS Orlando during our stay, and I'm so excited to share about our vacation today.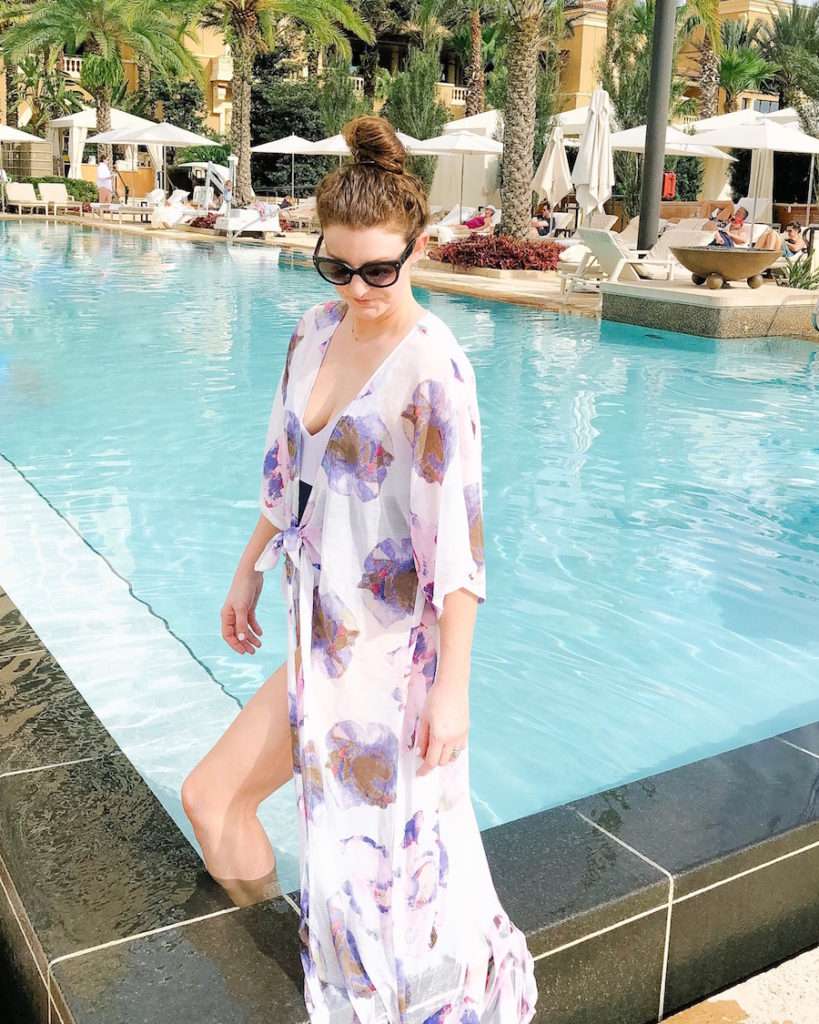 Getting to Four Seasons Orlando
We arrived in the early evening, slightly frazzled because our toddler decided to skip her nap. We were hoping to check in and find dinner ASAP. Every staff member we encountered was friendly, and something about their smiling faces put me more at ease. (You know how when you're feeling anxious, any little bit of anything extra can make it worse? That was definitely not a problem when we got to FS Orlando! I immediately felt like the entire staff was there to help.)
We got settled into our park view suite and headed down to the Lobby Bar for dinner. And this is where I first had the mac and cheese that I would then have every day of our trip!
Related post: Flying with A Toddler: Tips, Tricks, + the Mistake We Made
The team left some goodies for E in our suite, including a sweet baby deer that she now takes to sleep with her at naps and bedtime.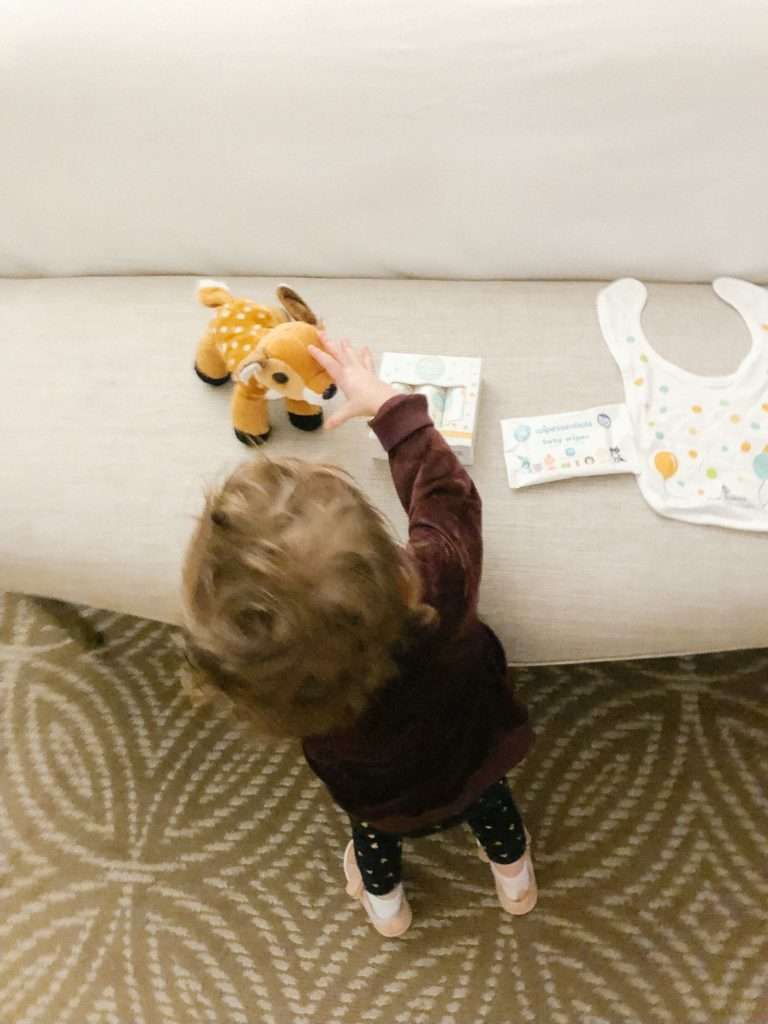 E and "Fawn" meeting for the first time
Pools at Four Seasons Orlando
There are three pool areas at the resort:
Oasis, which is 21+ and is very quiet;
Explorer Island, which is a really fun splash pad area with a pool perfect for toddlers and little ones, plus a lazy river;
and the family pool, where it was mostly families with older kids ("older" meaning 5+, remember I'm a toddler mom!) or groups that didn't necessarily want to be in a super quiet area.
We loved Explorer Island, and my favorite thing about it (aside from the fact that it's beautiful the way it's built) was that it was so perfect for our 18 month old. Some of the water was only 6″ deep, and it seemed to give her a new confidence in splashing around.
Our trip included me and T, our 18 month old daughter, my mom, and my sister. Because my mom and sister were looking forward to relaxing, they spent time at the adult-only pool called Oasis. They came over to Explorer Island to join us, but they loved Oasis and told me how wonderful it was. I was more than happy to be at Explorer Island with E, who had the biggest smile on her face the whole time.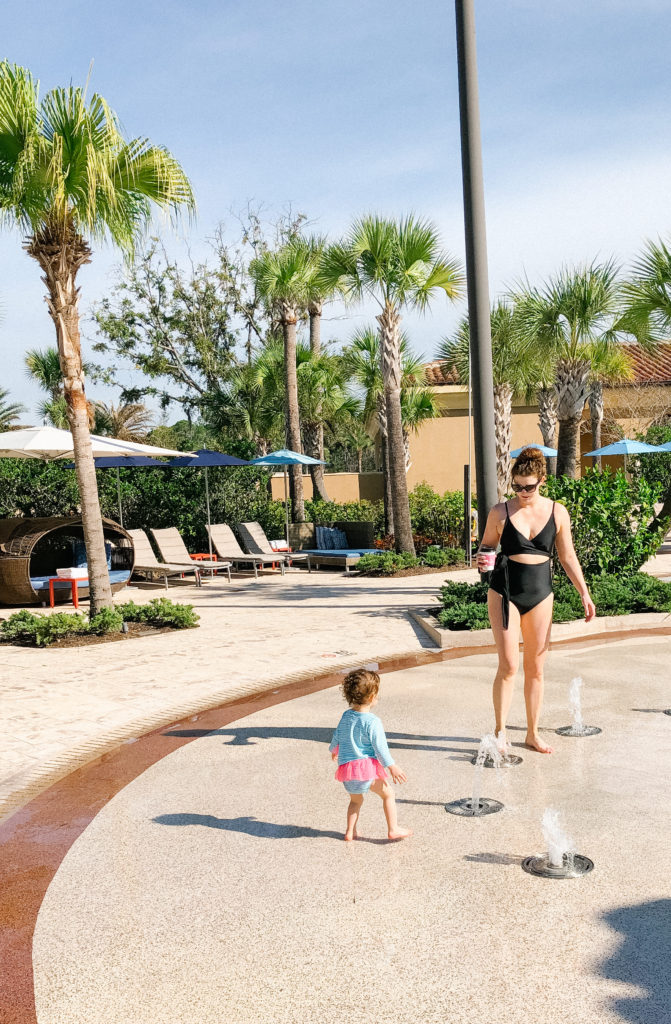 E's rash guard and swim bottoms set
One of the hallmarks of our time at FS Orlando was Explorer Island. (Have I talked about EI enough yet??) We got up and went there every morning, and our toddler could not have loved it more. In the mornings she would get up, immediately grab her swimsuit, and bring it to me, then grab her shoes and be like, "What is taking you so long??"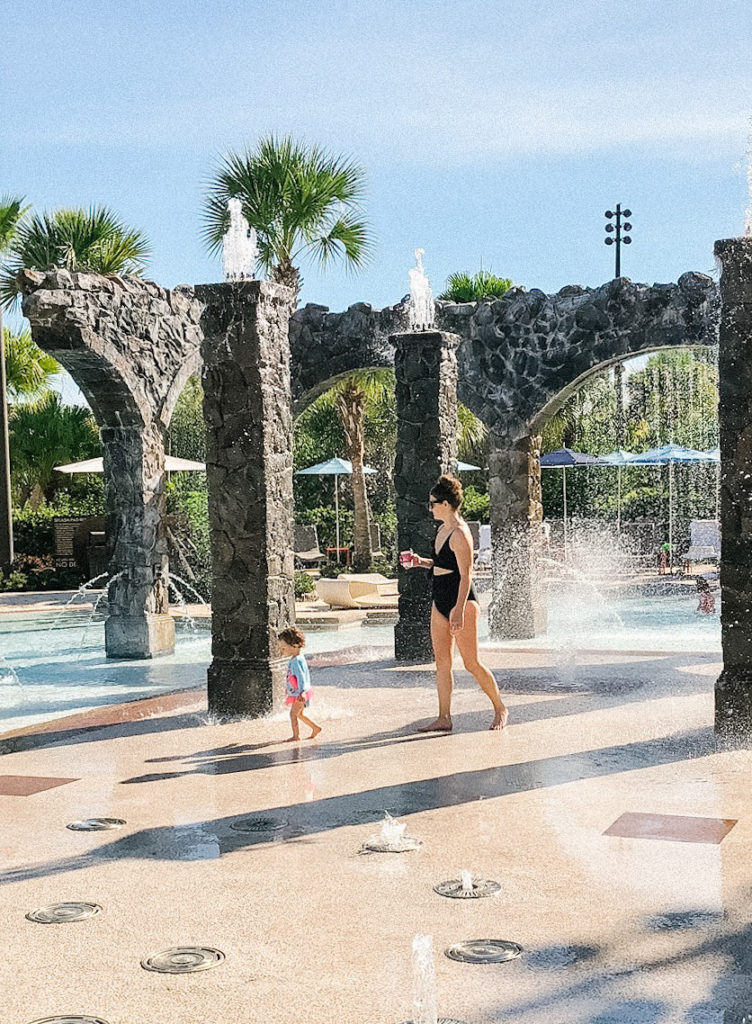 Two small things at the FS Orlando pools that I really appreciated: SPF 30 (this sunscreen brand, which we love) at each pool and small water jugs or pitchers with cups for your group.
On our first morning I realized that I hadn't packed any sunscreen, but they had it right at the pools. (I did purchase some in the cutest little on-site shop called Fable, because we were headed to the parks and would need to bring sunscreen with us.)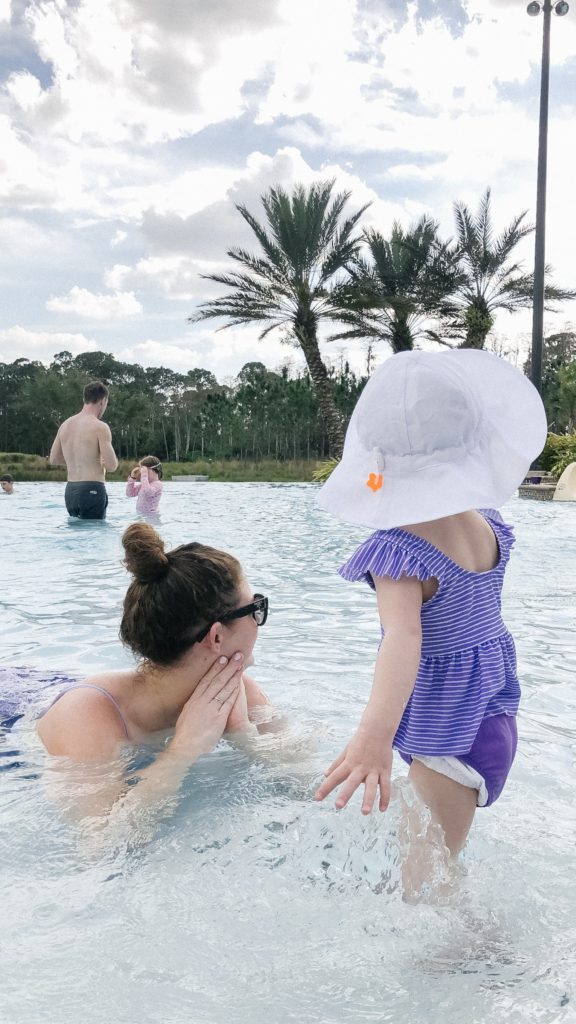 Just two gals, chit chatting at the pool 🙂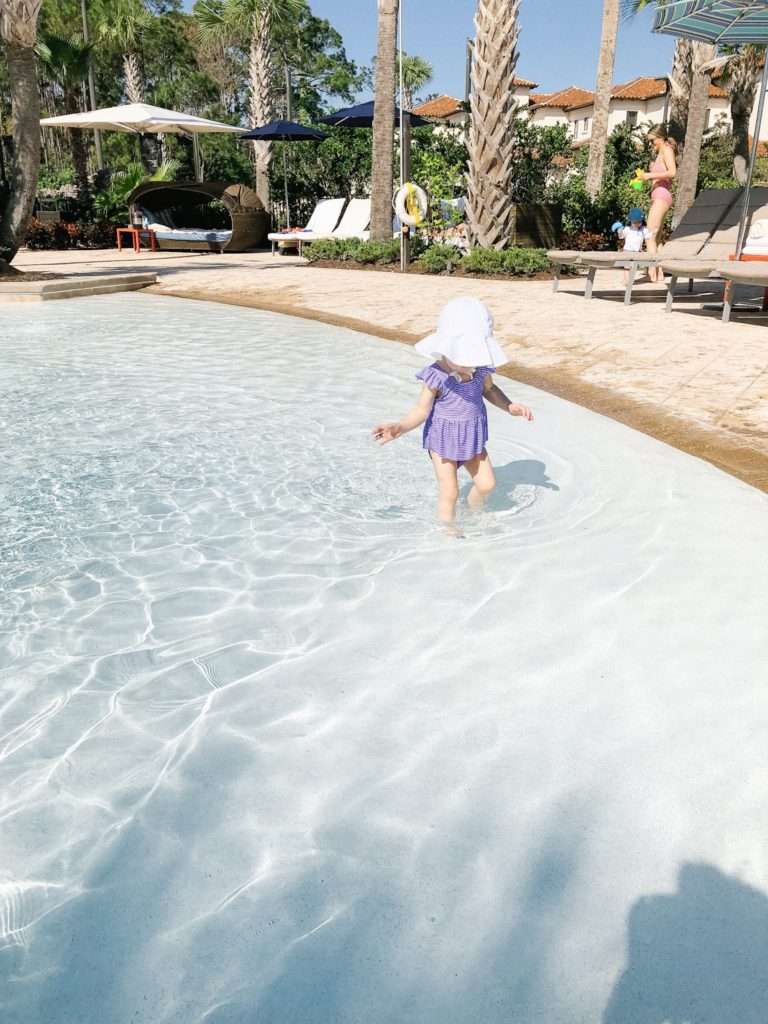 E's swim hat (highly recommend!)
E actually loved the pools so much that when we got home and went to our weekly swim class (which she usually enjoys but is fairly reserved during), she was giggly and just thrilled to be back in the water. She actually jumped off the side of the pool, which she started doing at the Four Seasons – and she was the only one in her swim class confident enough to do so!
FYI: Food service at the pools starts right around 11am. If you're going to the bigger all-ages pool, I would recommend getting there early to decide where you'll lounge for the day (by 10am should be fine!)
Related post: The Best One Piece Swimsuits for Moms

There's a lazy river on the property, too, but we unfortunately didn't get to check that out. (I could see it from the splash pad, though!)
Resort Restaurants On Site
Lobby Bar
Our first restaurant experience, we had dinner at the Lobby Bar the first night. I highly recommend checking out the Lobby Bar's outdoor terrace, whether you come for just a drink or for dinner. It's a relaxing place to sit and chat, and to recount the day's events. I had a tasty drink called Beauty School Dropout (definitely recommend if you like sweet drinks!).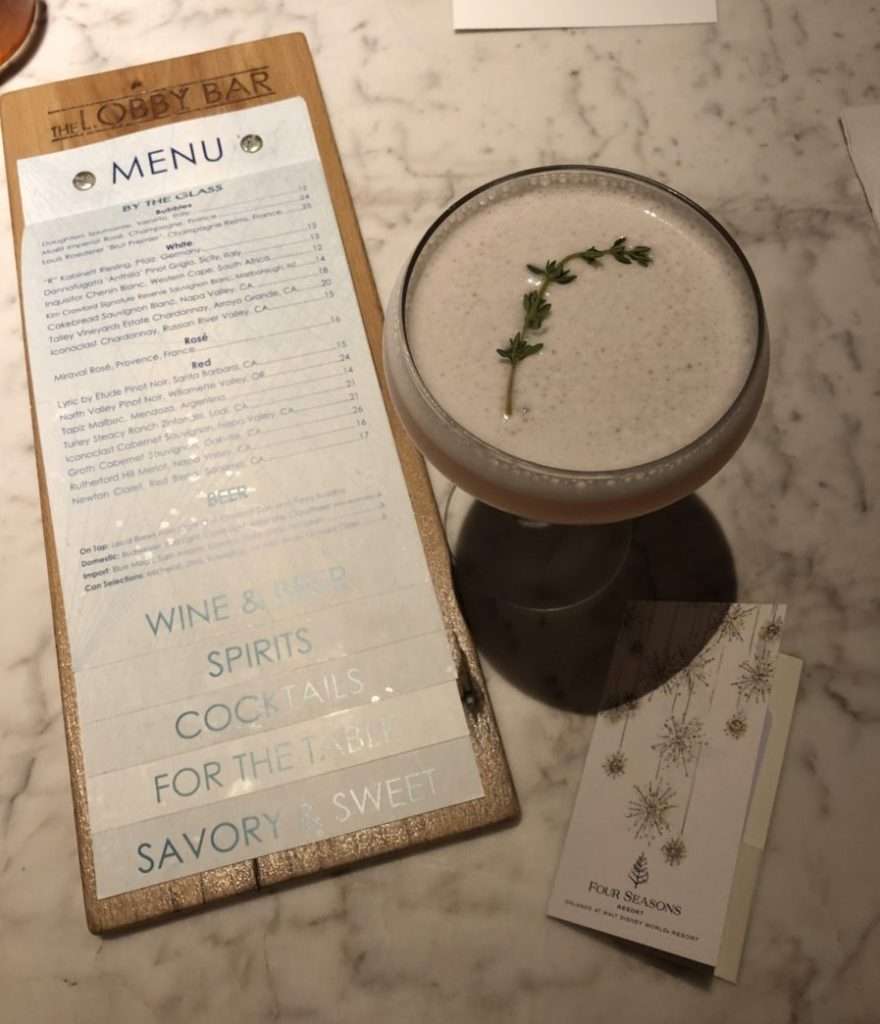 Capa
We waited too late to make a reservation for dinner at Capa, but we got there early (right at 5:30pm) and were able to snag the last seats in the lounge area for dinner. (The lounge is first-come and doesn't require reservations, while the tables do.)
We watched the sunset off the outdoor terrace (Capa is on the 17th floor), and it was so beautiful. The salad with gooseberries (called Ensalada Anchoa) was so tasy, as were the filet, and the brown butter mashed potatoes (I think that's what they were called) that aren't listed on the menu but are so incredible that everyone should try them.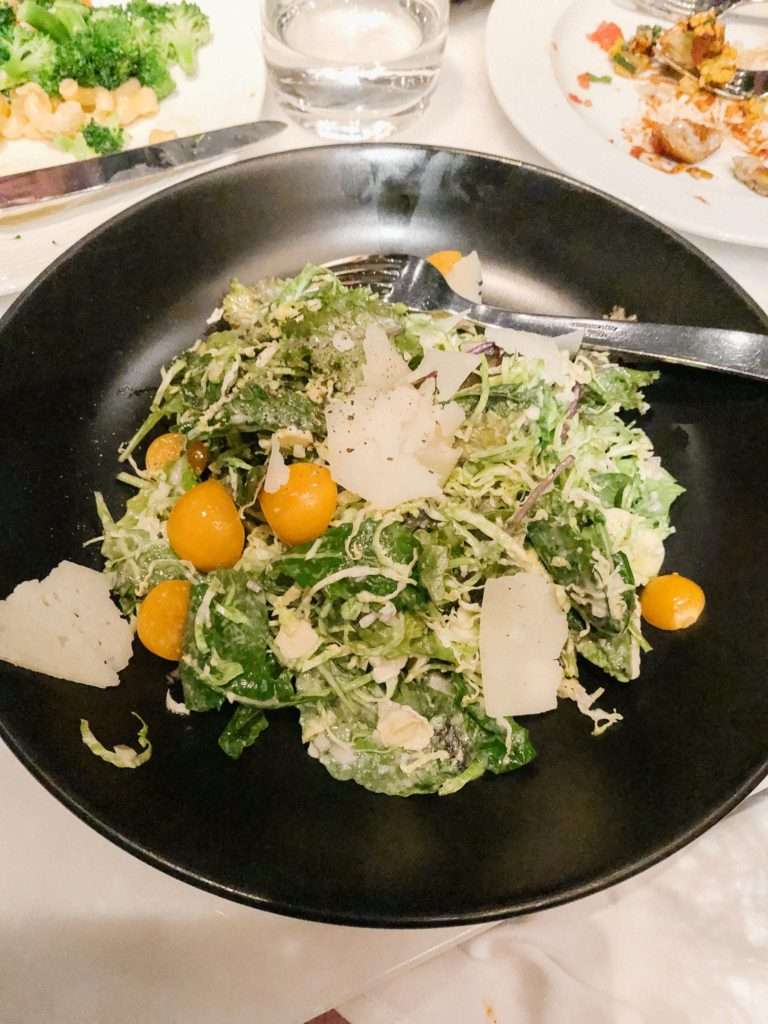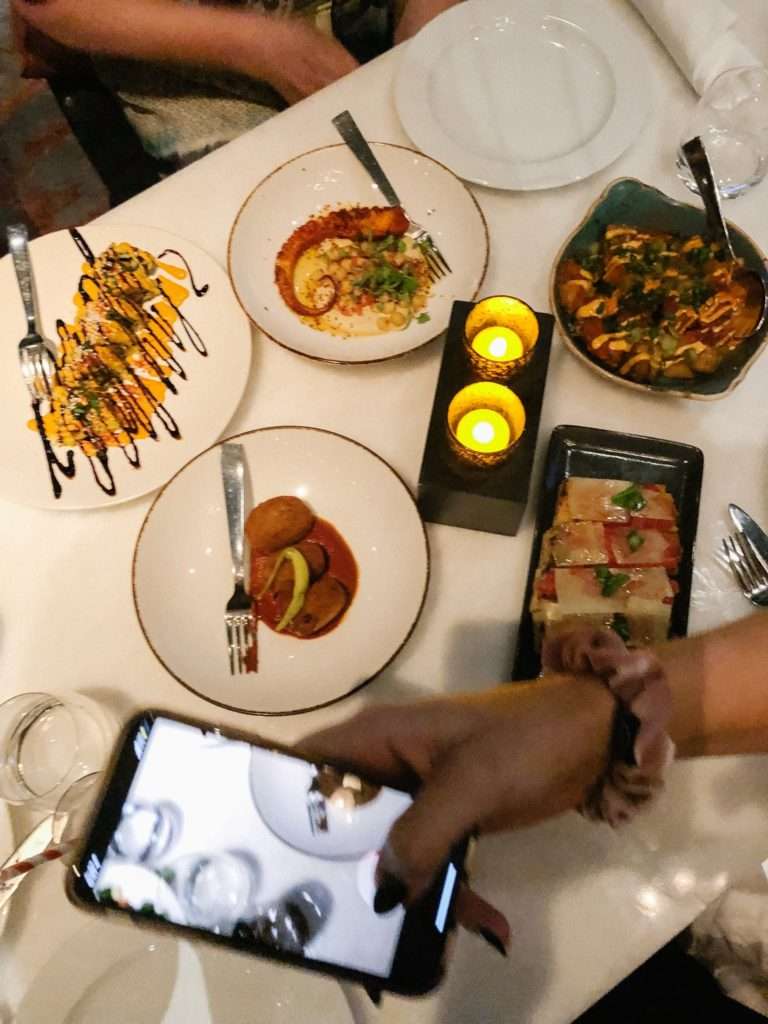 Ravello
I ate here twice during our trip. We had breakfast as a group during the character breakfast (which I'll talk more about below!). The pancakes and waffles were delicious, the fruit was so fresh, and our waitress was so kind! She had such a nice presence, and everyone agreed that we totally would have had her join us for breakfast if she had been able.
The second meal I had at Ravello was a late dinner with my mom and sister. We ordered the burrata, and I ate the bolognese (yum) as my entree. I couldn't finish the whole thing and brought the rest up to the room, where T promptly devoured it. The tiramisu was really good, too!
Lickety Split
Great for grabbing a coffee, gelato, or croissant. They also sell macarons that are really good! The barista was more than happy to explain to me the differences between a couple of different types of coffee drinks. There was a wedding that evening, so we sat at the little bar in Lickety Split and watched the bridesmaids taking photos outside.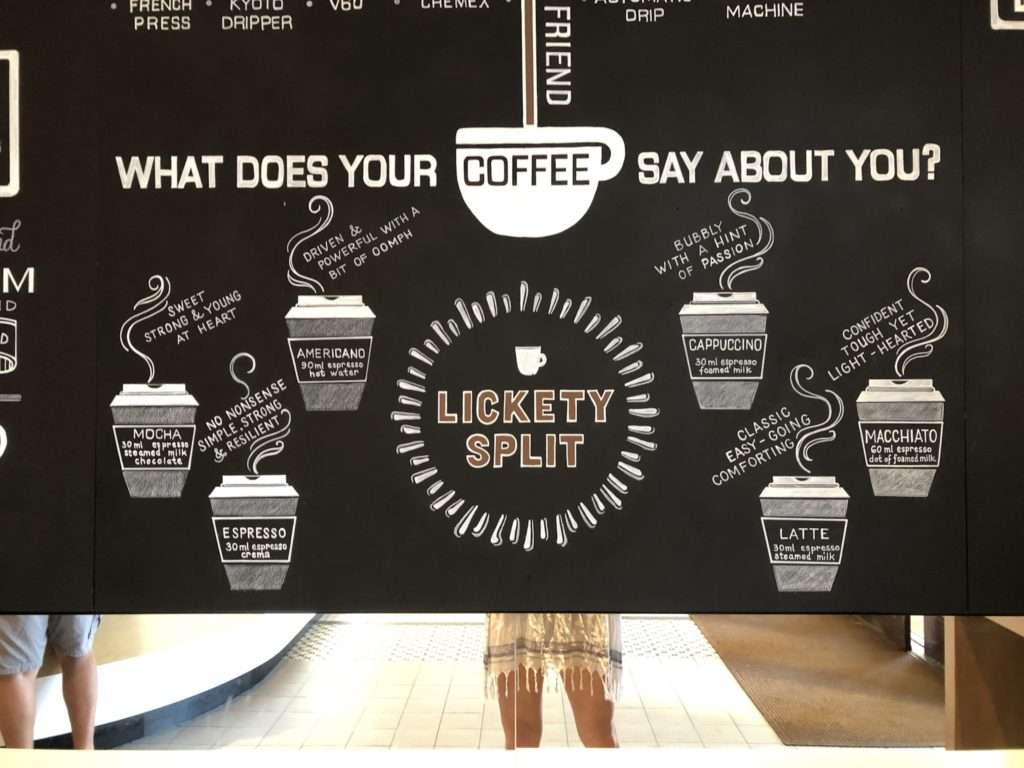 I loved this coffee sign… any idea what mine is??
Rooms at Four Seasons Orlando: Park View Suite
We stayed in one of the park view suites, and it was absolutely perfect for our little family. I put together a little suite tour because I think it shares so much more than just a photo can.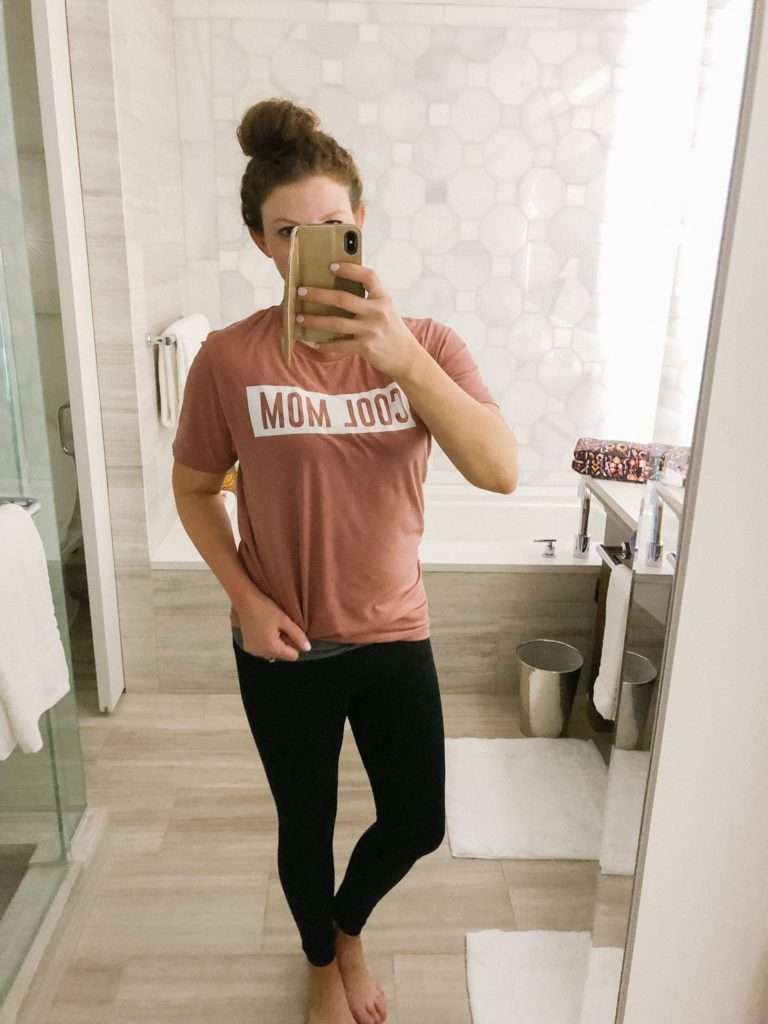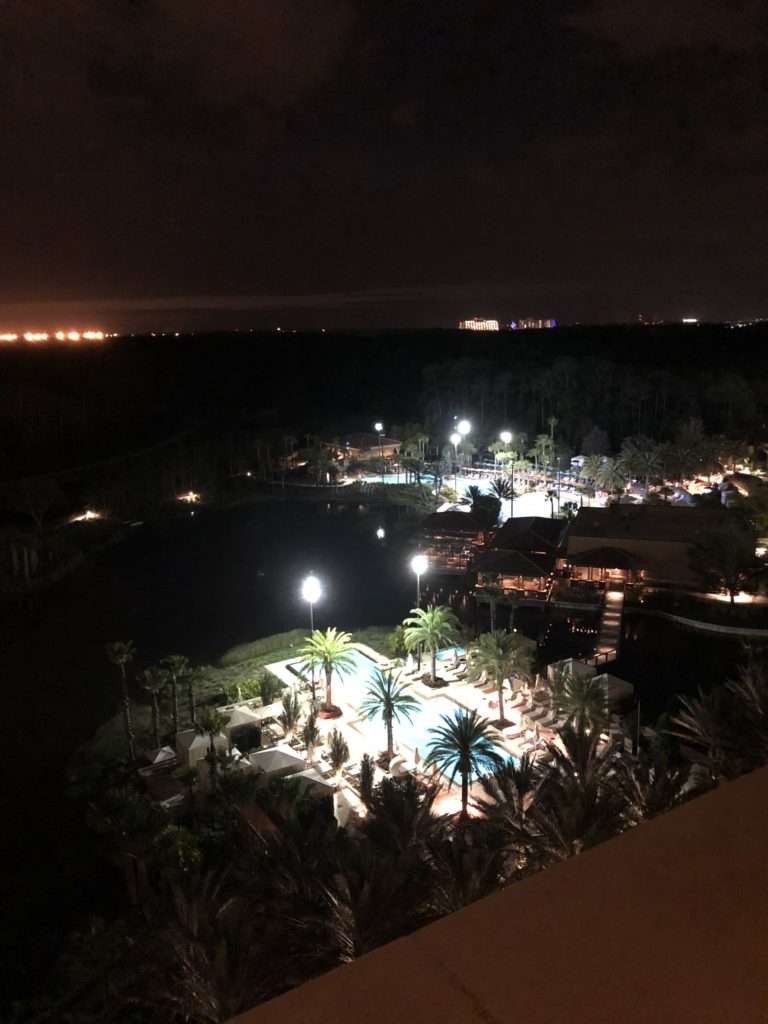 the night view from our suite – that's Cinderella's Castle lit up blue in the distance!
Our balcony was perfect for morning coffee and then afternoon lunches while E napped. (Also, if you have a toddler you probably are semi freaked out by balconies like I am: But this one is the perfect height, and there wasn't any furniture close enough to it that I had to move out of the way.)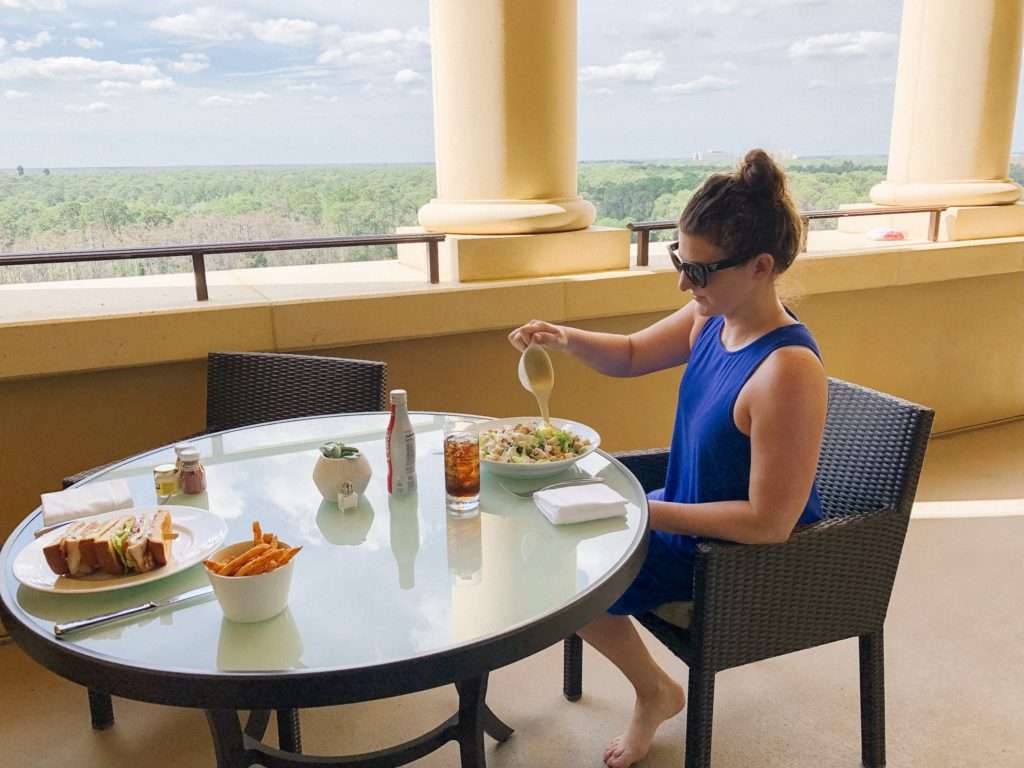 From the balcony you can see Epcot, Hollywood Studios, and Cinderella's Castle at the Magic Kingdom! At night you have a view of fireworks at all three parks. It's pretty cool to be able to see Cinderella's Castle lit up at night from the balcony.
Related post: Our Night at Disney After Hours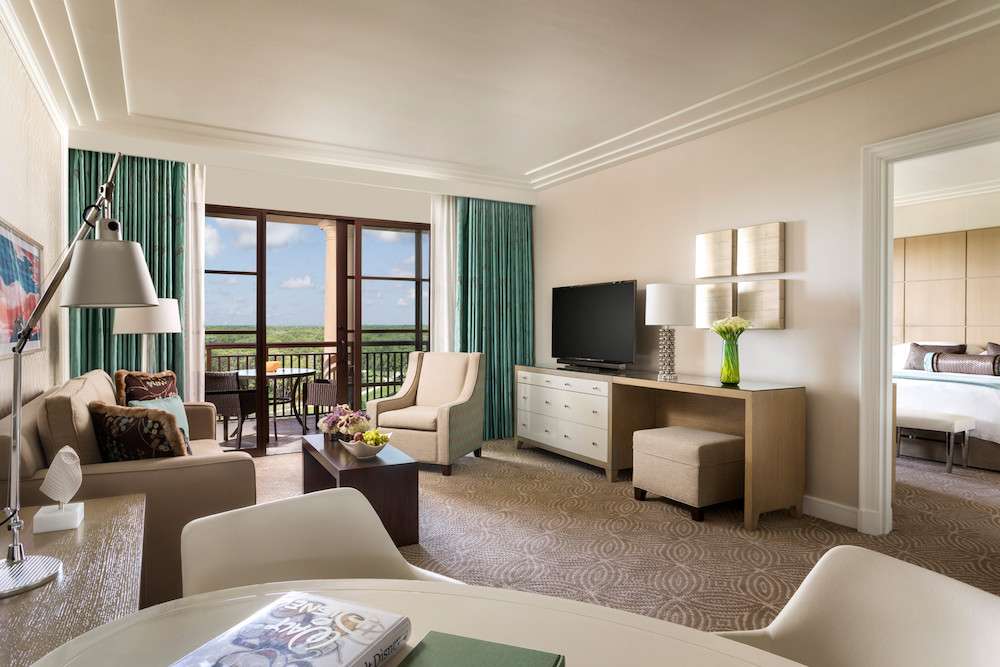 Character Breakfast at Ravello
Not many hotels in the area get their own character breakfast, but Four Seasons Orlando is one that does. Minnie, Mickey, and Goofy join for breakfast in Ravello, one of the on-site restaurants. You need to make reservations in advance, and the breakfast only happens on certain days. We went on a Saturday morning. I wasn't sure how E would do – she's never met any characters – but she LOVED seeing them! She now has a new love for Minnie Mouse, which is just so cute.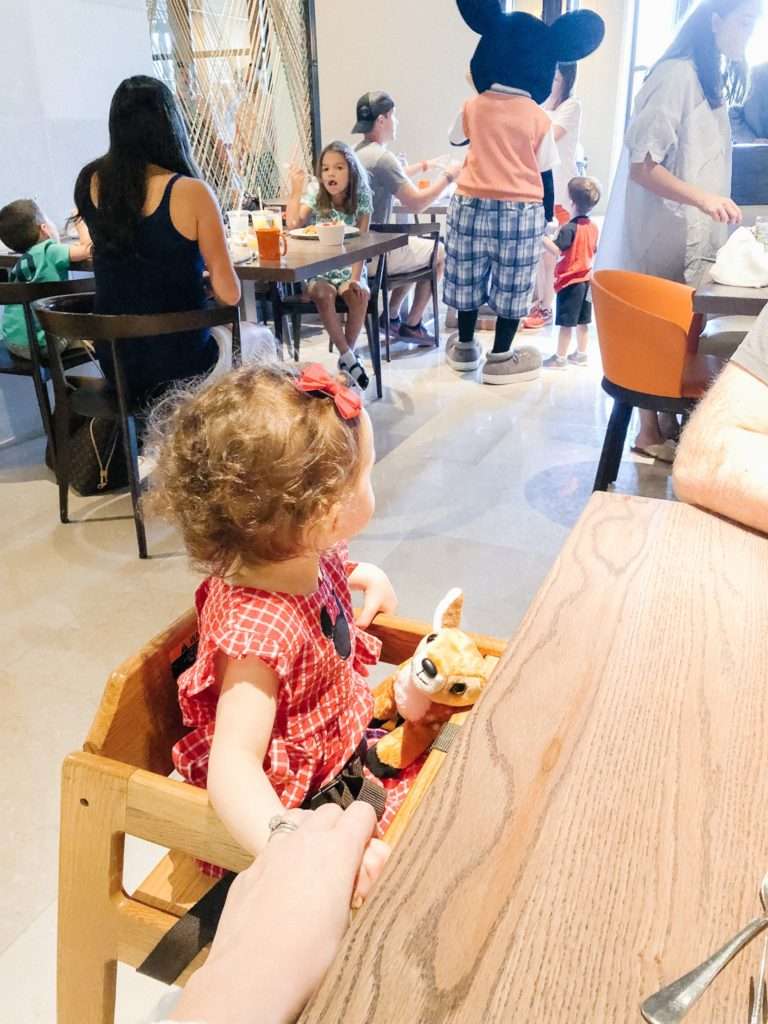 Spa at Four Seasons Orlando
If you're looking to truly relax on your vacation, you need to head to the spa. I had a signature massage with an add-on of muscle relaxation treatment. My sister, mom, and I visited the spa after a full day of Explorer Island (the splash pad) and Disney's Magic Kingdom, so I had been on my feet all day. I should have asked what exactly she put on my back muscles, but I felt so relaxed that I didn't really care (hah!). The only mistake I made was making a dinner reservation for right after my massage. I was so relaxed afterwards that I should have planned to sit by the spa fireplace and do literally nothing.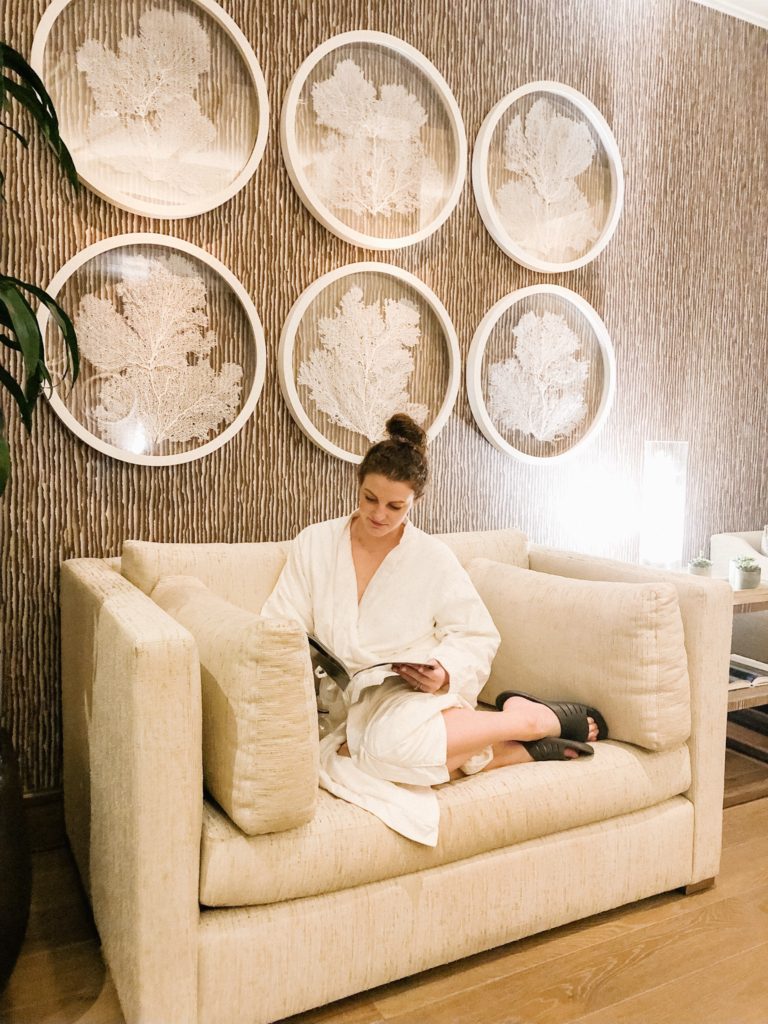 Things to know about the resort
Four Seasons Orlando is not owned by Disney, but it is on Disney property. It is a "good neighbor" hotel, which means that FS guests have access to Extra Magic Hours. FS guests also get Disney FastPass+ up to 60 days prior to visit.
On-site amenities include golf and tennis, 3 different pool areas, a lazy river, spa, and 6 different dining options.
The property is edged by a natural Everglades sanctuary, making it feel like you are worlds away from "busy."
There is a program for kids ages 4-12 called Kids for All Seasons. We obviously didn't use it since E is only 18 months old, but the facilities all looked like a kid's dream vacation.
Download the Four Seasons app before you go! You can make a dinner reservation, order room service, or ask questions. (I loved using this during our stay, especially when E was sleeping and I didn't want to make any extra noise.)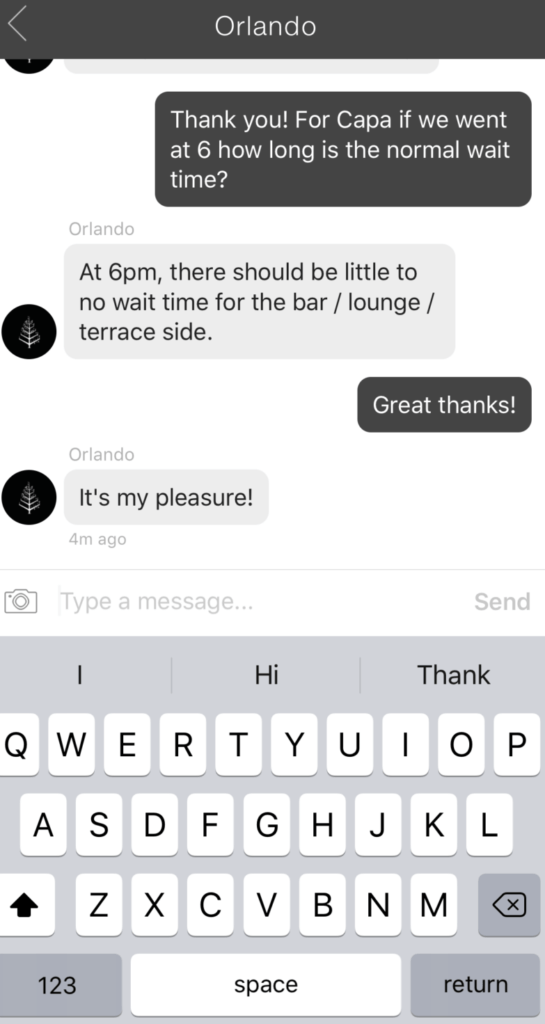 This was my first time staying at Four Seasons Orlando, and I'm not sure I will ever be able to stay anywhere else in central Florida.
Thank you to the team at Four Seasons Orlando for providing our stay, breakfast at Ravello with Mickey, Minnie, and Goofy, and my massage. All opinions, as always, are my own.