This post turned into a pretty looong post really fast, so I'm breaking it into parts. Today's is our experience at Zion, Wednesday's post will be about Bryce, and then Friday will be a post on Vegas.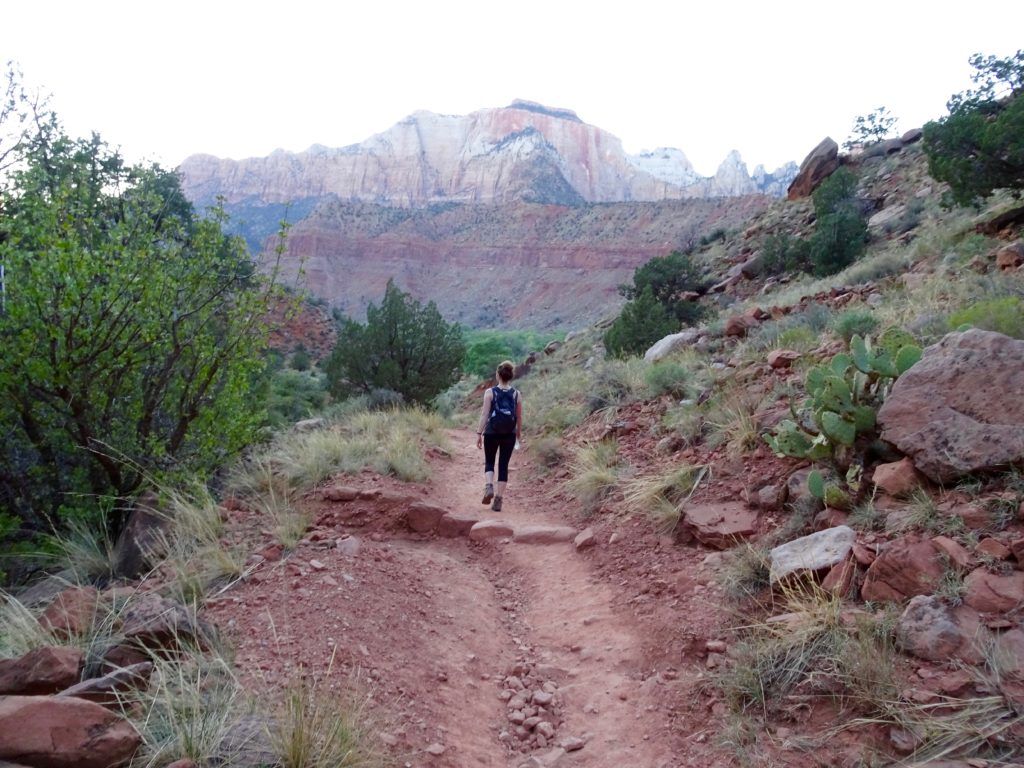 When we started planning this trip, we knew that a big part of it would be hiking. We chose Zion National Park and Bryce Canyon, two parks that are a couple of hours' drive from each other. To get to these parks we knew we had to fly into a larger city, so we chose to fly into Las Vegas. Flights from Boston are non-stop on JetBlue, we had been before and liked it, and we had things in the city that we wanted to do. (I'll talk more about Vegas on Friday!)
Just outside of Las Vegas there's a Walmart where we stopped to pick up a styrofoam cooler, water bottles, and snacks. In retrospect, we also should have picked up our sandwich essentials here, because we ended up having to buy that stuff later when we got into Springdale, and a small jar of peanut butter was much more expensive than it should have been.
T realized that he didn't bring the GoPro attachment to time-lapse our drive, so we bought one of those at Walmart, too. My warning about this part of the trip – you may meet some characters – we definitely did.
We stopped again in Mesquite, NV (on the border of NV and UT) for In N Out because we are East coasters and their burgers are so good. We gassed up here, too, because we knew we were headed into a very rural area. (I don't recommend driving in with less than a full tank, because gas stations are few and far between once you get into Utah.)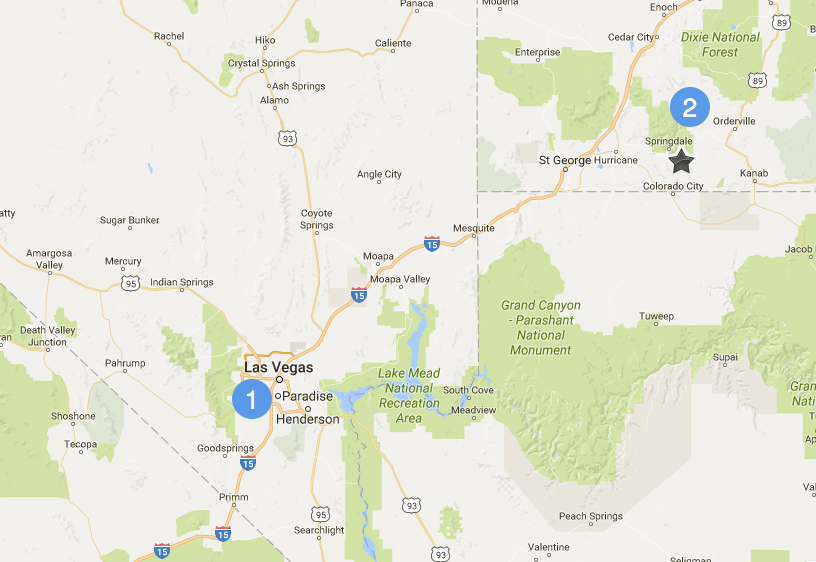 When we pulled into Springdale, we checked into our hotel, changed into our hiking gear, and headed over to the Zion National Park Visitors Center to check things out.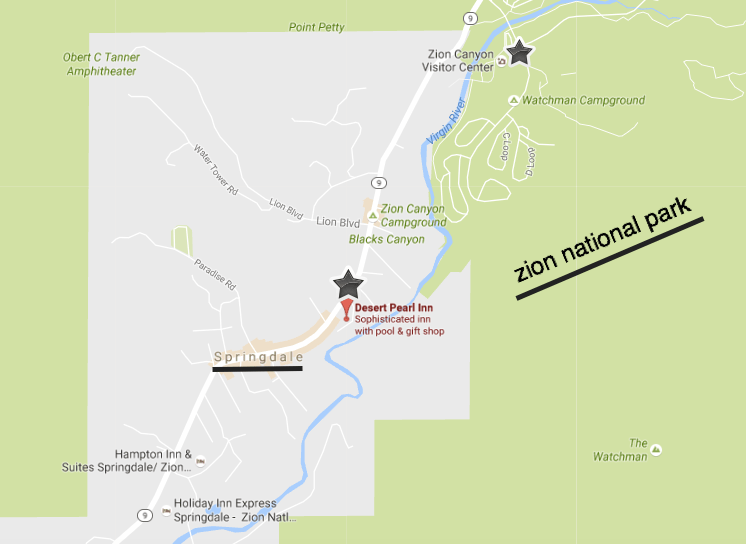 They recommended a sunset hike up on The Watchman trail, so we decided we would do that while we were there. About halfway in, I had the following thoughts: "I hate this… Why am I doing this… 3 more days of this is going to suck."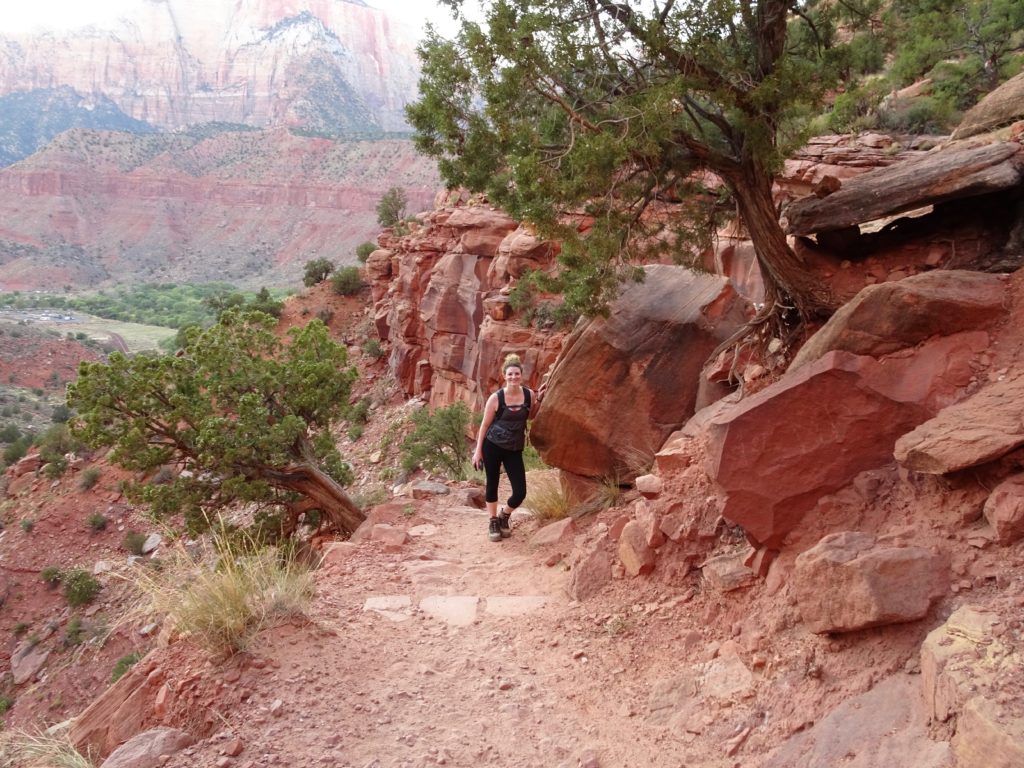 But once we were up there, I was so proud of myself for completing the hike, and the views were worth it. Plus, we met two women on the trail who were just so excited about hiking in general and gave us some good advice for the rest of our trip.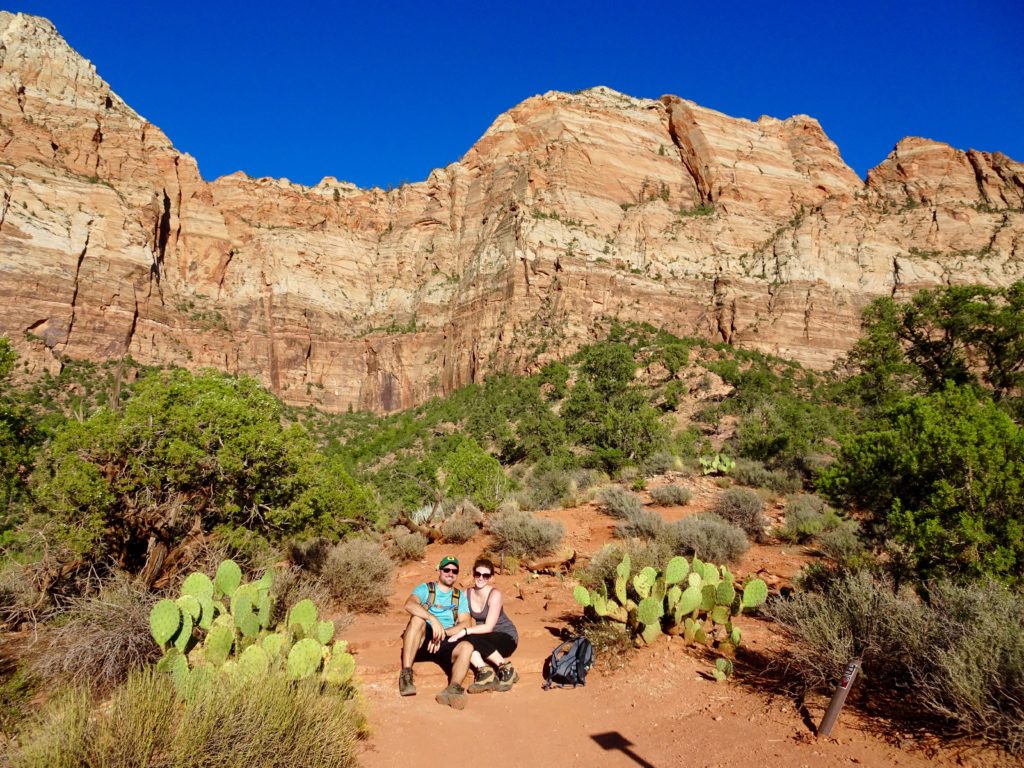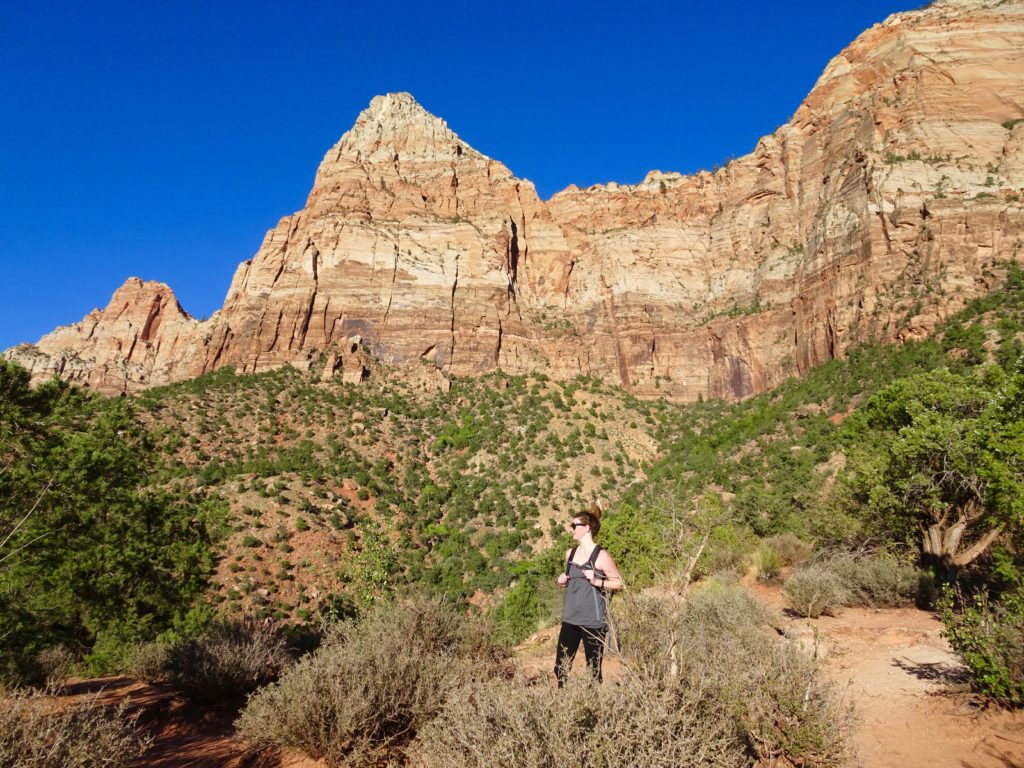 What surprised me most was how quickly the temperature dropped: I went from sweating in a tank top at 2pm to wishing I had worn jeans and my fleece to dinner at 9pm.
The next day we were up and at 'em!
We spent the entire day at Zion, hopping on the shuttle in front of the hotel and heading into the park for a full day of hiking. Their shuttle system is pretty awesome – you can basically park your car at wherever you're staying in Springdale and not worry about it until you leave!
Heading into the park, we both had day packs with plenty of water (4 17-ounce bottles plus a 2-liter Camelbak), snacks, sunscreen, and extra layers. I was really hesitant to do the whole hiking boot thing, but you actually really need to. I was glad I had gone with the higher boots because of the ankle support. And also, no one else who's hiking cares what you look like or what you're wearing!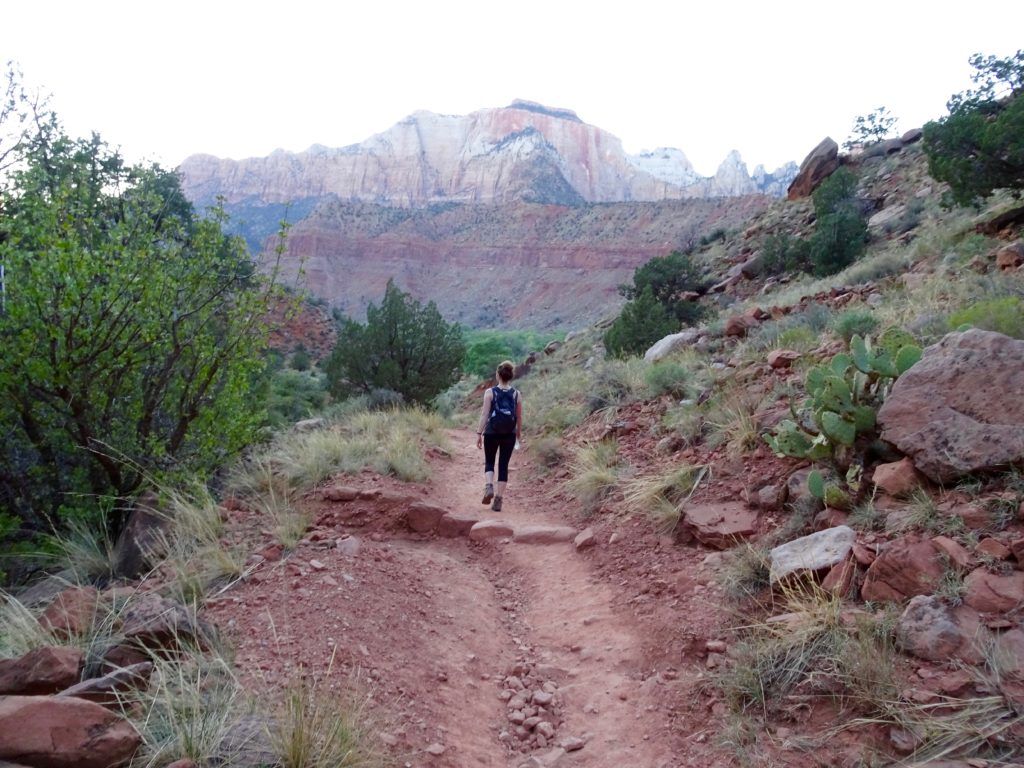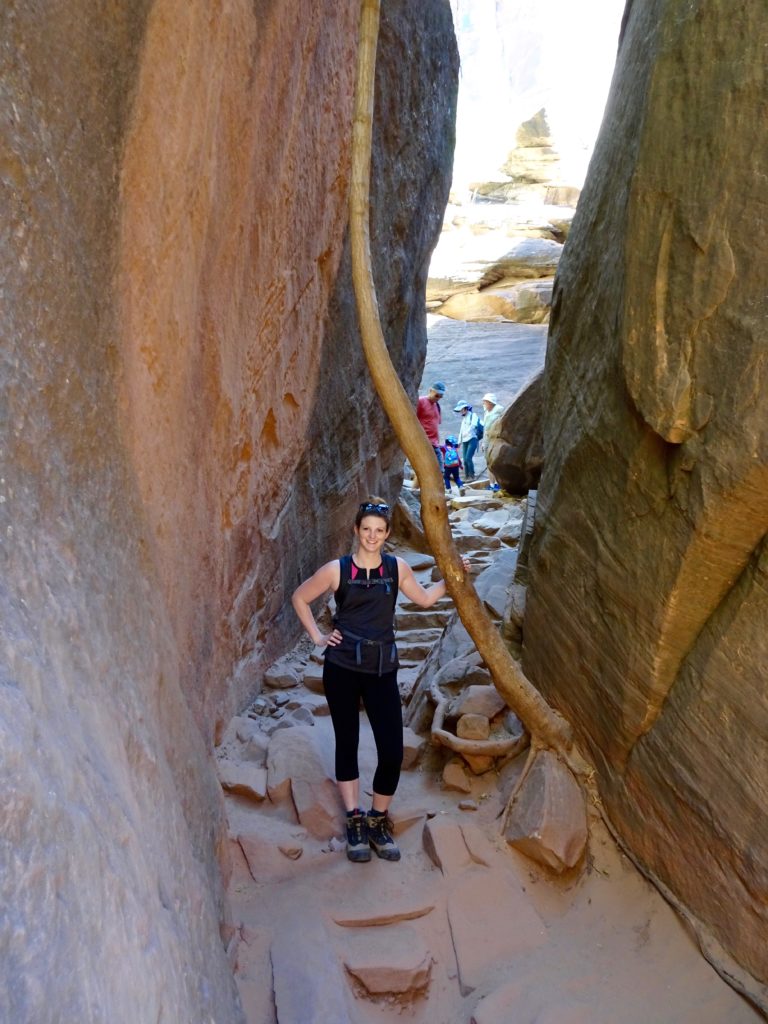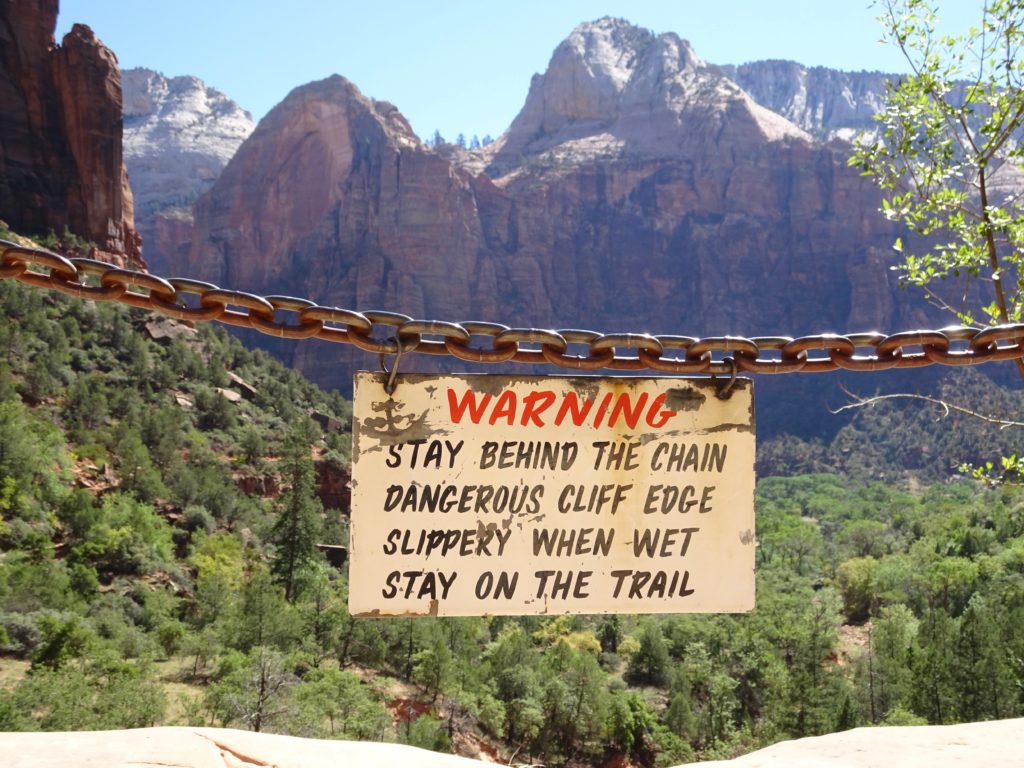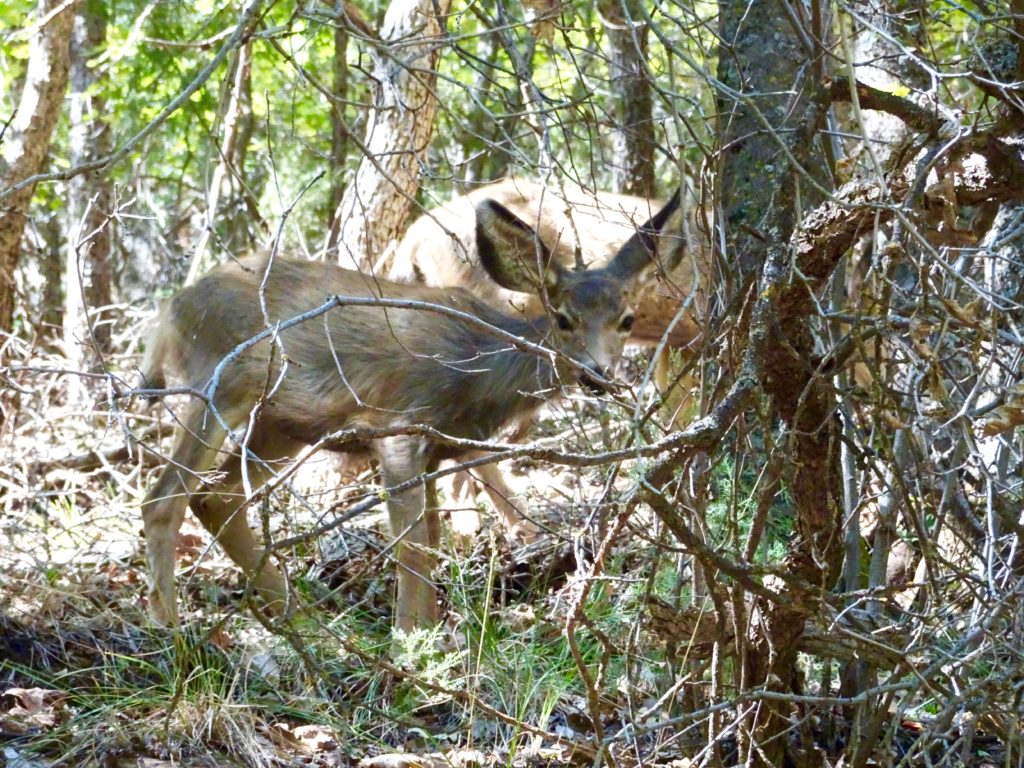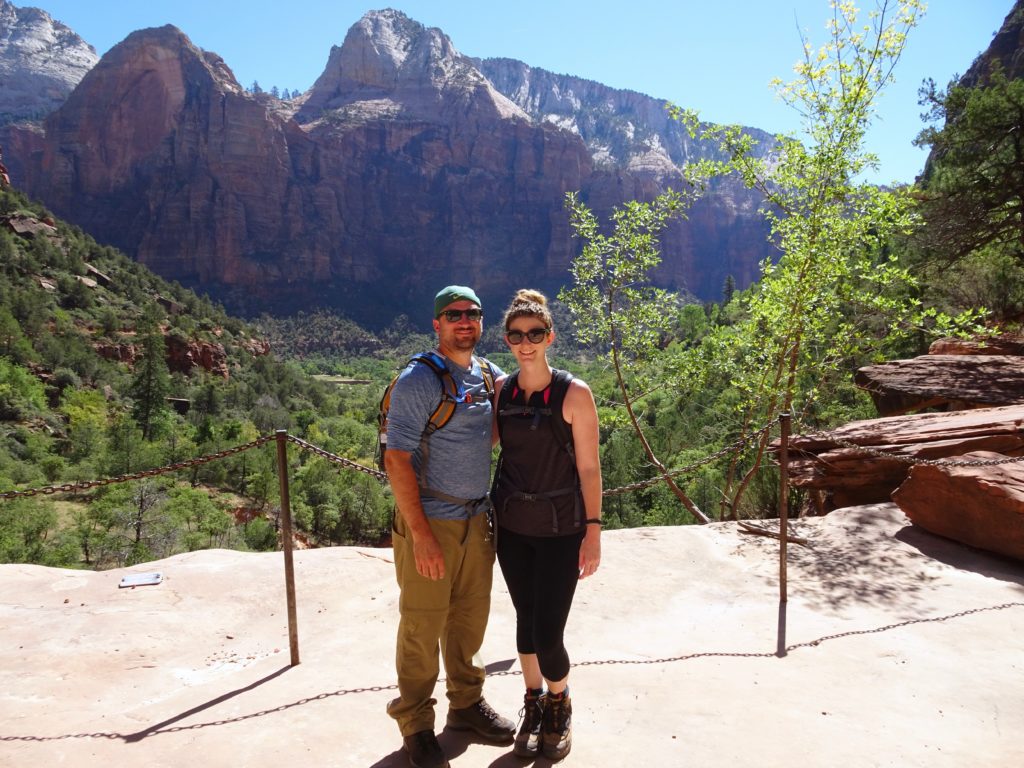 We had initially agreed that we would go to the outfitters spot at the entrance of the park before we attempted The Narrows, a trail that is less of a trail and more of a river running through a slot canyon. But then we were halfway up the shuttle route and decided to just go for it with what we had rather than going back down to the outfitters and then all the way up the route again. (It takes about 40 minutes to get from the Visitors Center up to the top of the shuttle route, where the trailhead for The Narrows is.)
So we just went for it.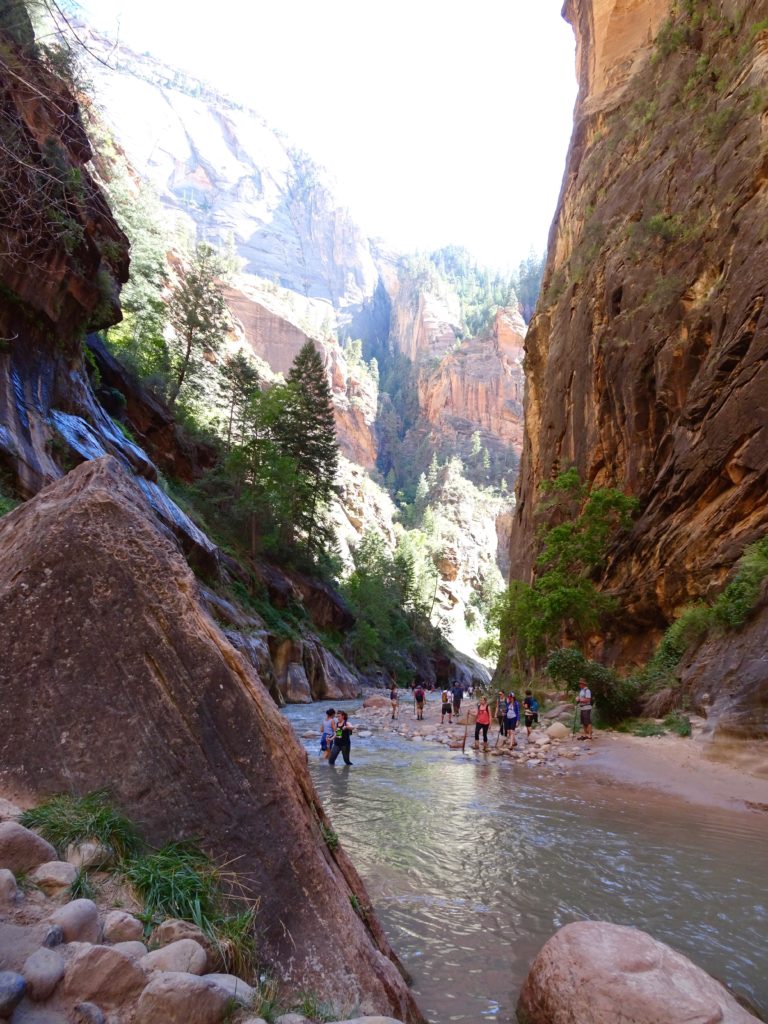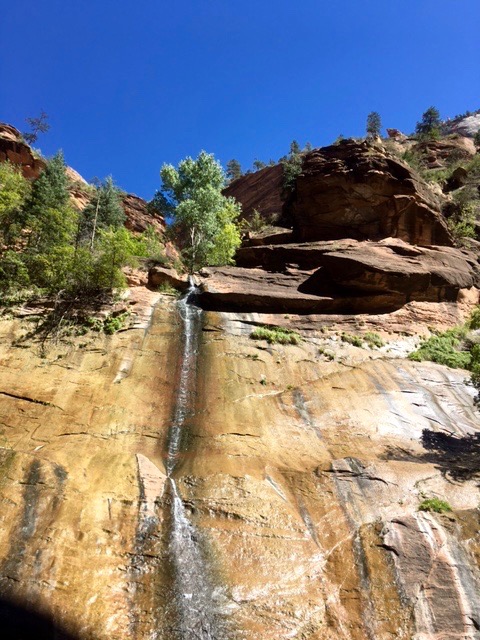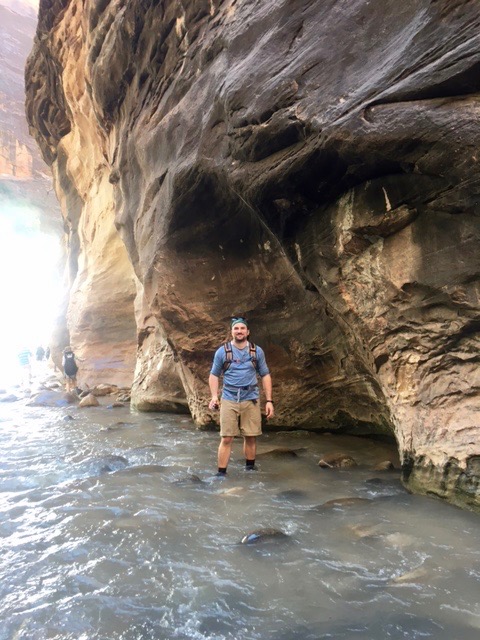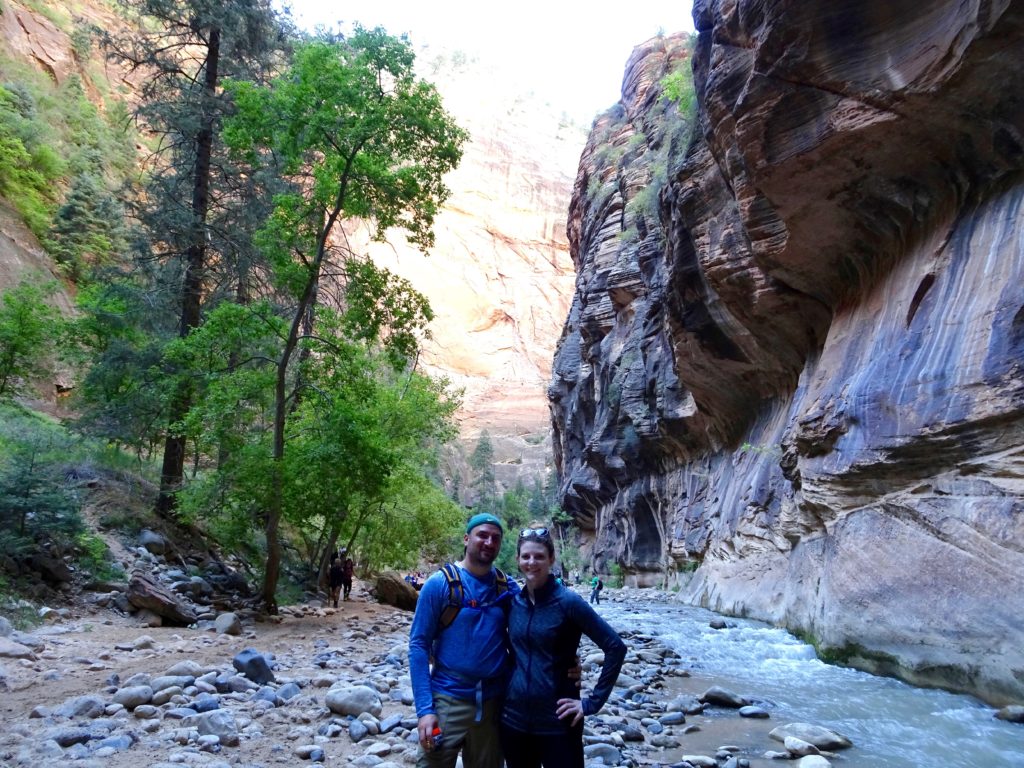 Somewhere along the hike I turned to T and reminded him of when I wanted to buy hiking sticks and he told me that was silly and we wouldn't need them. Then I promptly had to windmill my arms so I didn't crash into the poor unsuspecting European woman who was close to me as we hiked up the river current. (She soon after moved farther away from me so I couldn't take her down with me. But for the record, I never fell!)
This is one of my favorite photos from that hike:
The last day we were in Utah we went to Zion for a ranger-led tour on one of the buses. I would definitely recommend going on one of these tours, because they stop at different little areas that the regular shuttle doesn't, and there is a lot more information shared than you would get on the regular shuttle. Our ranger, Molly, was a young woman who is clearly passionate about her job. (You have to reserve this in advance, and you can only do so in person at the Visitors Center.)
Now onto important things, like…
Where to Eat
Because we were hiking, we packed sandwiches to take with us (though there are two spots to get food at the park, so you don't have to bring your own). You can easily find groceries at the Sol Foods store in Springdale, but brands are limited. If you have specific things you need, bring them with you from the Vegas area.
I stopped into Meme's Cafe one morning to grab breakfast food. Bonus- they have almond milk, soy milk, and coconut milk for dairy-free friends! This place was packed, so go early. Cafe Soleil has both breakfast and lunch. We sat outside and had such a great view. The food was good – I had the special (tacos) and it was a little spicy, but I'd go back, definitely for an Italian soda! We went to 9 East for dinner one of the nights. I had no idea the portions would be so huge, and because our hotel had mini kitchens in the rooms, we actually brought back our leftovers and had them for dinner the next night! The bolognese was great, T loved his duck pizza, and the menu says you should have dessert first – which I appreciated. I wanted to go to The Spotted Dog Cafe, too, but we just weren't able to fit it in.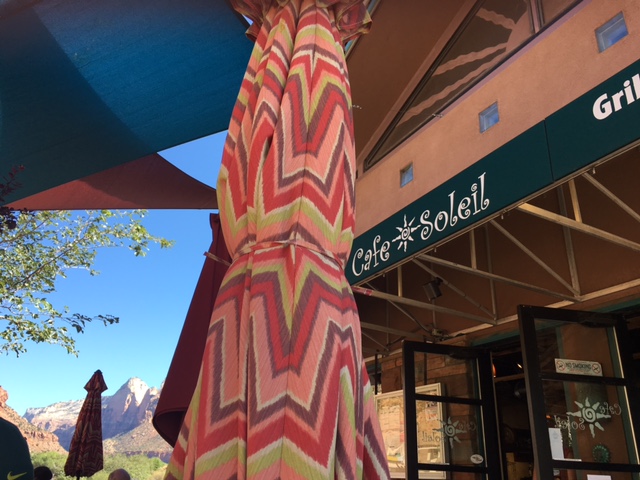 Our Favorite Day Hikes
Easy: Court of the Patriarchs, Weeping Rock, Lower Emerald Pool, Riverside // Medium: Middle Emerald Pool, The Watchman // Hard: The Narrows
Other posts to check out: Our day trip to Bryce Canyon, What to do in Las Vegas, and a Utah Packing List