T and I are back from our vacation, which included 4 days in Southern Utah for hiking at Zion National Park and Bryce Canyon. I'm continuing my #50before50 and checking Utah off the list! Today's post is our suggestion on where to stay for Zion and Bryce (if you aren't planning to camp).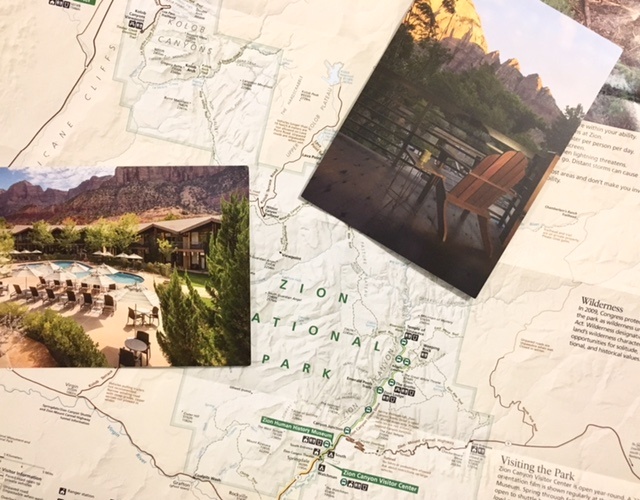 We stayed at the 
Desert Pearl Inn in Springdale, Utah
, and I'm sad I didn't take more photos at the hotel – we just weren't there enough! I'm so excited to share photos from the trip, though! (Note: This post isn't sponsored at all – I just want to share our trip as a whole because it was so great!)
We chose to stay in the town of Springdale for a couple of reasons: It's the town next to Zion National Park and just about a 2 hour drive to Bryce Canyon, where we had planned to spend one day of our hiking vacation. To get to Springdale you actually have to fly into a larger airport like Las Vegas (where we flew in) and drive the few hours there. (I'll post more about that in the itinerary post – coming soon!)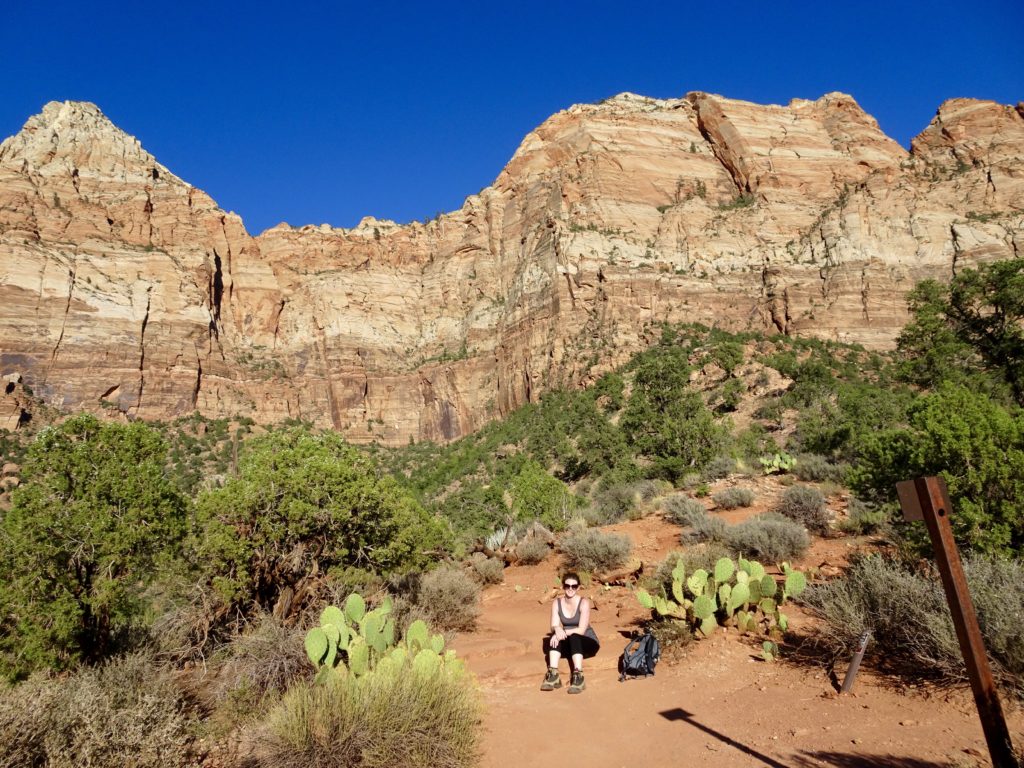 I decided on the Desert Pearl Inn from all of the great reviews I saw online.
(Whenever I'm planning a trip, I go straight to TripAdvisor to see what the reviews look like!)
Pulling into the town, I wasn't entirely sure what to expect, because a lot of the places we passed while driving in looked very – well – rustic. There were also so many RVs on the road with our little rental car! I actually started to think that there couldn't be any nice hotels in the area if that many people brought their hotel with them! But then we pulled up to the Desert Pearl Inn and I could breathe a little easier 😉
The views in Springdale are incredible.
One morning I got up and drove the half mile down to the grocery store, and I could not get over the beauty of the mountains surrounding the town. The only way I can describe it is to say that it's so pretty, it's stupid. And pictures just don't do it justice!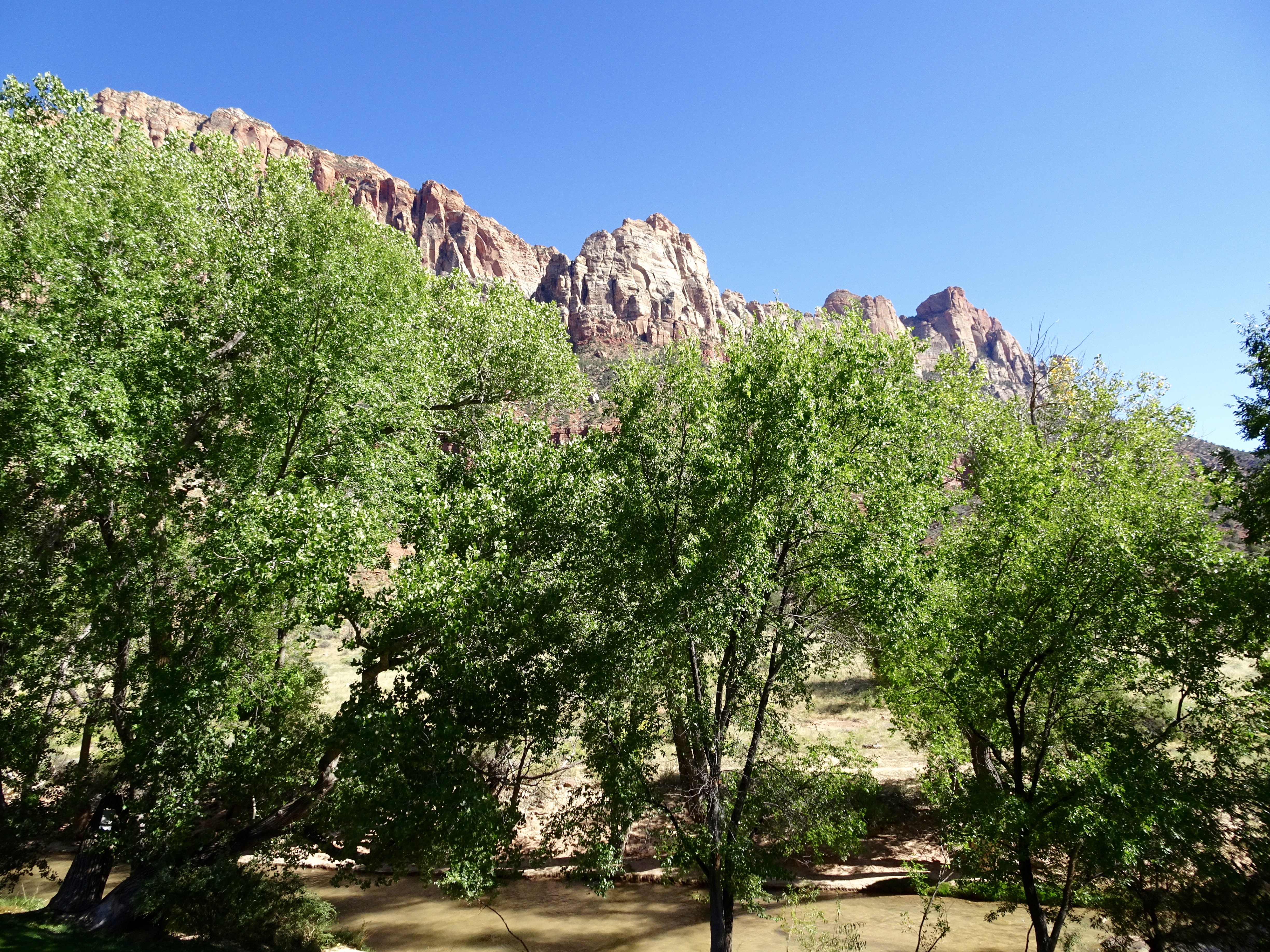 Pros and Cons of the Desert Pearl Inn:
Pros: The view. It's crazy. The restaurant on site has good food at a reasonable price (with a decent wine list and a longer-than-usual dessert list. Also, they encourage eating dessert first. I appreciate this. The restaurant isn't technically owned by the hotel, but it's 10 steps away. We made a reservation, but I don't think you necessarily need one. There's also a little coffee shop on site, but it was under renovation while we were there (reopening Spring 2017). Close to stuff in town like other restaurants, the grocery store (0.5 mile), a little breakfast spot called Meme's where I stopped to get a coffee with a vanilla flavor shot and coconut milk. The pool and hot tub have the same crazy-good view. I loved the little balcony off our room for coffee in the morning with the sounds of the river. The shuttle from Zion NP runs directly to the front of the hotel, so you don't have to take your car to get to the park. (It's also just about a mile walk to the park, but it's mostly uphill.) And in case you need it, there's guest laundry on-site, so you can pack light and use their coin-operated machines.
Cons: The lighting in the room was odd. There are some overhead lights, and there are lights by the bed, but the ceiling is really high so the light casts a shadow, making it oddly difficult to see what you're trying to do. This was particularly annoying when I was trying to pull things out of my suitcase (aka differentiate among 4 different pairs of black workout pants). I wish that all bathrooms were designed by a woman, because they would make so much more sense. It's nice to have the sink separated from the shower/toilet area, but I personally like having the shower separated too. Not a super "con" but we went to the desk to see what DVDs they had – to find out that they actually keep VHS tapes. There's something I haven't seen in a while! Most of the movies they had were family-friendly, which might be a good thing in a few years but wasn't up our alley this time.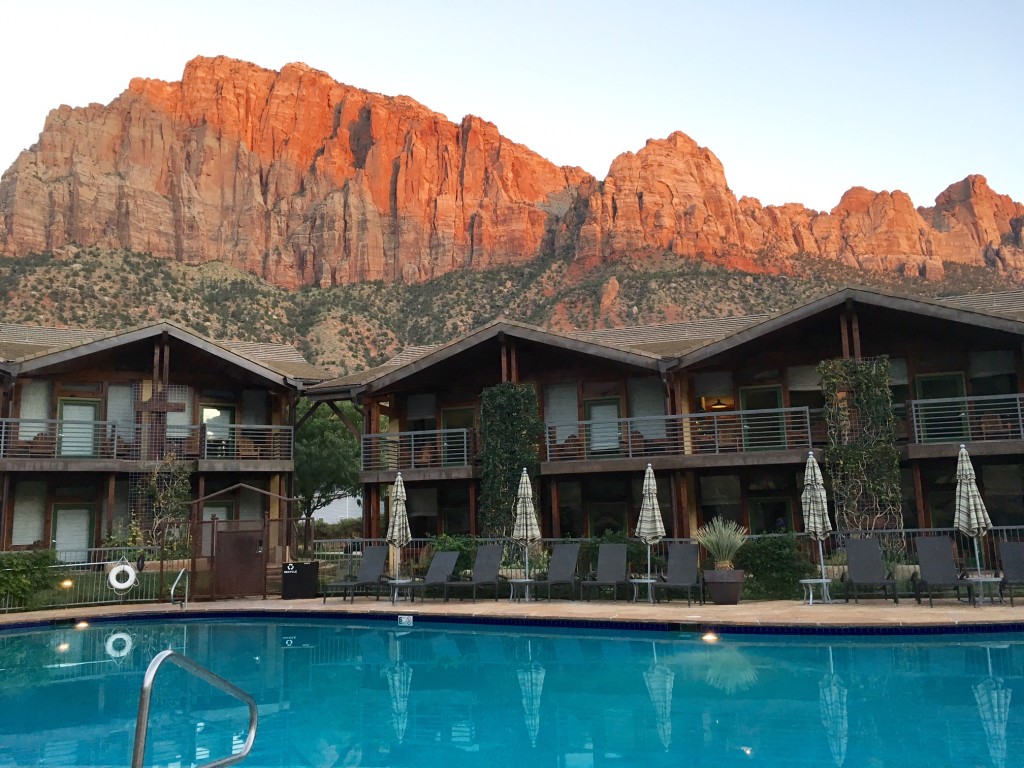 Next up: Our itinerary!
Is there something you want to know about our stay at the Desert Pearl Inn? Tweet me or leave a comment below!