Before we left for our trip to Utah, I kind of had an idea of what to pack, but I couldn't find a packing list that really related to what we were doing. Everything I found online for a packing list was geared toward expert hikers, people who had been doing this since before they could walk (or so it seemed). And we are definitely beginners.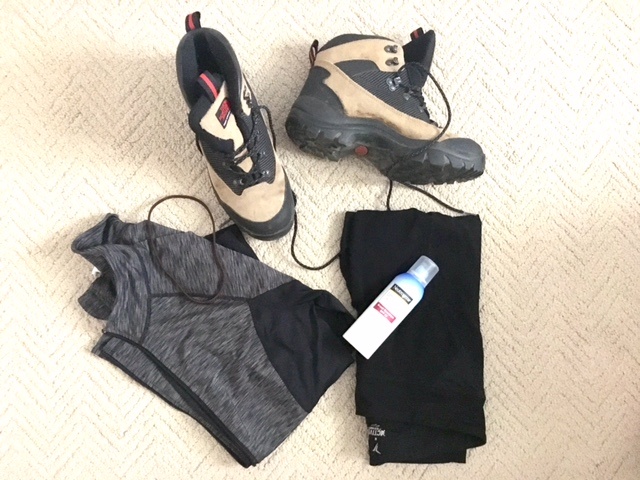 We weren't going to camp, we weren't driving an RV, and we weren't doing any multi-day hikes. We were going to sleep in a hotel, and this was our first hiking trip. Why had no one made a list for this yet??
I wanted to call this "How to hike when your idea of being outdoorsy is sitting on a patio somewhere" but that's not great for SEO 😉 so here we are!
I'm separating this into 3 parts: 1. Things I brought and am so glad I did 2. Things I didn't bring that I wished I had and 3. Things I brought that I definitely did not need.
First up:
Things I brought and am so glad I did
Hiking boots (I get it, I didn't want to wear hiking boots because they're not the best looking things, but I was so glad that I borrowed them from my sister. I wore my sneakers when my boots weren't yet dry from hiking in the river, and I noticed a huge difference in the grippiness of my sneakers vs. the boots. If you're doing any unpaved trails or any trails with sand/rocks/sticks, you will need hiking boots. Trust me!)
Wool socks (Same with the hiking boots, I was so against them because of how they look. But they make a huge difference!)
Fleece and sweatshirt (I wore these mostly in the morning and at night, but there was one day I also brought my fleece along on the hikes and ended up wearing it there, too. If you plan to be up and out before 11am or out to dinner/for a walk after 7pm, you really should have a fleece with you! The temperature is strange in Utah – 40 degrees overnight but 85 mid-day!)
Cropped leggings (I wore these every day of our hikes)
Full-length leggings (mostly worn for sleep but I also wore them at night hanging out on the balcony when it was chilly out)
Workout tops from Zella and alo (Overall, having workout material items was super important, especially on the day we hiked through the river. You need clothes that aren't going to hold moisture from the river or from sweat, because the temperature varies so much from when you are in the sun to when you're in the shade, and even more at evening/night time.)
My favorite sports bra (I ended up wearing one every day!)
Zip-up tops in case it gets cold (I wore one every day)
Sunscreen (I brought it with me in my day pack, too) and my Fitbit so to see how many steps we logged each day (so much fun to sync it at night and see how many steps we had!)
Rain jacket (Luckily for us, it didn't rain while we were there, but the day after we left they had a huge rainstorm come through.)
A dry bag for my cell phone
Packing cubes! I bring these with me every time I travel, and they make a huge difference in how organized I am.
Shop my recommendations:

Things I didn't bring that I wished I had
Carabiners (We're not expert hikers by any means, but having these would have been super helpful for when we wanted to hook something to our bags and not carry it anymore. For example, the day we went to Bryce I wore sneakers but T thought we should bring my hiking boots just in case. He tied them to his backpack, and I did end up wearing them for our hike into the canyon and tied my sneakers to his bag.)
Sport sunglasses (Somehow I thought my Prada sunglasses would be fine, and they were awesome for how much of my face they cover but they weren't right for being on such an active trip. T adds that he wished he had brought some sort of strap for his sunglasses, because they kept falling off the top of his hat. When you're spending the entire day with just a small backpack, it's hard to have space to put everything.)
Short sleeve workout shirts (My workout tops were awesome for the material, but I didn't think about having something that covered where the backpack straps hit my skin. I don't own any short sleeve workout tops, so I didn't bring any, but that's something I should have gotten before heading to Utah.)
Shop my recommendations:
Things I brought that I definitely did not need
Workout shorts (I thought some of the hotter days I would wear these instead of my cropped leggings, but I ended up not wanting to wear them because of two reasons: sun exposure (it's easier to get a sunburn at higher altitudes) and I found that I would want to just plop myself down on a rock to rest or would lean up against something, and I had a layer between my skin and the rocks when I was wearing the crops)
A full packing cube of swimsuits (Let's face it, some days you're going to be too tired from hiking to even make it to the hot tub. 1 or 2 should be plenty!)
Here's a list you can print out: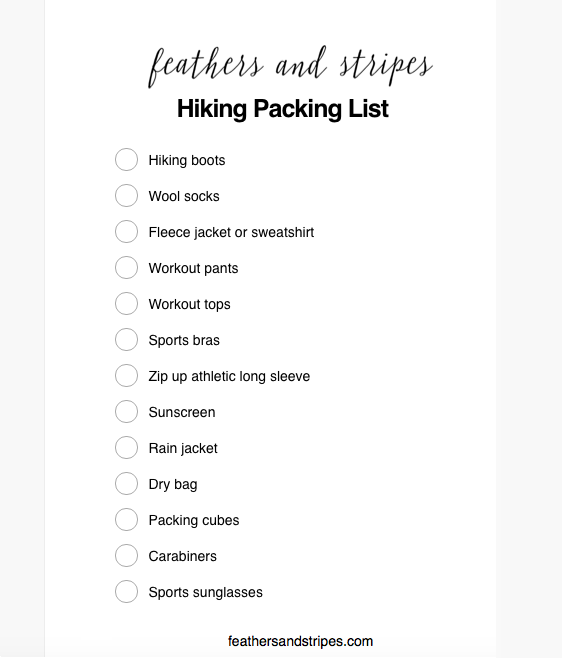 I hope this was helpful!