One of the most asked-for gift guides is for toddlers! I'm excited that so many of you asked, because I have some good recommendations in this area. I'm lucky to have nieces and nephews who all have very different personalities, so I get to see what toys some kids love and others don't care about, and which toys seem to be universally loved.
That's what today's gift guide is about: The perfect gift that they'll play with over and over again.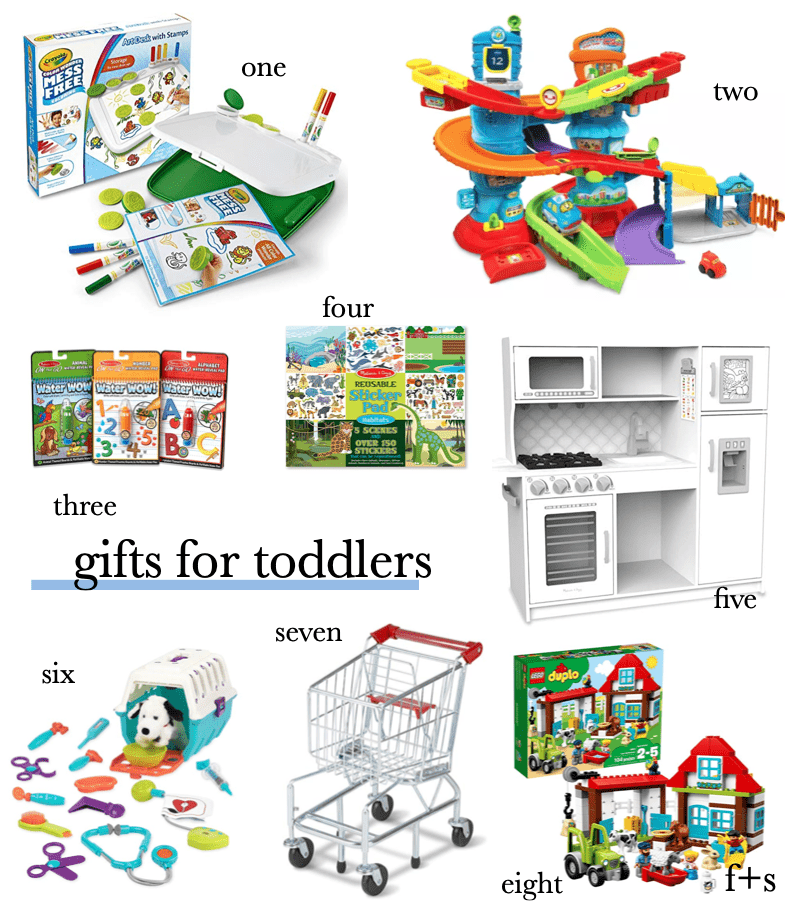 Let me also preface this list by saying that it's perfect whether you're buying for a little girl or a little boy. My nieces and nephews definitely have some gendered interests, like princesses vs. ninjas, but at the same time they all love pretend play and imaginative play, baby dolls and building blocks and just new toys in general!
ONE: Mess-free coloring is something every parent dreams about, and Crayola DELIVERS with their Color Wonder markers. They only color on the special paper, so this is perfect for kids who don't yet understand that a crayon is not free reign to color everywhere (aka toddlers). We travel with these, because they're great in the car, on a plane, at a hotel… everywhere. They have character options, from Paw Patrol to Peppa to Mickey to Disney Princesses and even Baby Shark! Coloring is so good for their fine motor skills, and it's something they can do at home or on the go.
TWO: Play garage: E loves her play car garage, and she plays with it every day. I bought her a bunch of little cars from the Target party section (it was a set of 6 that are supposed to be party favors, but they fit perfectly in her hand and she often grabs one or two to take with us when we go somewhere). Those little cars are her go-tos for the garage and she has so much fun putting them in the different parking spots. There is also a Minnie Mouse version of this, which is perfect for Minnie-obsessed toddlers!
THREE: Water books are one of our favorite on-the-go toys! We probably have 5 or 6 of these, and we keep them in the cars, at grandma's house, and in the living room. You "paint" with water to make colors appear, but they're no-mess, once they dry they're reusable, and toddlers seem to love them! We gave these out as party favors for E's 2nd birthday, and they were a big hit. The chunky "paintbrush" is great for little hands.
FOUR: Reusable sticker books: We had something similar when I was little, and I loved these. They're not stickers really – more so they're those vinyl clings that you can use and reuse on the different backgrounds in the book. E loves the farm one, and I bought these for a bunch of kiddos for this Christmas!
FIVE: Ah, the toy kitchen. Every kid needs one of these at home. It amazes me how much time toddlers will spend at the play kitchen in our nearby children's museum! This is E's big gift this year! (And don't forget the play food to go with it!) A play kitchen is a great addition to a playroom/toy room.
SIX: If your little one loves animals, the vet kit is so cute. E is often "checking" our temperatures and telling us we're healthy, so this would be a great intro to animal care! Pair it with a stuffed animal and you're good to go!
SEVEN: The play grocery cart is one of the toys the kids fight over all of the time. We also have a little shopping basket, and E will choose one and give me the other and direct me to "shop" with her. Little kids love to imitate what they see in everyday life, so if you have young children you take with you to the store, this may be one of the best toys you can get them.
EIGHT: T and I both played with Lego as kids, so we didn't hesitate to introduce E to Duplo. Her favorite right now is this farm set, but she also mixes in pieces from her Minnie Mouse set, too, as well as her construction trucks. I love watching her create with these blocks, and they're a great tool for teaching about clean up time! I use these bins to organize her Duplo in the play room. Most of the bigger LEGO sets aren't suitable for kids who are 2 years old or younger, but Duplo is a great toy for little hands.

OTHERS: Other favorites are this classic toy car (all of the kids take turns riding in it and pushing each other), this ride on toy plane featuring Minnie Mouse, and these classic trains. Next on our list? Getting a dollhouse and a water table!

You might also be interested in:
Or these other gift guides: