I remember getting an invitation for our friends' daughter's first birthday party 4 years ago and thinking, "whaaat do you buy a one year old??" and googling over and over "gifts for 1 year old baby girl." If my memory is correct, I ended up getting her some clothes and books.
Now that we had our own daughter's first birthday, I'm sharing our favorite gifts for a 1 year old baby girl (or boy!).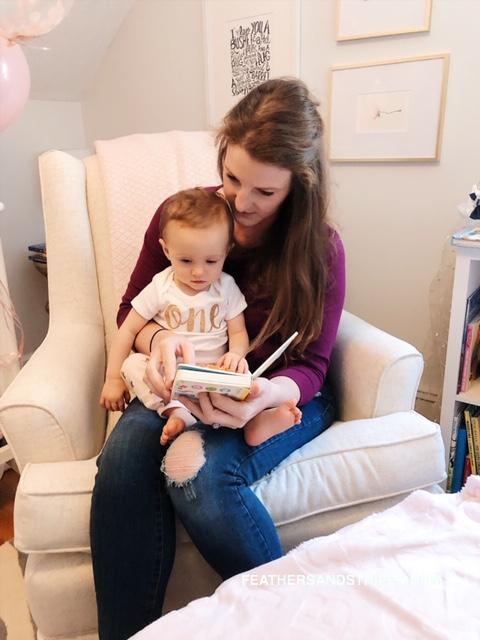 There are so many toys out there, from the most basic stack toys to the most high-tech educational toys. These are just a selection of some of our favorites!
Gift ideas for 1 year olds
Indoor toys
Stack toys are great for development, whether they're bath stacking cups or blocks (we love these stacking rings too! E uses them also as bracelets!).
Sorting toys are great for development, too, like this shape-sorting truck.
If you're looking for a sort of activity center, this one has a lot to do.
Another toy that can count as an activity center is the cube that everyone seems to have (and love!). E has been a fan of this one for almost 3 months already, so you could gift this to someone as young as 6 months.
For music toys, we love the classic xylophone (I can play "Mary Had A Little Lamb" on it, but that's it… working on my Beyonce next) for its help with hand/eye coordination.
Outdoor toys
The toy car you might remember from childhood is still super popular, and E will play with it for an hour without stopping. We also love this car, which has a parent handle and is SO easy to push around the yard (or in the neighborhood).
If they don't already have one, the stroller wagon is a must! We have the Radio Flyer wagon, and we use it around the neighborhood all the time. We've also taken it to nearby farms and on longer walks on trails.
Our water table is a huge hit with kids from 9 months to 4 years old. It's something that they can use for a while, as long as they have the space for it. (These can also be used as indoor sensory tables, too, if the family has a large basement or playroom.)

On-the-go toys
For smaller toys that they can use on the go, especially if you know they have a long commute or travel often: this baby remote is cute and great for kids who love to touch buttons (aka my baby girl). There's also this musical toy that plays classical tunes and isn't at all obnoxious. And every baby needs their own cell phone!
Kind of more for Mom, but a friend gave us a CD of Beyonce music played on the xylophone, so it's calmer for babies but Mom can still sing in her head.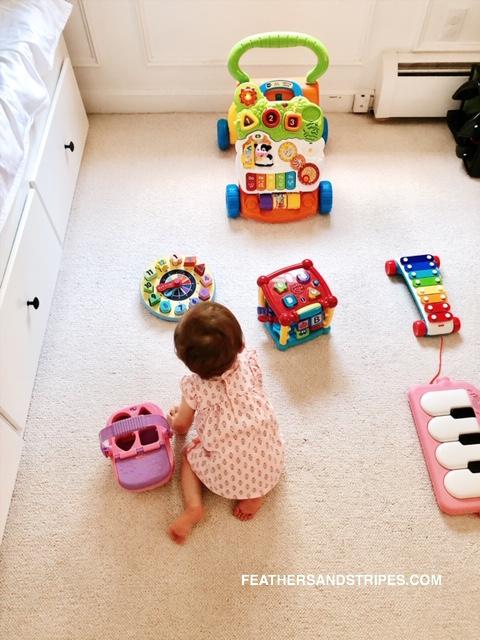 Played with quite often: The picnic basket shape sorter, the activity cube, a chunky clock puzzle, the classic xylophone, the farm-themed walker we used
Books
We love board books! They're so easy for a young child to hold, to turn the pages, etc. We read 2 or 3 books at bedtime every night, so having options is great. And there are so many board books out there! At my baby shower we got quite a few, and it's so fun to read them now, especially with the notes inside from our family and friends.
Just one word of advice: If you gift a book that is common, like Goodnight Moon, try to include a gift receipt just in case! Some of our favorite board books are below.
(The image below is shoppable, so you can just click on each + and go directly to that book!)
What do you get for a one year old who has everything?
I love personalized gifts! If you like practical items, a personalized bath towel or beach towel is a great gift and something they're sure to get a lot of use out of. If you want something they can play with, a name puzzle is a fun personalized gift.
Clothes are still a great gift, especially for a quickly-growing little one! It feels like we are putting away a new bin of too-small clothes every month these days. Our favorite clothing brands for babies are in this post.
What is a good personalized gift for a one year old?
Personalized hooded bath towels, swim cover up, or beach towel.
What should I not get a one year old?
If you like the parents, don't get anything that makes too much noise. Hah! Except I'm not kidding 🙂
What do you think – are there any gift ideas for a 1 year old baby girl that I missed? Let me know in a comment below!