Since you landed on this blog post, you're probably wagon shopping and trying to decide if you need a stroller wagon. I'm going to help answer your questions and break down the pros and cons to see if Radio Flyer Odyssey is the right stroller wagon for you.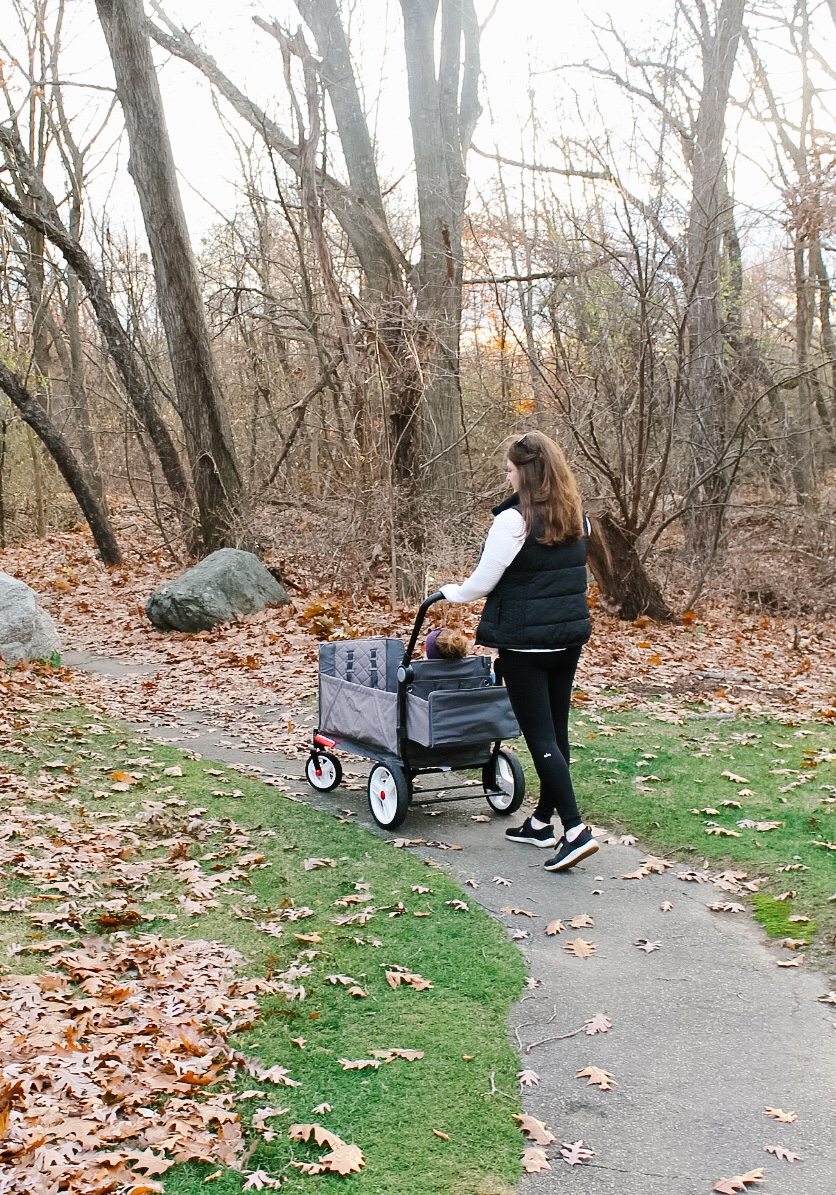 First of all, if you're thinking about a stroller wagon there are some things to consider:
Do you need it to carry an infant? Aka does it have to have a car seat attachment?
Where do you plan to use it? Are you taking this stroller wagon to the beach or on a Disney trip? How much storage does it need to have?
Should it be easy to fold up and transport or do you plan to always have it unfolded and ready to go?
One of the reasons we wanted a stroller wagon is because we have been taking a lot of outdoor walks at local farms. Plus it seems like a great item to have for summer beach trips!
Radio Flyer created the Odyssey Stroller Wagon this past year (it was released November 2020), and we were lucky enough to receive one as part of a select group of bloggers. I've used a couple of other stroller wagons before, so I was excited to try out the Radio Flyer Odyssey Stroller Wagon to see how it compares.
Just an FYI- Radio Flyer has since created another version of the Odyssey, called the Convertible Stroller Wagon. When we got our wagon, it was called the Odyssey and came with a removable storage basket. The Convertible has the double push/pull handles, which is clutch, but it is missing the storage basket:
Quick overview of the Radio Flyer stroller wagon:
Comes with removable UV blocking canopy
Holds up to 120 pounds
Has 2 seats with 5-point harnesses
12″ wheels
Push bar and pull handle on opposite sides of the wagon
Foot brake on the same side as the pull handle
Sides zip down to use wagon as a bench
Recommended for children aged 1 year and up. No attachment for infant car seats
Wagon weight: 44.6 pounds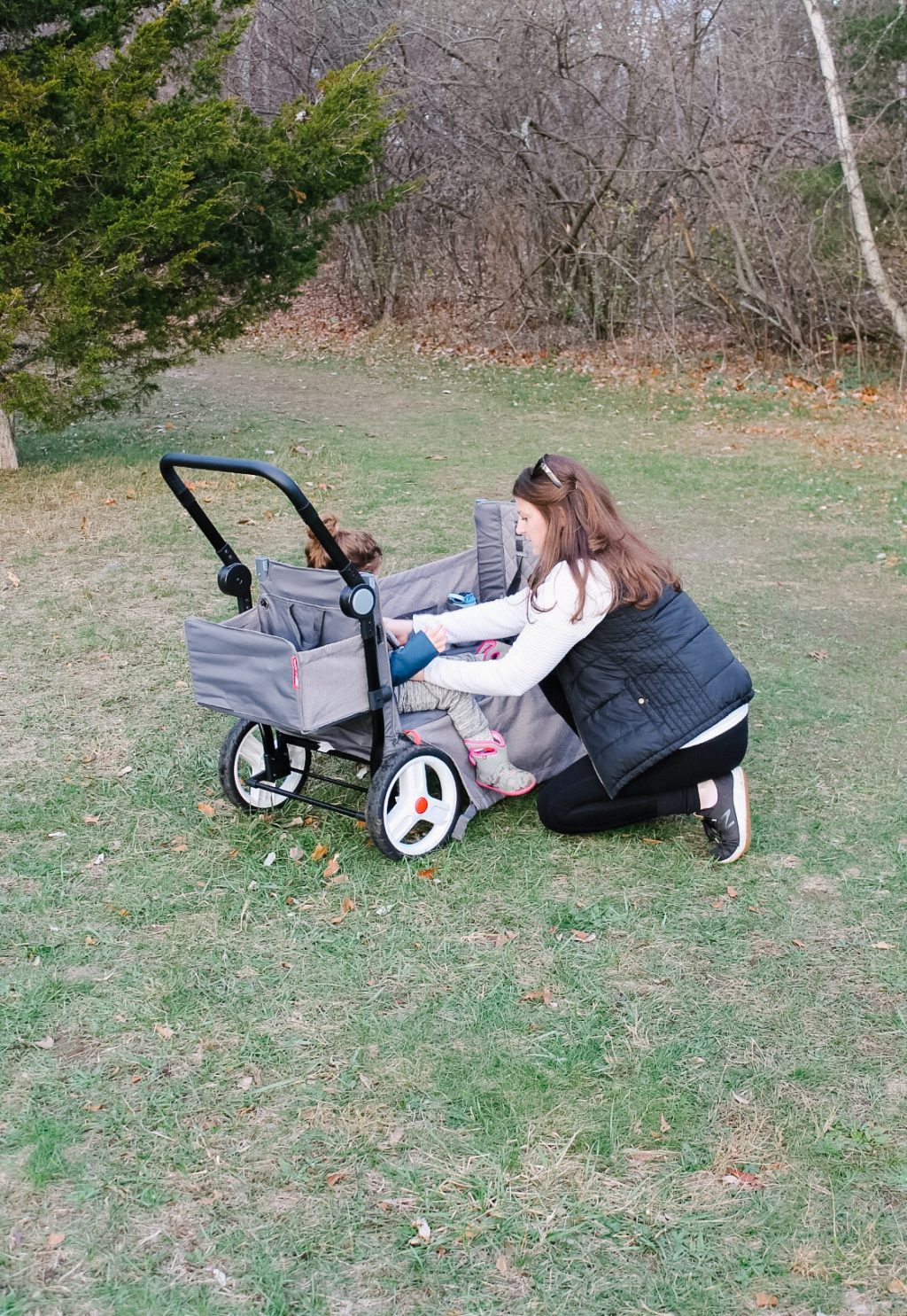 What I love about the Radio Flyer Odyssey Stroller Wagon
Radio Flyer put two handles on their wagon, so there's one that is better for pulling and one better for pushing. They're comfortable, easy to use and store. The pull handle has a foot brake under it.
The stroller wagon comes with two five-point harnesses for two riders. The max weight is 120 lbs, which seems generous.
The removable canopy is made of UV blocking fabric and is easy and quick to put on or remove. (We sometimes use the stroller wagon as a picnic bench, because the sides zip down.)
The wagon includes cup holders and a removable basket on the outside, and storage pouches on the inside of the wagon for the riders. As someone who always has a massive bag to carry everything, I love having pouches to keep everything organized!
The cost! At around $250 including pretty much everything you'll need, this storage wagon is much more affordable than many others.
The wheels are perfect for easily going over grass and dirt.
You might also like my post on garage stroller organization
Cons of the Radio Flyer Stroller Wagon
While the stroller wagon folds up into about as small of a rectangle as it can, it still takes up space in your trunk or garage.
The foot brake is on one side of the wagon, so if you often switch from the push to pull handles, that might be annoying.
I really wish there was an infant car seat attachment for the wagon. With a 3 year old and a 5 month old, it would be so helpful if I could put the car seat on top and stroll both kiddos at the same time. (The recommended age for this wagon is 1+ year.)
We recently took our wagon on the beach and found that the smaller front tires don't do too well in the sand. I had a hard time pushing the wagon because of this. My husband tipped the wagon up onto the bigger tires and it rolled much easier, but that isn't always easy to do if you have a loaded-down wagon! I called to ask if Radio Flyer will be adding replacement tires you can purchase, and they said there isn't a plan right now. If that changes, I'll come back and update this post!

Add-ons you might want:
How much does it cost?
The Radio Flyer stroller wagon is more affordable than competitors at around $250. The wagon comes with a removable canopy, a storage basket (also removable), and two five-point harnesses for your wagon riders. If you're looking for an even more affordable option, Radio Flyer also makes the Off-Road, which retails for $89 and has some similar features.
Lastly, some FAQs about stroller wagons that might be helpful…
What is a stroller wagon?
A stroller wagon is a hybrid between a traditional stroller and a wagon. The popular stroller wagons have features of both, like large wheels, comfortable seats, sun canopies, and storage.
How much do stroller wagons cost?
You can expect to spend anywhere from $100 to $1000 on a stroller wagon, depending on the brand and features you choose.
What features are important on a stroller wagon?
That totally depends on how you will use it! Do you need to lift it into a car? Fold it up for storage? Pull or push it over sand and dirt or just grass and gravel?
The features most important to us on a stroller wagon were storage spaces, including cup holders, an easy ride on most surfaces, and a comfortable steering handle for the adults. We're very happy with the Radio Flyer Odyssey, but when it comes to the beach we'll be looking forward to replacement wheels you can switch out!