Like most moms, I cannot stand toys that make noise. Especially toys that make the same noise over and over and over. When I started to think about all of our favorite toys, and the ones that have stayed in rotation from toddlerhood to now, I realized that they're all non-electronic toys. My daughter started playing with most of these around the time she was 18 months/2 years old and still plays with most of them at 3.5. These toys don't need batteries, and they require a toddler to use imagination to play!
I remember reading an article about toddler toys that talked about the importance of imaginative play. You want your kids to have to come up with their own story about their toys. It's not going to help their creativity to just push a button and be done.
So many electronic toys and games claim to be interactive, but it's passive (vs. a toddler pushing a toy train and making the "choo choo!" sounds on their own, for example). I have heard that the best toys are those which a child has to create with or build with or move.
These are our favorite toys, none of which require batteries or lots of noise. They're best for kids starting around 2 years old, though many have stayed in rotation at 3 years old and 3.5.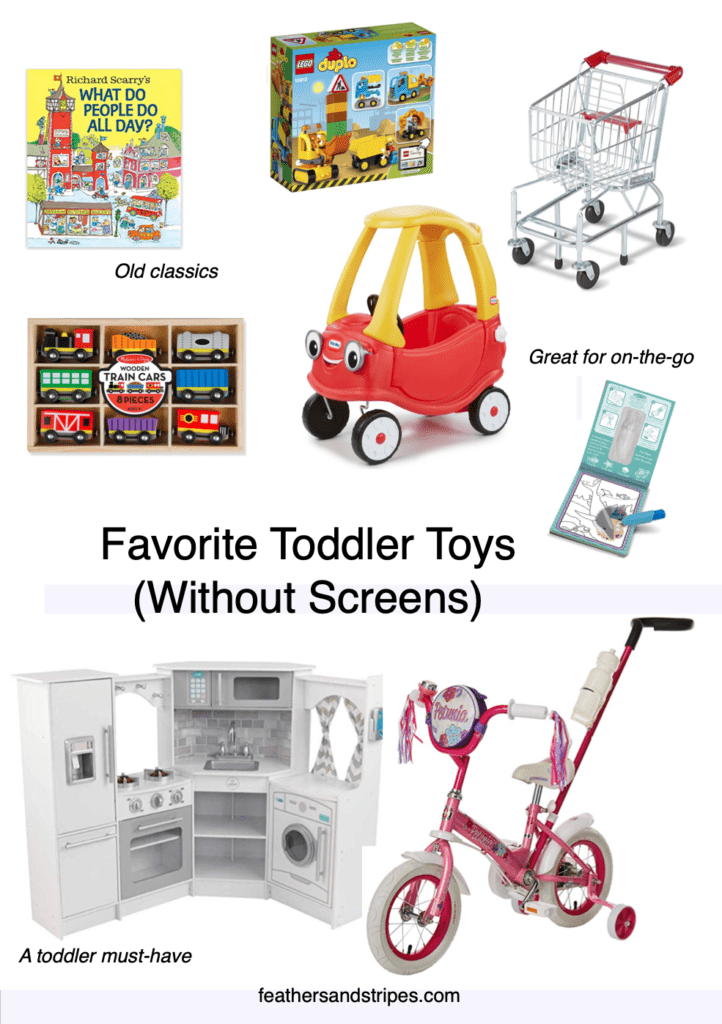 We LOVE Richard Scarry books. There's so much to look at on each page! What Do People Do All Day and Cars and Trucks and Things that Go are favorites.
DUPLO is another favorite around here… Especially when it involves trucks or Minnie Mouse!
This Melissa & Doug shopping cart is one of the things our daughter plays with on a daily basis. She even takes it outside to pick up the mail if we get a lot of packages! We had a different version that was cheaper, but it was really easy for her to flip it when she was not steady on her feet as a new walker. This one is super sturdy, and even new walkers should be perfectly fine using it.
These magnetic train cars are so cute. What kid doesn't love trains?
Ah, the Cozy Coupe. We had a (much) older version of this when I was a kid, and I remember playing with it all summer. We got one when E turned one and it has been a huge hit. (I have hidden it sometimes when we're in a rush to get somewhere. We don't always have the time to stop to "drive" around the yard a few times.)
We keep one of the WaterWOW books in our car, and we always take one when we travel by air, too. They help teach fine motor skills (holding a brush, moving it around) and don't make a mess. Win-win for when you can't break out the finger paints.
One of E's big gifts for Christmas when she turned 2 was a play kitchen, which we set up for Christmas morning. If I'm cooking, she will run over there and "cook" on her own stove.
I have to be honest… I did not think E was ready for a bike at 20 months. BUT my dad bought this bike as a surprise for her, and I was amazed at how well she balanced on it. She LOVES riding it around the neighborhood, using the little bell and storing treasures in the front pouch. And it has a handle on the back that steers! Even if she forgets to turn the handlebars because she spots the neighbor's new puppy, I can do it for her.
I posted this originally in September 2019 but have since updated the post for additional info/updated links. (A lot of these items were also featured in my toddler gift guide)