When you need a gift for a new mom, it's hard to know exactly what to get. Do you bring clothes for the baby? Flowers? What if it's her birthday and she just happens to be a new mom? Since I've been a "new mom" twice now, I'm sharing what you should gift – and what you should avoid.
Best Gifts for A New Mom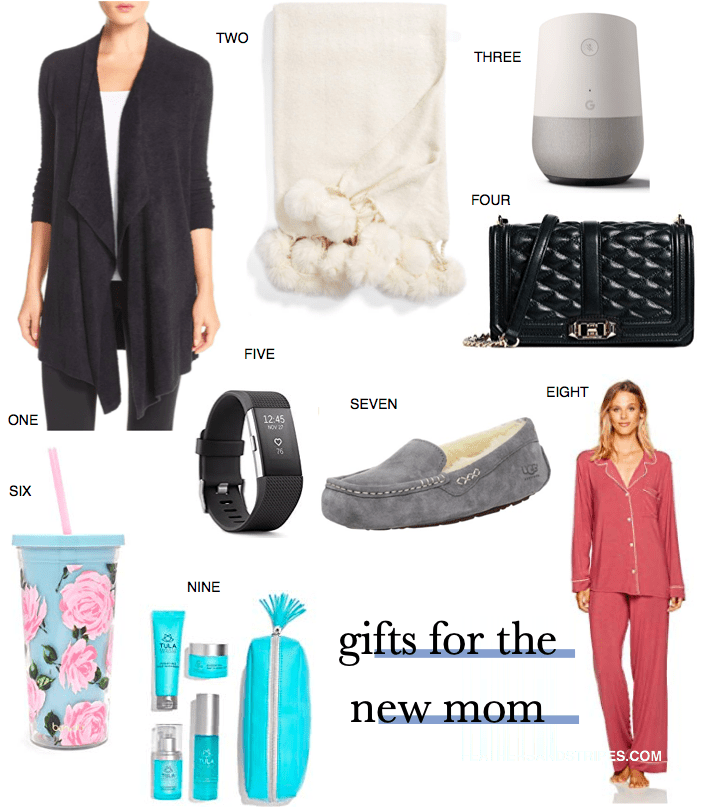 one: a pair of the comfiest leggings (I love these so much that I own 3 pairs and I wrote them their own dedicated leggings blog post!) and the robe/sweater that everyone wants once they feel it
two: a cozy throw for TV binging (as soon as the little ones are asleep)
three: Google Home, which will allow her to do things hands-free (like turn on a soothing playlist or add something to her shopping list)
four: a chic cross-body bag (because the diaper bag is probably her everyday bag)
five: a fitness tracker to track all those steps she's taking in the middle of the night 😉
six: a pretty water bottle (or coffee bottle!)
seven: cozy slippers
eight: nice pajamas for those long afternoons
nine: a nice skincare set (my go-to skincare brand)
Beauty goodies to make her feel pretty: this 5-minute face mask in a bottle, a pretty lip stain, a really great mascara
Splurge gifts that aren't "things": auto-start for her car or a house cleaner (even if it's just a one-time thing!)
other gifts for new moms…
Something off her baby registry that she really wanted
A homecooked meal
An ornament kit for taking a handprint impression of her new baby
An offer to watch the baby so she can take a shower/mindlessly scroll through Instagram/online shop/read a book
A gift card for a spa service or manicure/pedicure
Take a day off from work (clear the day ahead of time with the new mom) and spend the day with her and her baby. Meet up for lunch, wander downtown… It can get lonely being on maternity leave during the week!
gifts you should avoid
To be totally honest, anything that is extra work should be avoided as a gift. If you want to bring a large platter of food, for example, it's helpful if you put everything into smaller packs to freeze. Bringing flowers? Put them in a vase (or do it once you get to the house).
Want to know what other gifts I would suggest? Check out these gift guides: