Christmas last year was a little hectic because we had a newborn baby. I'm so looking forward to this Christmas because E is so much more active – even if she won't entirely get what's going on! Today I'm sharing the best gifts for toddlers, and this list works whether you're giving a toddler gift for Christmas or a summer birthday! This is mostly for toddler girls, but many of the things I picked out can be for boys or girls – and many come in different color options, too!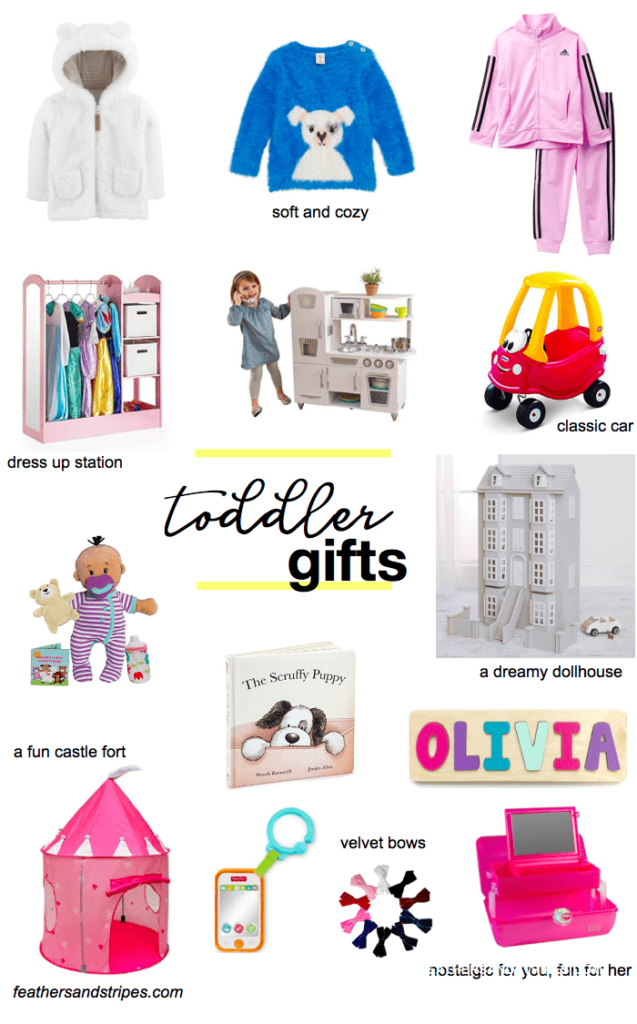 cozy sweatshirt | doggie sweater | track suit
dress up station | play kitchen | classic coupe
baby doll | dollhouse
puppy book | personalized name puzzle ($20!)
castle fort (under $17!) | play cell phone | velvet hair bows | mini Caboodle
Best gifts for toddlers
* Play kitchen – I love that they made a version to fit easily into corners!
* Dress up station (for older toddlers) – comes in 6 different colors with 2 bins for storage
* Mini construction bench – I don't know if I've talked much about this on the blog, but when I was little my dad worked in construction and did quite a few projects on our own home, including building our sun porch and 2-story deck and stairs! I had a little construction set when I was a kid (I actually kept it to give to my kids someday!), so this is a gift I would give to a girl OR boy.
* I am dying over so many of these dollhouses! They really make them detailed, don't they? I think this one is my favorite. This one is the dollhouse of little girls' dreams!
* Metal shopping cart – I love love love seeing little kids at the grocery store with mini shopping carts, and this is one they can have at home! There are plastic versions, too, but if it's an indoor toy you can definitely do metal. (Just keep it out of the rain if you use it outdoors.)
* Personalized name puzzle – I've already ordered a few of these for kids in our lives (sorry for ruining the surprise, friends!) because I just think they're so special. I love a good personalized gift, and being able to choose the name and colors, too, means you can truly personalize these puzzles.
* Clothes – One of my favorite things to gift, because I know that kids grow fast! (Seriously, every other month I'm putting away another bin of clothes!) I love this doggie sweater, a fun unicorn hoodie outfit, an oldschool track suit, and a designer cardigan for less than $25.
Gifts to play with:

Gifts to wear:

Big gifts:

Related post: Our Favorite Books for 6-9 Months
Toddler stocking stuffers
If you do stockings, here are some great toddler stocking stuffers:
* Jammies! I love these ballerina pajamas and these floral ones
* Snuggly booties for cold mornings
* Day of week socks
* An easy-to-clean cup for on the go
* A monogrammed snack bag
* Mittens (because you'll probably lose a few!)
Growing up, we always got things like coloring books, crayons, stickers, and some clothing items in our stockings. I always love hearing what other people did as kids! What did your family do? What other stocking stuffers would you include for a toddler?