We both hope that our daughter inherits a love of books from us. With the amount of reading that happens in this house, it will be nearly impossible for her to avoid it. (And with shelves full of board books, we both already have our favorite books for babies!) E shows a preference for certain books over others, and I thought today I would share our favorite baby books. (These are for 6-9 months… If this is helpful, I'll share more as she gets older!) If you're wondering, "What should I read to my 6 month old?" – read on!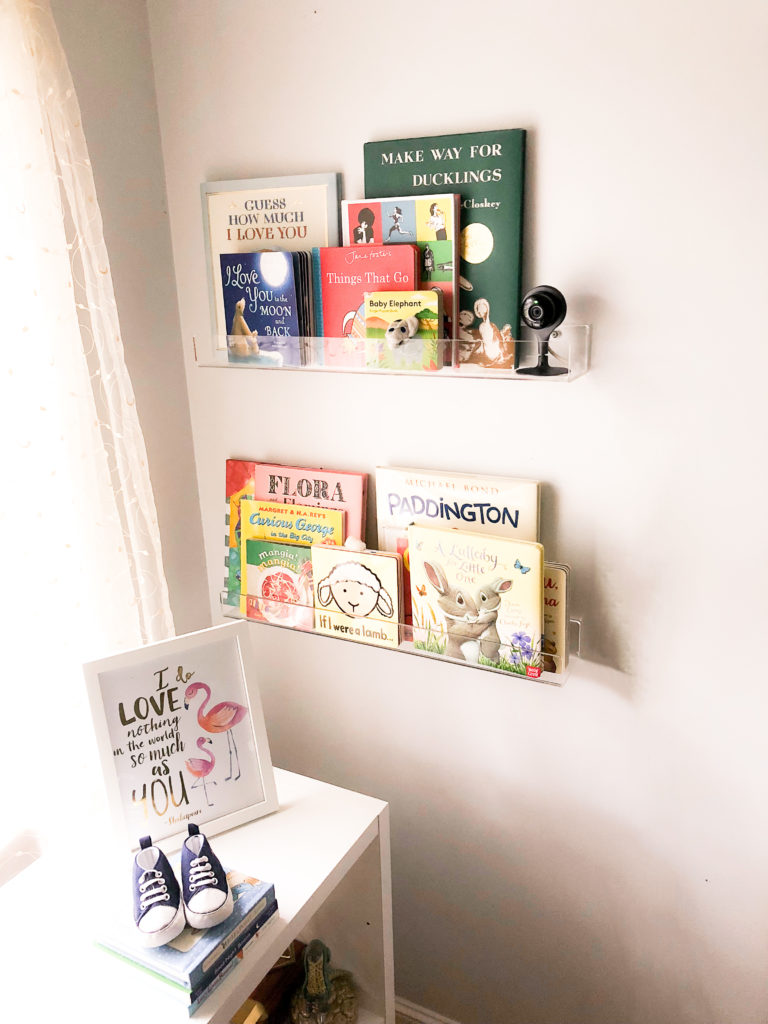 I've found that board books with simple, colorful illustrations are best for the 6 month age. We have read a few longer reads, like Make Way for Ducklings, but if there isn't enough color, our kids are like "See yaaaa" and lose interest.
Books for baby's bedtime
Stories are a big part of our bedtime routine. These all have some "goodnight" aspect to them and are appropriate for the 6-9 month age.
Baby Elephant (bonus points because it's a finger puppet book)
Guess How Much I Love You (just a sweet story!)
A Lullaby for Little One (I already have this one memorized)
Goodnight Moon (a classic!)

Books for whenever
Aside from reading books at bedtime, we also frequently read during the day, especially if we are out on a long car ride or just need to settle down. I love to snuggle up and read, though the books still need to have bright colors to keep baby's attention.
Puppy Makes Mischief (there are 2 different pages in this book that make her crack a smile as soon as I turn to them, no matter what!)
Welcome Little One (this one always makes me tear up)
Where's Spot? (has flaps to lift)

You might also like: Best Baby Clothing Brands for Tall Babies
Touch and feel books for babies
Starting around 7 months, E really got interested in touch and feel books. She has about 5 different baby animal touch and feel books, and her favorite has a lion cub with sandpaper for the tongue. She'll sit there and poke at that page alone for a few minutes.
Baby Animals Touch and Feel (this is the one with the sandpaper tongue for the lion cub!)

Are there any other books for 6-9 month olds that your little one has loved that we should check out? We read 2-3 books every night, so I'm always looking for suggestions for new ones.
More #momlife posts: How Motherhood Has Changed My Style | 6 Months of Motherhood | 7 Months of Motherhood