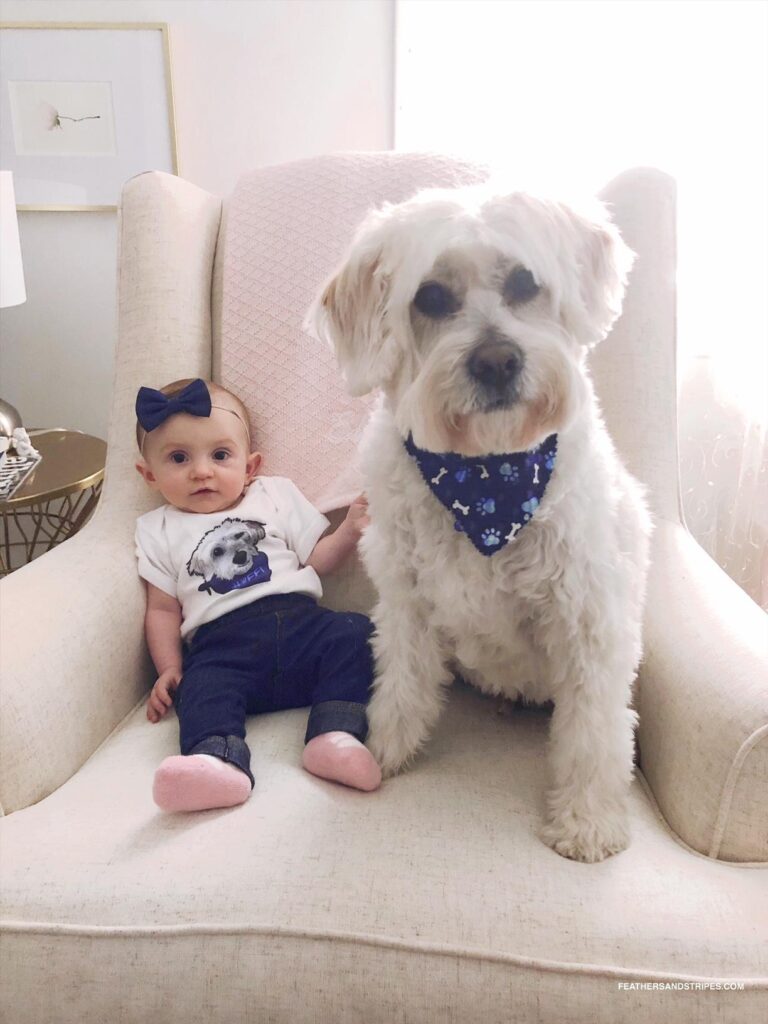 I'm so glad that I decided to keep a baby book (I have this one!). Each month I update the book with what our baby girl is doing, saying, eating, her sleeping habits, etc.

It's so great to look back each month and see how much she has changed. For example, on her 5 month page I wrote, "We think you are teething already" and now I can't remember when she didn't have those 2 teeth on the bottom!
Highlights
We started solids! We actually started the day she turned 5 months, but I'm counting it in this "between 5 and 6 months" update. Favorite? Pureed pears. Least favorite? Peas.
Growing! I'm pretty sure we had a growth spurt at some point recently, because all of a sudden the 6 month clothes are getting tight because E is so tall. At 5 months she was still fitting in some 3 month sizes.
Teeth. I'm putting this under both highlights and challenges, because it's wreaking havoc with her sleep.
More sounds. I made a note when E started using more consonant sounds, and now she babbles all the time.
Challenges
Sleep. We're kind of all over the place when it comes to a sleep schedule. While E goes to bed roughly around the same time every night, the number of times she is awake vary widely – from once during a 12 hour period to 4 times. (Jesus take the wheel.)
Teeth. See above!
Time. I'm working full-time again which is definitely a challenge. Never before have I wanted to be at home so much, and I hate being away from her. I know it's just a fact that lots of people get up every morning and go to work and are apart from their kids, but I'm still having a hard time wrapping my head around it! (Especially when I know she has done something different)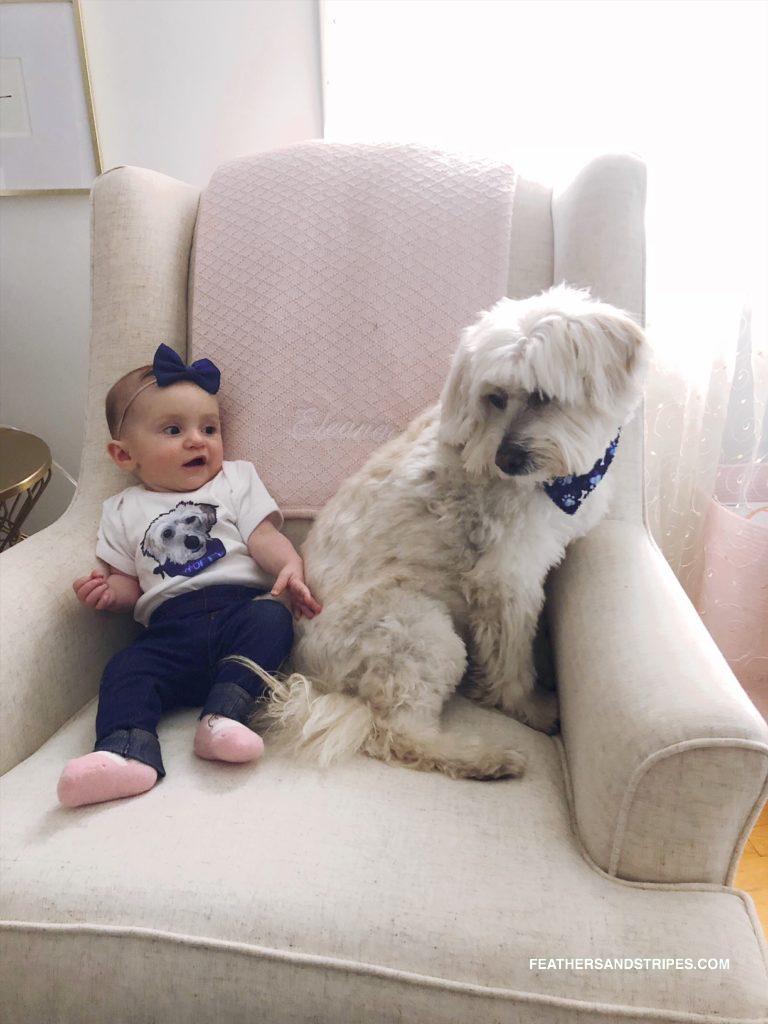 E's custom onesie | blanket | bow
Schedule
Our schedule varies by the day, and it has been very different from the days when I was home most of the time (and working part-time) to now. Regardless, here's a typical (weekend) day for us:
7am E is awake and babbling in her room. We'll let her hang out in there for a little bit just to let her be independent. I used to rush into her room, but I'm realizing that it's not a bad thing for her to hang out alone for 10 minutes or so! I'll go in and change her, then I'll bring her into our bedroom for her first bottle of the day.
9:30am she should be taking a nap, but instead she is playing (usually). In the morning we'll do her playmat, where she loves to kick the noisemakers and grab the rattle. She plays until she gets hungry (sometimes she'll play 20 minutes by herself and other times she wants me to be right next to her while she's playing), and then she'll do another bottle.
10:30am first nap of the day. Sometimes it's 25-30 minutes and sometimes (rarely) it's 2 hours. Usually she has a bottle right before she falls asleep, even if she just had one an hour or so ago. As much as I love napping, my child does not love to sleep. We're trying to be more strict about nap times because this kid just doesn't get enough sleep.
noon we'll do some "lunch" and she might have pureed sweet potatoes or baby oatmeal with some pureed apples or pears. She always tries to take the spoon away from me when she's done, just to chew on it. After her lunch is done, more play time! She loves to be in her jumper and watching Sprout wander around the house. If she is taking an epic nap, this gets pushed to 12:30/1pm.
2:30pm another naptime. Again, sometimes it's 25-30 minutes and occasionally it's about an hour. She'll have a bottle right before she falls asleep, and this nap is usually preceded by some tears. When she wakes up it's back to playing!
5:30pm bathtime every other day. I know some people do baths every night, but because I have really sensitive skin, I err on the side of her possibly also having extremely sensitive skin, and I don't want to overdo it on baths. That said, if she's exceptionally covered in purees or needs a bath, I'll give her one. Then we'll do lotion, another bottle, and read some books before bed.
6:30pm is usually when we get ready for bed. Our bedtime routine is pretty simple: into the sleep sack, turn on the sound machine, read a book, have a bottle, and into the crib.
11pm a "dream feed" – she doesn't wake up, but we give her a bottle to try to extend her sleep time.
And this is where it gets fun and completely inconsistent…
2:30am, 5am normally when you can be sure I'm up and feeding her again. I don't know if other babies do this, but E doesn't totally wake up when she's crying in the early morning hours. Most of the time she doesn't even open her eyes. (Do other babies do this??)
A few of our favorite things
We still use the DockATot and Boppy every day. Our most-used "toys" are E's jumper, playmat, and piano toy. The best things for teething lately are these, this toy that everyone has to have, and this.