If you need me, I'll just be over here silently weeping because my baby is a) almost 8 months old and b) so stinkin cute. (I know I'm biased, but I can't help it!)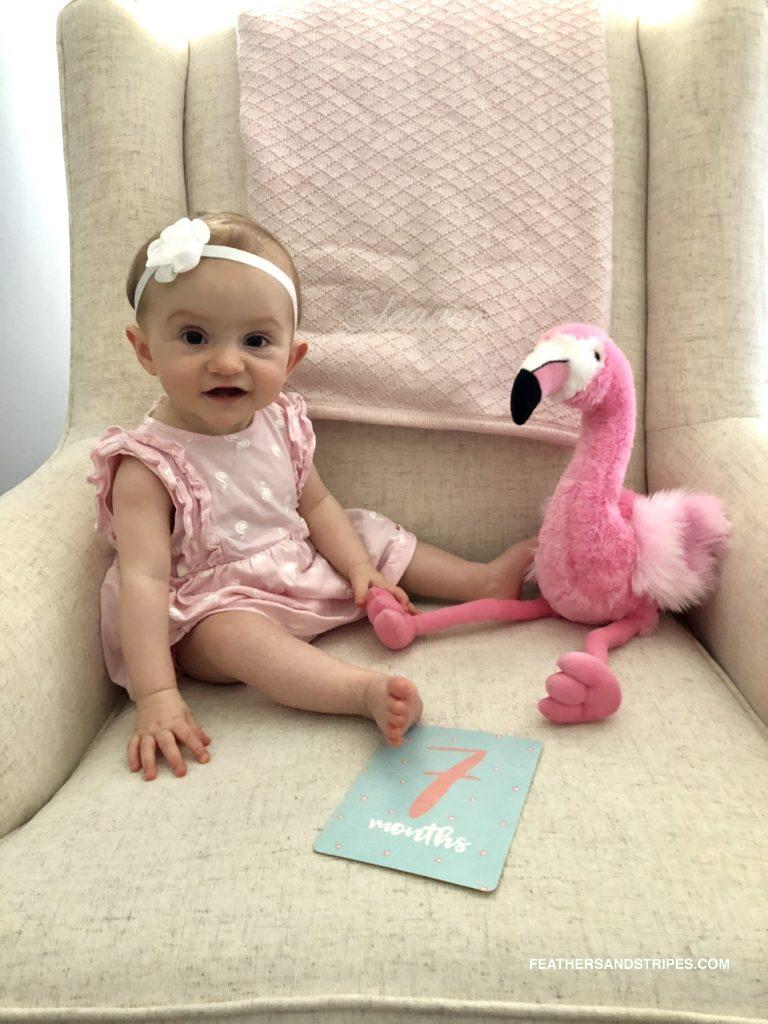 Every time I write a new update, I go back to the previous month's to see what I was talking about then. And I love it! I highly recommend keeping little updates for yourself if you have a baby: In a baby book, in a Google Doc… time goes so fast and it's so hard to remember what was happening and when.
Highlights
Baby's first long flight. We took Eleanor to San Francisco on a 6.5 hour flight, and she did SO well! She's a much better flier than her mom 🙂
Sleep. This month (or, more accurately, just a couple of weeks after the 6 month update) our sleep schedule has become a lot more consistent, both during the night and during the day. Well, I should say it became a lot more consistent and then her two front teeth started to come in and everything hit the fan. But I'm confident it will go back soon to being consistent!
Bedtime continues to be one of the easiest parts of the day. This chick is SO easy to put to bed.
E's personality is coming out more and more. She is active and happy, and she is curious about everything. I love watching her find something new (like a zipper) and see how she tries to figure it out.
Solids/food. She loves pureed sweet potatoes and applesauce (and especially those two things mixed together). We are following our pediatrician's advice to introduce one new food at a time (and repeating that food for a three-day period before moving onto anything else new), and it has been really fun so far to see what she likes and dislikes. On the list of "least favorites"? Peas. She wants nothing to do with pureed peas.
Challenges
Wake ups. We are still getting up once in the middle of the night, which actually just feels normal now. If I don't hear E crying at some point around 5am, I wake up anyway just to find out why. (I think that must be a normal mom thing, to just be on a set schedule and wake up if you don't hear what you expect!)
Teeth. Still. Those two front teeth are now coming in, and they are a BEAST.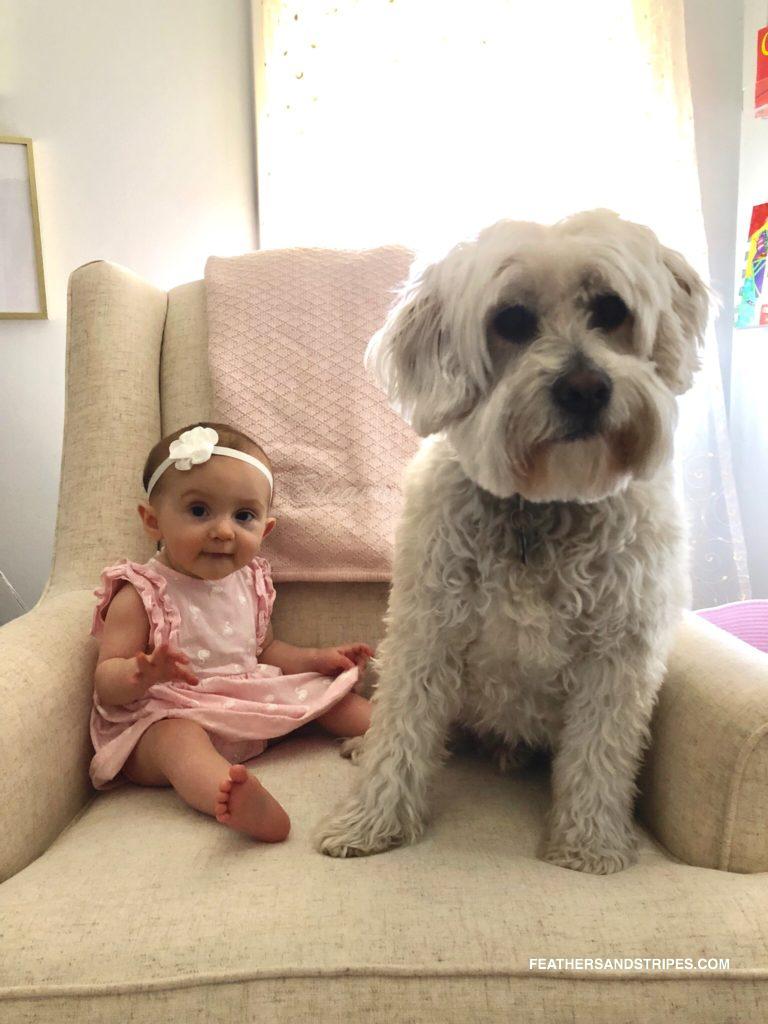 Pictures of these two together are getting harder to take. Eleanor loves to "pet" Sprout, which is basically her grabbing his hair and him trying to get away as fast as possible. Annnd that's why he's basically blurry in this photo!
A few of our favorite things
Eleanor uses her jumper on a daily basis – she LOVES that thing. We're also still big on the playmat. We also love this white noise machine, and now when I turn it on at naptime or bedtime, E immediately seems like she's ready for bed. I always get questions about the blankets I have for Eleanor, and they're from here! This (heavier) and these (lighter) are the two we alternate constantly for when she needs a little extra warmth. (While we've had some summery days, New England nights still get chilly!) For teething, these are the best! And no matter what kind of mood E is in, this guy (we call it "Doodle bug") is guaranteed to get a smile out of her.

Most looking forward to
I can't wait to take Eleanor to the beach! She loves bathtime, so I absolutely cannot wait to see her at the ocean. I already bought her 3 swimsuits that she is going to look so adorable in!

Other monthly updates: Month 1 | Month 2 | Month 3 | Month 4 | Month 5 | Month 6