Back in 2016 I first wrote about our holiday traditions, and we have since updated some. In 2016 we were newlyweds (well, 2 years married if that still counts as newlyweds!), living in our current home (minus the massive renovation we did 2 years ago), both working corporate jobs, and Sprout was our only baby. My oh my how things have changed!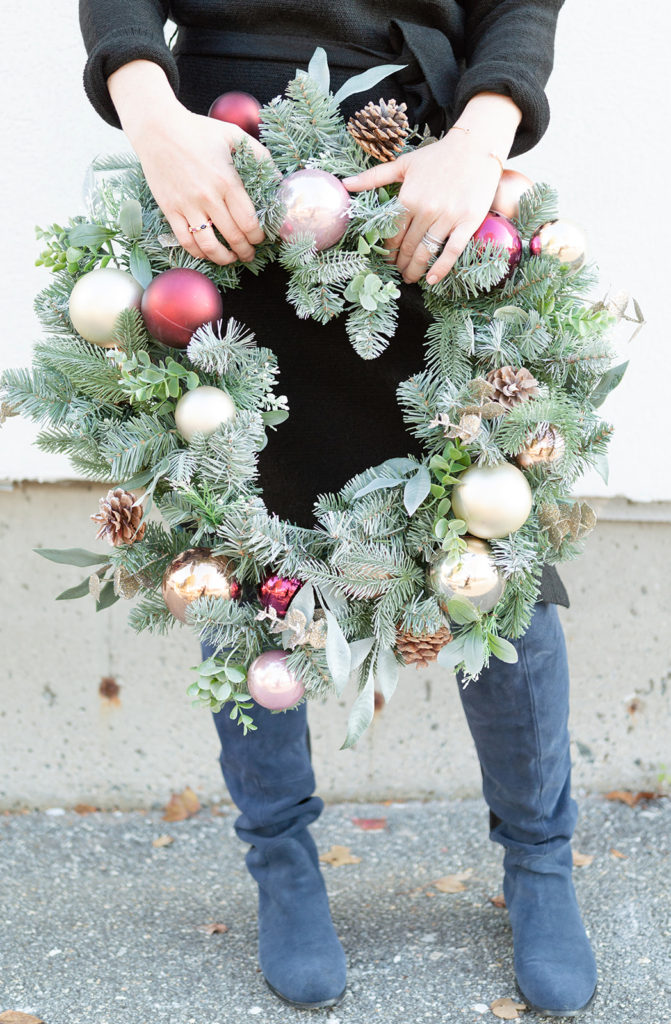 Our family Christmas traditions
Some of our holiday traditions are still the same as when I wrote that first post about Christmas traditions…
Christmas ornaments
Every time we travel, we add a location-themed Christmas ornament to the tree. We haven't been on a plane the past couple of years (you know, pandemic and all). In 2020 we added a lobster ornament to signify the baby's first trip to Maine, and I still need to add a Cape Cod themed ornament because his first-ever vacation was to the Cape when he was just a month old! I normally try to buy an ornament wherever we are, but sometimes I forget – or can't find one. In 2018 we added a Nantucket ornament (it was both T and E's first time on the island!), as well as an ornament from San Francisco. As sometimes happens, the Nantucket ornament actually broke when we put everything back in storage so that has been superglued (I bought it in a boutique on the island). And our SF ornament broke, too, but I was able to find it online and ordered a new one. I now have a much better system for storing ornaments!
The other thing we started doing was putting the photo from our Christmas card into an ornament with that year on it. Slowly we have replaced "filler" ornaments with ornaments that mean something to us, and that makes looking at the Christmas tree that much more special. We have so many of these photo ornaments that I'm thinking about putting up a separate tree just for those.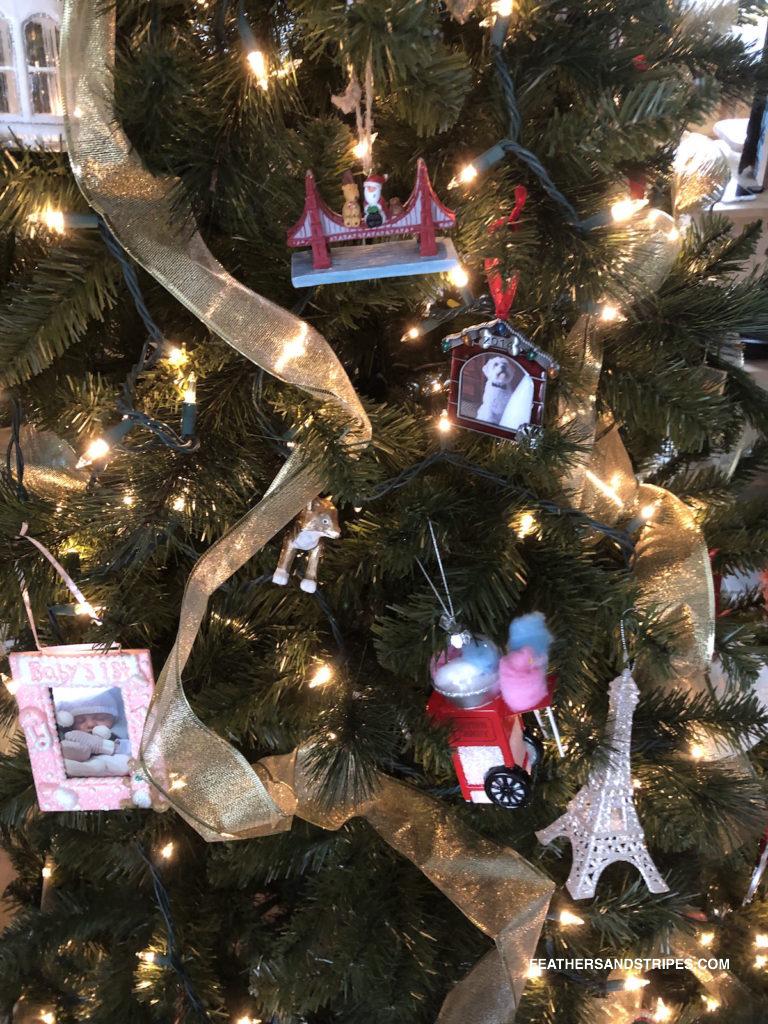 a photo from E's first Christmas season and a photo of Sprout at our wedding in 2014, an Eiffel Tower ornament from a trip to Paris, a San Francisco ornament that E picked out from her first trip there, and a cotton candy machine ornament that reminds me of the baby shower my sisters threw for me 3 summers ago!
Christmas cards
I love putting together Christmas cards each year! 2018 was the first year I did pre-addressed envelopes, and my goodness it made life a lot easier. I did that again this year and probably will continue to order those as long as I have my address list together ahead of time. I just know that with a toddler on the move, a preschooler, work, and life, those Christmas cards weren't going to make it out unless I was able to make things a little easier! You can see our cards from 2018 and 2019, plus 2020, too!.
Christmas dinner with friends
I still get together with my high school friends every year for our annual Christmas dinner. Whether we bring our husbands or not, it's such a fun time to get together and just catch up. This group of girls are my OGs… and seriously no matter how much time has passed, it's so so nice to be together! It isn't super easy to schedule since 3 of us are in MA but one is in FL and one is in CA (talk about being spread out!), but somehow we always make it work. This is one tradition I really missed last year!
Christmas morning
I definitely still love spending time in our home before heading anywhere for Christmas morning. It's just nice to get up and have homemade pancakes, exchange gifts, and relax next to the fireplace with all of the festive lights on (plus music!). The past few years we have had a very relaxed Christmas morning. E was only 3 months old at her first Christmas, and we didn't go all out with gifts for her because she was still so tiny. Last year my sister and her husband (and their 2 pups) were with us the week of Christmas, so it was a bit livelier. Last year was so quiet in comparison.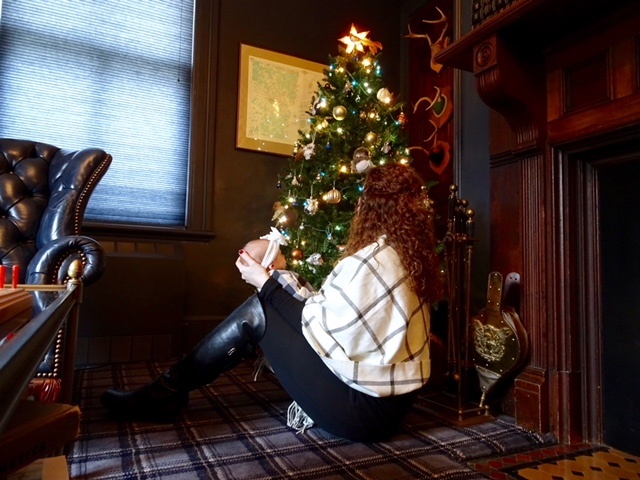 Photo from our first-ever vacation with Baby E
New traditions
I started adding an ornament to the tree to represent something my kids are really interested in at the time. I add the year on the bottom so that each year as we take these out, we can look back! It was fun to take out the 2019 tractor ornament and 2020 Frozen ornaments and to talk about what we would be adding this year. I know it will be a Mickey Mouse for our mouse-loving boy and maybe a ballerina for our girl's first year of dance.
And matching Christmas pjs for my kids. They're at an age where they love to do things together, so matching pajamas was a no-brainer. We'll see how long this one lasts 😉
More of our family Christmas traditions
The family Christmas party with my husband's side of the family. (Another tradition we're going to miss again this year!) The party normally includes lots of extended family and friends and always happens the weekend before Christmas. It is always a very busy, but fun, night.
Some things have had to change for us, like midnight Mass. E's first Christmas year we went to an evening Mass and she was so amazing through the whole thing. She and Mr. B have a definite schedule now, and I don't think we would make it through a Mass late at night – that could be a disaster for the whole week!
My grandmother used to make a LOT of cookies and buckeyes (a midwest thing, they're peanut butter balls dipped in chocolate) around Christmas. I definitely miss dipping into those big glass jars of sweets! My sisters and I usually try to get together to do some baking. I think it would be cute to do this as an annual tradition! Especially as my kids and my sister's daughter get older (and any future children/nieces/nephews come along!). We'll have to pick this one up again soon.
What's your favorite holiday tradition?