I have a Mickey Mouse-loving toddler and preschooler, and I keep seeing the CUTEST Mickey toys for kids. I grew up in Disney-watching house, and when we took our daughter to Disney World a couple of years ago, it was just the best time. She loves watching the Roadster Racers series (when we're not watching Frozen), and our son now asks for Mickey by name … Well, he calls him "Hot Dog." (Hot Dog Song, anyone?)
Whether you're looking for gift ideas for the holidays or a birthday or whenever, bookmark this post to come back for gift ideas for kids of all ages!
Some of my top Disney-related gift picks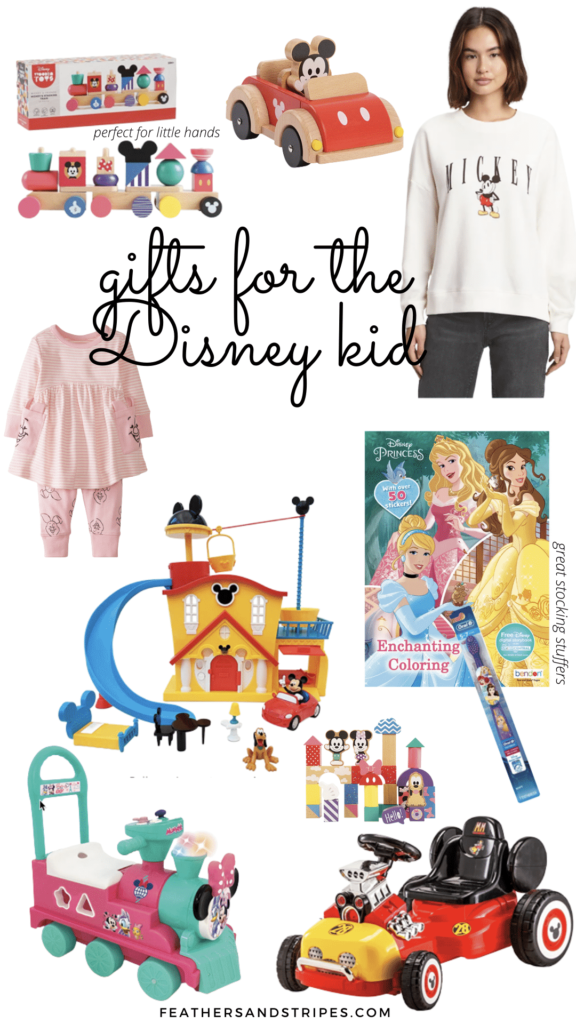 items pictured above (top to bottom, left to right): stackable Mickey train, Mickey Mouse wooden car, women's Mickey sweatshirt, baby piglet dress and leggings, Mickey Mouse Clubhouse toy, Princess coloring book, Princess toothbrush for kids, Mickey & friends stacking blocks, Minnie Mouse ride on airplane, Mickey Mouse Roadster Racer car
Disney gifts for little ones
My daughter got a Minnie Mouse ride-on plane for her first birthday, and she still plays with it at 4 years old. It's one of those toys that you can hand around to your friends' kids, because a) who doesn't love Minnie Mouse and b) who doesn't love a toy on wheels!
My kids always get practical gifts in their stockings at Christmas, like a new toothbrush with a favorite character. A new coloring book is always a big hit, too. We go through coloring books so fast in our house, so I keep a stash of new ones in the closet for when I need to take out something exciting. (Sometimes I have to hop on a work call and just need 15-20 minutes of being able to think, and that's the perfect time to take out a new coloring book from the closet stash!)
Disney gifts for bigger kids
Bigger kids, but ones who still love Mickey, will probably get a kick out of the Roadster Racer car. What kid wouldn't love a ride on (or ride in) toy? And anything LEGO is always a big hit with kids 7-10!
Smaller Disney-themed gifts or stocking stuffers