Today I'm sharing our tips and tricks after our experience gut-renovating our Cape home… what we are SO glad we did, and what we wouldn't do again!
We bought our house back in 2010, thinking we would be there for maybe 3-5 years. In 2018 (8 years later!) we finally sat down and had a serious conversation about whether we were going to move or renovate. We were quickly outgrowing our little home, and there were just some things we really wanted. A garage, another bathroom on the second floor, and a place to hang coats when you entered the house all topped our list.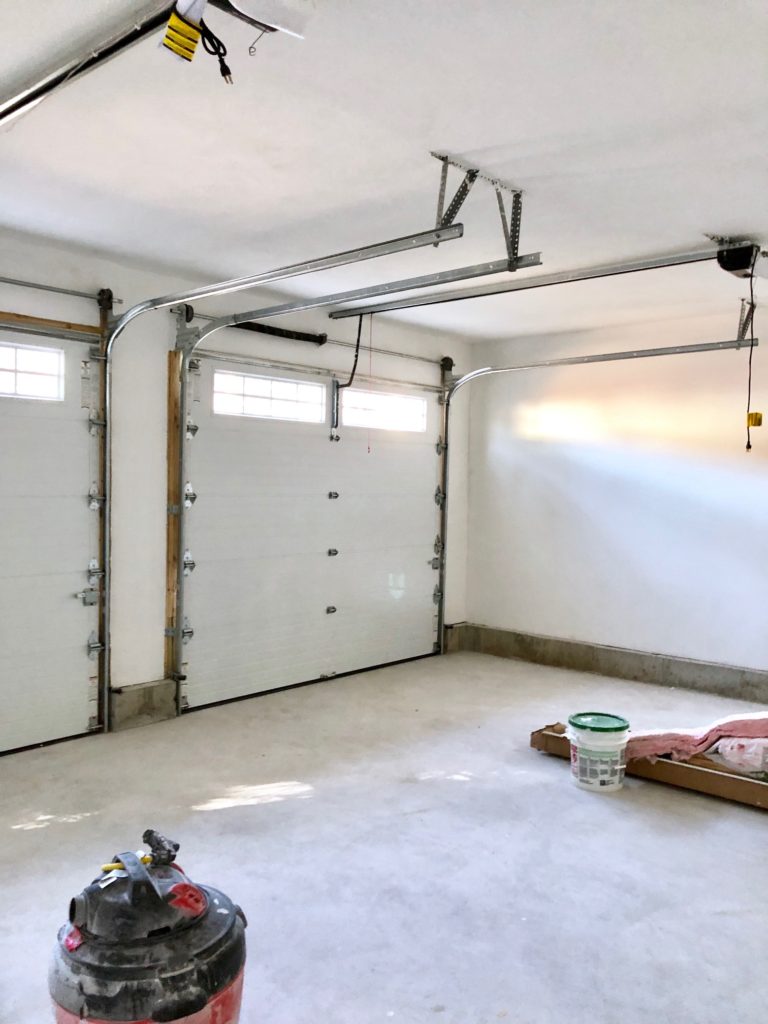 Starting the Renovating Process
When we first discussed making some fixes in the house, it was as small as leveling the kitchen floor. But when it came down to actually doing a renovation project, we decided to go all-in with a major remodel. This was for a few reasons, but we're lucky to have purchased a home in an area that has basically doubled in value over the time we've been there, so we are confident that we made a good investment in our home.
(I should also note that my dad has been in real estate since I was a little girl, and I worked in his office as a teenager. I've seen countless homes on the inside and out through the years. Working in real estate helped me see what I liked and didn't like about other homes.)
We knew who we would ask to do the build on our home from early on. We were familiar with his work (mostly new construction though- not renovation projects). My dad has been selling homes he builds for years, and we knew that he was reliable on his scheduling and quality.
These are our tips for what to do BEFORE you start the renovation project.
1. Go see houses for sale in your area
One of the best things we did was to go check out open houses in our area, just to see what was available on the market. We asked the local real estate agents what they were getting as feedback from the prospective buyers, which ultimately helped us in saying yes to certain things in our renovation. It also helped us get a sense of how much we could sell our house for in the future. (I like to keep an eye on the local real estate market anyway. But it's a good idea to know what your area can support, sales-wise.)
2. Travel
A few things in our home renovation are modeled after things we saw while traveling: One piece from the Four Seasons Orlando, another from the house we stayed in during our trip to Sedona, Arizona. It's really when you're using something for a few days or weeks at a time that you notice if you like it or not!
3. Take time to do your research, and don't rush decisions
Because we planned to do the renovation and stay in the area with family, we weren't tied to any concrete time lines. That let us take our time in the architecture process, in actually designing our renovation, rather than rushing such an important piece. We started working with an architect in October of last year. In total, the plans took about 6 months to complete.
We did a lot of research on Google and Pinterest, but we also thought really hard about our major pain points in our home. We had a list of those – vs. what we considered "nice to haves."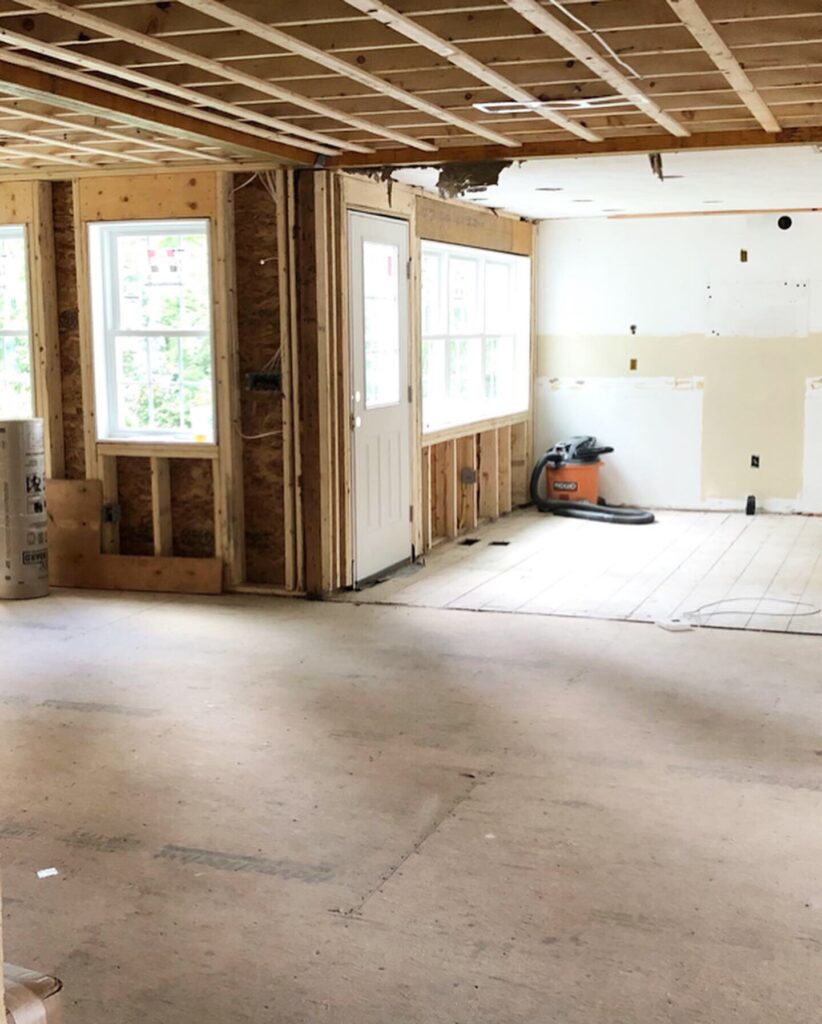 4. Don't rush your appointments
One of the mistakes we made was to bring our toddler along with us to the kitchen appointment. For such an important space, you don't want to rush any decisions just because your toddler is cranky. I'm glad that our kitchen designer recommended we regroup after a short time. Otherwise, who knows what we would have ended up with! (I LOVE how the kitchen turned out!)
Same with the tile appointment… I was at a point where I wanted to just pick something to get it over with. The tile assistant could see that I was a little stressed (hah)! She recommended that I come back after our countertops were installed so we could really match the colors. She was so right, because I took a sample of the white backsplash I was considering purchasing, and it looks SO yellow against our white quartz countertop!
That does mean it's an extra step we need to do now that we are back in the house, but I'm really happy that we decided to wait on the tile backsplash until after the countertops were put in!
5. Go to a showroom whenever possible
I ended up rushing our lighting choices, which just backfired in the end. We installed all of our new lighting just to have to change out most of it. I had a hard time visualizing bathroom vanity lights, so I just picked something to pick it.
That was a total mistake. I wish I had taken the time and gone to a showroom to see everything.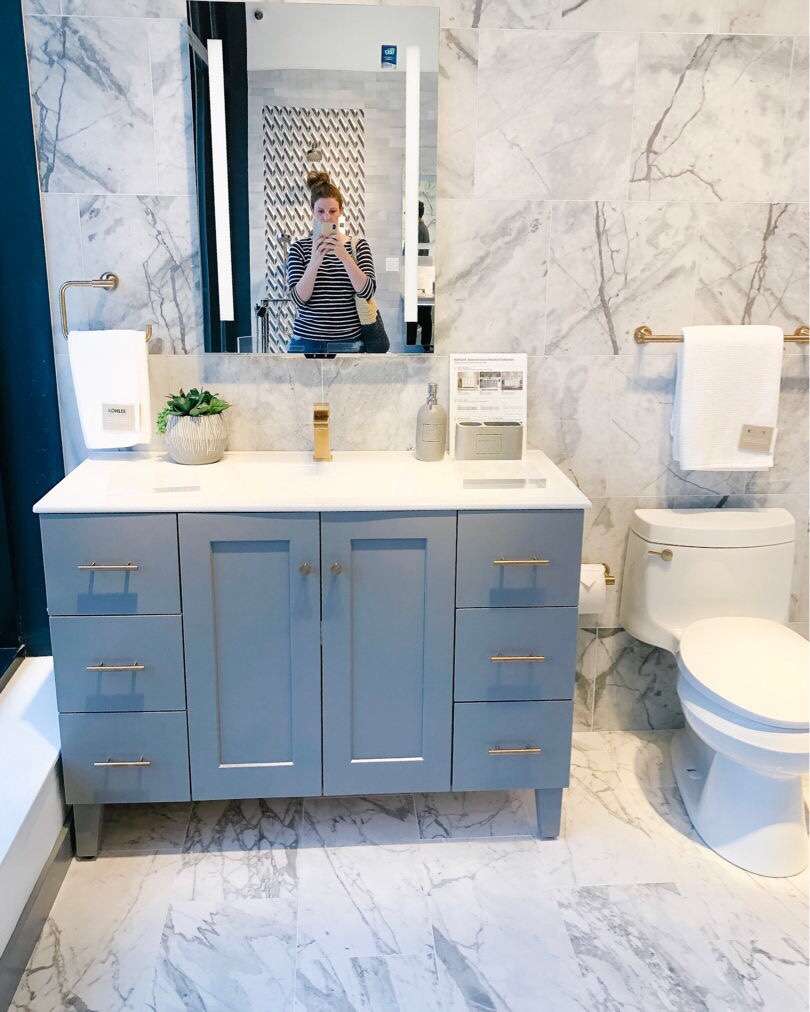 6. Ask every question, and take notes
Contractors are used to talking about homes, so they'll throw around terms like "joist" and "clamshell trim" all day long. Make sure you ask questions and take notes so that you have a running list. Otherwise it's easy to forget what you agreed on/need to do/had to ask about.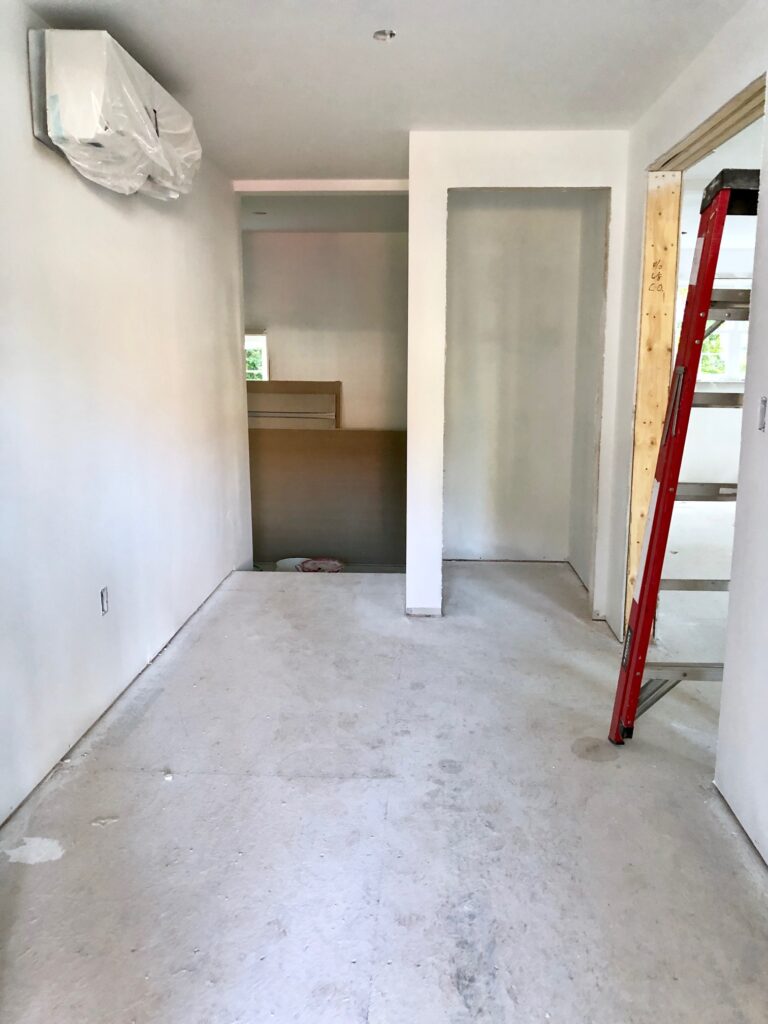 The best decision we made in the beginning
When we began the renovation process, we took our plan draft to our builder and asked his opinion. I'm SO glad we did this, because we ended up cutting out quite a bit.
Where the architect told us we were looking at one figure, our builder gave us a much more realistic estimate. It turned out to be very close to what we ended up paying. I know we did that part kind of backwards… Having our builder before our plans were in the "bid set" aka ready to go out to contractors for bids isn't conventional. But I'm glad we did it that way! If we hadn't done that, we probably would have added another section to the house, which would have added a lot of cost to the project.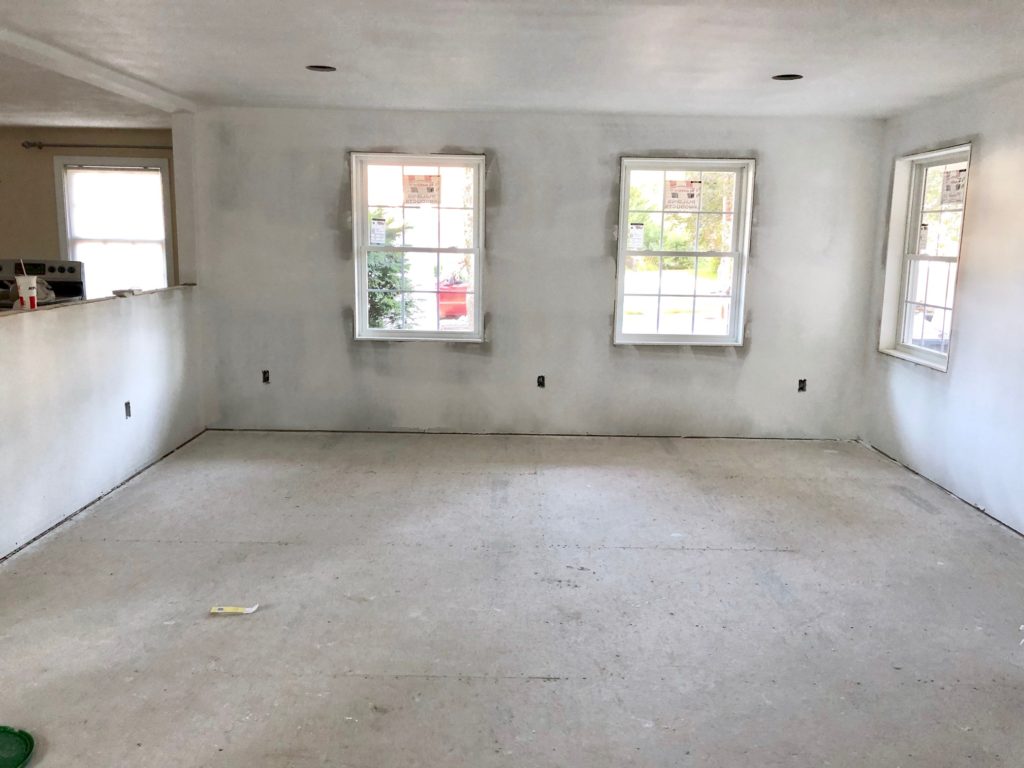 I'm sure I'll be updating on our home as we decorate and really get settled. Don't worry – you'll hear more about it soon!
Thinking of renovating your home? Here are some other posts you might be interested in checking out for ideas:
Renovation Update (2 Months In)
Home Renovation Update: Month 3