I never thought my husband and I would argue over who got to mop the floors… hah! Earlier this summer, when the baby started eating more foods (and making more messes), we got a cordless stick vacuum to help with quick cleanup (and also because have you ever tried to clean hardwood stairs with a corded vacuum cleaner?) around the house. Then the company who makes that stick vacuum asked if we wanted to test their latest product, and they sent us the brand new mop vacuum combo that just came out.
YOU GUYS. It is such an amazing mop vacuum that we use it almost daily.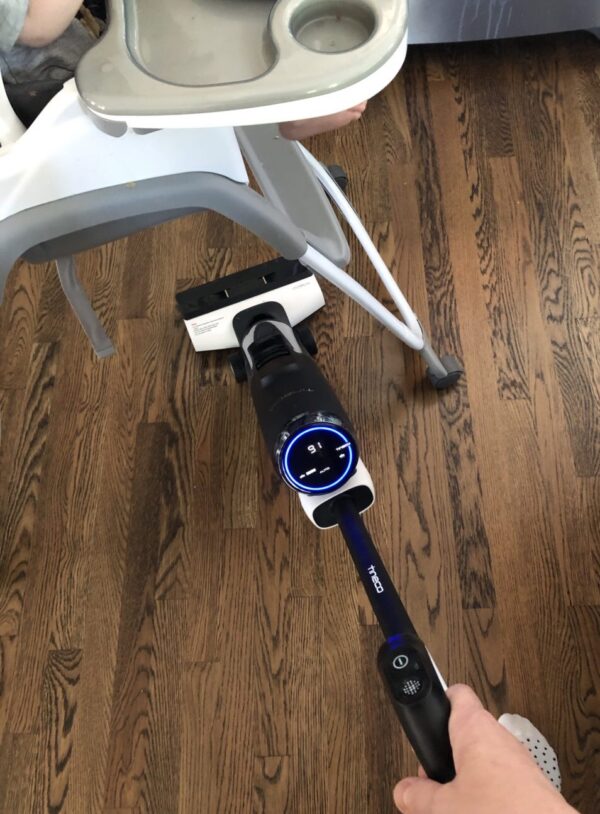 "Mopping the floors" used to mean getting out the bucket and mop, and it was something I kind of dreaded. Once the baby started crawling around, I realized that my floors really weren't getting CLEAN. Like eat-off-the-floor-clean. I hated the idea of him crawling around on a floor that wasn't spotless. Fast forward to now, and because we're mopping the entire house at least once a week, I feel so much better about him being on the floors.
Let's talk about the Tineco S5 cordless mop vacuum. What's so great about it?
You can mop the floors or just mop up spills. One of the kids spilled a cup of milk on the floor at dinner the other night, so we took out the S5 and within seconds the mess was cleaned up.
Vacuum and mop at the same time, which is a huge time saver. I still use the stick vac first if there are a lot of crumbs, but it's a great option to just use one vacuum instead of a vacuum and a mop.
The battery lives long enough for us to clean nearly the entire house. I tested this out one Saturday and we did the entire second floor and then the majority of the first floor before the battery alert sounded. Our house is about 2500 square feet and all hardwood with the exception of one small bedroom.
It's cordless! You can easily move around the house without worrying about cords.
It's light enough that I can pick it up off the charger and mop while holding my son in the other arm. It's always a win if I can do this!
I thought my floors were fairly clean most of the time, but it is so. gross. what the mop picks up, especially in the highest-traffic areas.
I'm not sure if the baby is an exceptionally messy eater or if I just forgot what a mess little ones make, but the mop vac has made things so much easier on the cleaning front!

Thank you to Tineco for gifting us the new S5. I'm truly excited to share how much we love it!
Other home & parenting products I've reviewed:
Double Stroller Review: Baby Jogger City Select
Radio Flyer Stroller Wagon Review
Diaper Pail Comparison: Ubbi vs. Dekor
My Honest KiwiCo Review (Koala Crate)
Other home posts:
Our Kitchen Renovation
Our Painted Interior Doors
Navy Blue and White Kids' Bathroom
Navy Blue and White Home Color Palette