One of the rooms that I have unexpectedly fallen in love with (before it's even fully done) is the navy blue and white bathroom. It's the only bathroom we had upstairs for years, except now it's gut-renovated – and now lovingly called "the kids' bathroom."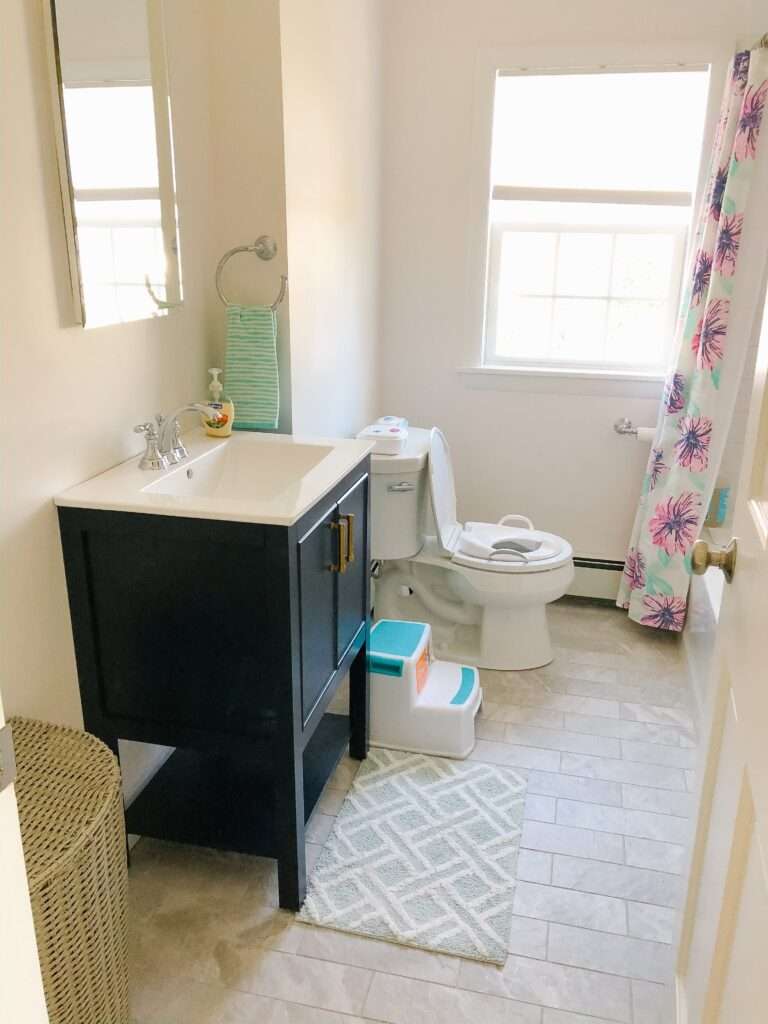 This bathroom pretty much screams, "Hi, a child lives here!"
Pretty much everything in the house is from a palette of 6 colors we chose during the renovation process. But when it came time to order the bathroom vanity for this upstairs bathroom, I kept looking at a navy blue option instead of plain white.
Our contractor called and said he needed the bathroom vanity that week so I'd have to make a decision, and I ordered the white.
Play it safe, you know?
But then, as luck would have it, the white one I picked out did not have an overflow drain in the sink. (Fun fact: In MA you have to have an overflow drain in your sink, but most big-box stores stock only options that do not.)
SO we had two choices: 1. Take a chance that the building inspector wouldn't notice the lack of overflow drain and install the white one anyway. 2. Get a new one.
I opted for option 2.
I LOVE this navy vanity, and the color of the navy vanity against the floor tile!
Similar navy blue bathroom vanities:

We had a Christmas bath mat that was teal, red, and pink, and I loved the teal against the navy and gray. So I bought a teal and white bath mat and found teal hand towels. Eleanor wanted some purple in there, hence the shower curtain.
Next up for this bathroom? Maybe some wallpaper (the walls are currently painted Ibis White), and definitely some monogrammed hand towels! (Also just found this fern shower curtain that is so pretty!) I'm also going back and forth on whether I should change out the vanity hardware. The rest of the bathroom fixtures are chrome (but I do like to mix metals here and there).

What do you think – wallpaper? Keep the white walls?