We have used three of the most popular diaper pail choices over the past three plus years. In this post I'm sharing (and comparing) two of them!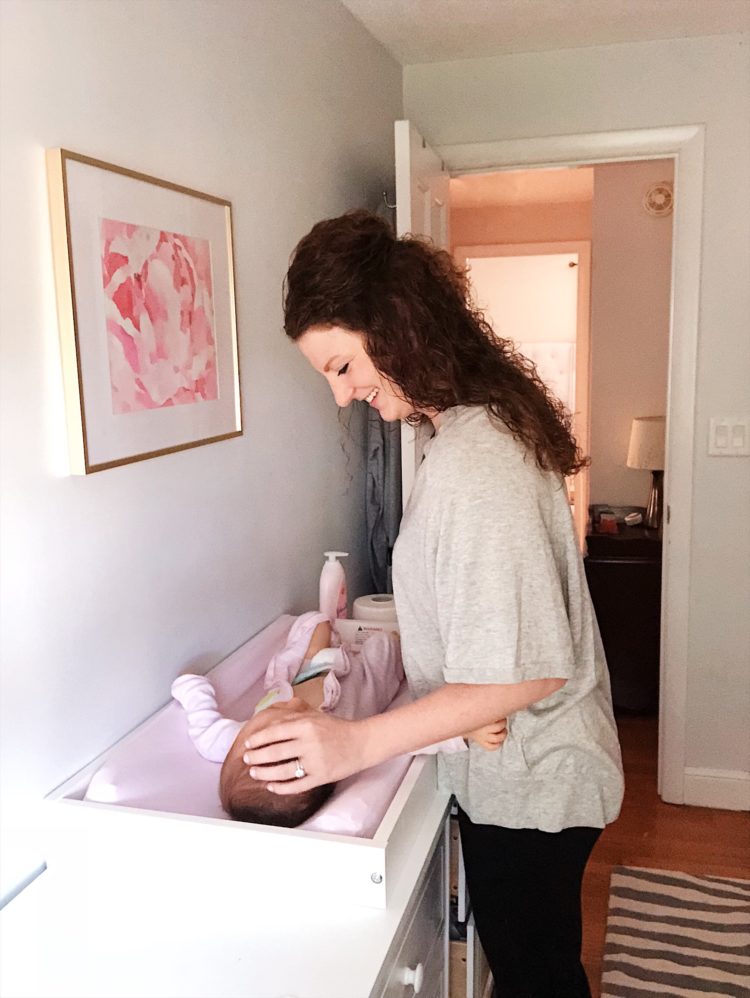 The
Ubbi
is a registry favorite for its looks alone. Sleek steel and a color to match the nursery? Done. BUT there are some things I wish I had known about it before getting it…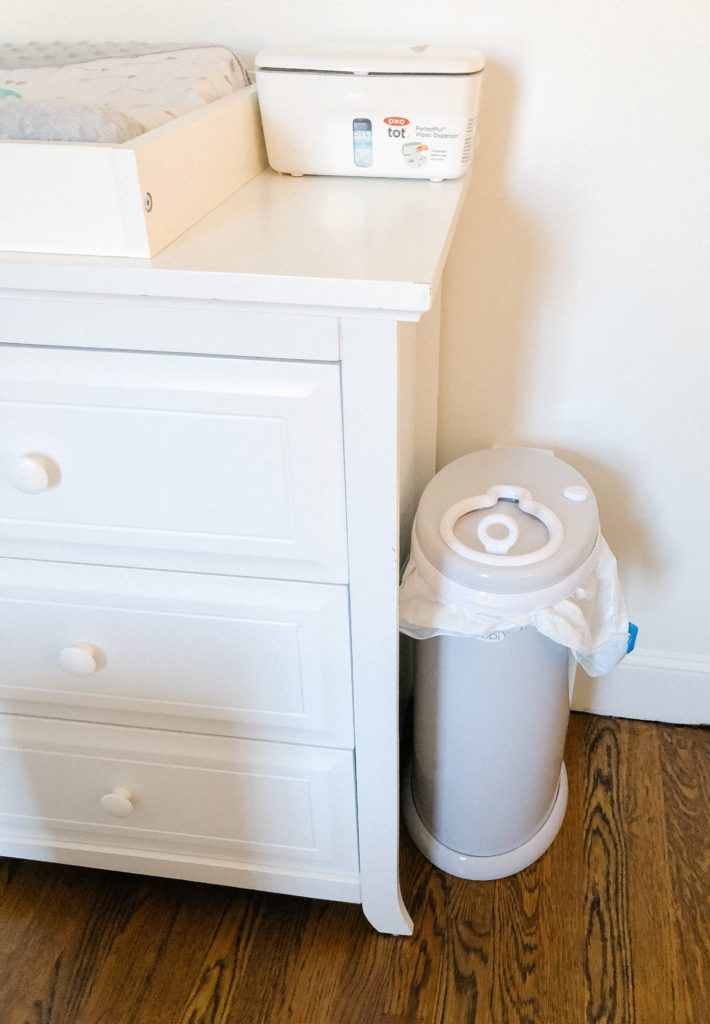 Pros
Stylish and comes in a variety of colors
Can use any standard kitchen sized regular trash bag and doesn't need a special bags
Fits into a narrow space
Steel, doesn't retain odors
Easy to change the bag (and easy to figure out at first!)
Cons
Not hands free: You need a hand to open and close the lid for every diaper change. This can be tough if you have a wiggly baby on the changing table.
Top needs to be unscrewed and cleaned periodically
Retains odors and needs to be aired out occasionally. I found myself bringing it outside to air every time I changed the bag, which meant carrying it upstairs and downstairs.
I didn't know that the
Ubbi
needs to be unscrewed and taken apart for cleaning. When I figured that out and cleaned it… There was mold in there! I should have assumed but it was SO gross and not what I expected.Even though the steel itself doesn't smell, the container will trap odors if you put any soiled diapers in there, so you can either not use it for soiled diapers or make sure you air it out occasionally.Now, when our second baby was on his way I went looking for a better diaper pail. I stumbled on the
Dekor Classic Plus
(my sister had one for her daughter), and I thought it looked so easy to use. It's similar to the
Ubbi
looks-wise, though it's a bit wider.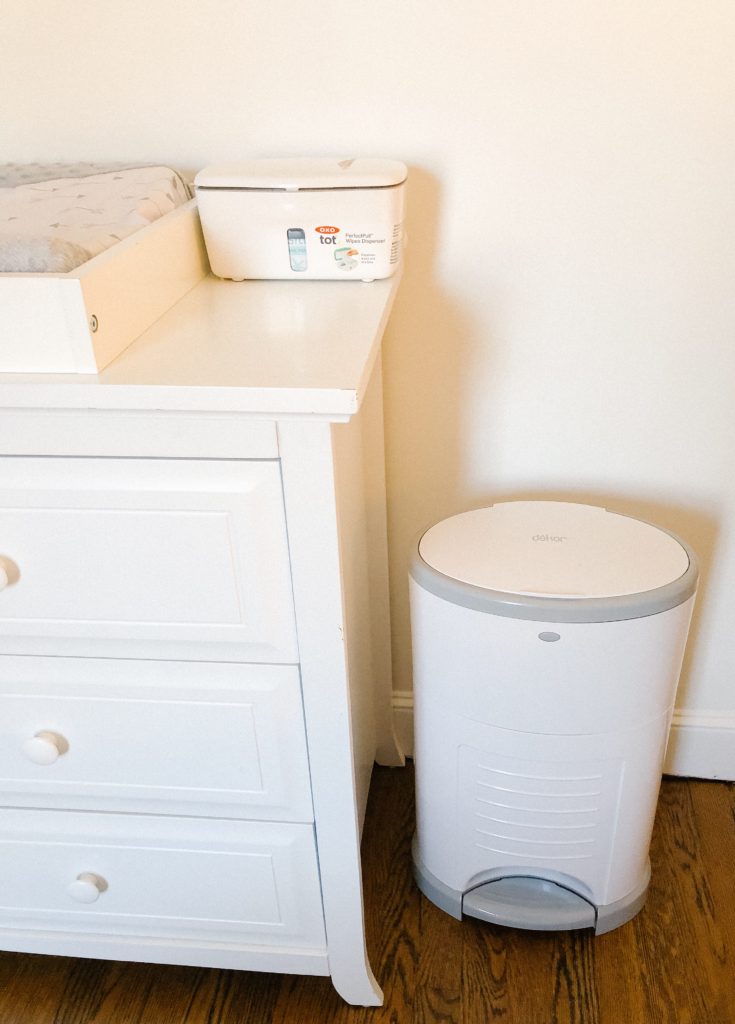 Pros
Foot pedal: No hands needed. Step and toss!
Uses any standard size kitchen bag and doesn't need any special refill bags
Comes in a few different colors if you don't want plain white (soft blue, pink, mint green, and white with gray)
Easy to change the bag
Odor control: Even though it's made of plastic it doesn't absorb odors like I thought it could
Cons
Not as intuitive to change the bag the first time as other diaper pails. I have a bad habit of throwing out directions before reading them.
Wider than it is deep. This might not matter to some people but for others with smaller spaces it might be important.
The
Dekor
comes in a few different sizes (the Plus, which we have, is the largest size), so if you have it as a secondary diaper pail you can get a smaller one. It's made of plastic, not stainless steel like the Ubbi, which honestly hasn't made much of a difference. I find it to be easy to clean, easy to use, and the fact that I only have to use one hand is the best thing about it.
Which diaper pail should I get?
The Dekor is now the one I recommend to everyone!
To answer a few important other questions…
How do I get the smell out of an Ubbi diaper pail?
If your pail smells, and you've aired it out outside with the top open, you probably need to unscrew the top part and do a deep clean. Mold can grow in there (moisture + darkness = mold) and cause the smell to linger.
What is the best diaper pail to buy?
Out of the three we have tried, I would choose the
Dekor
. It's stylish but super functional and SO easy to use! (Get the Plus size, too, unless you are using it as a smaller bathroom trash can. The Plus is the size of most other diaper pails, or slightly larger.)
How often do you need to empty a diaper pail?
It depends on how often you're using it, but probably once a week is fine. If you have an older child though, more is better! With a newborn or an infant not yet on solid food, once a week is plenty.
See more favorite baby & toddler products on my Amazon storefront
Which diaper pail would you choose?