Looking for inspiration on hanging string lights (sometimes known as cafe lights or bistro lights) in your backyard? Here's how we use ours, and where to buy affordable outdoor LED backyard lights!
We've done a ton of work to the yard over the years we have been here. While I think some of it shows, not everyone appreciates the number of truckloads of dirt we moved around just to make the grass greener a couple of years ago. (For real though, we had to put new dirt all around the yard to then put grass seed all around the yard…) And no one sees the hours you spend Saturday after Saturday to mulch or add colorful plants!
Even though it's a small change, I'm so excited that we put these backyard cafe lights up in the backyard: They're so fun! They make me think of being on vacation and sitting under cafe lights during dinner. They're easy to hang (we just nailed them to the fence).
I'm thinking about adding a pergola to the backyard so we can hang more lights underneath it – kind of like a backyard cafe. I really love exterior lighting, and we use our backyard so much in the summer months that we will get a TON of use out of it.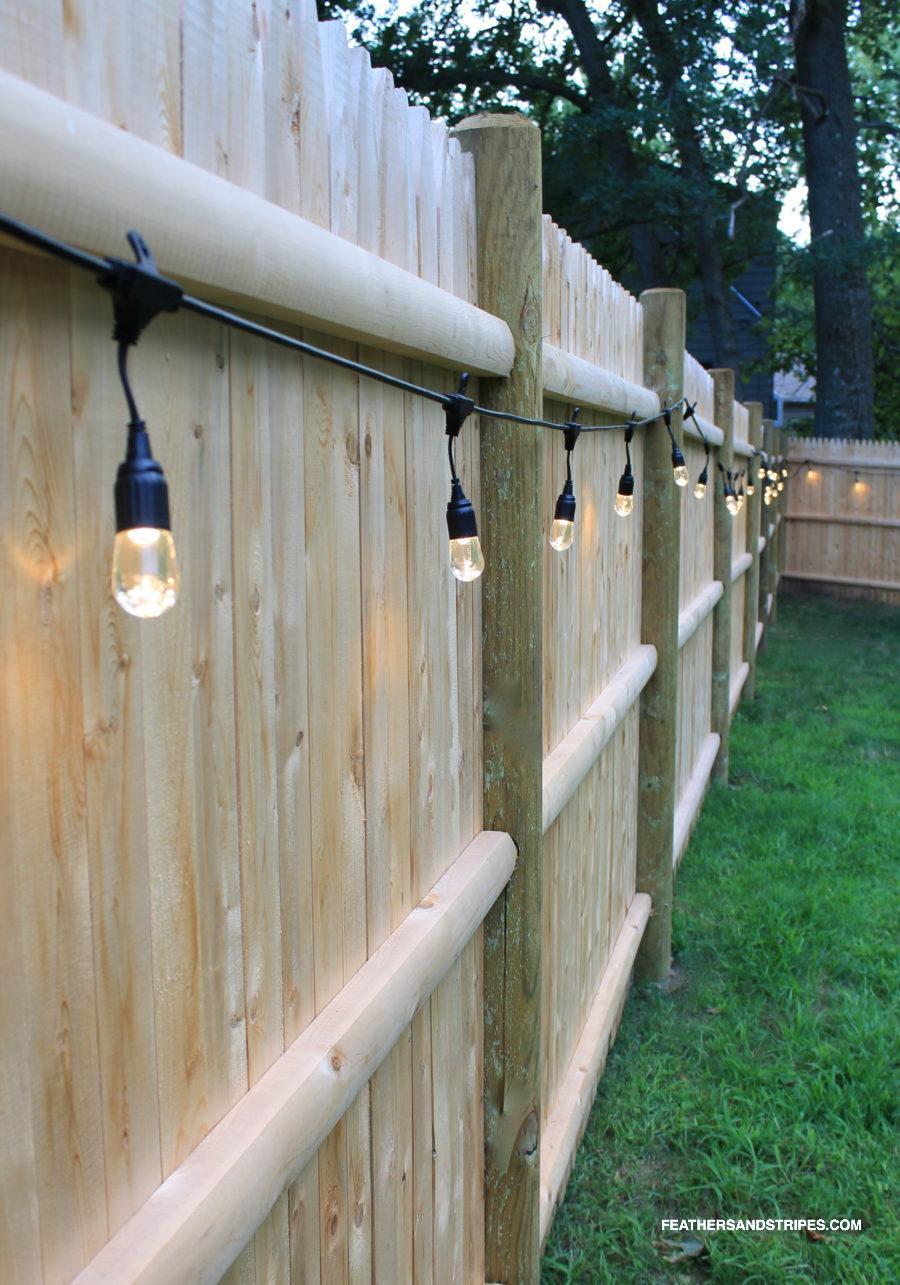 Shop affordable backyard cafe lights:

I've pinned a lot of backyard images over the years for what I want our backyard to look like. While we have a way to go before our backyard is our version of "perfect", there are some changes we made that are more visible.
Changes we made to the backyard
The new fence we put up has made our backyard look SO much bigger.
We also added a stone patio and dining set, so we can entertain or just have our own meals outside on nice days/nights.
Thanks to a LOT of effort on my husband's part, the backyard now has a lush green lawn instead of patchy lawn.
Also thanks to my husband, we have some custom-built raised flower beds. This summer we're growing lettuce, zucchini, and cucumbers in those beds.
We added a safety fence around the pool so no little ones can get into trouble.
And these lights!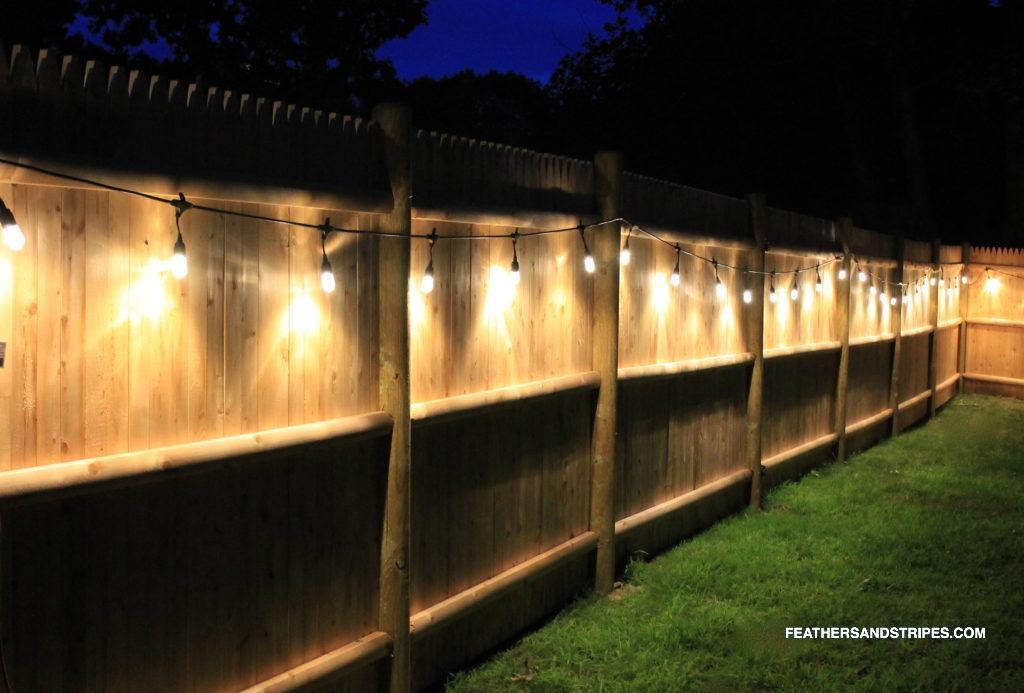 The Perfect Backyard Cafe Lights
We hooked up the led string lights (found on Amazon) to a timer, so they'll go on automatically, which means we won't have to stop whatever we're doing out in the backyard!
I love using timers. Then T and I don't have to ask each other if the outside lights are turned off or worry that we left them on all night. The bulbs to our outdoor lights are LEDs, which are easier on the electricity bill, and we're planning to leave these up year-round. (FYI – You can use these same lights for indoor or outdoor.)
I think these backyard cafe lights will be awesome in the fall when we are still doing backyard BBQs on the weekends, and I'm sure they'll look so pretty when it starts to snow!
Adding more light to the backyard is always a good thing!

We added a hammock, too, after spending a lot of time in one on the Cape.
I've been in the hammock pretty much every day at some point for the past week, and I don't plan to stop anytime soon. (Since we don't have any large trees close enough to each other, we bought a hammock on a stand, and it's much more comfortable than I had imagined!)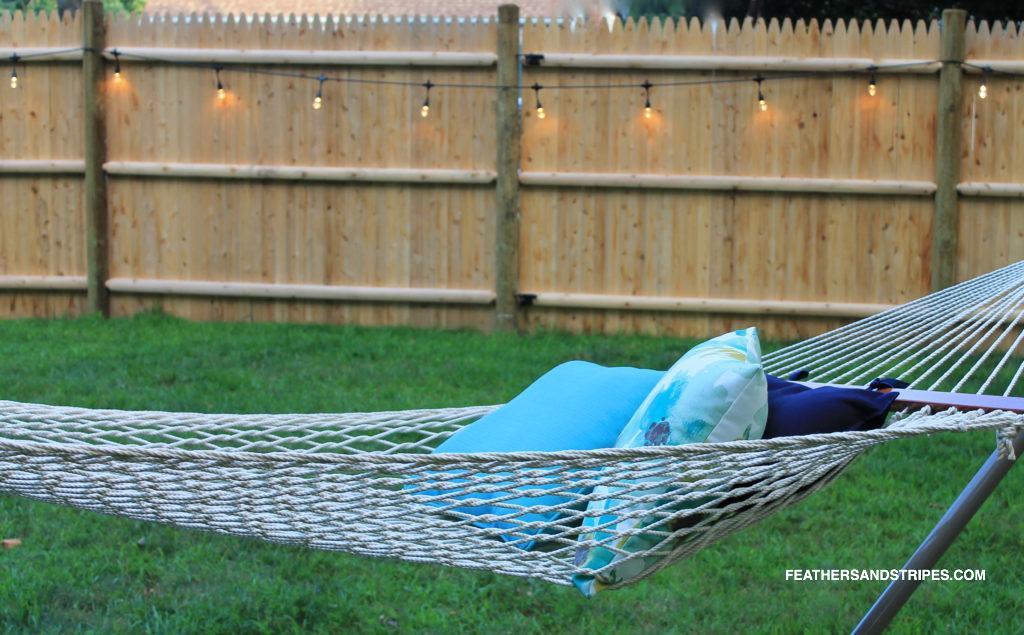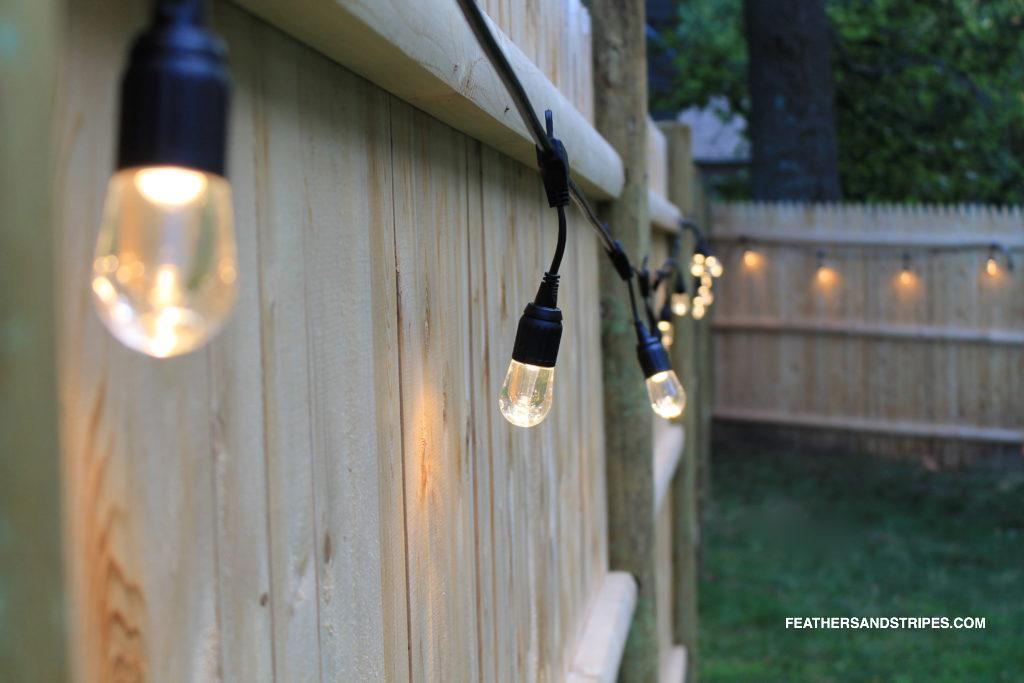 What are you doing, if anything, to your yard these days? Lights? Furniture? Plants? Fire pit?
Next up: We're talking about adding more energy efficient lighting at home, especially for landscape lighting. If you have any cool lighting ideas, let me know!
This post originally appeared on August 21, 2016, but was updated and reposted on May 20, 2020.