Like many parents around the world,
we are at home
with our toddler. We have changed our schedules a bit so that each of us works about a half day each day, swapping parenting duties. On a good day, there's a 2 hour nap involved. But that still leaves plenty of time for activities! I snapped photos of some of the toddler activities we've done to share. All of these are activities at home, most using stuff you already have (or can get really easily).
If you have a toddler, hopefully some of the things we have done over the past 30 days will give you ideas for easy (and fun!) at-home activities.
Window painting (mess free!) toddler activity
I used a gallon size plastic bag, pouring red paint in it on one side and blue paint in it on the other. Then I zipped it shut and used masking tape to tape the bag to a window.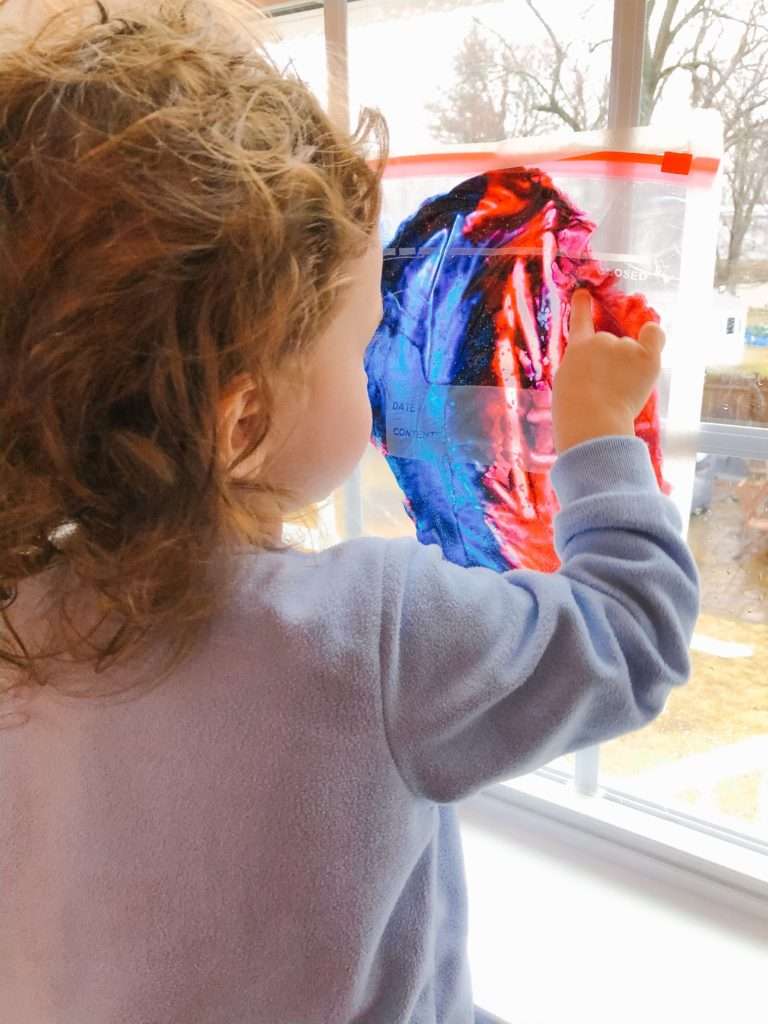 It's squishy and lets your child explore mixing paint to make a new color – but without any mess to clean up! (Of course, this is a supervised activity- a few times E tried to open the bag.)
Here are the washable paints we use and love: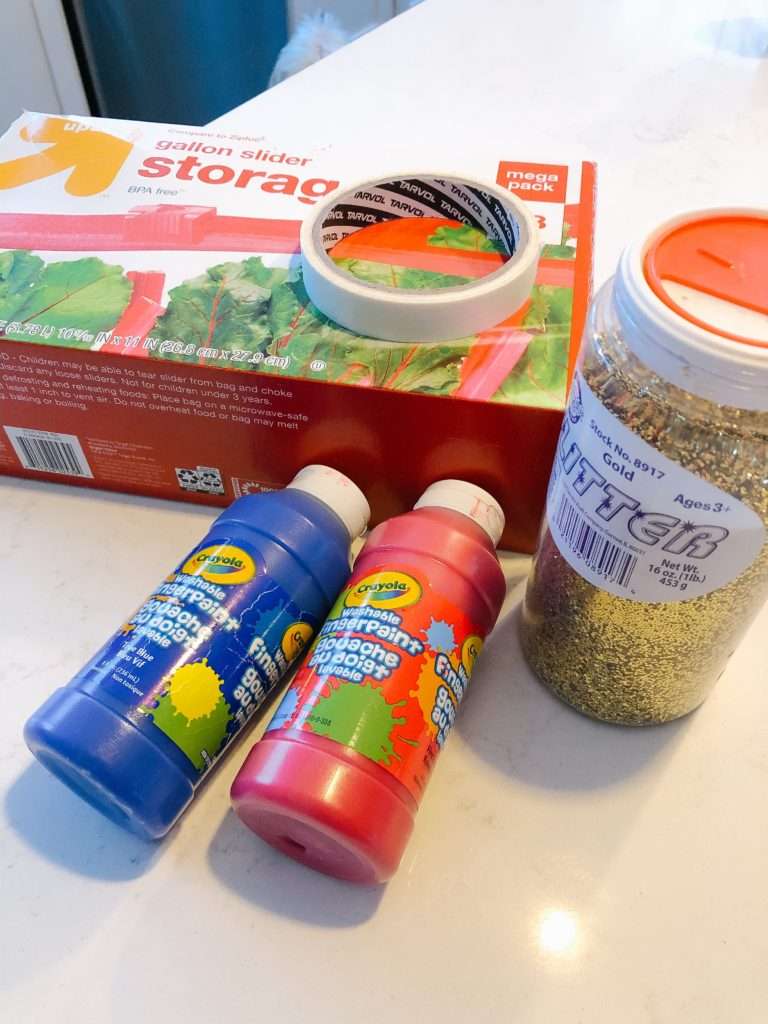 Plant a garden outside as a family
We had intended to plant a garden
in our backyard
anyway. Being at home means we did this during the week instead of only on the weekend. What did we plant? So far, carrots, a few varieties of lettuce, and kale. We still need to put in our tomato plants. You may or may not have the items necessary to plant a garden, but it's easy enough to order seeds online. T ended up ordering this little gardening kit for E, too, because she wanted to have the same tools he was using!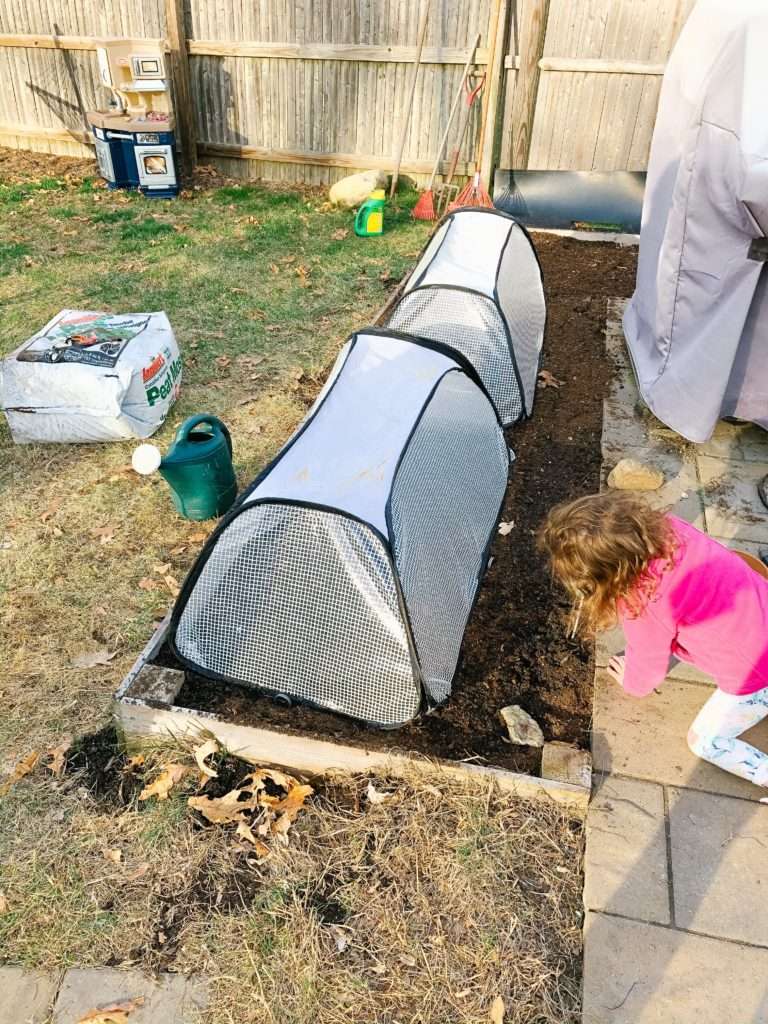 All the toddler gardening tools:

You might also like: 27 Things to do when you're stuck at home
Baking with toddlers – with a twist
Eleanor LOVES to mix ingredients, so we do at least one baking project a week. For this week's item we made yellow cupcakes with chocolate frosting. Except there was a twist this week. I dropped one or two drops of food coloring into each cupcake, and E got to mix up the colors. She really enjoyed this mini art project.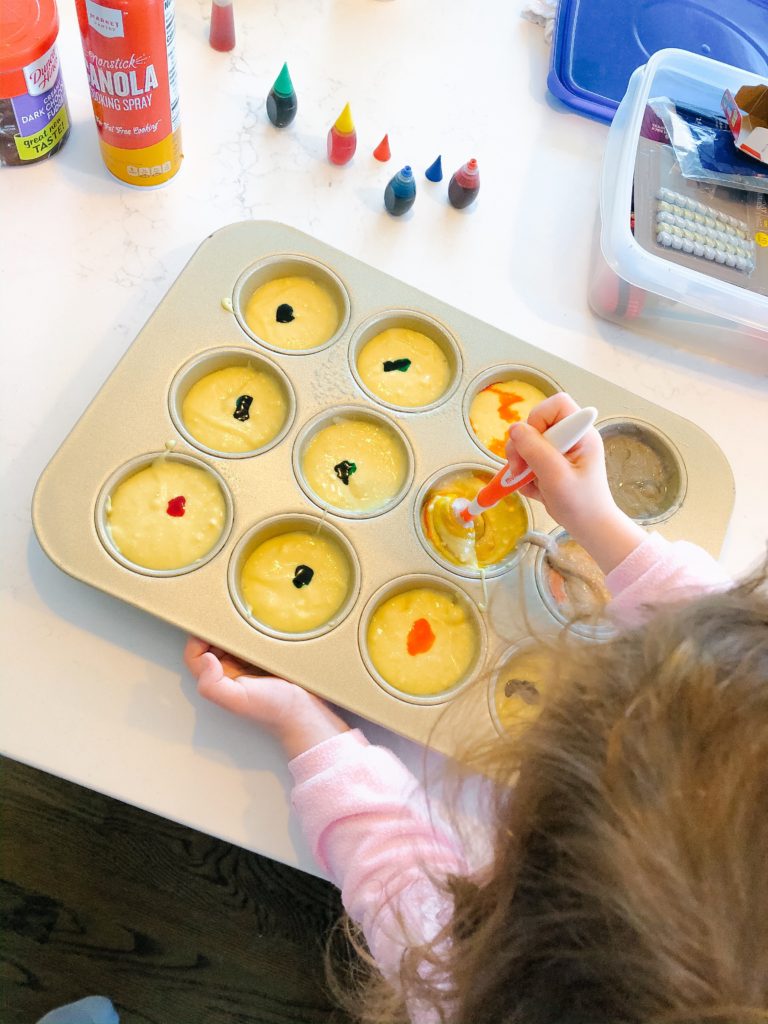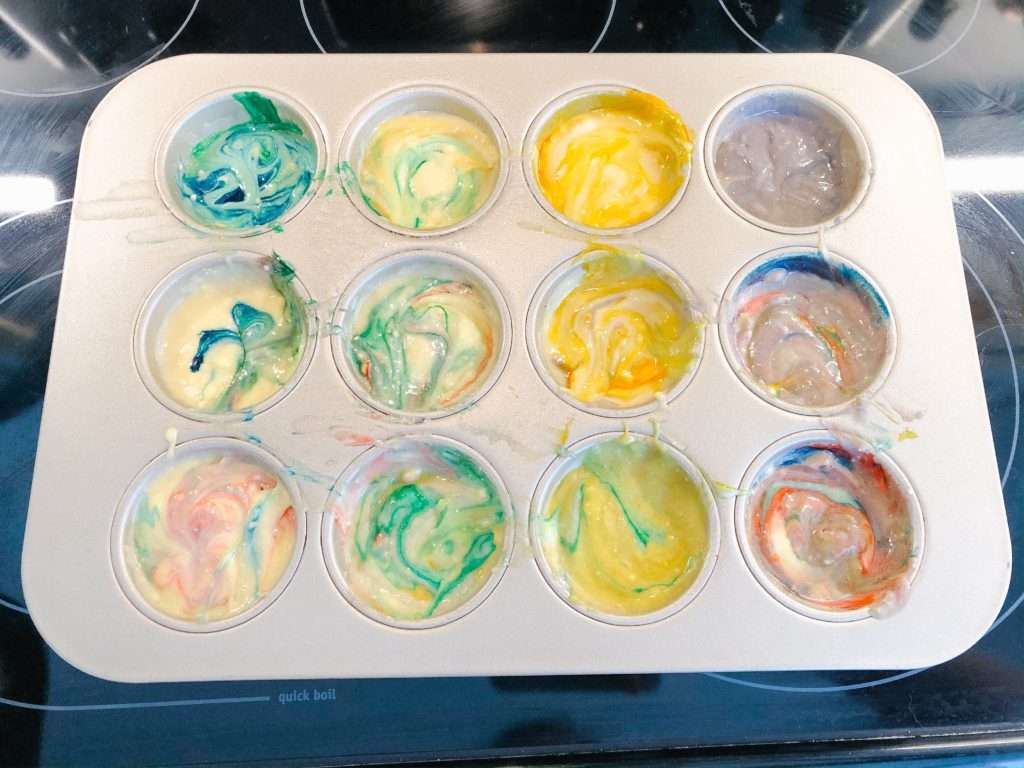 Extended bath time with kitchen utensils
If your toddler loves the water half as much as mine does, extended tub time should be a hit! I save this for those afternoons when nothing seems to be interesting enough. Rather than your typical dinner – bath – bed routine, make it playtime instead. Grab some plastic food containers, a ladle, some slotted spoons, and whatever else looks interesting, and let your little one play! We also started a new game called "Sink or Float." I chose a bunch of random objects – a hair tie, the cover to a Tupperware, a small bottle of shampoo – and then I'll ask E if she thinks it will sink or float before she drops it into a container full of water. She loves to see if she was right or not! It keeps her entertained for at least 20 minutes at a time. Of all of the objects, though, Eleanor got a kick out of being able to bring the whisk into the tub
in her bathroom
. She often cooks with me, so I think it was just funny to her to see a kitchen item in the tub!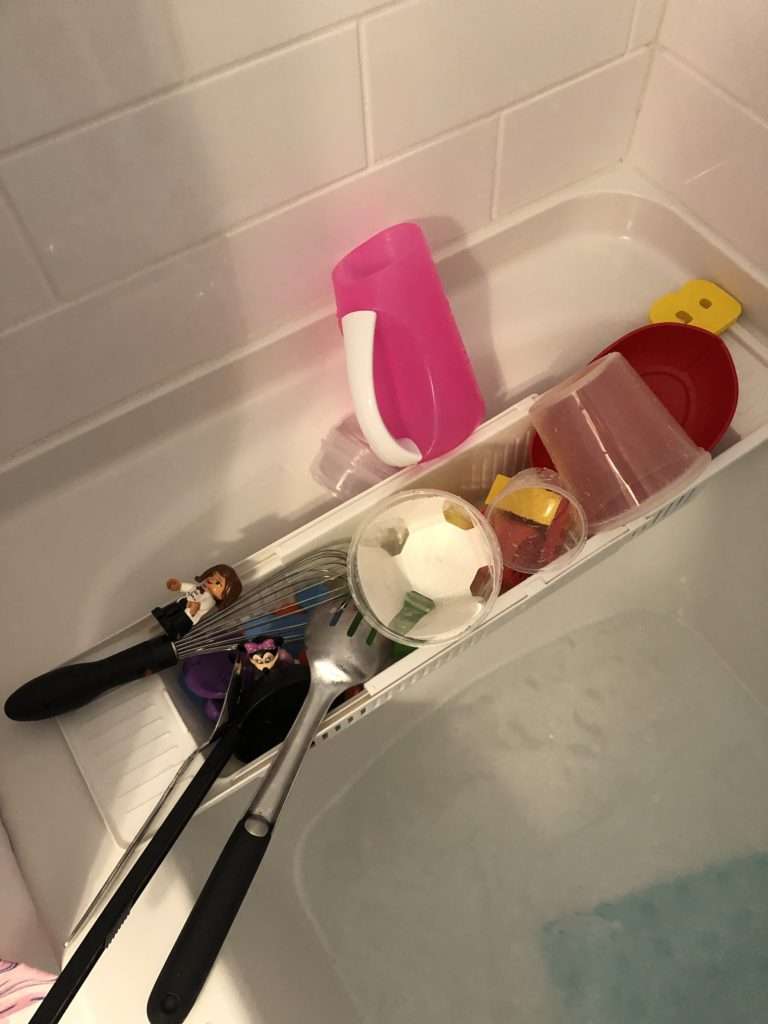 Turn a cardboard box into a bus
We used a cardboard box big enough for E to comfortably fit inside and pretended it was a school bus. I drew windows on the flaps and a steering wheel in the front. We chatted about what you might see driving down the road in a bus, and as we chatted we drew those things in each of the windows.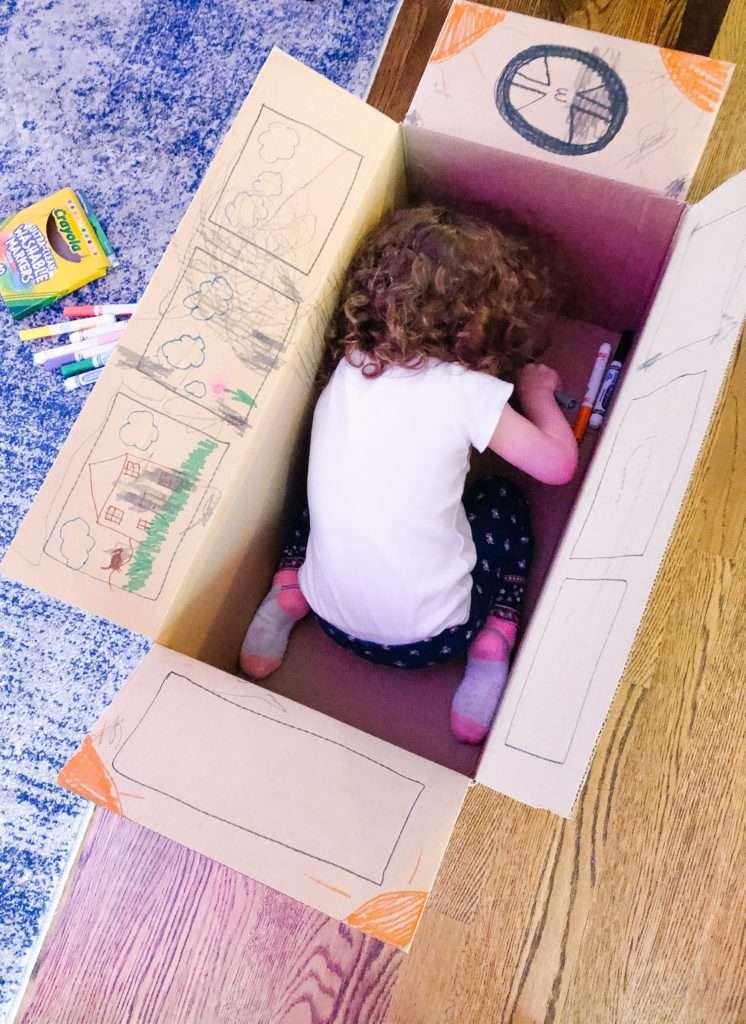 You might also like: Navy Blue and White Kids' Bathroom
Make simple bird feeders with your kids
We have been going on a lot of "nature walks," whether that means just around the neighborhood or at a local conservation area. On one of our walks we collected pine cones. Later that afternoon, our project was to coat each pine cone in peanut butter and bird seed, and then we went outside to hang them on branches.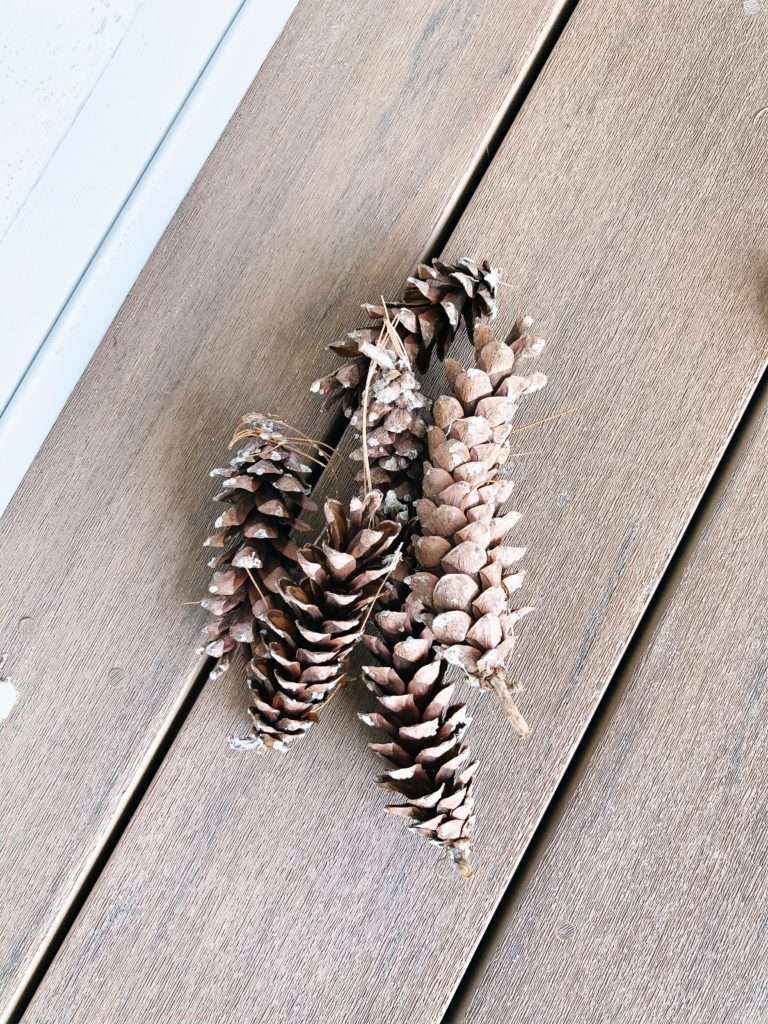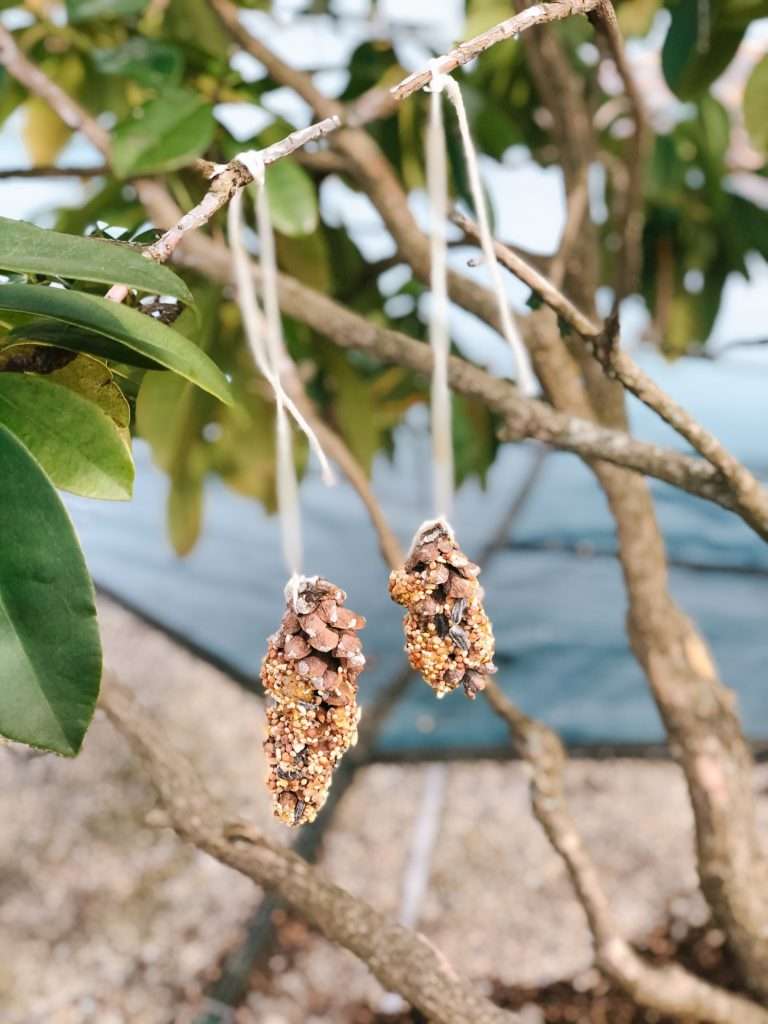 This project totally brought me back to childhood!
Paint something… anything
Normally I shy away from messy projects, but these past few weeks have given me a newfound appreciation for the arts. Using washable paint, I let Eleanor paint the outside of a cardboard box and cover it in glitter. Why not, right? She loved having something different to paint vs regular paper, and the glitter made the paint a much different texture that she seemed to enjoy exploring.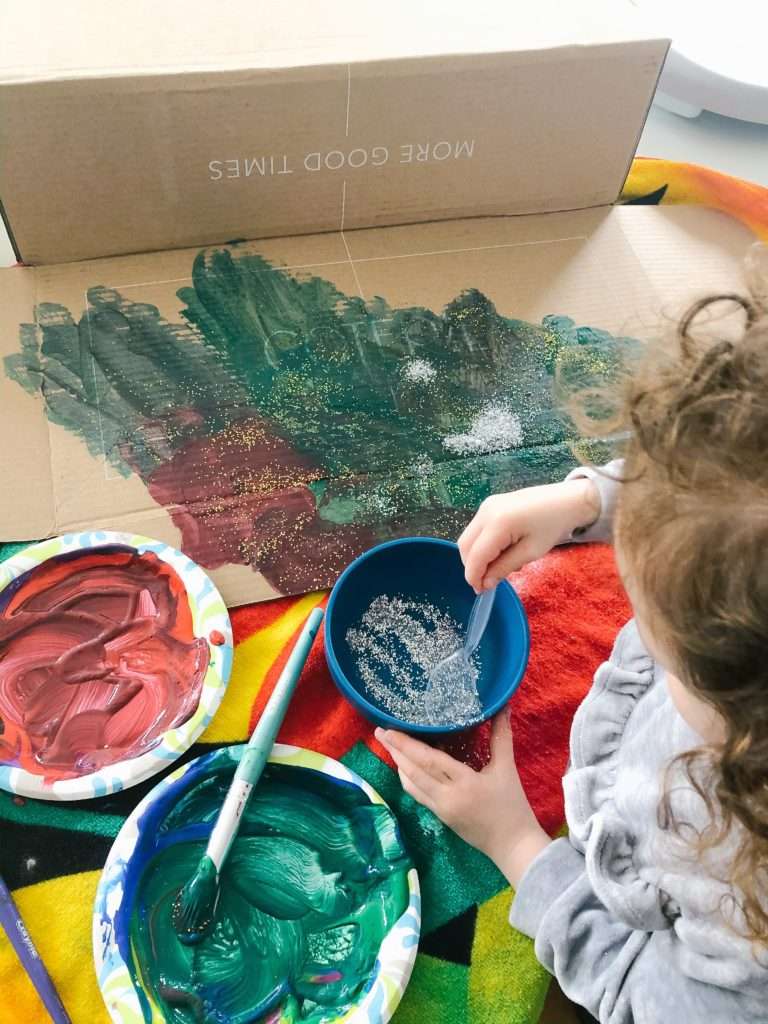 Our favorite (washable!) paint:

Try Kids' Yoga on YouTube
I wasn't sure that a 2 year old could do this, but I found Cosmic Kids Yoga on YouTube and it's perfect for little ones. Eleanor will do it if I do the yoga alongside her, and it's a good excuse for me to stretch, too!
What activities have you been doing with your little ones?