Every July the Nordstrom Anniversary Sale happens, and bloggers everywhere lose their minds. Kidding. Kind of.
This year the sale kicks off on July 12th (this Friday!) at 12:30pm. (Thank goodness, because other years it's started at 3am!) I originally wasn't going to cover the sale, but then I asked on IG Stories and so many of you said you wanted to know what the deal is, so here we are!
I have access to the whoooole list of what will be on sale, and these are my top picks for this year.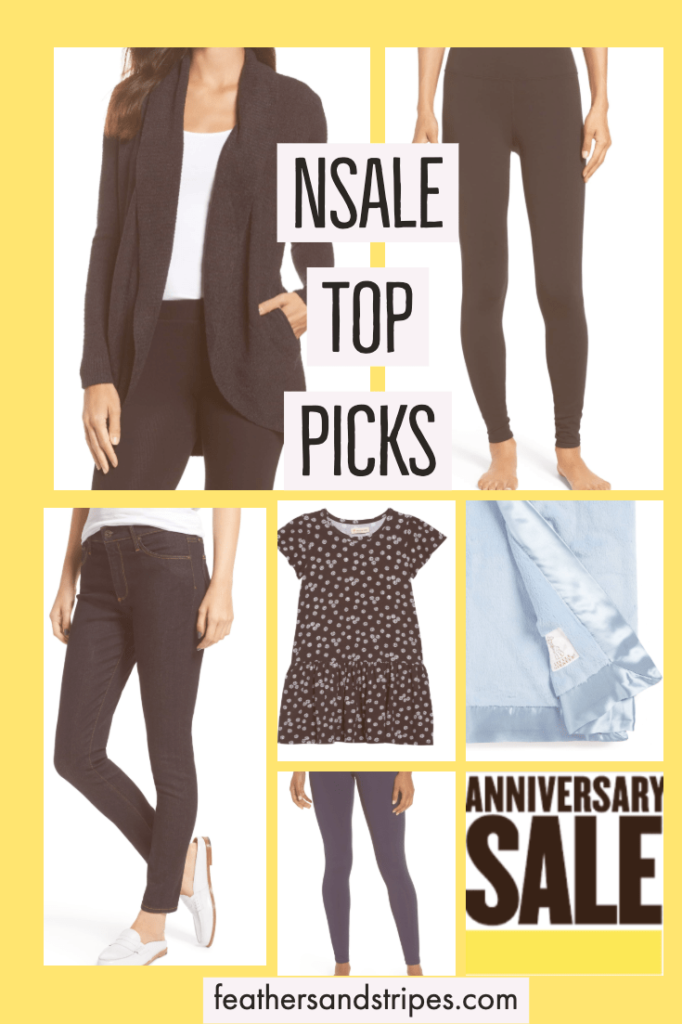 Barefoot Dreams cardigan | Zella leggings | ALO leggings | Tucker + Tate kids dress | Little Giraffe baby blanket | jeans
Why these items?
We won't be back into our house until mid-October, so I'm focusing on upgrading my denim and replacing boots vs. just going nuts on shopping.
Denim: I went to Nordstrom a month or so ago to try on jeans, and I ultimately decided to wait until the NSale to shop. The brand I'm eyeing (AG Jeans) rarely goes on sale, and when it does the norm is 25% off.
Leggings: I wear leggings 24/7 in the fall and winter, usually with longer tops and riding boots or sneakers and workout tops. I bought a pair of Zella high-waisted leggings a couple of years ago, and they are by far the most versatile thing in my closet. (I first blogged about them here.) They need to be replaced, so I'll be purchasing another pair of black leggings. I tried ALO leggings for the first time this year, buying a lavender pair for our Sedona trip. They are SO comfortable that I'll be investing in a black pair for the fall/winter.
Shoes: Last year I found the cutest pair of booties and then returned them so I could get a different color. I'm still kicking myself because they sold out and then I couldn't get them at all! I'm keeping an eye out for them again this year. These are probably the closest ones that will part of the sale this year. Aside from shoes for myself, I'm also keeping an eye out for snow boots for E. I also need to replace my brown riding boots that I wore into the ground, so these are on my list to try on.
Kids: I bought some super soft one pieces last year for E, and this year I'll be checking out the little girl dresses, and also outerwear. If you live in a cold climate, you know that outerwear can be pricey. Kids grow so fast, too, that it's silly to buy a winter coat at full price! I've mentioned before that E can be very hard to fit, so when I find something that works, I stock up.
Baby: Little Giraffe blankets are part of the sale and make a great gift. They're pricey but so soft! It looks like they'll have a bunch of Baby Bling bows in the sale, too. Those and the Freshly Picked mocs, also in the sale, are very trendy with newborn girls (and their moms, hah!).
You'll be able to see all of the sale items on this page as of July 12th at 12:30pm ET. If you have a Nordstrom card, you'll be able to check out – but otherwise, you'll be able to just browse until the public sale goes live on July 19th. If you want to get a card, you can do so here! I'll have a post next week with what I ended up buying, plus any fun finds. I'll also post over on Twitter and Facebook, so head there if you're looking for something specific and let me know!