We recently vacationed in the Clearwater Beach, Florida area and today I'm sharing my honest thoughts on where we stayed: Marriott Sand Key.
We must have looked for WEEKS for a place that was family-friendly, fairly Covid safe, and on the beach with a pool. It also needed to be within the US because our youngest didn't yet have a passport. I didn't really want to be in a super crowded hotel, nor did I want to be in an Airbnb in a place we didn't know at all.
We ended up booking at the Marriott on Sand Key (its formal name is Clearwater Beach Marriott Suites on Sand Key), and I'm so glad we did. While the Tripadvisor reviews have a lot of info on the hotel, there are definitely some things missing! Here's the full download on the hotel!
Marriott Sand Key Review: Clearwater Beach, FL
Hotel Rooms
The rooms at this hotel are suites, with a small living room area and a separate bedroom with a bathroom between. Off of the bedroom there was a small balcony. The entrance to the room was via an open-air hallway/balcony, so our room looked at the outdoors on both sides.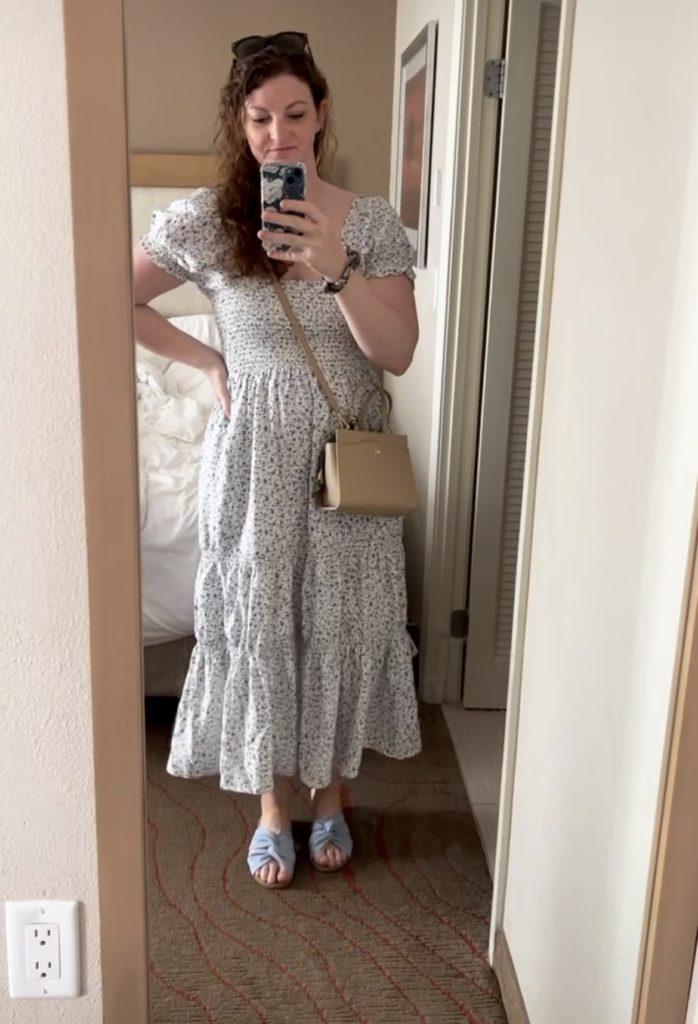 In the living area we had a small fridge, a microwave, and a sink, as well as a small couch and a TV. I'll be honest that the couch was not very comfortable- it was a fake leather with no pillows or blankets or anything comfortable. It pulled out into another bed if you needed which was nice. Probably a great perk if you are traveling with older children!
Two things I didn't love about the room:
1. There wasn't a lot of storage for anything. Nowhere to put clothes, except for 2 small drawers under a hanging rack. There were no towel hooks in the bathroom- nowhere to hang towels at all- which I thought was strange.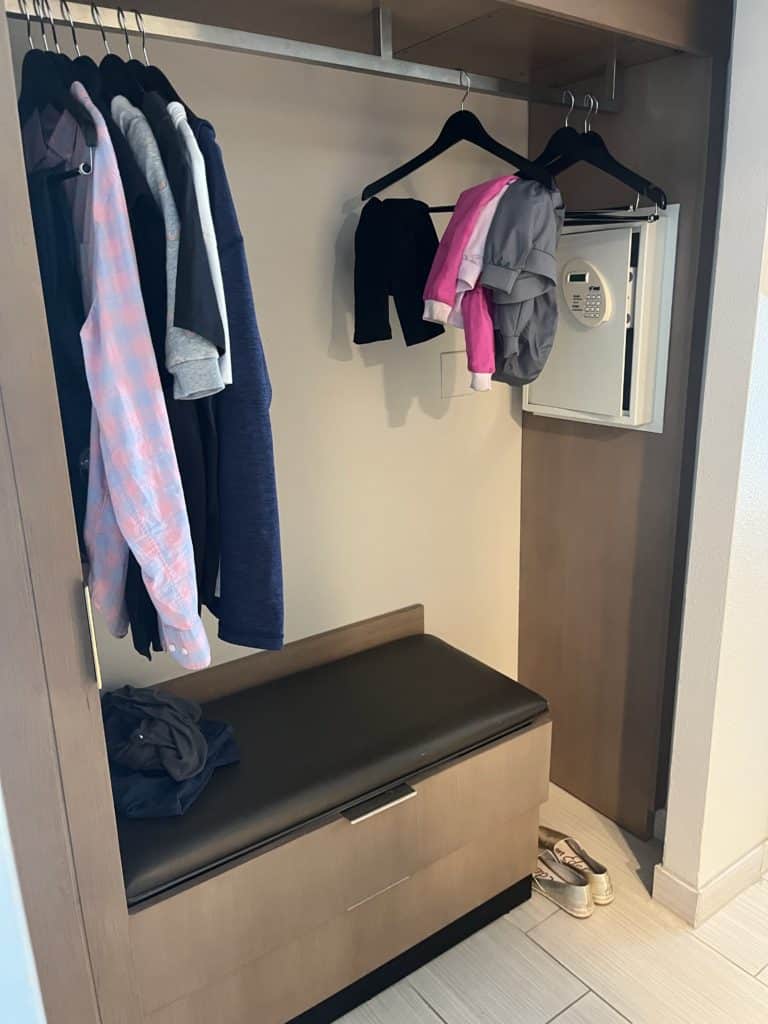 2. We must not have had neighbors until the last night we were there, because suddenly on that last night it sounded like that family was in our room. The kids had already fallen asleep after a full day in the sun or I would have been more annoyed.
Food
The first night we had room service brought up because it was late and we needed to get everyone settled. For room service you can order from the Kokomo's menu (poolside menu) or the steakhouse menu (Watercolours). It arrived super quick which I really appreciated!
We ate breakfast a couple of times at the Watercolours restaurant and then dinner once. My burger was so good! The buffet breakfast is standard but kept well stocked, with pancakes and eggs and omelette made to order; cereal and yogurt and hash browns, etc.
Just a note for meals at the hotel: We wanted to eat outdoors but breakfast was only inside. If you want to sit outside make sure you make a reservation for dinner. We weren't able to sit outside for dinner that night either as it was only for reservations.
I was a little disappointed to find out that the pool side menu was so limited. If you plan to eat at the hotel just know you might be choosing a lot of the same! The poolside cafe called Kokomo's is the same menu as if you're sitting around the pool and order from the servers: a few salads, a few sandwiches, pizza, breadsticks (hello Pizza Hut Express!), tacos and chicken fingers.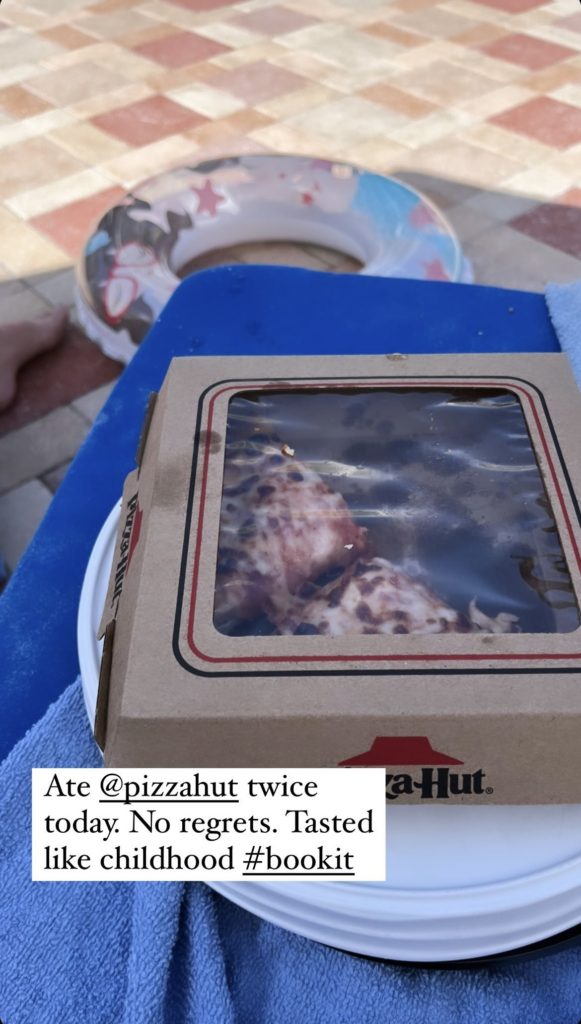 Pool
I was excited that the Marriott has a splash pad because my kids are such water bugs! The pool also looked great in the pictures, with a waterfall and a little grotto carved out of rock for some more visual appeal.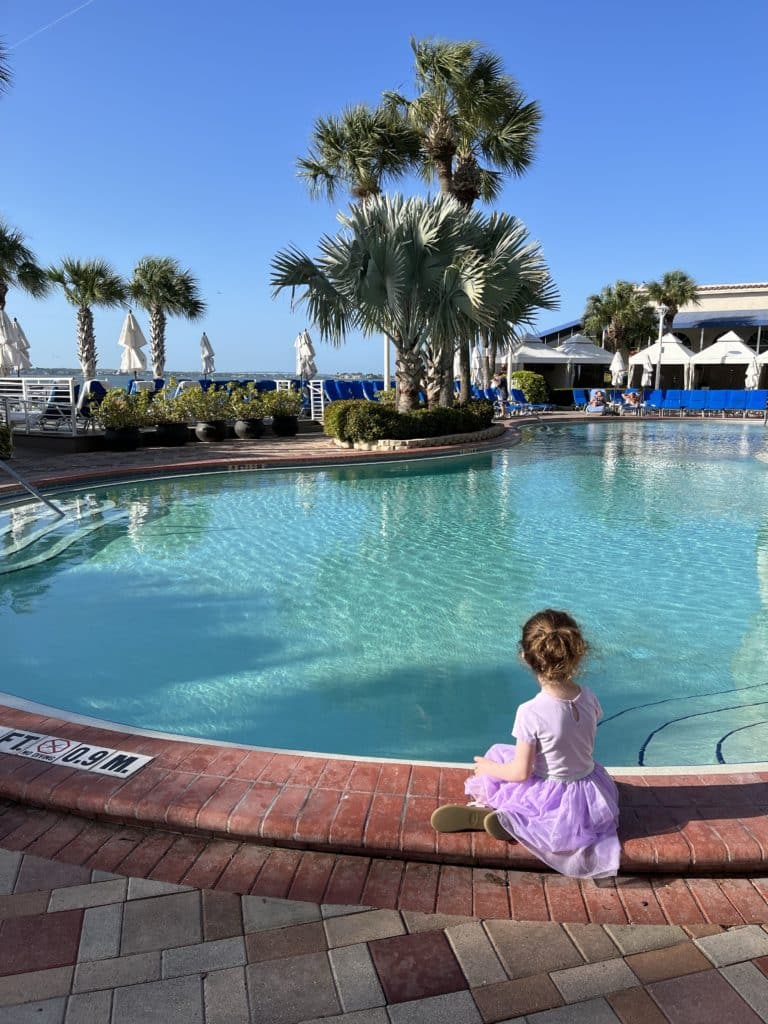 We spent a lot of time at the pool, so it's the area of the hotel I definitely know the best! a few notes:
It was easy to get a few chairs together, whether we were out at 8am or even the day we came back from the beach around 3pm. If you want an umbrella though, you need to be out before 10am to get a seat. The umbrellas were very heavy and no one would move them, so if you need shade you have to get there early or you're out of luck.
The pool was filled with families, so consider this if you're not traveling with kids! My kids loved seeing other little ones around and made some friends.
I was disappointed that there were some loose bricks around the pool. That's something so easy to fix!
And same with the pool towels- twice we got towels with holes in them.
The poolside staff was great, checking in for food and drink orders even on the busy weekend days.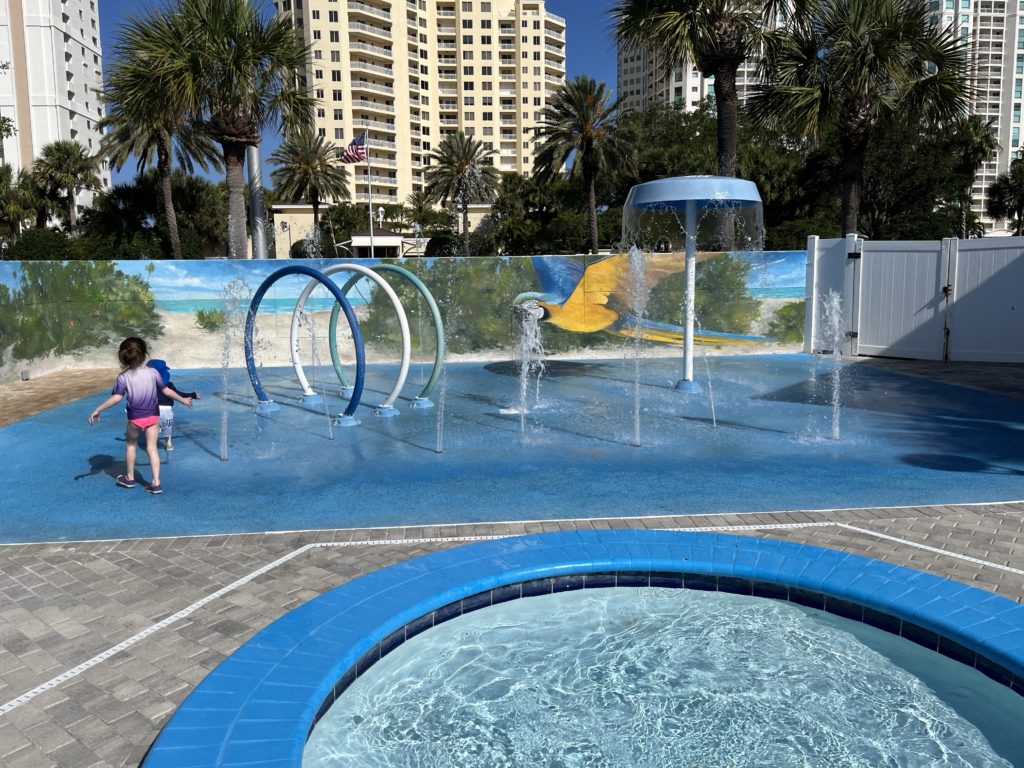 Beach
Marriott Sand Key is not directly on the beach, but the hotel has a really nice solution for this. A large golf cart is on site and Bob the Beach Buggy Man will drive you across the street to Sand Key Park, where you can visit the crystal clear water and powdery sand! We visited on a Saturday and saw some beach volleyball games as we walked down to the water. The city rents chairs and umbrellas on the beach ($25 for 2 chairs and an umbrella).
I was prepared to have to walk across the street with everything in tow, so it was a nice surprise to have this available for us! Bob even had a whole selection of beach toys the kids could borrow.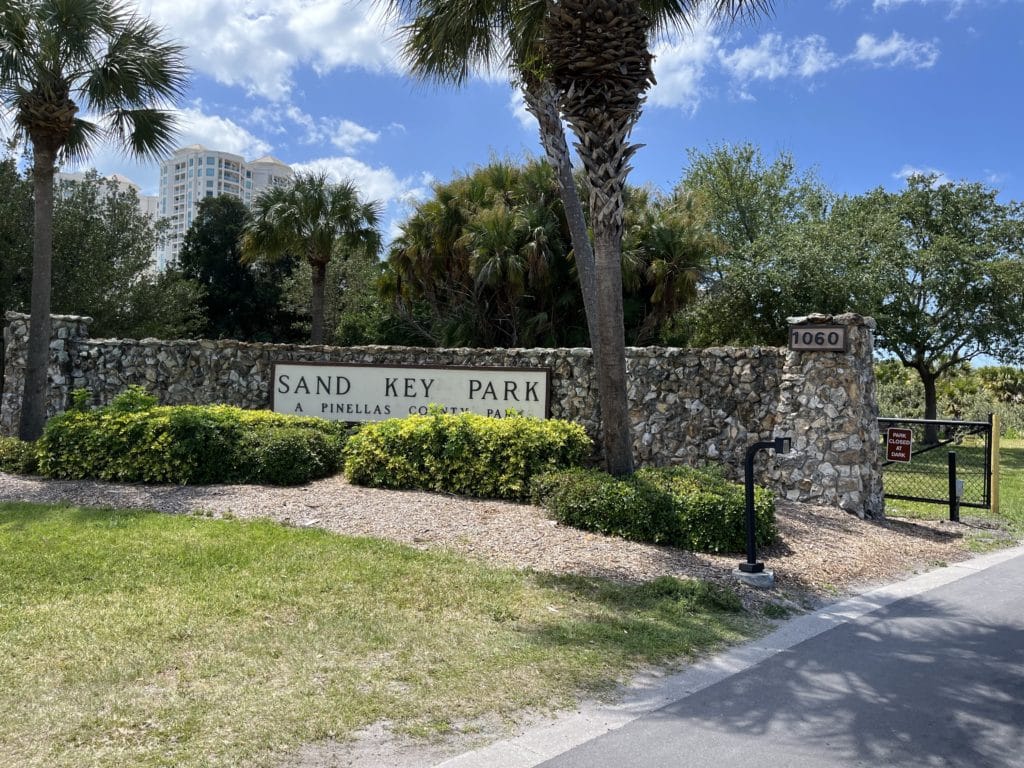 Transportation
We flew into Tampa and drove about a half hour to the hotel. We rented a car because we thought we might do some short day trips and didn't want to worry about transportation options. It's tricky traveling with young kids because it would have been a lot easier to just take an Uber, but we would have needed to put in/remove both car seats and that's just a pain. It took forevvvver to get the rental car because of the line.
The trolley to Clearwater Beach stops right in front of the hotel, in case you want to go there or visit Pier 60.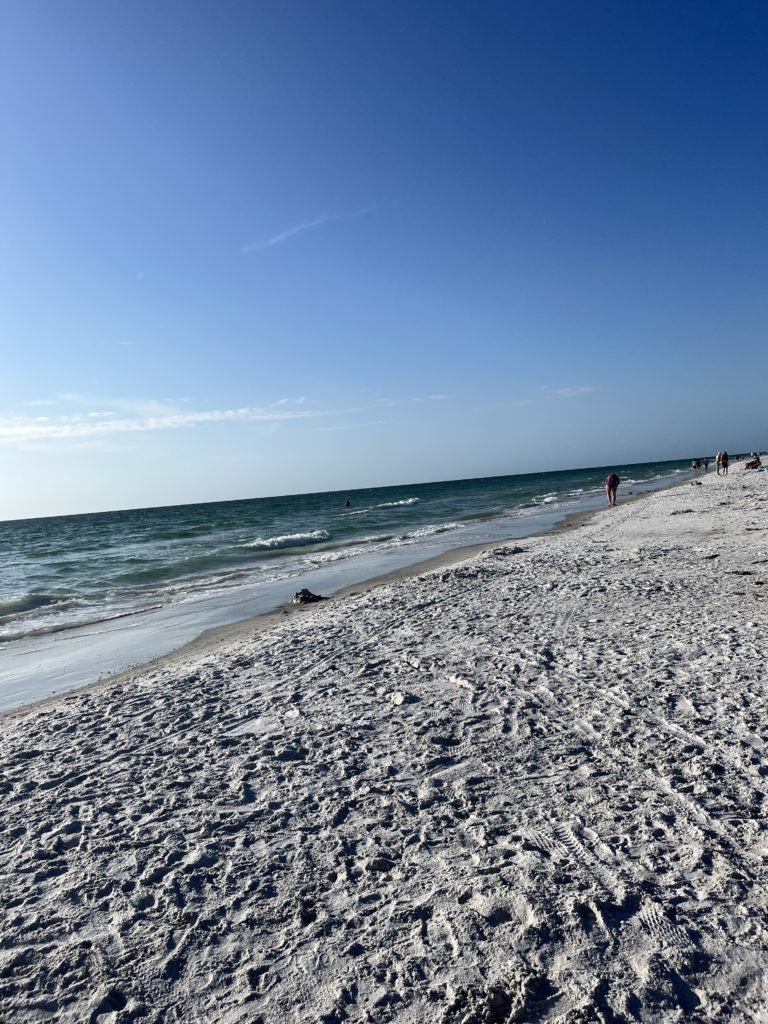 Pros
It's quiet in Sand Key so you don't have all of the road noise you'll have in Clearwater Beach. Definitely a pro if you are traveling with kids!
Having a splash pad and small wading pool contained by a fence was nice when we needed to let the kids take a break from swimming.
Swim floats and beach balls at the pool- the kids loved these!
I really loved the little balcony off the back of our room. Every morning a pod of dolphins swam around, which was so fun to see!
I would be lying if I didn't include Pizza Hut Express here. I haven't had Pizza Hut in YEARS, and it was so tasty.
The trolley stops every half hour in front of the hotel and was a fun way to get down to Clearwater Beach.
On-site laundry. It's coin operated and near the gym so one day during nap time my husband ran over and did laundry/worked out.
My kids loved the resident macaw, Lisa. She hangs out by the pool or in the lobby and they really enjoyed visiting her. They still talk about her weeks later!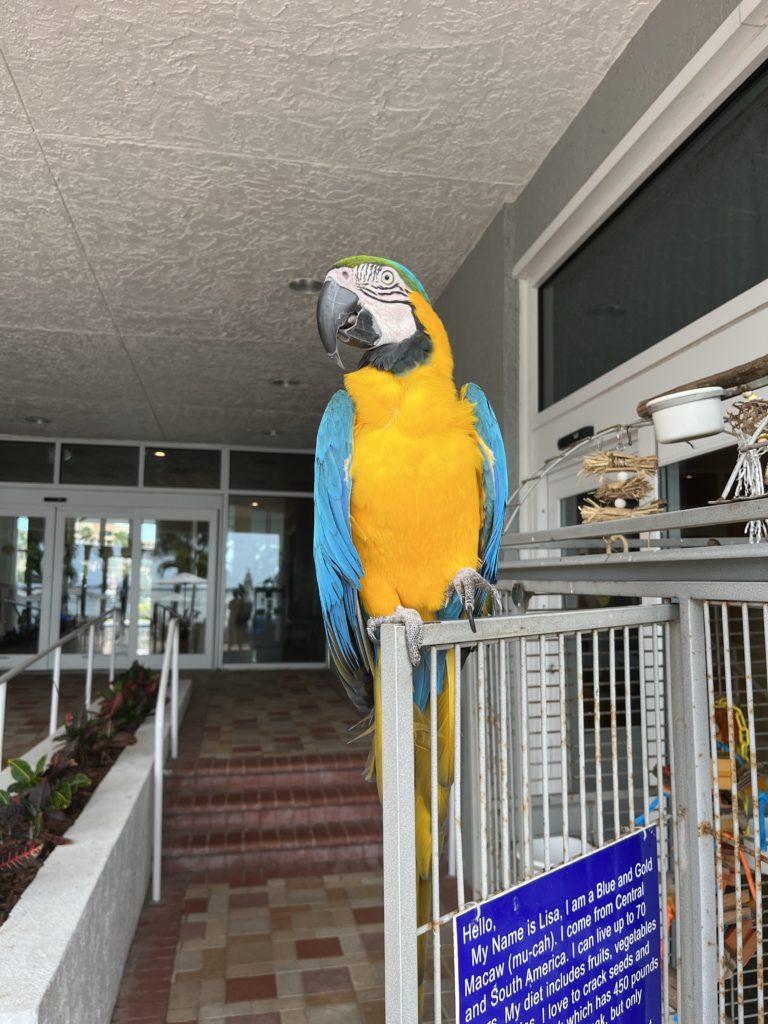 Cons
Since I like being as honest as possible, there are some definite things the hotel should address. Like I mentioned, the loose bricks by the pool are dangerous and need to be fixed, along with replacing the pool towels with holes in them.
Being away from the beach might be a con for some people, but it wasn't a big deal for us. If you want a hotel right on the beach but in the quiet area of Sand Key, check out the Sheraton!
Would we go back?
In all, I think the Marriott Sand Key was a great choice for our vacation. We loved seeing the dolphins every morning outside of our room, the pool and splash pad were a nice setup and size for our kids, and the beach buggy was the perfect fix for the hotel not being right on the beach. We agreed that we would probably go back at some point but want to check out other beaches/areas first, like maybe in St. Pete or on Sanibel Island.
We visited some restaurants and beaches outside of what the hotel offered, so I'll share those in my next post about visiting the Clearwater Beach area with kids!
Other Florida-Related Blog Posts
If you're looking to stay elsewhere in Florida, you might be interested in:
W Hotel Fort Lauderdale Review
Disney Packing List + 5 Days in Orlando Itinerary
Best Disney-Area Luxury Family Resort: Four Seasons Orlando
If you have any questions, drop them in the comments!