I feel like our master bedroom project has been going on forever – like since we moved into this house five years ago! For a while we were going back and forth about whether we would stay in this house or buy a new house and move, but it sounds like at least for the short term, we will be here. I really do love our location, so until I find the perfect place, we're staying put. I started working with Laurel & Wolf to design a serene bedroom that would make the best use of the space, and the decorator I worked with helped me find the perfect headboard. I'm kind of obsessed with it 😉
I've been looking for a bedside table/makeup table combo, but I have pretty serious requirements- has to be 30″ high, 30″ or longer, preferably with a shelf or drawers. (I took this table out of the guest room to see what it would look like in our bedroom, and I found that I do need a table that's just a liiiitle longer to look right in front of the window). Whatever table I buy also has to go with the furniture we currently have, because I just purchased our new headboard (yay!), and we have some other pieces that aren't going anywhere right now – like a love seat, dresser, and nightstand. I'm also slightly obsessed with our bedding and new lamps, so the colors all need to go well together. That said, I'm not looking for everything to match perfectly, because I want to be able to swap out pieces in the future, rather than needing to keep the exact same pieces together. These two console tables are in the running: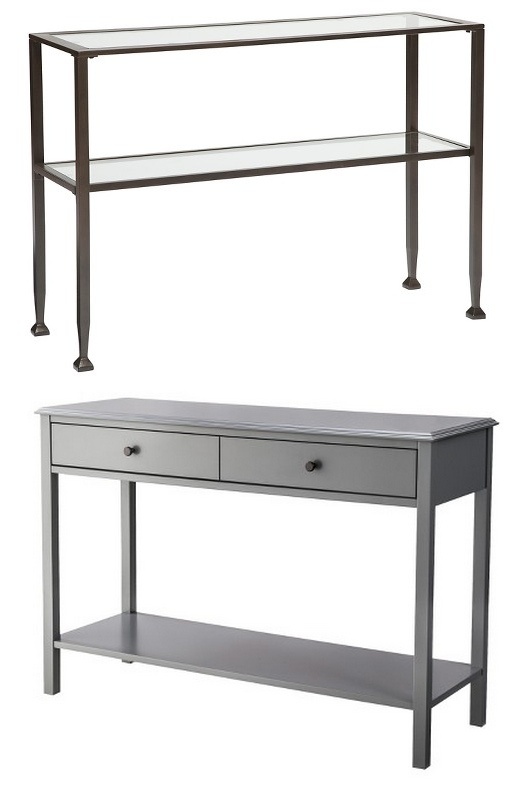 Have any advice for me? Leave it in the comments!