T had a work trip to Chicago last month, and I decided to join him and explore the city. I've been to Chicago twice before: Once back in 2010 when T and I visited for a few days, and again for just one night on our way to Bangkok.
I have never been with kids, though, so it was an entirely new experience going to Chicago with a toddler.
Today I'm breaking down our trip: What we did, where we stayed, and where to find the best playground for kids.

How kid-friendly is Chicago?
Chicago is a city, so you'll find plenty to do for kids of all ages. From the Shedd Aquarium to a city playground, there's something for everyone. We spent 5 days in the city and had tons to do.
You should know: Downtown Chicago is not very stroller friendly. Many of the entrances to the Riverwalk don't have ramps, so you have to carry your stroller up and down the stairs. (I do have to say though, that the one morning I was on my own with E and the stroller, I had 3 different women offer to help me carry it! Thank you, ladies of Chicago!)
Getting around Chicago
We did not rent a car because we planned to be in the city the full 5 days. I asked the hotel concierge what most parents in the city do if they need to take an Uber, and she said they just hold their child. Uber with a car seat request has not yet gotten to Chicago. (It's currently available only in NYC.)
But we decided to use our car seat in all Ubers. We really had no trouble getting it in and out of the cars. The only trouble we had was figuring out where to put the car seat. One day, we headed over to the aquarium, using the car seat. Our hotel's concierge had assured me that they would hold the car seat for me during our visit, but then we got there and the aquarium staff said they couldn't do that. I wasn't entirely sure what to do, but we just put the car seat up on top of the stroller, and E mostly walked around. I'm lucky that my mother-in-law was with me on this trip, because otherwise I would have had a hard time managing that day!
What to do with a toddler
Shedd Aquarium
We decided to go to the aquarium one afternoon when it was raining outside off and on. I didn't know it was a "free" day for Illinois residents, so it was beyond crowded. (Plus, kids were out of school already, so it was extra crowded!) Even with the throngs of people, we enjoyed the Shedd. E really loved watching the tropical fish and the jellyfish the best.
If you get there early enough, head down the green stairs to the kiosks and get free tickets (included with aquarium admission, of course) to the aquatic show. Unfortunately, the tickets were all gone by the time we got there (around 2:30pm), but I've heard it's great.

Lincoln Park Zoo
This zoo is one of the only free-entrance zoos in the US. It's open nearly every day. We didn't go to the zoo on this trip, but if you're headed to Chicago with a toddler, add this to your itinerary!
Millennium Park
A place to visit because what's a trip to Chicago without a trip to the Bean?? We went here after spending a morning at the playground at…
Maggie Daly Park
Adjacent to Millennium Park is Maggie Daly Park, which has the best playground I've seen in a city. There's really something for everyone, from first walkers to bigger kids. Lots of stuff to climb on, in, around… toddler heaven! It was on the chillier side when we visited, but there is a cool splash park here, too, that would have been great for a hot day.

Chicago Architecture Cruise on the First Lady
One of my favorite things from my first trip to Chicago was the architecture cruise T and I did. I wanted to do this again, and decided to bring E along.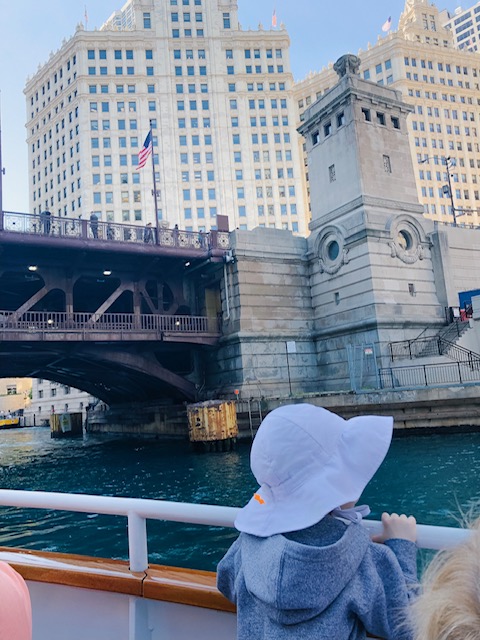 She loved when the First Lady went under a bridge, which fortunately happened a lot. It was a gorgeous day outside, so this was a highlight of the trip! It seems like there are a lot of different cruise companies in Chicago, so to find the First Lady you just have to look for the blue awnings. (P.S. Thank you to the First Lady for hosting us on our architecture cruise!)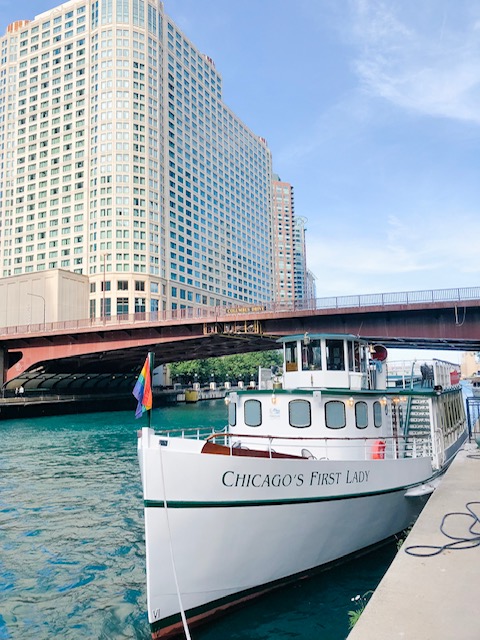 Riverwalk
If your toddler loves boats, this is perfect for a morning or evening stroll. They were doing construction along the Riverwalk, too, so our digger-loving toddler had a lot to look at.
P.S.
Another playground we found: In front of the Drunken Bean (lattes, breakfast pastries, and also wine). It was being renovated but looks like it will be amazing! (Location: Lake Shore East)

Where to Stay
We stayed in the conference hotel, since the trip was for T's work. The Loews Chicago is a beautiful hotel situated close to Navy Pier. It feels like a luxury hotel compared to other Chicago hotels we've stayed in. I ordered lunch from the restaurant on site a couple of days while E was napping (try the fried chicken BLT!).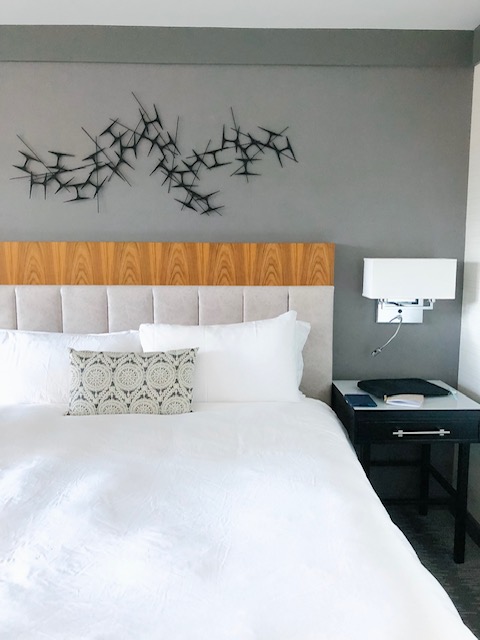 The hotel pool was great, because it's indoors (and it was freezing two of the days). There's also an outdoor pool, but we did not venture outside for that. I wish the weather had been nicer, because the rooftop pool looked so nice!
For future stays I'll know to book a hotel based on what we will be doing. It would have been more convenient to have a hotel south of the river because that's where we spent more time. It's just too hard to get around Chicago with a toddler (see above re: taking a stroller on the Riverwalk!) when you're alone.
Regardless, I would 100% consider the Loews in the future! I'm glad to see they're around the US, because I'll definitely look them up for future trips.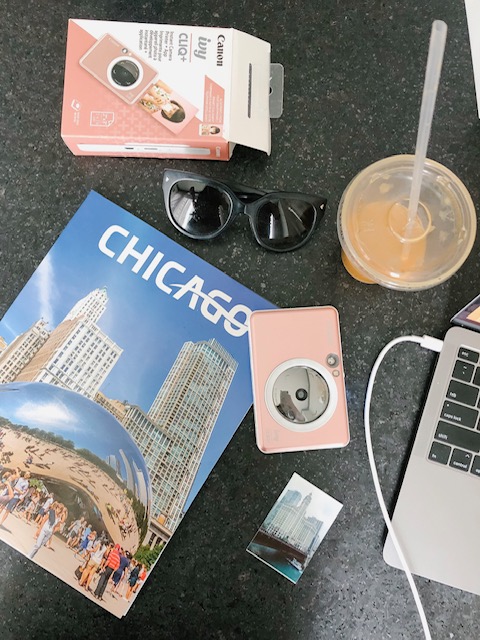 Where to Eat
For pizza: Lou Malnati's – recommended to us by a few locals, and the deep dish was so good!!
For dinner: Beatrix – better for a fancy date night, but the food was so so good. I had a chicken dish that I wish I could replicate!
For coffee: Drunken Bean – coffee, pastries, wine. What more could you want?

Until next time, Chicago!