Today I'm sharing some details from our recent vacation to Thailand with what to do in Bangkok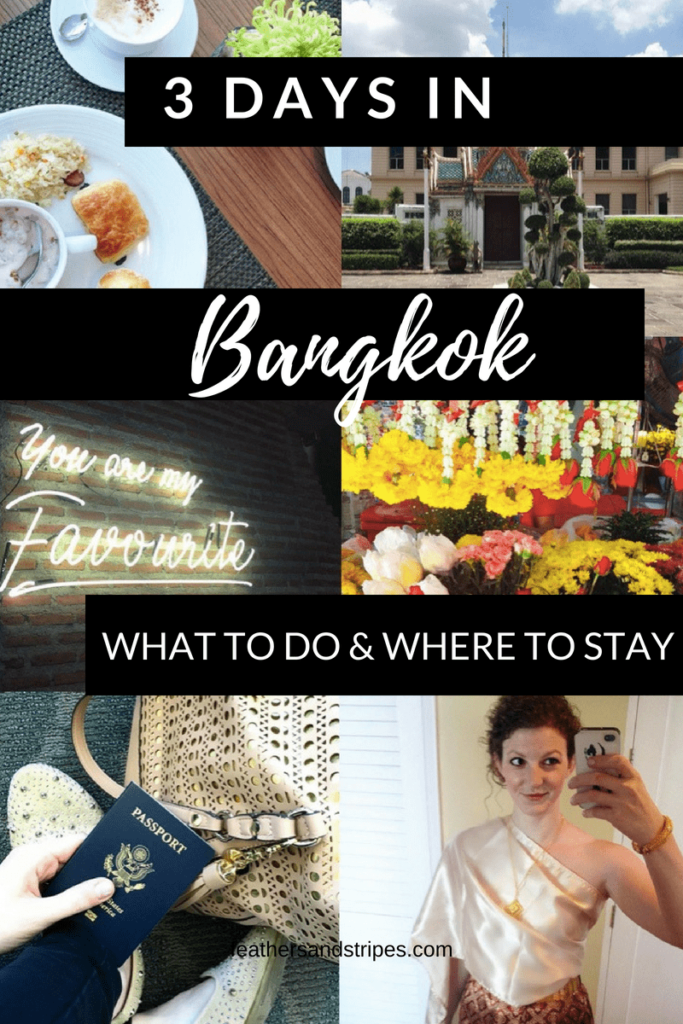 Dining

Bangkok has a plethora of awesome
rooftop bars
. One of the best meals we had was at
Sirocco
, high above the city (it's the gold-domed building in the photo below). It's American-expensive, but the cheap meals you'll eat the rest of the time make up for what you'll spend there! Plus, the views of the city are incredible. I wish we had gone for sunset, because we would have had much better photos. (Our dinner reservation was at 9pm.)
The street food is delicious, but we were really careful about what we were eating. It's so hot that any meat sitting out in the sun should definitely be avoided. We ate early in the day and only when the vendor was actively grilling in front of us. (If you do decide to try the street food, the pork was my favorite!)
If you're craving western food, one of my favorite restaurants in Bangkok was Eat Me, where the hostess was American. It made me feel more at home on our return trip to Bangkok (after being in the country for two weeks).
One other note: Eat where the locals are eating. And eat what the locals are eating. I'm not a fan of spicy food, and I was so nervous that I would have a hard time finding something to eat at each meal, but I did just fine – and even found some new foods I like in the process! (If you aren't sure if you can handle Thai spice, ask for "spicy good" aka an American's version of spicy!)
Hotels
We chose to stay in Sathorn at the Eastin Grand. We actually stayed here twice: Once for the first few days in Bangkok, and then again on our way back through. (We traveled South to Hat Yai and then Koh Lipe in between.) During that time we left a bag at the hotel with laundry and some things we didn't think we would need. We really liked the Eastin Grand and would stay there again!
Shopping

We stayed in the Sathorn area, so we were not far from the major shopping areas. Everything is wholesale priced and not branded, but if you like cute clothes and don't care about brands, definitely check out the malls!
One word of advice: If you are a US size 4 or larger, don't even go to Platinum because everything there is not made for the "larger Western frame". That was slightly depressing… Head to MBK instead, which is a little more expensive but can accommodate for the American "big size" (aka not a size 00).
Touristy Things
The Grand Palace is way more ostentatious than I could have imagined. The buildings are just gorgeous. Prepare yourself for probably the hottest day of your trip here. One "high five" to us was paying a little bit extra to get a tour guide, who didn't tell us too much more than we could have figured out on our own (at one point he told us that if we wanted to know more, we could Google it) but meant we could skip the ticket line altogether. Make sure you have sleeves and covered knees – men too, or you end up looking like I did (completely ridiculous). You can rent clothes to go through the palace if you don't have sleeves and covered knees, but clothes rented by many tourists each day + temps over 100 degrees + not washing said clothes = no thanks.
Taking the riverboats is actually pretty easy, and most of them have coverage if you can't handle a lot of sun (like me). We took one from our hotel area over to a night market one night. There were stalls upon stalls of cheap clothing, art, and lots of food.
I'm always in awe of cities built before modern technology, and Ayutthaya is no exception. We took a day trip to these ruins from an ancient city that was once the capital of Siam, which are spread out over a pretty large area. The van ride from our hotel in Bangkok was a little over an hour. Some of our group rented bicycles to see more of the ruins, but I took my nephew to see the baby elephants instead.
If we had had more time, I definitely would have checked out Elephantstay for a once-in-a-lifetime experience. Getting to take care of elephants for a few days sounds like an incredible way to spend a few days in Thailand! (Not to mention that you get to see them in a more natural environment instead of the working environment of Ayutthaya.)
The elephant encounter we had in Ayutthaya actually made me pretty sad. The elephants are chained up and are either taking people on rides (and apparently having people on their backs is really bad for them), or they're chained up and forced to "perform" while their trainers poke them with sticks. Looking back, I wish we hadn't gone here and supported this operation but instead had gone to a true elephant sanctuary.
I found some awesome recommendations for Bangkok here, if you're looking for more info!
If you have time to travel more while you're in Thailand, definitely check out one of my favorite places I've ever been – Koh Lipe