Hello from Chicago! We're in town for a few days while T is on a work trip. E and I joined him for a few days of deep dish pizza and city living!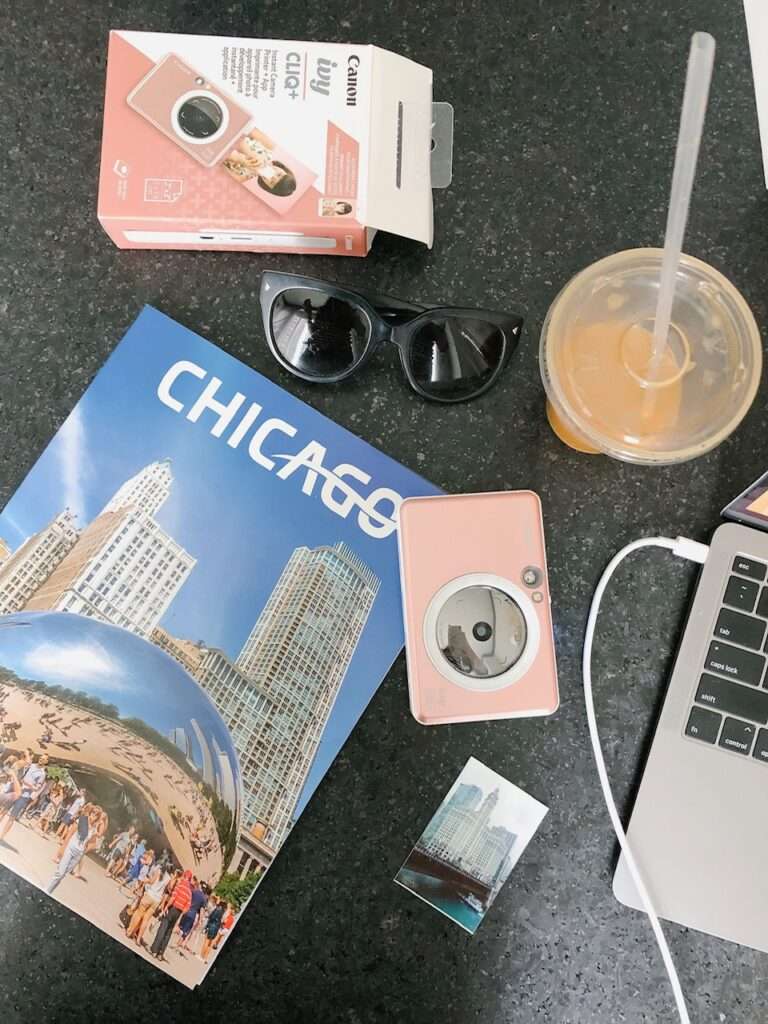 I used to travel with my big DSLR, but these days snacks and diapers take up that space. I was excited when Canon asked if they could send me their new Canon IVY CLIQ+ to try out. Last summer we spent a week on the Cape with family, and one of the cousins brought an instant print camera. During the week they went through lots of film, hanging each photo on a mini clothesline in the rental house. It was so cute!
While I'm not doing that during our time here in Chi-town, I love that these mini photos can become a travel journal of sorts. (Or I could compile them into an actual travel journal, since they have sticky backs!)
Regardless, my toddler LOVED that she could see a photo being printed out immediately! I think often I ask her to "cheese" and she does, but then my phone goes back into my bag. We had a really fun afternoon playing with this camera! Not only can you see yourself in the big selfie mirror on the front of the camera, but the photo prints right out!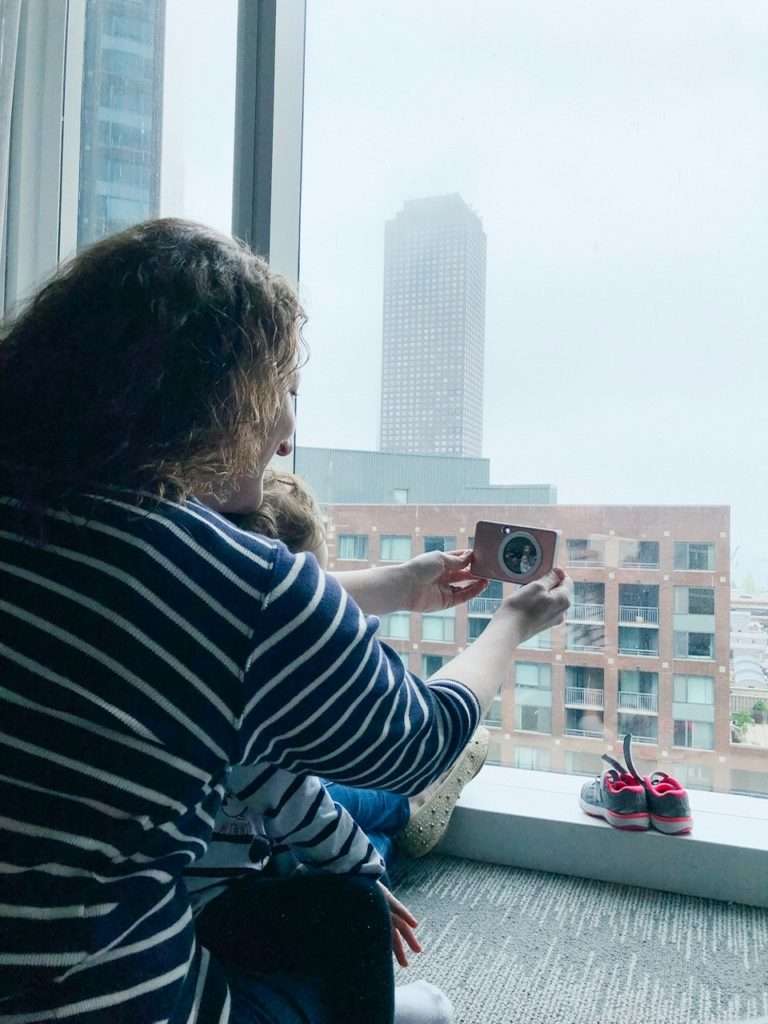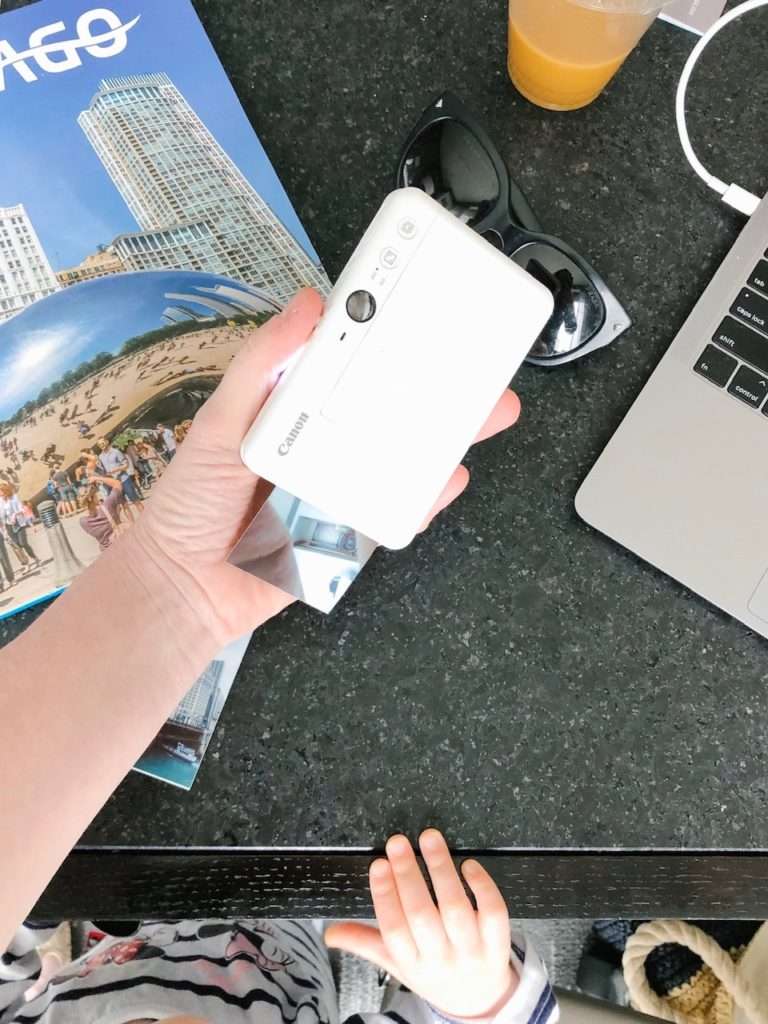 The IVY CLIQ+ can be used in two different ways. First, it's an instant camera, so you can take a photo and print it immediately. But also, it's a mini printer. So you can take a photo while you're out, and then when you get back to your hotel room (or home), you can print it off of your phone!
It's genius because while you might not always have room in your bag for another camera to take along, you probably always have your phone with you. Snap a picture, print it later!
Here's more info and my review of the Canon IVY CLIQ+ instant camera.
Camera Features
Instant 8.0MP photos: Canon IVY Cliq+ is a small and fun instant camera and mini photo printer that can fit in your pocket so you can take it anywhere.
Large circular selfie mirror with LED light: This camera features a 2″ selfie mirror with an eight-LED ring light for great-looking selfies.
Canon Mini Print app: Easily connect your smartphone to the app via Bluetooth, and take a photo with your smartphone's camera, or choose one of your own photos. Even use fun AR filters and add effects, frames, text, and stickers to your 2″ x 3″ photos with a peel-and-stick back.
ZINK photo paper: ZINK stands for Zero Ink printing technology. Instead of ink, it uses colorful dye-based crystals embedded inside the paper. The ZINK-enabled device uses heat to activate and colorize these crystals.
MicroSD card slot: Allows you to save your photos to a microSD card (sold separately) for later use.
There are two versions of this camera… the IVY CLIQ and the IVY CLIQ+. The IVY CLIQ comes in Seaside Blue, Bumble Bee Yellow, Lady Bug Red and Mint Green. The IVY CLIQ+ (the one I have) comes in Pearl White, Ruby Red, Sapphire Blue and Rose Gold.
There are a few differences between the two, which you can see at Best Buy: IVY CLIQ and IVY CLIQ+
Portability
This instant print camera is lightweight and about the size of a phone. I had it in my bag today while we were out and about, and I didn't even notice the extra weight at all!
Price and Value
The IVY CLIQ+ is available at Best Buy for $159.99. For the ability to print out photos later, or to pop in a microSD card and save the photos you're taking, I think this is a great value. It's a fun little camera to play with, and it would be a perfect gift for a teenager or pre-teen. The IVY CLIQ doesn't have the microSD card slot, so I think that's a worthy upgrade.
Instant camera add-ons
Each camera comes with 10 sheets of printer paper. Additional film is $9.99 for a pack of 20 or $24.99 for a pack of 50.
The microSD card you might want for the IVY CLIQ+ is an additional $5.99 (sold separately).
Where to buy
The Canon IVY CLIQ and IVY CLIQ+ are sold at Best Buy.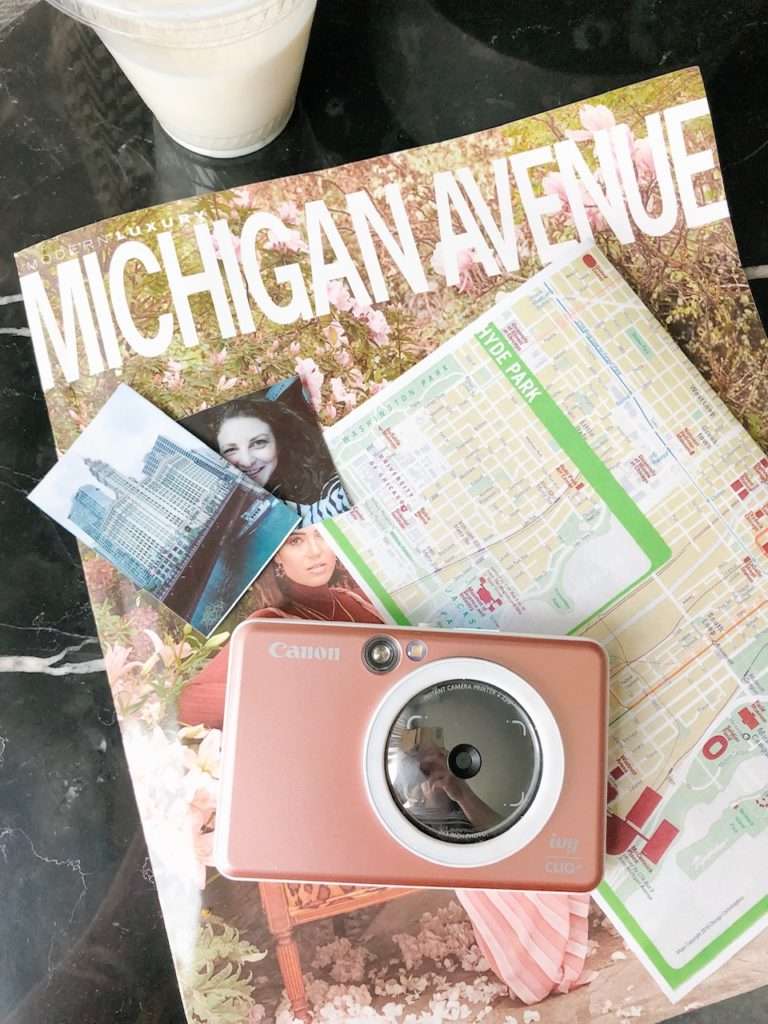 This post was sponsored by Best Buy, but all opinions are my own.