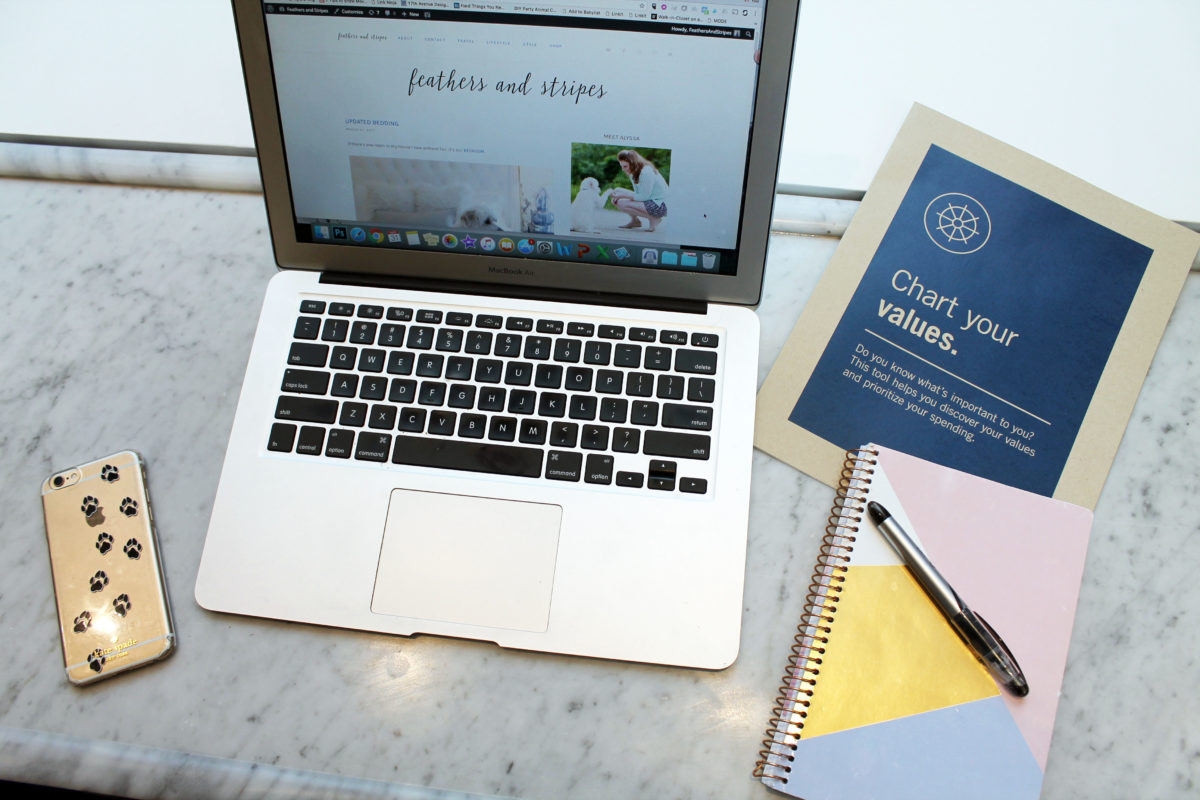 I was recently chatting with a colleague when she (not so nicely) asked me how I manage to work full-time and also blog.
I don't think she was trying to be mean: Her point was that there aren't enough hours in the day to really keep both running… I just don't agree with that. After four years (and then some) of keeping both ships afloat, so to speak, I've worked out a system that works well for me!
#1 Set expectations
I will admit that now that I'm pregnant, I've been slacking a little, BUT in the past I have set expectations that I post three times a week. On Mondays, Wednesdays, and Fridays, you can expect to come here and see new content. (I promise, working on getting back into that schedule now that I can keep my eyes open past 5pm!) You can expect to see new posts announced on the f+s Facebook page, along with other share-worthy posts; on Twitter you can find me rambling about whatever is happening in my day (which includes live-tweeting The Bachelorette); and on Instagram Stories you'll find me posting real-time. I will admit that my Insta Stories are more exciting on weekends and holidays, because cubicle life just isn't that thrilling 😉
By setting expectations, you're creating a schedule that both you and your readers can rely on. They know when to show up for new content (and where to go to find that content!), and you get into a routine of brainstorming, creating, and posting.
#2 Give yourself time off
You don't need to be attached to your laptop all day, every day. If that's the way you work best, that's fine, but try to give yourself some time off! Whether that means shutting down on the weekends or certain nights during the week, you need downtime to stay sane. (Especially if you plan to get anything else in life done, you need that time off from work.)
For my own schedule, I will blog on Sunday afternoons, and then I know that two or three nights during the week I need to be back online. Between blog posts and brand collaborations, I just have to put 3-4 nights' worth of work into my blog. That could mean I'm brainstorming content ideas, negotiating contracts, scheduling social media posts, or actually writing. Occasionally, I'll use my lunch hour to work on negotiations or reach out to brands, or even to start writing a blog post. If I am walking from meeting to meeting and come up with what I think would be a great idea for content, I'll type a quick note to myself on my phone and come back to it at night.
#3 Attend blogger events sparingly
Now, this is probably a lot different from what you'll hear from others. I've been told to say "yes" to as many blogger events as possible, because that's where you'll meet other bloggers and also potentially make a connection with brands.
But the problem is that a much as I want to be attending blogger events, it's not always feasible to make it work with my schedule. Many brands, especially in the Boston area, will host events in the evenings, typically on a Wednesday or Thursday, but many also do mid-day events. Those can be SO much fun, too – a casual Friday morning brunch with a small invite-only list, or a full day's trip to Nantucket – but they typically require that I take a day off from my full-time job.
I've found that personally, I don't accept a brand's invitation unless I absolutely love the brand and know that I can make it to the event. I won't give up an evening at home for just anyone! (Hello, homebodyville, population: me!).
#4 Plan ahead
Typically when I go away I'll plan to have posts ready to go for the entire time I'm gone. I will admit, I didn't do this while in Italy and it totally stressed me out at times. I also feel like if I had brought my laptop on that trip, there would have been one huge pro and one huge con: I would have had extra blog-related work done. But I also potentially wouldn't have actually felt like I was truly on a vacation!
While you're away, you can have blogger friends do guest posts during that time. (Guest posts give each of you extra exposure to a new audience.) Or you could just put in the extra effort ahead of time and have a calendar of posts scheduled. I'm trying (keyword: trying) to be good about this for when the baby comes in the early fall, because I don't know what my schedule will be like that first month. All I'm picturing is me being totally sleep-deprived and wearing athleisure!
There you have it- my 4 secrets for maintaining working a full-time job PLUS running a blog at the same time.
I'm curious: What stands in the way of you getting more accomplished than you'd like to?