I had told myself I wasn't going to do resolutions this year, but 2017 goals I can get behind.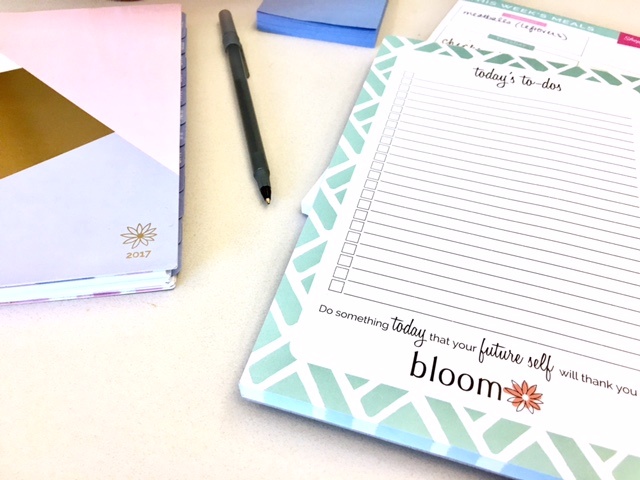 Shop the post:

Also, I have been in kind of a slump lately and I feel like putting my goals down will actually help me accomplish them. It's been 
months
since I last hit the gym (I know, I really have no excuse…), and I have come up with every excuse in the book, so my goals definitely include the obligatory "it's January and so I will commit to workout out more" bullet point.
And that one is numero uno. As for the other goals? Read on!
Focus on my health. My health hasn't been a huge focus for the past couple of years, to be honest. My weight has fluctuated quite a bit, and I just feel … soft. I want to work out 2-3x/week consistently, adding in runs and hikes on the weekends. I want to be stronger and overall healthier, both physically and mentally, and working out consistently will be a big part of that. I'd love to get my 5K time down from where it is, even though I don't think I'm meant to be a runner like T (he'll go out for a 6-7 mile run and barely break a sweat!). But even if I don't get a better 5K time, a focus on my health is something that is really important.
Read. I actually think I did a good job reading in 2016, but I started quite a few books that I didn't finish because I just couldn't get into them. For that reason, I'm starting to use Goodreads a lot more and am marking books that others have recommended so I'm not just choosing based on what the cover looks like. (not that I would do that….) I found some really great books in 2016, like Brooklyn, Modern Girls, and The Boy in the Striped Pajamas, among others!
Streamline my wardrobe. Not that I'm against trends (clearly, as evidenced by the cold shoulder situation over the summer), but I want to invest in basics rather than buying 4 or 5 of the same thing because I know it will fall apart in a short time period. As I've gotten older, I've thought more about investing in certain pieces, but I have a hard time justifying a high price tag for certain items. I used T as a guinea pig, though, and convinced him to go toward these designer jeans rather than the ones he was buying. They last a little longer and look a little nicer, so I'm taking the plunge for myself!
Go hiking. This is something T and I have started doing much more of since our trip to Utah in the fall, seeking out state parks and other places where we can go for a few miles' hike. I would like to do another big hiking trip in 2017.
Drink water. When I was fresh out of college, I made a point to drink a certain number of bottles of water each day and was pretty good at sticking to it. But now, for whatever reason, I tend toward soda rather than water, and that's just a really bad habit that I need to break. So I ideally would like to drink half of my weight (in ounces) in water each day.
Raise the number of steps I walk each day. I currently work full-time at a desk job, which means that getting to the gym and even walking a lot during the day kind of just doesn't happen. Some days I don't even get to 2500 steps, which is miserably bad. I'd like to hit 6k or more each day, so I'm building in 10-15 minute breaks during the day so I can walk around, even if it's just within the building. Wish me luck, people.
Maintain my volunteer schedule. A few months ago (mid-October) I started volunteering 1-2 days at the local animal shelter. It has been extremely fulfilling, even though what I do there is clean up after puppies. When a puppy goes from crying to fast asleep in your arms snoring, or when families come to pick up their new family member, it makes it so worth it.
Relaunch my personal website for freelance work, complete with digital courses. I do some freelance marketing work on the side, and I have had a personal site for a little while, but it really needs to be redone. I want to get that complete this year, as well as launch a couple of digital courses to help people learn how to do their own Facebook advertising. I didn't realize until about halfway through 2016 that things I thought were common knowledge actually aren't. (It's so easy to be ingrained in a world and forget that others aren't constantly in that same world!) When I finally do this, I'll be sure to announce it here in some way!
Stay organized. Ever since I can remember, I've had a paper planner that I carry around with me. I do track certain things on my phone and use the Notes app, but I also always have my paper planner. There's something about writing down your "to do" list and being able to check everything off that is so much more satisfying than just deleting a line from the Notes app!
This year bloom planners sent me a new planner (in my favorite colors!), a to do list notepad, and a weekly meal planner pad, which will all help me stay organized as the year goes on. (I started to meal plan but found it hard to keep track of everything, so this meal planner pad is going to be a game changer!) They have a ton of other awesome products, so check them out here! Btw if you're a student, the planner has a class schedule section that I wish I had a couple of years ago when I was still in grad school! I still have nightmares about not being able to find my classes/remember my locker combo/know which class was when.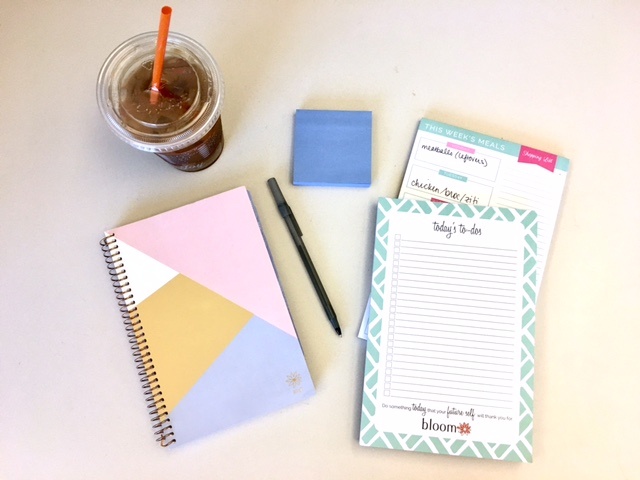 What are your goals for the new year?