Last summer we took our first beach vacation as a family of four- with a not-quite-3 year old and a newborn in tow! We spent a few days on Cape Cod with family, with full days on the beach. I have never been one to spend tons of time in the sun (hi, pale skin). The baby wasn't even two months old, so I was a little nervous about the trip, but it went so well.
I was so happy that I decided last minute to buy this beach pop up baby dome infant tent, because it came in handy. I wasn't sure where I'd put the baby down to change him or while he was asleep, and the bubble was exactly what we needed. (It folds down flat for easy transport.) We brought a clip on fan for some added breeze, though our beach days were breezy and lovely anyway.
Our beach tent of choice is this one. It has enough shade for 3 of us at a time, and I even moved the bubble in there so I could nap close to the baby. I will warn you that in heavy wind the tent is not easy to set up by yourself. (There was one day a few years ago when my sister and I tried to set it up ourselves on a very windy beach day, and it didn't go so well…) BUT other than that, it's a great tent.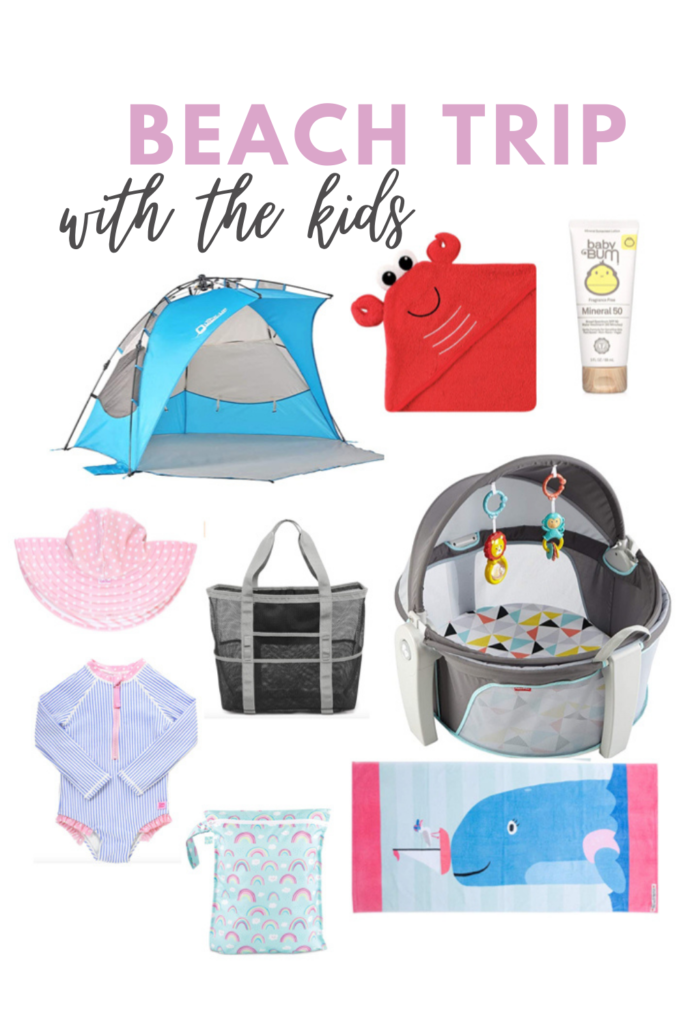 Beach hat and UPF50 swim suit with long sleeves
SPF50 sunscreen  |  Beach tent and beach bubble
Hooded towels for the kids  |  Cute whale towel
Mesh beach bag lets all the sand fall out! Pack an extra set of clothes for each kid, diapers and wipes, baby powder or cornstarch to take off sand; and a wet bag to contain the wet swimsuits
And a wagon to carry everything!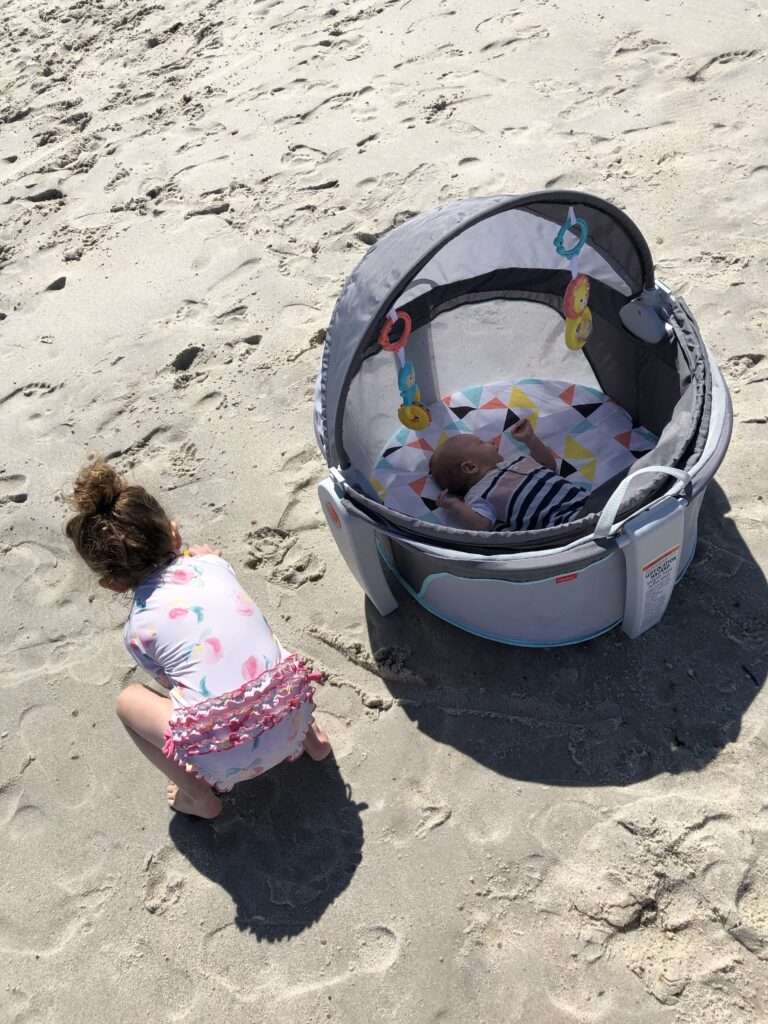 We're headed back to the beach soon, and it'll be a whole new type of trip with an infant who wants to just crawl around 24/7. I'm going to try the fitted sheet trick (to keep out sand) and will share how that goes!
Now, some FAQs about a beach trip with kids:
Can I take an infant to the beach?
Yes, of course! Our pediatrician told us not to use sunscreen before 6 months. That's why I wanted to make sure we had the right beach gear to keep the baby out of the sun and comfortable on the beach.
What should I bring to the beach for a 1 year old?
You don't need a ton of stuff! A beach pail and shovel, a big sun hat, some extra clothes to change into, beach towels, a tent or beach umbrella, swim diaper(s), and if you're feeling adventurous an inflatable pool.
What are the best snacks to take to the beach?
Some of my favorites are chips (Cape Cod chips, to be exact), pretzels, juice boxes, pre-cut apples with peanut butter, fruit snacks, and pouches for the little ones.