When I first heard of the smocked sleeveless Nap Dress I didn't understand its popularity. I kept seeing it on Instagram and in blog posts but wasn't sold. Why would someone would buy multiples of the same clothing item? (Other than a basic tshirt, that is.) But the same dress silhouette just in a different pattern or color? Fast forward a year… I own 3 of the Ellie dress from Hill House. It's probably one of the most versatile items in my closet!
It has a smocked bodice, smocked straps with a flutter, and it's midi length. It looks equally great with sandals or espadrilles, hair up or down, accessorized or not. I've seen women wear them in the summer months with sneakers and in the winter months with a cardigan and tights.
The best thing about the Nap Dress? It feels super comfortable while looking stylish. I'm not one to dress up often these days, but when I can dress up and be comfy? I'm totally on board.
More of the Ellie Nap Dress:

                
                


                    
                    
                


            
Here's a quick snap of one of my other Ellie dresses.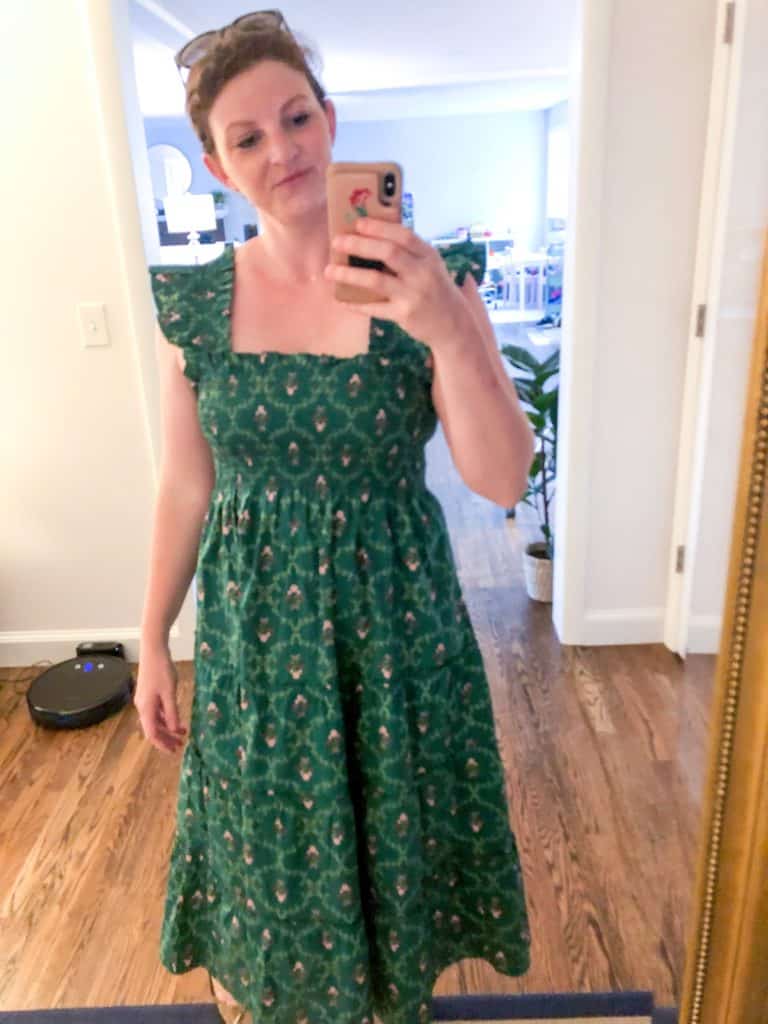 Recently, Hill House Home made some changes to the Ellie style. The Ellie is their original style, sleeveless and midi length with a smocked bodice. The newer Ellie has the one thing I wish the older style had- pockets! A year ago I said the dress would be perfect, if only it had pockets. I've heard that the smocking is a few rows longer, which larger busted ladies are happy about. I haven't purchased a new Ellie yet. It's still chilly here in New England and we aren't quite into dress season yet.
If you're looking for a similar dress with a lower price, you might also want to check out my review of Few Moda dresses. The Ellie sells for $150, and Few Moda sells similar dresses for less than half the price.
The style is very popular right now, and you can find similar dresses everywhere from Old Navy to J. Crew. Hill House Home actually trademarked "nap dress" because so many companies started creating similar dresses. But the patterns used by the original maker are unique. They're recognizable by Hill House enthusiasts, and new color ways tend to sell out quickly. The founder, Nell Diamond, frequently shares sneak peeks of new patterns on her Instagram. And a Facebook group exists for women to buy/sell/trade but also discuss the newest line sheets and upcoming drops.
If you're thinking about trying the Ellie or one of the other many dresses added to the Hill House portfolio, know that returns are easy but need to happen within 15 days. Limited edition styles and colors will sell quickly and can be available for purchase on eBay or other platforms, but it will cost you.
You can click here to see the current available colors and patterns in the Ellie dress I have and love!
Looking for a Nap Dress discount? New customers can get 10% off your first order.
The brand also has expanded to include home items, like bedding, sheets and towels, and robes. They still make matching baby and kids dresses!