I kept getting Instagram ads for a company called Few Moda, so I decided to try it out and see what the difference in the clothing really was! I was most interested in comparing the Few Moda dresses to the very popular Hill House Home Nap Dress, which I own and really love in the summer months.
According to the Few Moda website, they give customers "direct access to beautifully crafted pieces made by the same manufacturers as the leading brands you know and love, at cost" aka same stuff, much cheaper.
I was really interested in getting another smocked dress similar to my Ellie Nap Dress, so I thought this was a great option to try.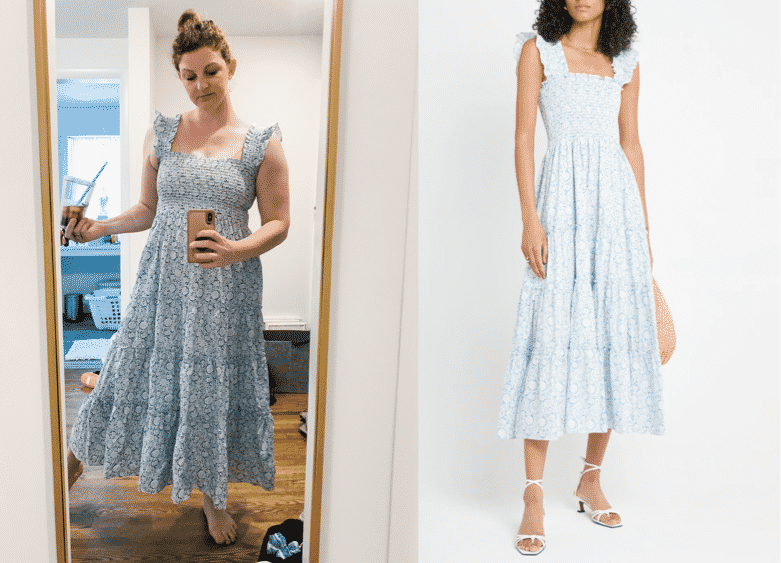 Editor's Note: I plan on purchasing a few more items from Few Moda for research purposes, and I'll update with details and pictures once they arrive!
What I ordered to try next:

What's great about Few Moda
Having access to direct-from-manufacturing items (and prices!) means you can afford the Reformation look at Express prices.
The dresses have POCKETS. (I have a few of the Hill House Nap Dresses and they haven't had pockets yet, though supposedly that's coming in a future release.)
There are a variety of styles and categories available, including dresses, activewear, jewelry, denim, shorts, loungewear, and sets.
The dress styles are on trend.
Few Moda discount
You can get 10% off your first order through this link.
What I don't like about Few Moda
In order to purchase from them, you have to either have a subscription or pay much more per item. I dove into a three month subscription to place my first order.
The return policy allows for 28 days and then there are no returns after that.
Shipping can take a while! I think my first order took about two weeks before I got a shipment confirmation, so plan for that if and when you order.
I already mentioned this under sizing, but the Few Moda dresses seem to have really tight smocking. I don't think that's a great thing because it created some weird bulging for me at my arms. I don't have a huge chest (34C) and the smocking was so tight it was uncomfortable. Honestly because of this I sent back the 4 dresses I bought.
So what is Few Moda?
It's a subscription-only e-commerce site where you can buy clothing that is very similar to much higher-prices brands.
What brands can you find on Few Moda? You'll find pieces that Few Moda claims are made in the same factories as Reformation, Lululemon, For Love and Lemons, OPT (a Shopbop brand), Alo Yoga, and more.
How much does it cost?
A year's subscription to Few Moda costs $120 and 3 months (quarterly plan) costs $39. Anything you purchase costs a set amount above that. There's also no free trial option, so you have to pay for a membership in order to place an order.
How is the sizing?
I only purchased dresses from Few Moda (they also carry coats, activewear, jewelry, accessories, and other clothing), but so far everything seems to run slightly small. I'm a solid medium in pretty much everything I buy, and that has been the same here. BUT: The dresses are cut more narrow in the chest than in other brands. And the smocked dresses have much tighter smocking. Because of that, I think you should size up, especially if you have a chest larger than an A cup. In this photo I'm wearing a size medium Calypso Maxi Dress. I'm a 34C bra, and you can see it's too tight in the smocking.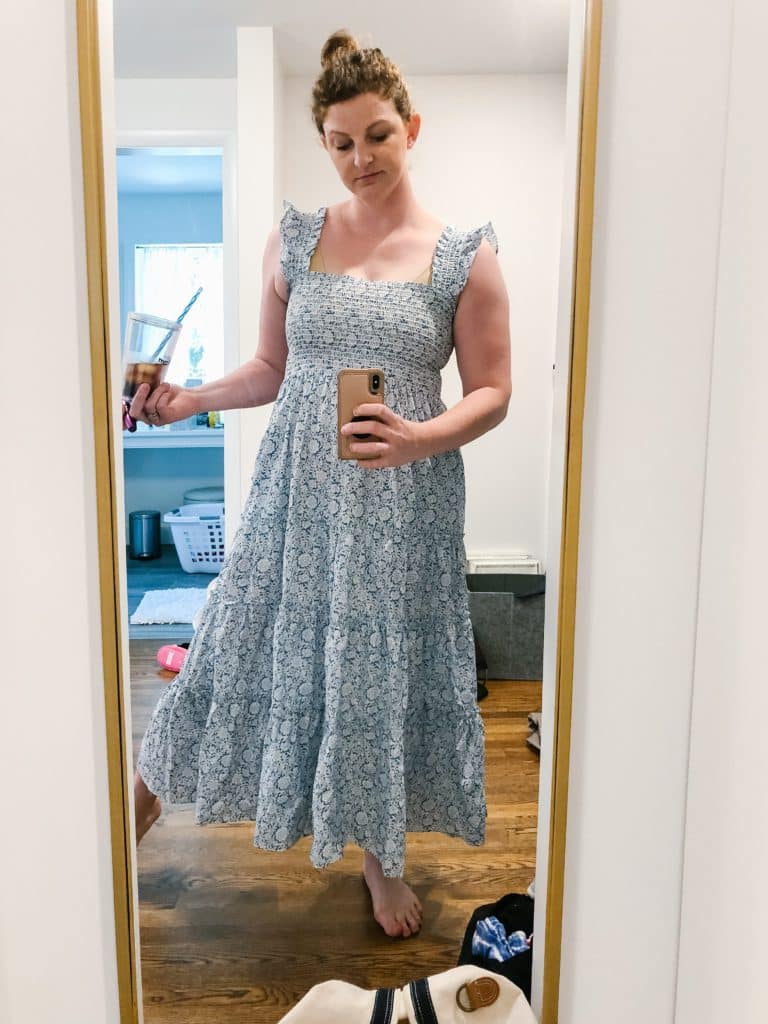 For research purposes, I should have bought a large to compare but I wasn't impressed so just returned everything I had purchased. This dress is the Calypso Maxi in Classic Light Blue. It's a pretty blue paisley print. There are 27 different colors in this dress right now, so it's clearly a good seller for them.
How to get a discount on Few Moda
Use this link to get 10% off your order!
Is there another company you're curious about? Let me know in the comments! I've placed orders with some other interesting companies like Italic, which also offers warehouse-to-consumer pricing on everything from fashion to home, so that review will be up soon!
Pin this for later: