I am a big fan of those fitting room posts, so I thought I'd give it a go with my own maternity version in everyone's favorite store – Target.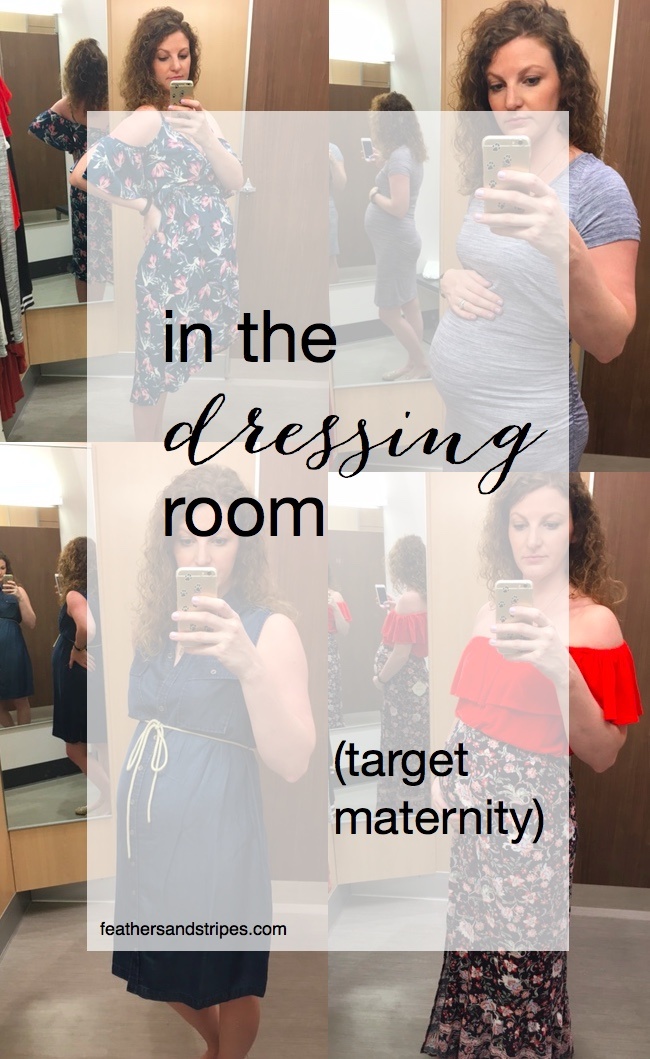 It's so hard to figure out what will look good on you at 6 months pregnant. (I can't stand when my shirts are just a smidge too short in the front so they stick up.) And here's to hoping that this post saves you (or a friend!) a little bit of time – and maybe you'll find something you wouldn't have normally picked up!
First up: This teal off-the-shoulder dress. It's actually a juniors size, but it's a wrap dress, so I figured why not try it on and see how it looks! It actually fit pretty well for a wrap dress. Some of the ones I've tried on while pregnant don't go all the way around, but because this one has an elastic part on the back of the waist, it's stretchy enough to accommodate this 6 month belly. I didn't buy this one because I wasn't sure when/where I would wear it.  Size verdict: Go up a size from your normal size (for example, I'm usually either a small or medium in Target Juniors, so I would definitely do the medium, maybe even the large).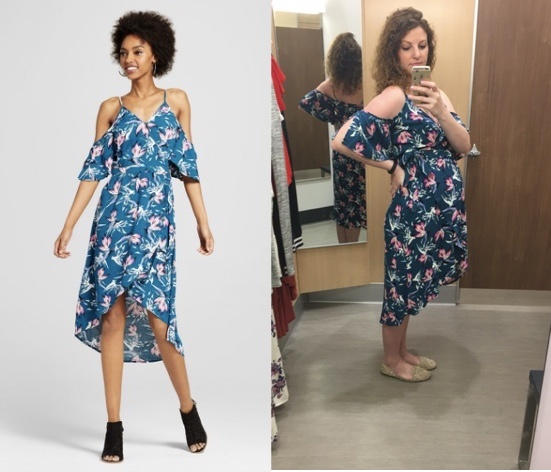 This orange off-the-shoulder top and navy printed skirt were next. I was just wondering what the combo would look like on a pregnant lady, so into the fitting room I went. I ended up purchasing both pieces because I think it's a cute alternative to a dress. Both are regular women's sizes, but the elastic on the skirt's waistband, and the fact that it's a high-waist skirt, made it easy to get on and off. For sizing, you can stick with your regular sizes with these two!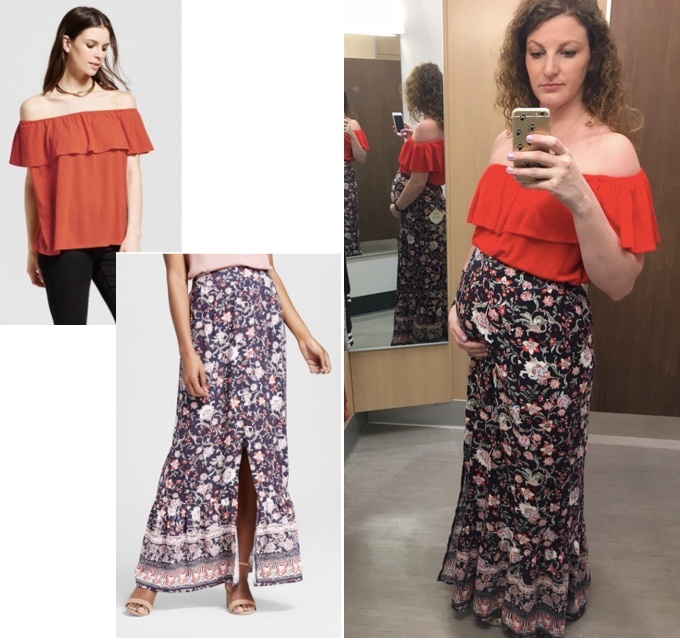 These white over-the-belly maternity shorts were my favorite purchase of the day. I initially thought there was no way I'd find them comfortable, but they feel like stretch shorts and therefore deserve #praisehands. They're $25 so if I only wear them a few times, I won't feel bad for wasting money. As for sizing, go with your normal (pre-pregnancy) size for athletic pants in these – they're sized as small/medium/large.
And the green maternity top I tried on with the shorts will be perfect for the next trimester as I try to find more space for the belly. In the beginning I wanted nothing to do with tops that tied at the waist, which is basically every maternity item ever created, but now I'm okay with having a couple in my closet. For sizing, go with your normal (pre-pregnancy) size for tops sized small/medium/large.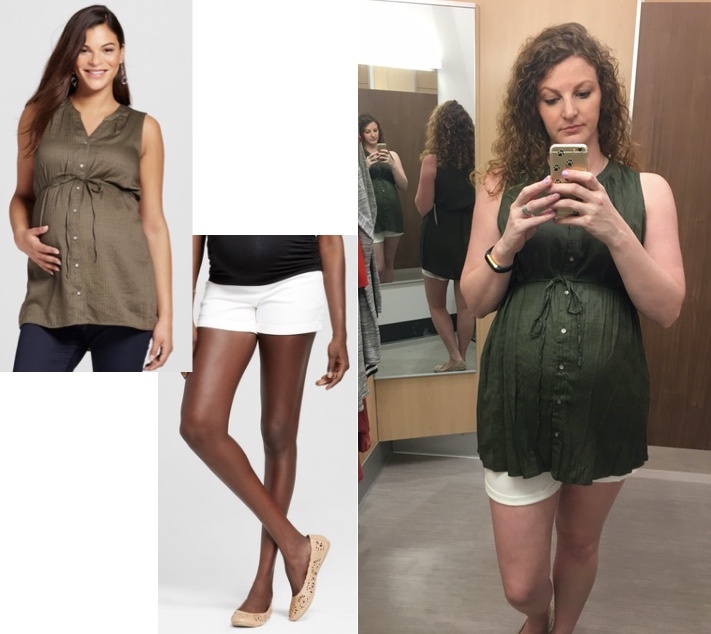 The chambray shirtdress is cute and comfortable, but if you have a longer torso like me you probably need to go up a size. The small fit me everywhere but in the arm holes, so I ended up buying a medium. (I don't know if everyone with a longer torso has this, but I find that sometimes the arm holes aren't low enough for my body… almost like I want to just cut the fabric down a half inch or so.) There is also a sleeved version here (currently on clearance) and a darker sleeved version here (also on clearance). I have a chambray shirt dress with sleeves that I can still wear, so I decided to go for the sleeveless version for the summer.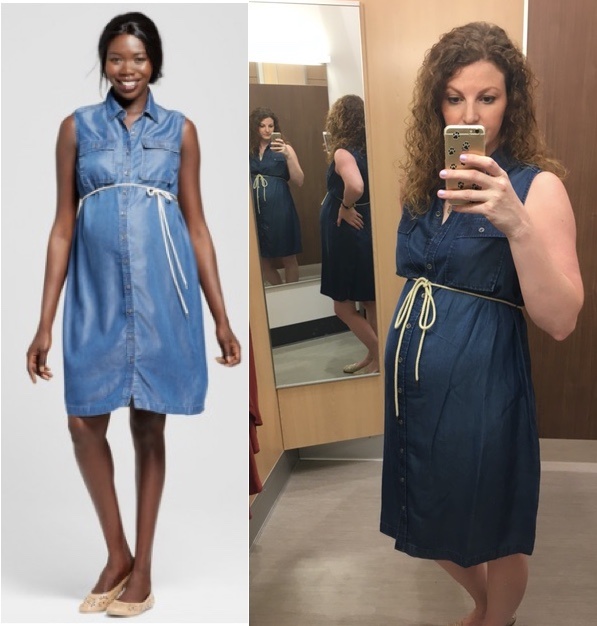 What I have deemed the essential maternity dress is this short sleeve style. It's cute and shows off the bump without looking weird. It's also extremely comfortable, which is a big win any day! I didn't take this one home because I have a few dresses like it already, but I'd recommend this one if you're looking! It's a comfy summer fabric and the price is unbeatable!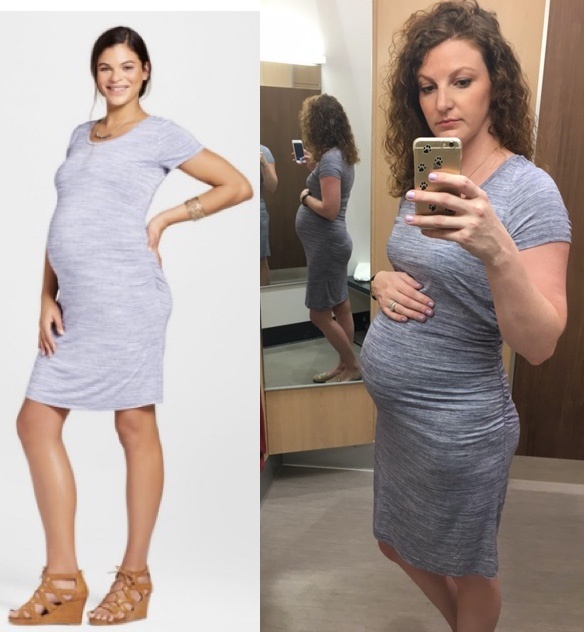 This dress was a total dud and essentially everything I hate about maternity clothes. Too high up in the neck, weird length, made me feel totally frumpy. I wasn't even going to post this but here we are. Skip. Next!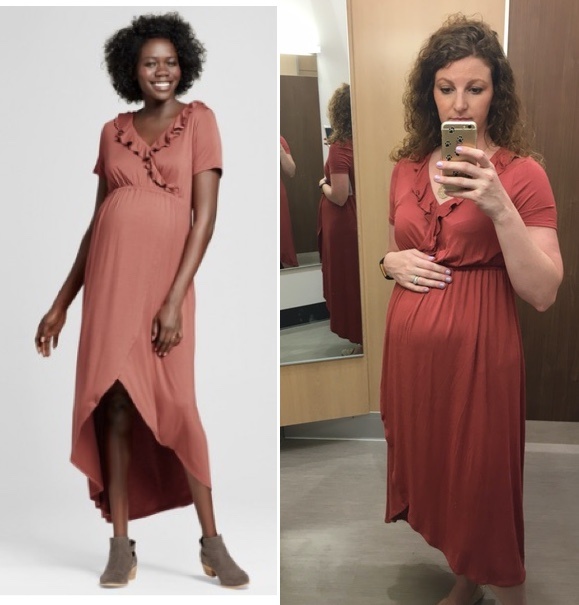 Shop the post:

Alright, that's a wrap! Tell me – did you find this helpful? Would you like to see more posts like this?