Before we visited Arizona in May, we prepared for a true family hiking trip. We bought a backpack kid carrier specifically for this trip (we got this one). To prepare for the Sedona hiking trails, we took E on local hikes, and we planned out which trails we wanted to check out that were supposedly family friendly.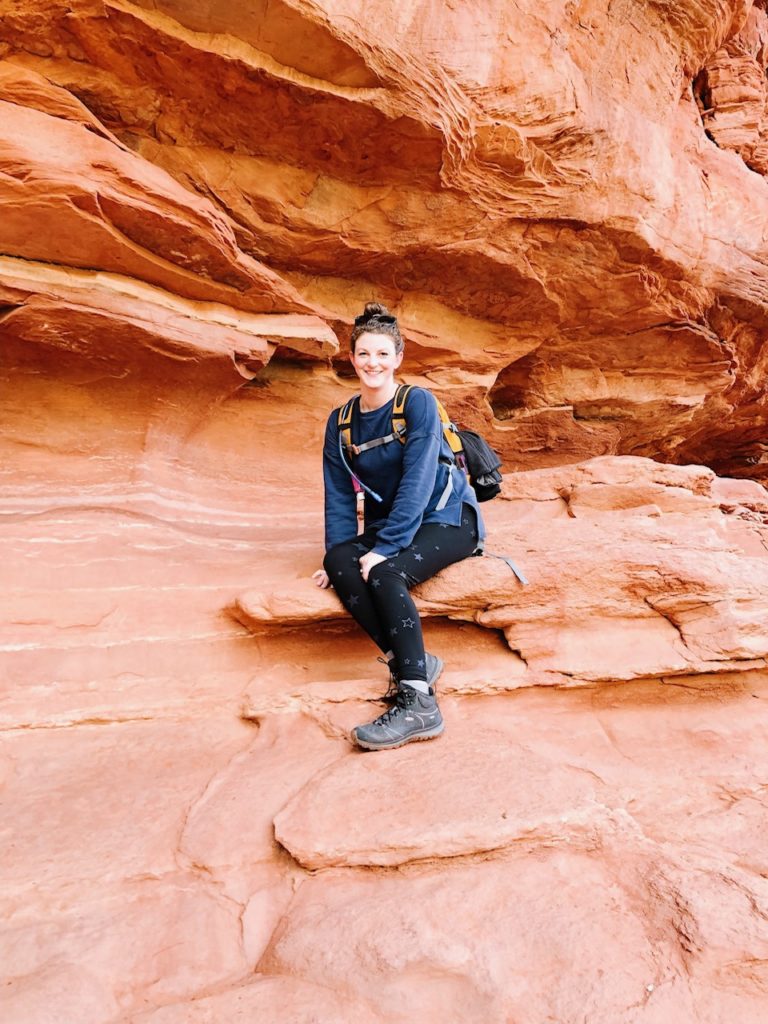 We planned to do one day trip to the Grand Canyon, and all other hiking was local to Sedona. Our hiking was mostly the two of us plus E (20 months old) in our kid carrier. She is perfectly happy in there, though on some trails we let her get out and walk a bit.
Here are our favorite Sedona hiking trails:
Chapel Rock hike from Little Horse: a long scenic hike. You can stop at Chicken Point and go back to the parking lot or continue to Chapel Rock. Once you get to Chapel Rock (highly recommend going!), golf carts can bring you up to the top. I thought it was slightly dangerous at the top for kids running around, so we just held hands/kept them close. Length: About 1.5 hours to Chapel Rock. You can walk a shorter route on the roads to get back (about 30 mins) to parking lot vs hiking back.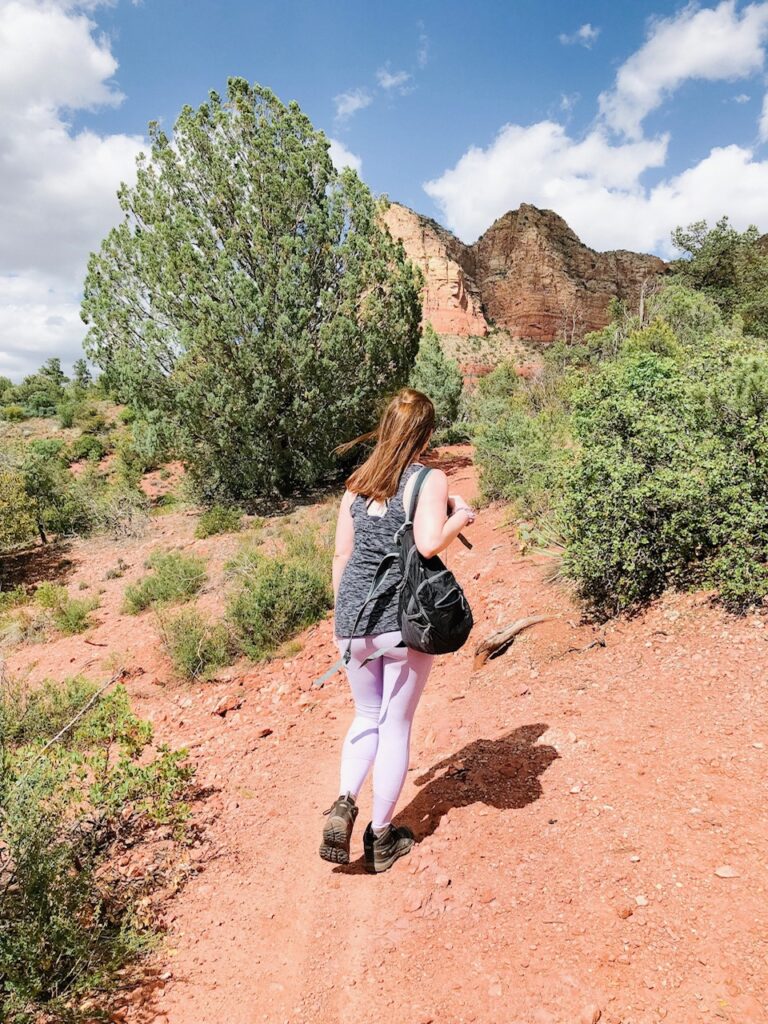 Little Horse Trail: A good walk, rocky at some parts but you could do a small portion with a stroller or wheelchair. This hike has good views of Chapel Rock along part of the trail. We let E walk a bit more on this trail than on others because there were more flat parts. Length: You can loop around or make it your own length, so it can be completely variable.
Devil's Bridge: Nice walk for most of the trail (kid-friendly for the majority!) and then it gets steep to get to the actual bridge. We liked that this was something you HAD to hike to and couldn't just see it from the road or from the beginning of the hike. The hike does require some rock scrambling at the end to actually get to the bridge. If you're strong (and careful) you can do it with a kid carrier. We saw families with kids who were probably 8 years old and older walking on their own, but I would not recommend anyone younger than that walking the second half of the Devil's Bridge Trail. The "bridge" is wider than it looks but you still need to be careful because it is a far drop straight down. When we were there, a girl was insisting on doing a handstand on the bridge for an Instagram photo. I would strongly recommend not doing that. Length: Devil's Bridge took us about 1.5 hours in and back from the overflow parking lot.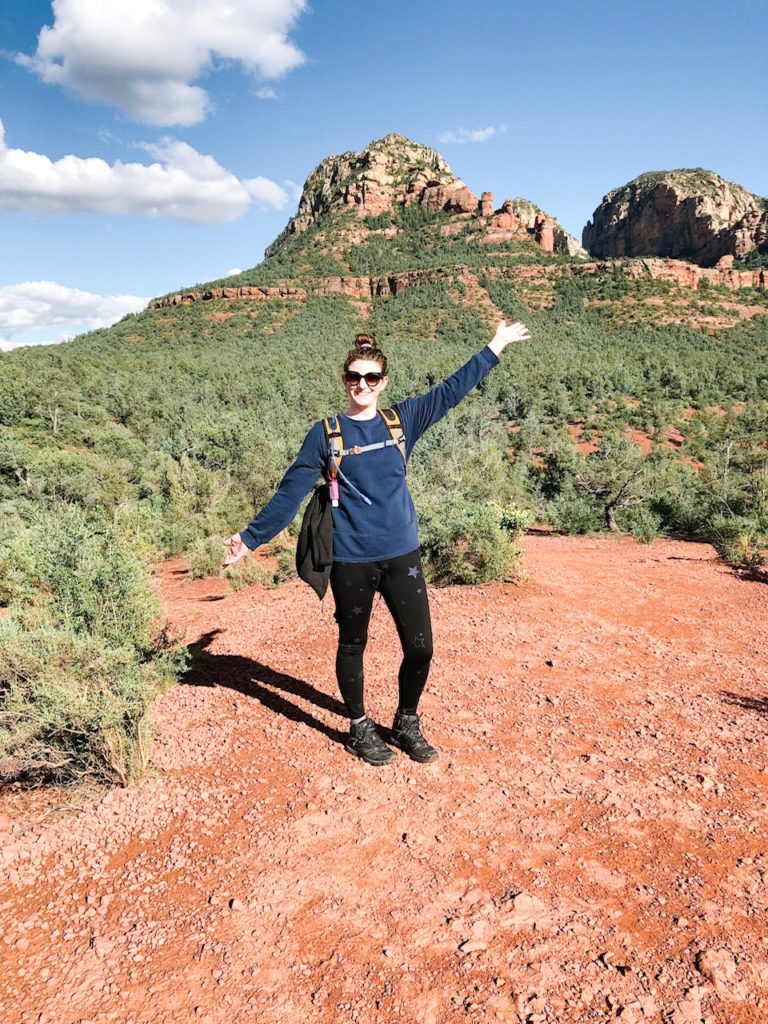 Soldiers Pass Trail: A nice walk with scenic views and some stair-climbing type of areas. We saw families with smaller groups who hung back at those points because of the stair-type of climbing. We hiked the entire trail and logged a little over 100 flights of stairs climbed. The two "main attractions" on Soldiers Pass are at the front half of the trail, so you could just go in past the sinkhole to the Seven Sacred Pools and turn around there. Length: Because we went off-trail to find the secret cave, we logged about 4 hours doing Soldiers Pass and part of Brins Mesa.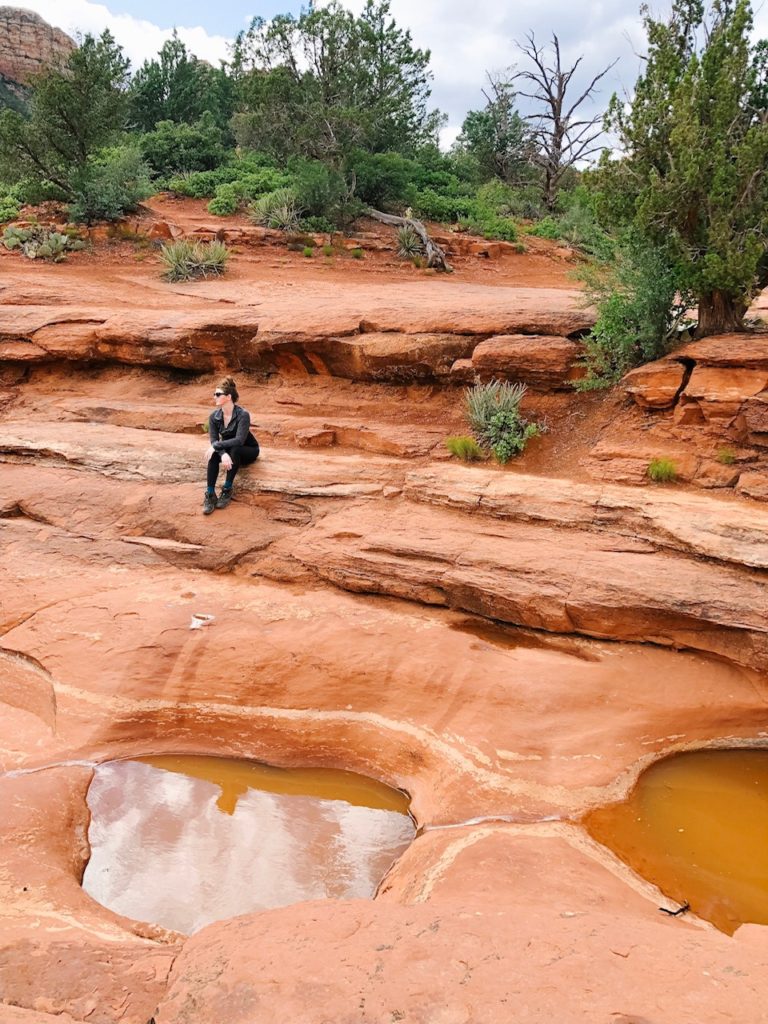 stopping at the Seven Sacred Pools along Soldiers Pass Trail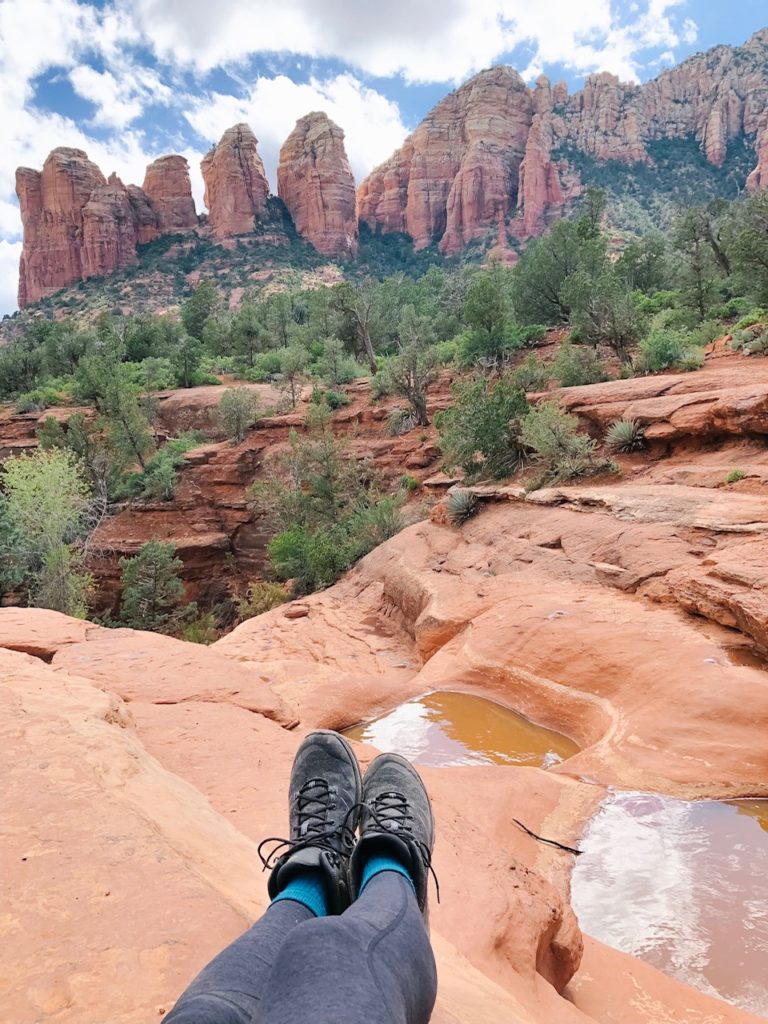 Soldiers Pass Secret Cave: Climbing to the secret cave within the arches was one of my must-do items on this trip. Once you get closer to the cave, there is a lot of rock scrambling involved. You have to sort of hoist yourself up into the actual cave, so anyone going should be stronger in the upper body. You definitely cannot bring kids under 10 to this.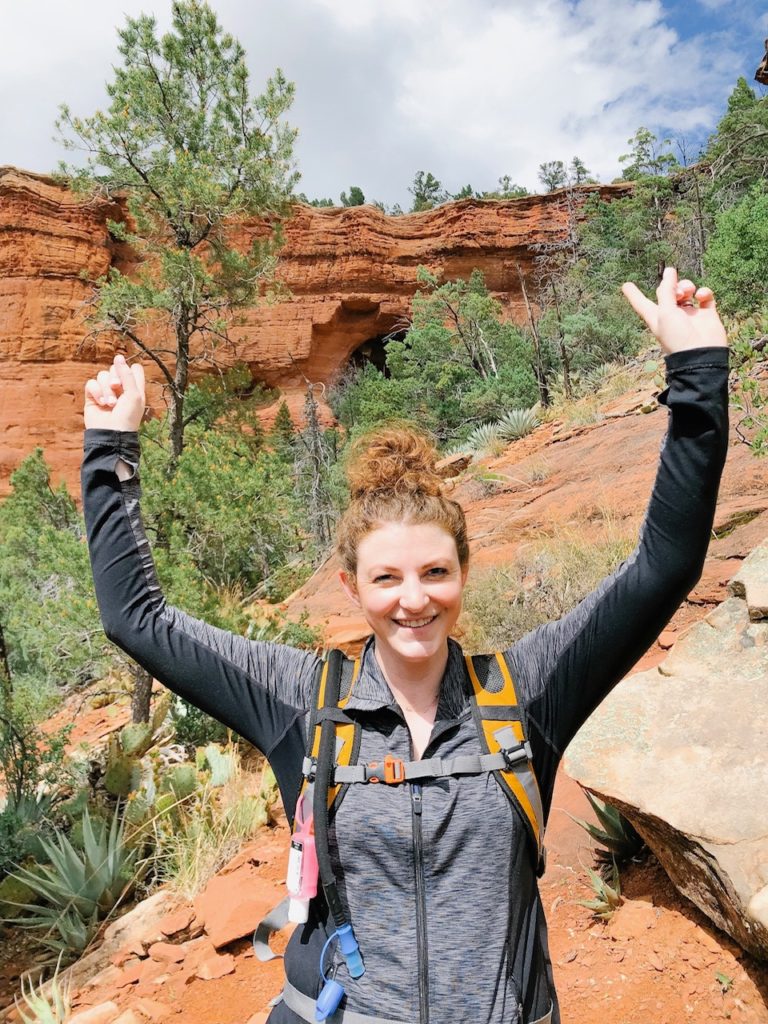 Brins Mesa: Beautiful views of Sedona from atop the smaller rock. The trail is definitely more exposed than Soldiers Pass, so make sure you bring sunscreen. We did this trail on an overcast day, and it was perfect weather for it.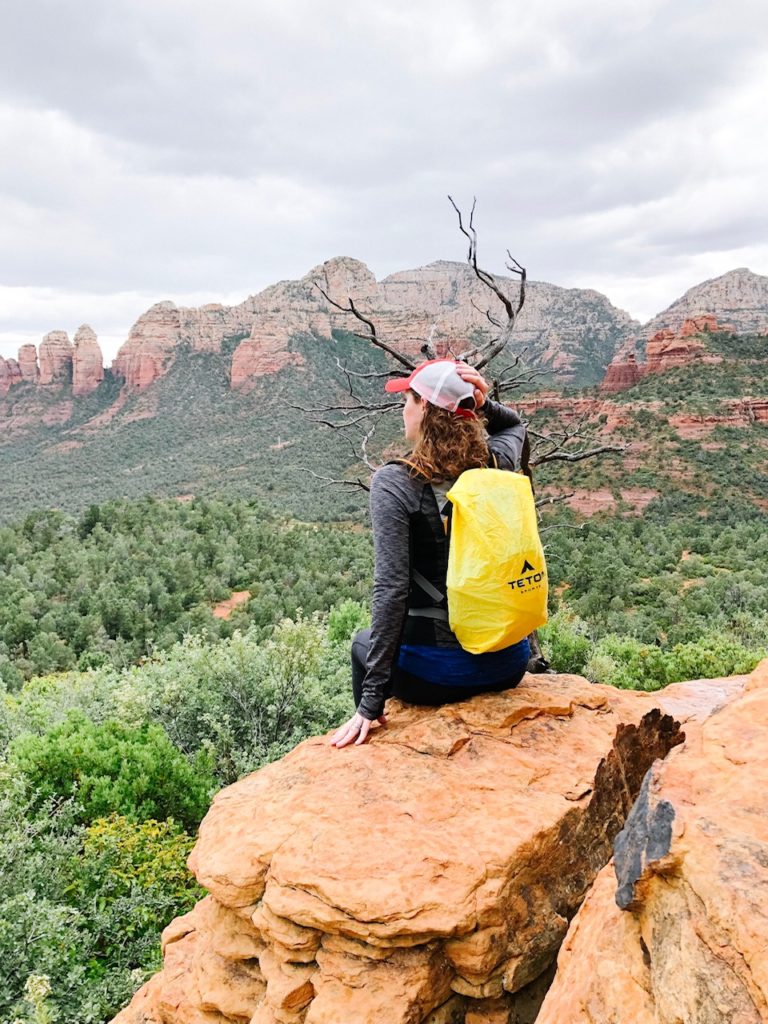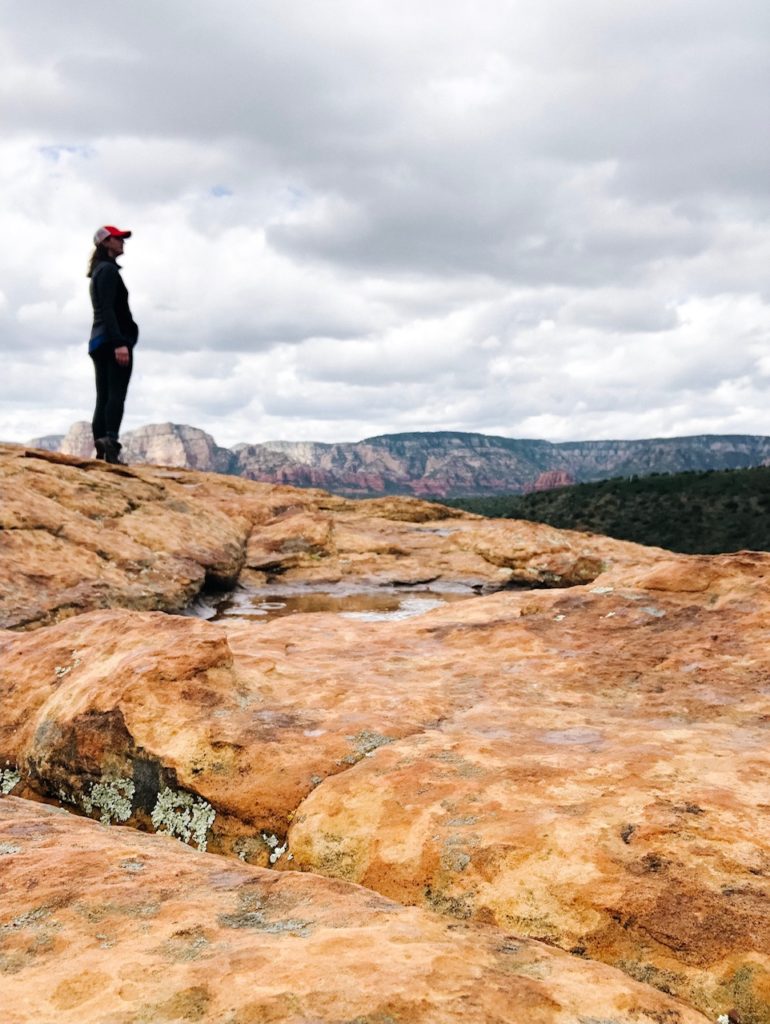 Cathedral Rock: I didn't go on this hike with E because we were told it was not recommended with kids or babies in packs. T went with his brothers and they really enjoyed it, though, so I'm including it here. The trail requires some rock scrambling.
How to get to the trails
You will need a vehicle in Sedona, because everything is fairly spread out. We borrowed a gorgeous red Mazda CX-5 during our trip, and it was the perfect vehicle for this trip. E was comfy in her car seat in the back, and it was spacious enough that we could fit all of our luggage and not be at all cramped. The backseat even had a nice pull-down cup holder with USBs (SO great to charge my phone back up after a long day of travel! We flew into Phoenix and had to drive out to Sedona from there.)
I drive an SUV at home, so I'm more comfortable in them than sedans. This Mazda CX-5 had all-wheel drive, which you would need if you go in the winter months when there could be bad weather on a longer drive than just staying in Sedona.
How perfect is this red color against the backdrop of the mountains?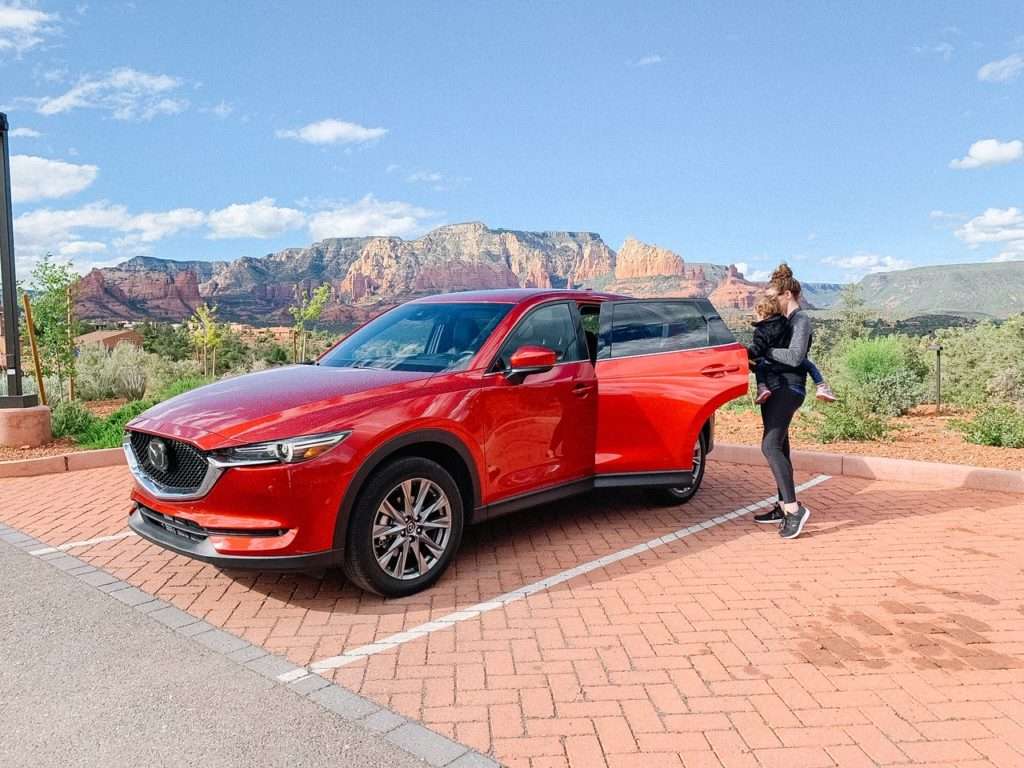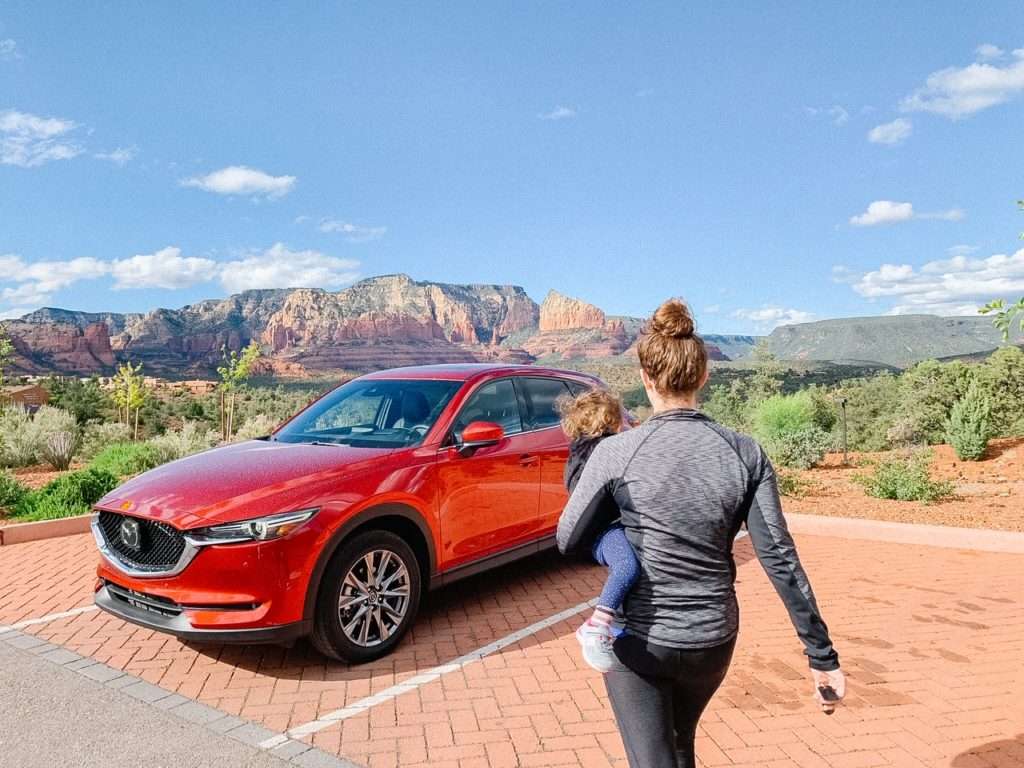 This was on one of our long drives (going to the Grand Canyon). T and his brother rode up front, and I sat in the back with E. There were just gorgeous sights everywhere!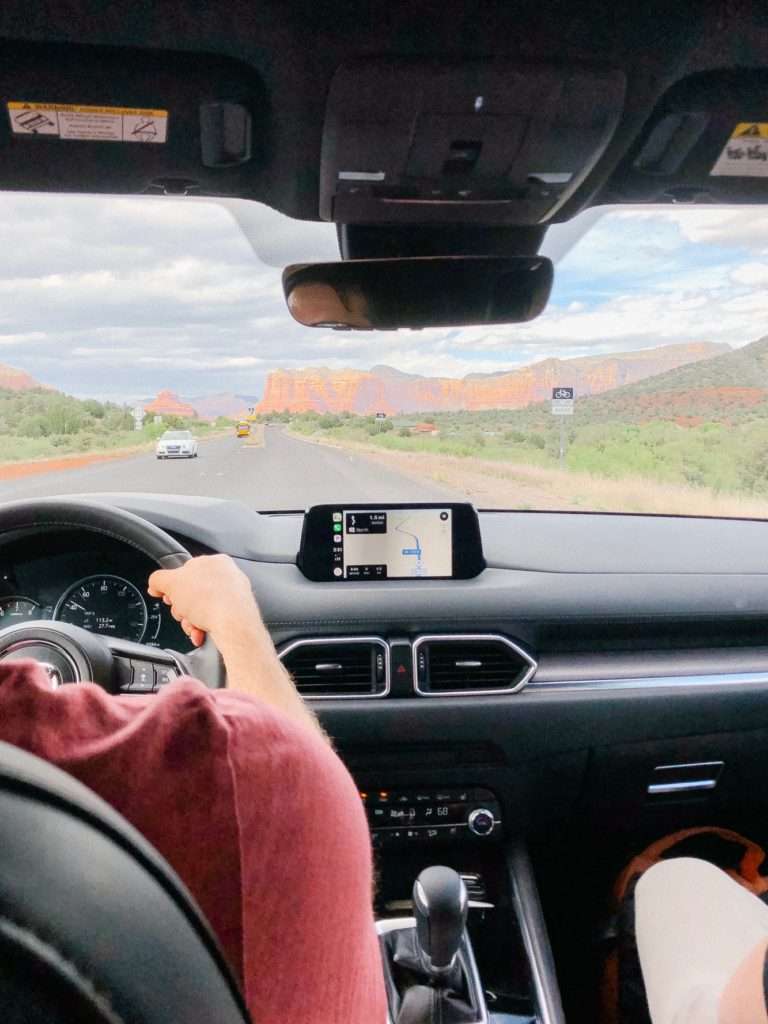 We loved our time in Sedona, and I'm so glad we decided to do as much hiking as we did!
P.S. Here's the rental house we stayed in during our time in Sedona!