One of my favorite days during our recent trip to Italy was a day trip to Cinque Terre.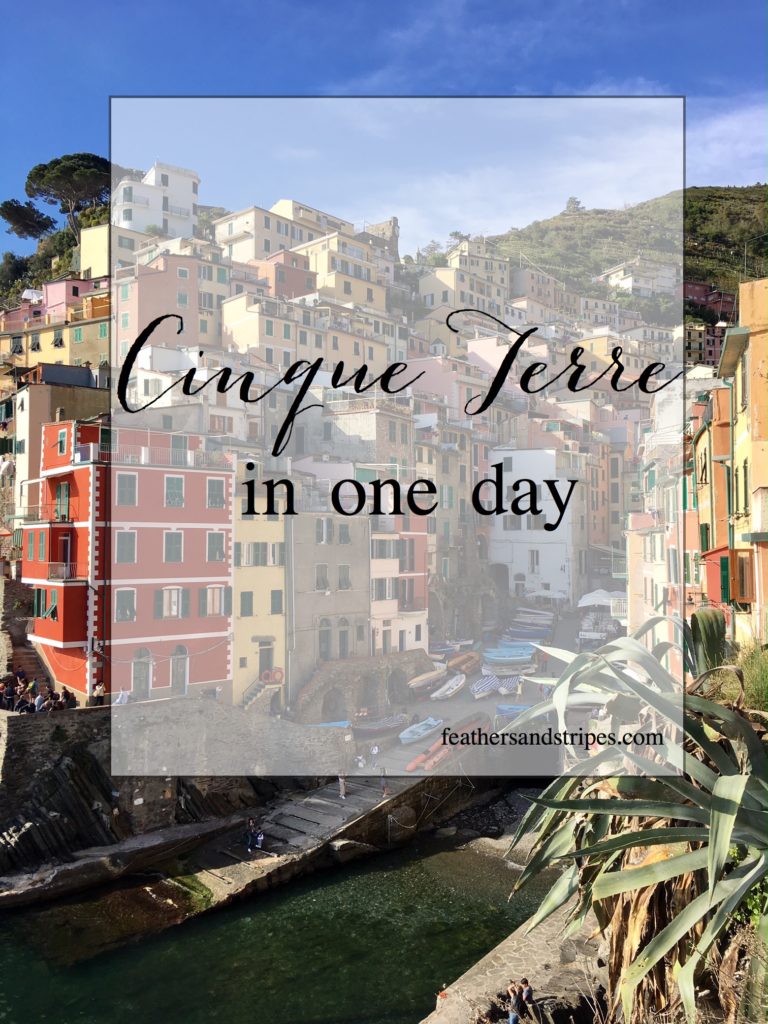 I wasn't sure what to expect because the weather had been … well, not the best (aka I wore a raincoat pretty much every day of our trip), and Cinque Terre is seaside.
But we completely lucked out, because the day we went to Cinque Terre from the Lucca area, it was rainy and in the 60s in Lucca, and on the coast it was in the high 70s and sunny!
How to get to Cinque Terre
We had rented cars because we stayed in a villa in Tuscany, so we decided to drive to La Spezia and take the train in from there. We initially were looking at taking the train from Lucca to La Spezia, and then from La Spezia to the farthest town of Cinque Terre, but there were so many of us (11 people total) that it made more sense to just take the rental cars! Once you get to La Spezia to take the train into Cinque Terre, the one train ticket covers your day of train rides (I think we paid around 16 euros per person for this) and also covers the hiking trails. (Don't forget to stamp it at the train station in the green machines on the walls before you get on the train.)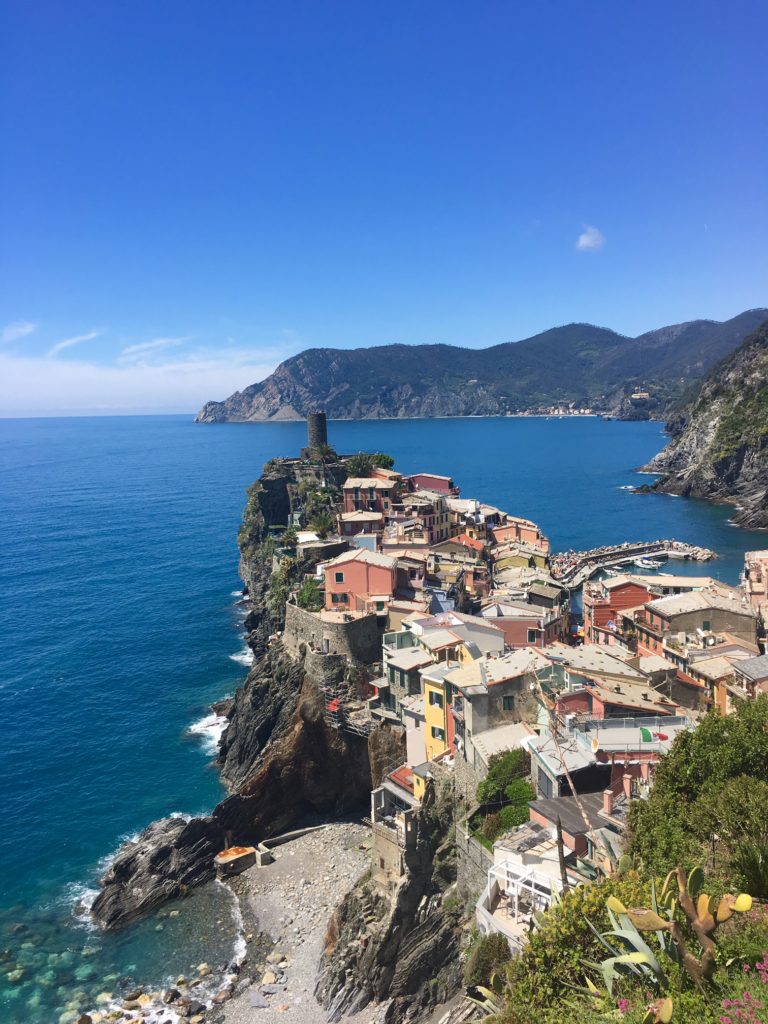 There are other options to get to Cinque Terre, especially in the warmer months. Ferries travel from Portofino and Genoa. The train also runs from Rome and Milan, so you don't have to be staying nearby to get there!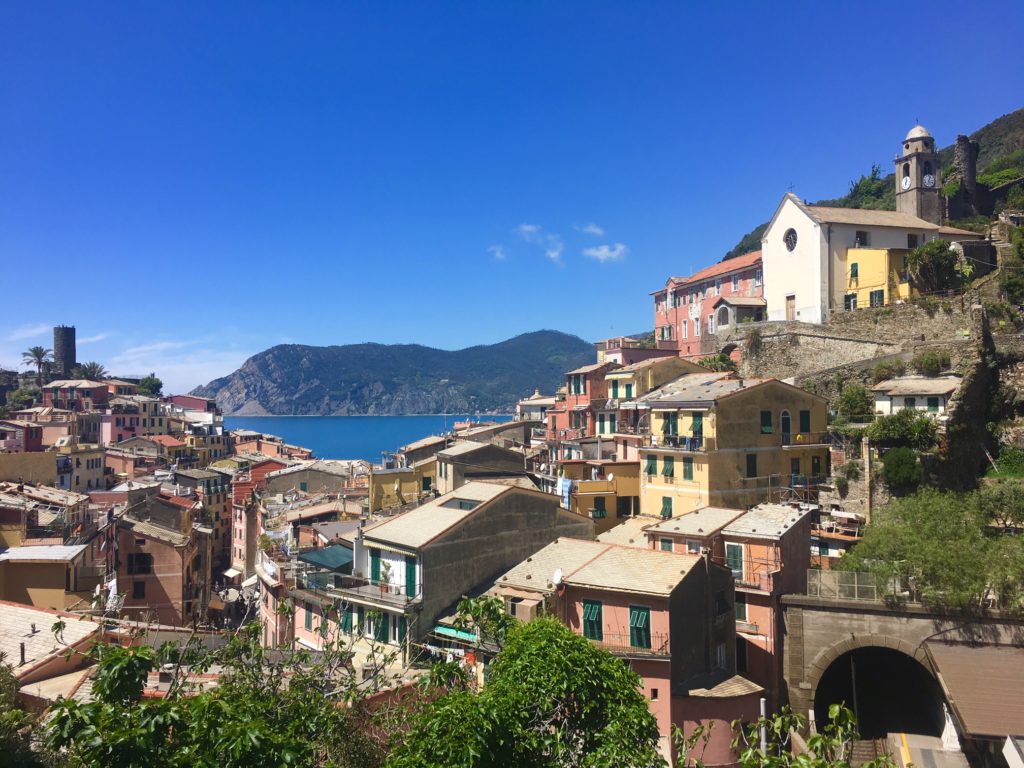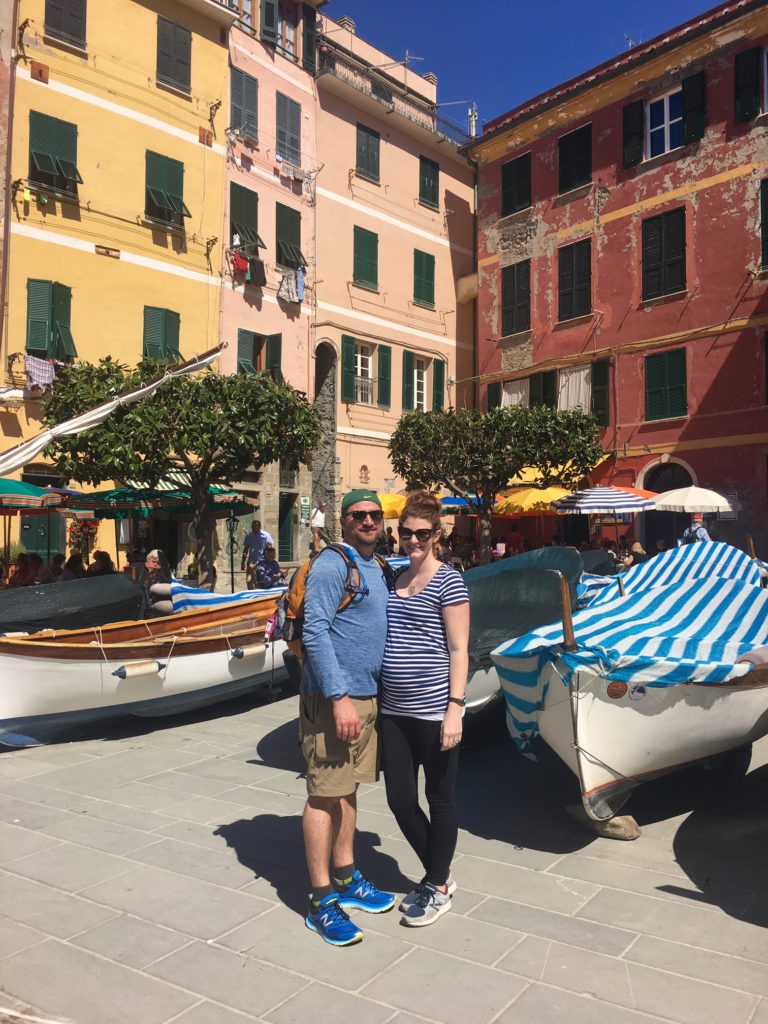 20 weeks pregnant and rocking my American athleisure like no one's business!
What (and where) is Cinque Terre?
Cinque Terre is a group of five seaside towns on the Italian Riviera. The towns are all small and while you can get there by car, it's all entirely walkable. You can't drive around within the towns, and they are built on some pretty legitimate hills. There is a cliffside hiking trail that connects all five towns, so if you would rather stay outdoors you can do this (otherwise, you can take the train from town to town). The five towns (more like villages) in order of farthest from La Spezia to closest are Monterosso al Mare, Vernazza, Corniglia, Manarola, and Riomaggiore.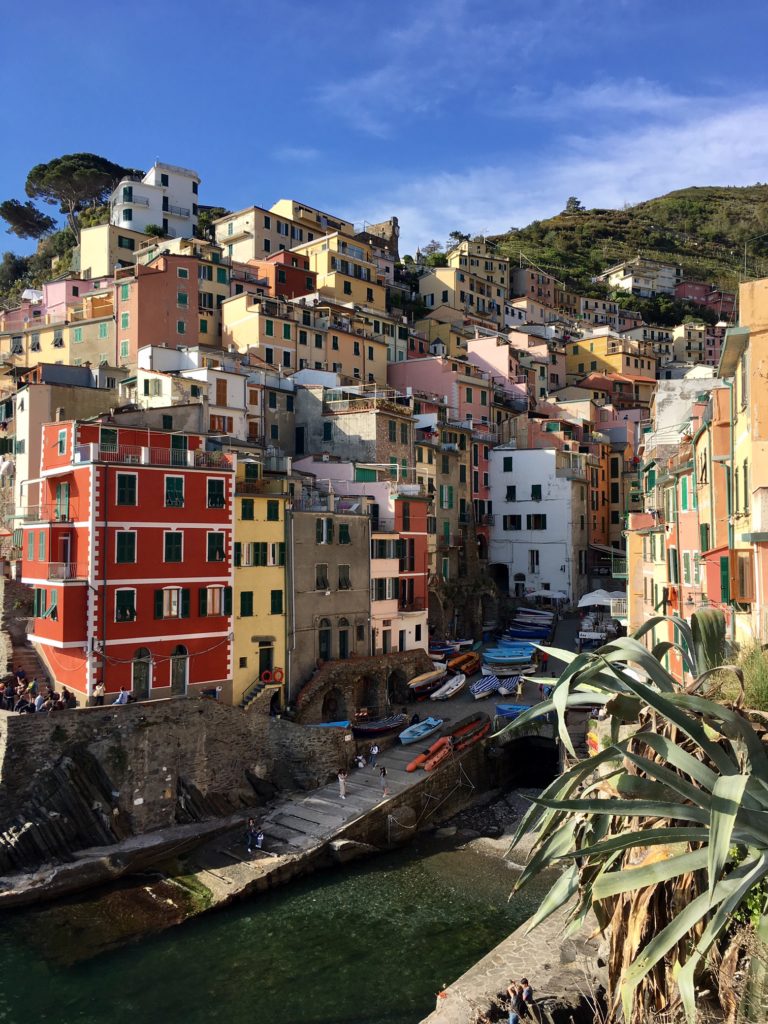 What to do in Cinque Terre
We visited four of the five towns on this day trip, skipping Corniglia. We got there around 11am and left around 6pm, so it was a full day.
Monterosso al Mare is the only village that has a true beach. It's otherwise a pretty small village, but go here if you want a beach day, complete with umbrella and waves, and sand!
Some of our group decided to hike from Monterosso to Vernazza, where we sat down for lunch. Seafood abounds in Cinque Terre, but if you don't like calamari or fish, you can also easily find salads and chicken dishes, as well as the requisite pasta courses. Those of us who chose not to hike that day did do some little walks up the cliffside trails just for the views, and it was well worth it. I would recommend wearing sneakers if you're doing this, because you're going to be walking on large stones and uneven surfaces. After lunch we got gelato in the harbor and sat down on the harborside rocks to enjoy the view of the village. It's such a beautiful place!
In Manarola we hiked up a bit to the playground area, which was worth it for the views. There's also a bar up there! Manarola is known for its wines, so there's a statue of a girl with grapes up in this area.
Riomaggiore was our last stop. It is a gorgeous (though they all are!) village with harbor access. It seems to be the biggest of the five, and this is probably where you would find the most options for hotels.
I think my two favorites were Vernazza and Riomaggiore, just because of the views, the easy(ish) hikes, and the gelato options! "When in Rome," right? 😉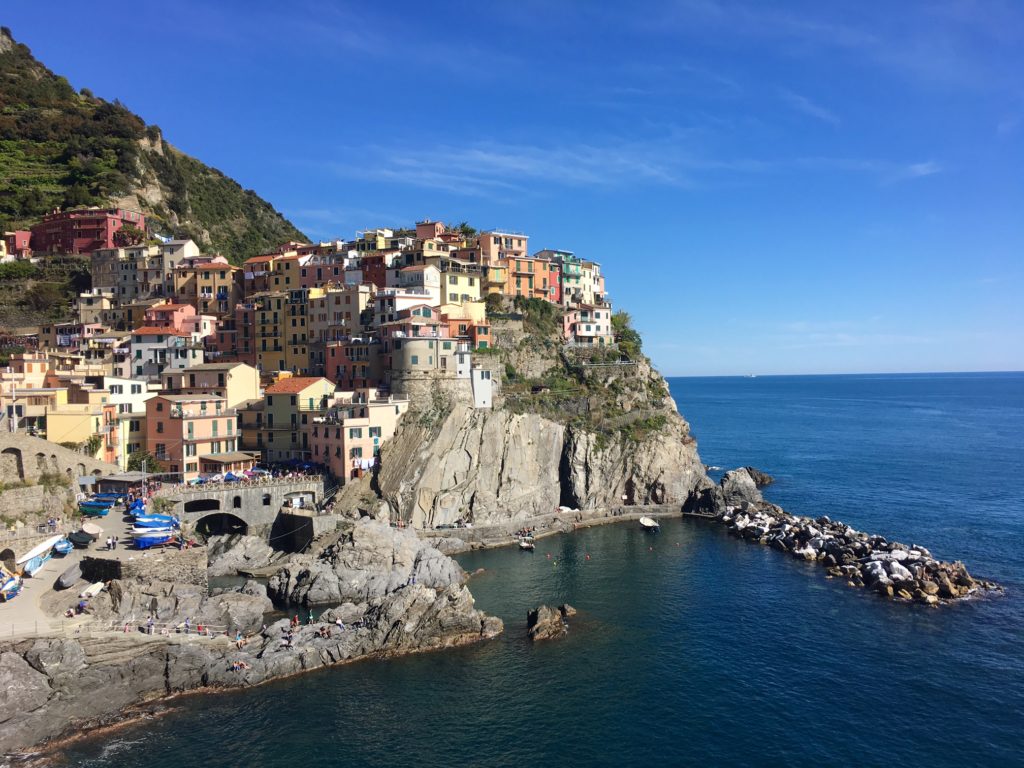 Words of Advice for Traveling to Cinque Terre
If you are staying longer than just a day, be very careful about how much you pack. That huge suitcase, even on wheels, is going to be the bane of your existence once you get to your village and have to walk up some major hills (not to mention stairs). If you can travel here with just a backpack or a smaller suitcase, I would definitely recommend that! You can see one of the hills I'm talking about here: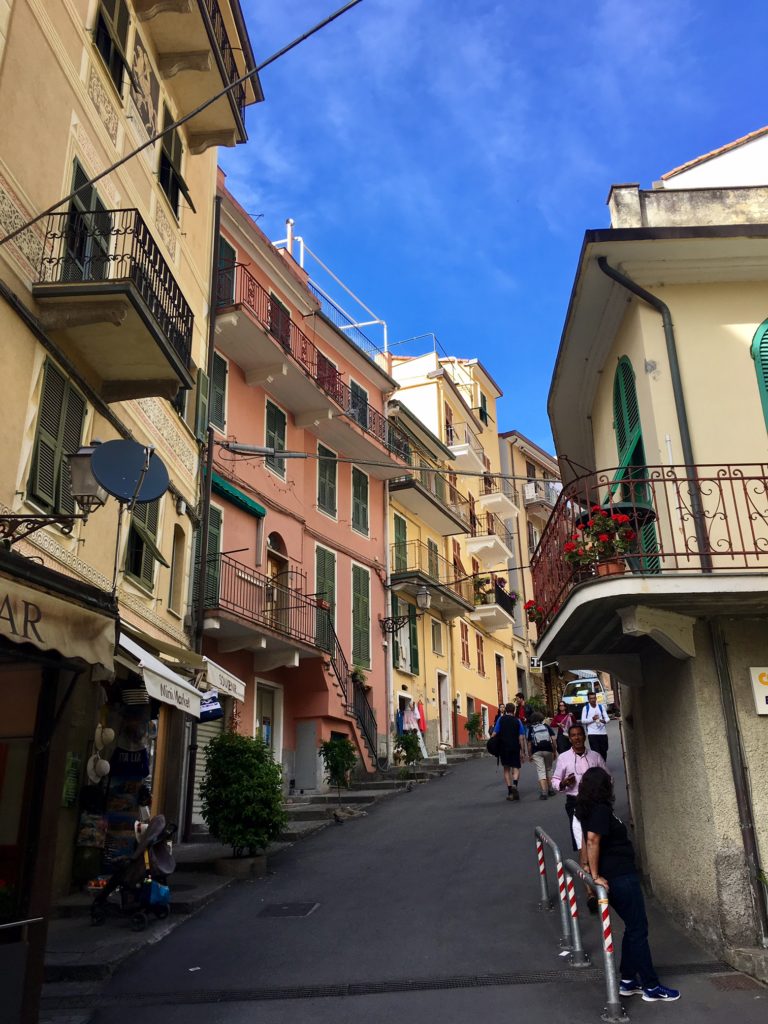 Cinque Terre is definitely on our list to revisit in the future!