If you're anything like me, you're always looking for a good book to read. I thought I'd share what I've been reading lately and what is on my reading list.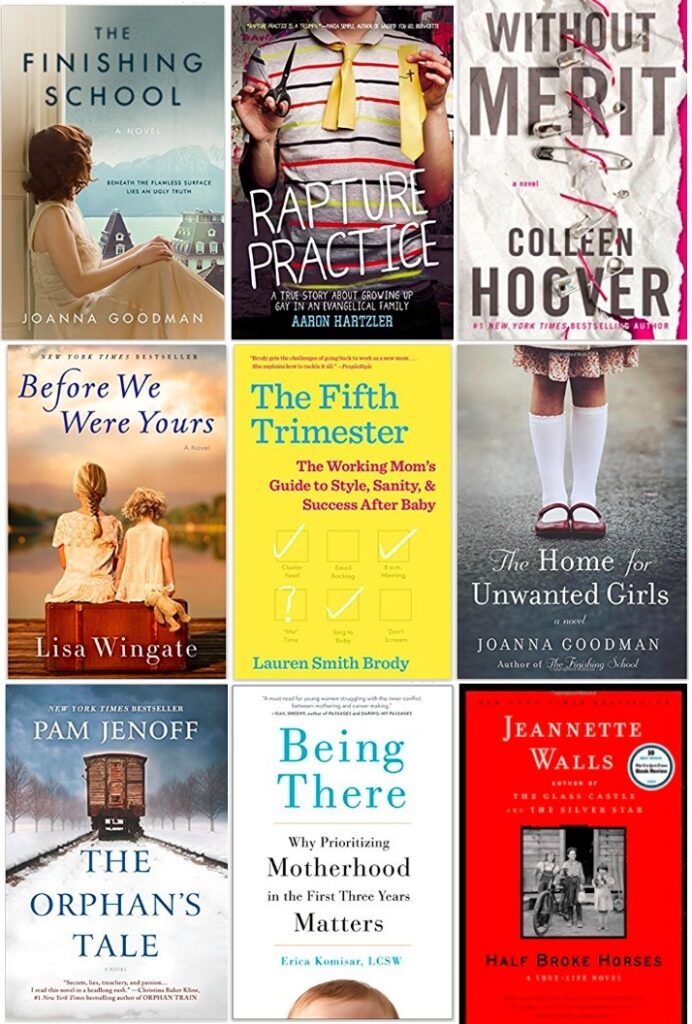 Books I read recently
Before We Were Yours by Lisa Wingate
This story follows a family of children from present day to their days with their parents and then their days in an orphanage. I don't want to give too much away, but the children find themselves in a children's home and aren't exactly treated well. The orphanage operator is essentially running a black market for adoptions, stealing children from their families and adopting them out to wealthy couples. It's a riveting story, jumping from present day to when these characters were children. And at the end of the book, I was surprised to learn that this particular children's home was REAL. You can read more on Wikipedia about it – under "Tennessee Children's Home Society".
Read it: Now! Such a good book, I couldn't put it down. 5/5
Without Merit by Colleen Hoover
This was a goodreads Choice winner for 2017, so I had high hopes. And the beginning of it started out fine, but then all of a sudden it's like the author decided she needed to add 4 additional story lines, and things just got out of hand.
Read it: If you need a "filler" read. I gave it a 3/5.
The Orphan's Tale by Pam Jenoff
The story of a group of circus performers during World War II in Germany, one of whom has a young child with her – and how she has come across him is heartbreaking. Some of the book seems a little farfetched, but given the time period who knows if it could have been reality.
Read it: Another filler book here. 3/5
The Home for Unwanted Girls by Joanna Goodman
SUCH a good book! Every so often I find a book that I can't put down (like this one), and this was one of them. It goes back and forth between two girls, one who lives in an orphanage (later turned mental institution) and one who gave up her baby girl when she was 15.
Read it: Now! Put it on your reading list. I gave it a 5/5.
On my reading list
I liked The Home for Unwanted Girls by Joanna Goodman so much that I have another of her books on my reading list: The Finishing School.
Rapture Practice by Aaron Hartzler: This is next on my list because I was looking for something that was kind of quirky. I love stories about families and family relationships. This one is about a boy who grew up being taught that the Rapture could happen at any moment. But then he turns into a teenager and suddenly wants to experience life, becoming a sort of teen rebel in the process.
Half Broke Horses by Jeannette Walls is on my list, too. I read her book The Glass Castle a while ago and loved her writing, so I'm interested to see how this one is in comparison.
Then under the Parenting category, we have Being There: Why Prioritizing Motherhood in the First Three Years Matters, and The Fifth Trimester: The Working Mom's Guide to Style, Sanity, & Success After Baby
Have you read any of these? Or if you have any suggestions, definitely let me know! I love finding new books.