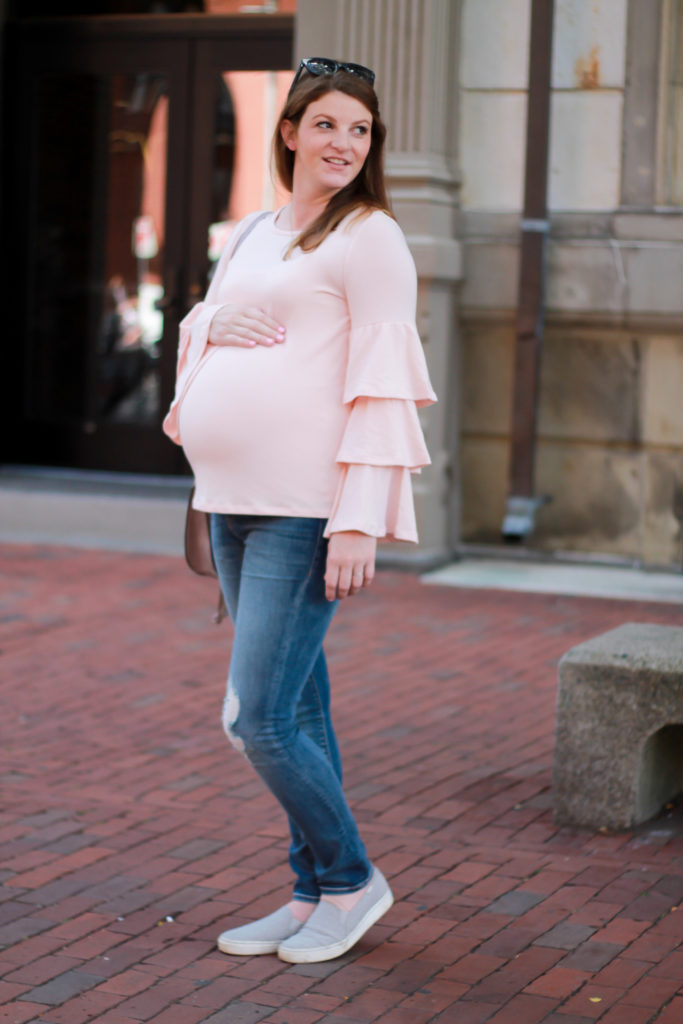 Photo from this post
How far along:
 Currently just under 38 weeks pregnant! We were actually told that the baby could come pretty much any day now, so we're just playing the waiting game!
Baby's size: About the size of a honeydew melon. According to our latest ultrasound she's about 6 lbs (give or take!).
Movement: She rarely stops moving! I actually went to the dr one morning because I hadn't felt the baby kick since the previous night. Everything was fine in the end, but it scared me!
Name: We have a few names in the running, but I think we need to meet her first 🙂
Cravings/Aversions: Nothing crazy! I'm a lot hungrier than normal, and I can't seem to drink enough water, but I'm not craving anything crazy.
Most excited about: Honestly? Being able to put pants on without having to brace myself against furniture/the wall, sleeping somewhat normally without hurting when I need to flip over from side to side, no more joint pain… But also there are so many exciting things that are going to be happening. I'm going to be someone's mom! (That's also a little terrifying, tbh…)
Least excited about: Having to stay overnight in the hospital! And still the recovery process is freaking me out a little. I'm so, so glad that T can be home for a few weeks after she is born though – I think that will be a HUGE help!
Weight gain: A lot haha! Because I've had a lot of swelling, I flew right past that 25-35 lb weight gain range. My doctor said it's not anything to worry about because it's mostly water weight, but still… that number on the scale is shocking for me. I had hoped I would be ending this pregnancy feeling good about my weight, but the truth is that I haven't worked out since the first trimester, I eat whatever I want, and overall I have felt like as long as the baby was doing well I wouldn't care what the number said. It's really hard NOT to care, though, when you see all of these other cute little pregnant women who are like "I gained 20 lbs my whole pregnancy!" but hey… I'm tall so at least I hide it well? People keep saying I don't look as far along in my pregnancy as I am, so that makes me feel better, but I can see changes in my body that I don't like. I honestly cannot wait to get back to working out, because it's been a part of my life for so long! I miss that feeling of a really good workout and the soreness that comes with it. (True story: I decided to put together the baby's swing one night and the next day my arms were SO sore.)
Exercise: Same – walking and short hikes! I'm a lot slower than usual, but as long as I'm getting out that's what matters. On hot days it's been wandering around Target, too 🙂
Maternity clothes: Still preaching about THIS maternity dress. I have it in 4 colors and just keep rotating because I love it so much! (It also comes in a LONG SLEEVE VERSION for the fall!)
Baby purchases: I think we're about as well stocked as you can be before a baby arrives! We have 5 boxes of diapers in newborn size and size1 (overkill?), and the past couple of days I've been double and triple checking that I have everything we need that has been on my favorite bloggers' must-have lists.
Here are some items I've added to the baby's closet in the past couple of weeks: