Like so many other women, I buy a lot at Target – and a lot of random items. I started going there almost weekly when E was an infant, because it's one of the few places where no one batted an eyelash if my infant started screaming. Here are just some of the things I frequently buy at Target, from trail mix to underwear! These are the 9 things I have purchased over and over, so if you're a newbie shopping at Target or are just curious what other people buy there, here's my list!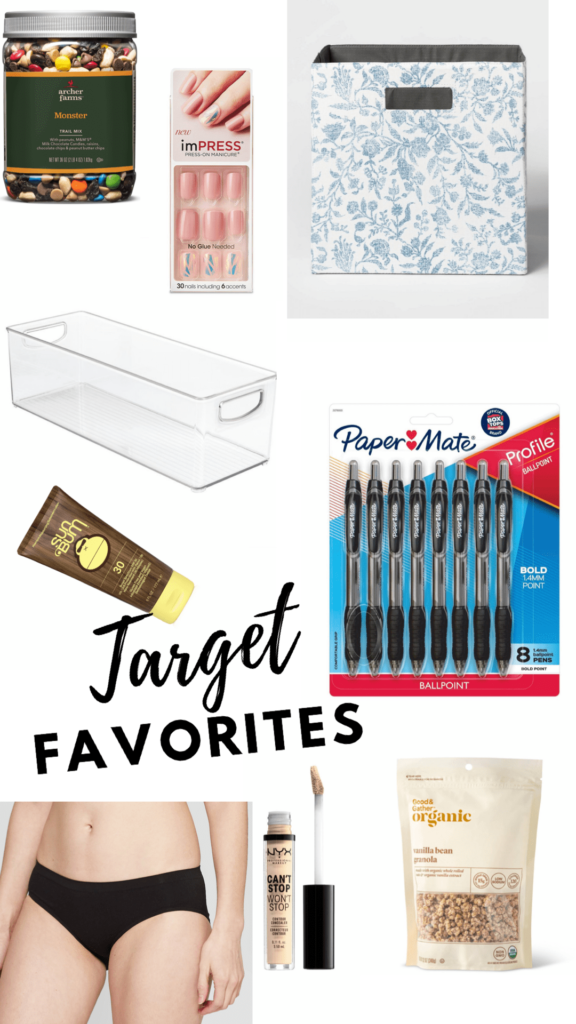 Snacks
Trail mix
: It's not going to win any health awards, but this trail mix is so good (and toddler approved!). I always buy the "Monster" trail mix, which has chocolate chips, peanut butter chips, peanuts, raisins, and M&Ms. We take it with us on longer walks, and I often find myself snacking on it in the afternoons.
Granola
: I've tried (what feels like) a million different granola brands, and this one is my favorite. It's the vanilla Up&Up (Target's in-house brand).
Beauty
Concealer
: The best drugstore concealer I've found so far. And NYX is a cruelty-free brand!
Sunscreen
: Target will run deals on sunscreen often, so I stock up when they do. I love the smell of this sunscreen.
Press on nails
: If you don't have time to get a gel manicure but still want nice-looking nails, these are my favorite secret! I trim them down a bit but they are so easy to put on and last about 4-5 days.
Storage
12" Storage Cubes
: I have a couple of these cube organizers in the house, and I have had good luck with the 12" cube baskets. They come in a variety of colors and patterns! I have
these
in E's room and
these
in the downstairs playroom.
Acrylic Bins
: I started using these in the kitchen so we could more easily see what we had. They make snack organization much easier!
Other things to buy at Target
Underwear
: I've purchased from nearly every store in search of the best undies. Right now these are my favorites. They're laser cut so they don't show under dresses or workout pants!
Pens
: I'm picky about the pens I use, and these are the ones I keep buying! What do you buy frequently at Target? If someone was going for the first time, where would you tell them to start?