I really love making lists. Daily to do list, weekly, monthly, seasonal… When I was in elementary school, there was a big emphasis on writing everything down and checking it off (specifically in red pen), so I blame those years for how I am now about list-making.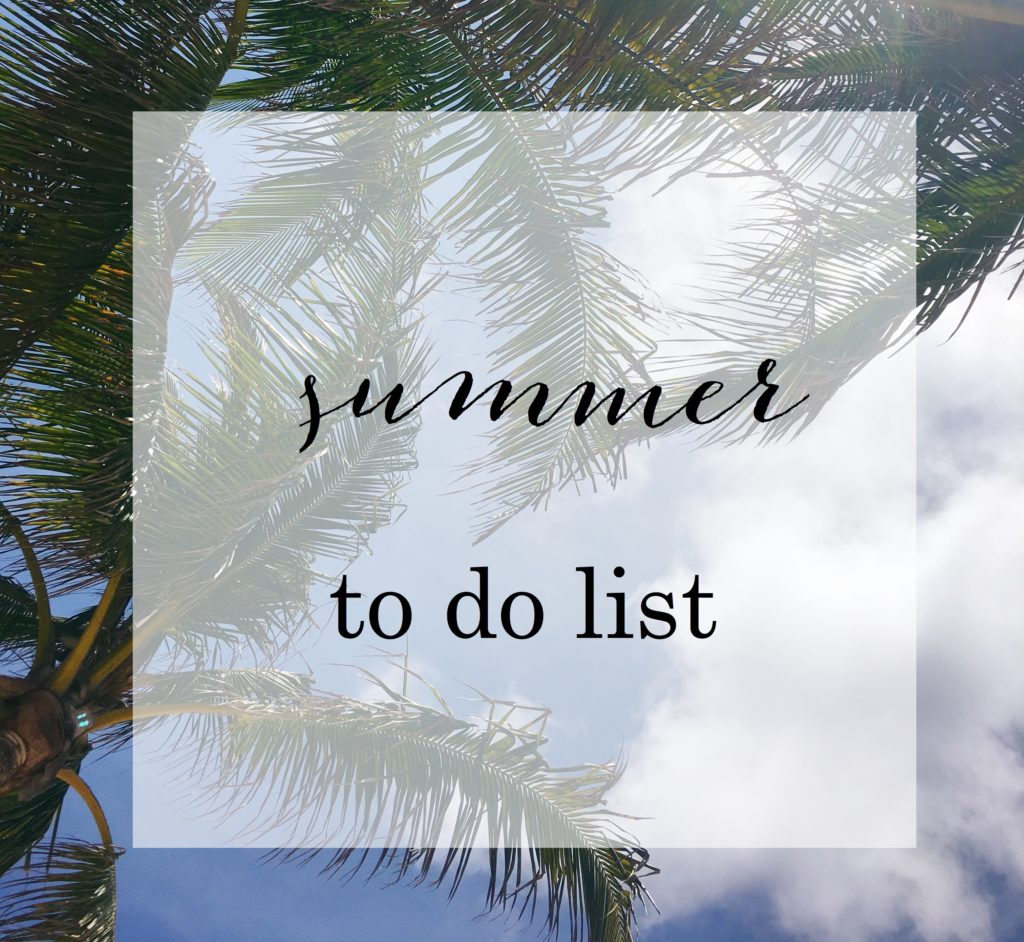 Last summer we had a ton of travel, and the summer before that we were super busy getting married and being in friends' weddings, too. I feel like we have a good chunk of time for ourselves this summer, so I already have a list of things I'd really like to accomplish:
Home projects. Probably number one on my list (and the biggest one) is to complete the home projects we've been talking about. We recently put on a new roof (check!). We have the tree work being finished soon (there was a massive crane in our yard today, which Sprout did not appreciate, and they have to come back to finish up the work), our new fence is coming in next month, and then we'll do the landscaping. I've never had a green thumb, but I'm determined to make our yard look nice for the summer months so we can sit outside and really enjoy it. I also want to put flower boxes on the shed in the backyard to make it a little more pretty! I'm excited to fix up the yard since we spend so much time out there in the summer, but there are sooo many projects to be done (and so much money to be spent). They aren't all big things like the new roof and redoing the fence: Some are smaller, like repainting the trim in a couple of rooms and repainting our front door, installing a new screen door… Oh, home ownership…
Go paddle boarding. I have said this for probably 4 years now and still haven't gone!
Plant a garden. We eat a lot of fresh veggies in the summertime, so I would love to be able to grow things in our yard that we can just throw on the grill or put in a salad. I'm thinking about doing tomatoes, squash, cucumbers, lettuce, and some herbs. But we also have a lot of wildlife in the neighborhood (right now we are pretty much overrun with bunnies) so I need to do some research about how to grow these things and not have the creatures eat them.
Head to the Cape! One of my favorite places to go in the summer months is Cape Cod. We actually had a house there when I was younger, and then after my parents sold it we still went every summer for at least a week. I'd also love to take T to Nantucket, an island off of the Cape that I have visited quite a few times – but he's never been! I just bought this dress and will definitely be packing it for that trip.
Plan a fall vacation. I mentioned that T and I want to go somewhere soon, but I would really love to plan a trip for October/November when the weather starts turning cold again.
What's on your summer list?