Last year I thought my 2 year old "got it" about Christmas, but this year I really think my 3 year old understands what's going on. She is able to help me wrap presents, put ornaments on the tree, and bake Christmas cookies! She even helped me hang up our stockings on the mantel. Unfortunately we're not yet past the "but I want that" stage when we're picking out gifts for others, but we'll get there 😉
I get really excited about putting out Santa gifts, but I get equally as excited about stocking stuffers. Stockings were the first thing we opened on Christmas morning as kids, and my sisters and I would get small things that were thrilling: stickers, a coloring book, a brand new box of crayons. I'm choosing this year's stocking stuffers so that they last longer. Meaning: I'm looking for stocking stuffers for 3-4 year olds, not just 3 year olds.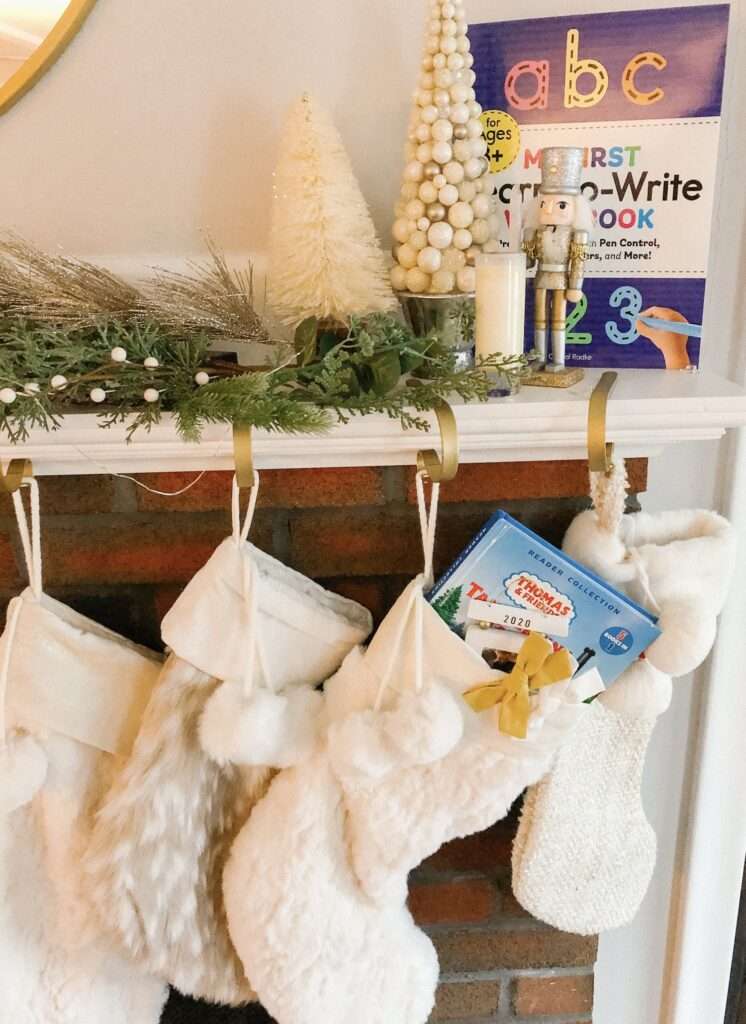 Here's what's on my list and some others that might be helpful for anyone else looking for stocking stuffers for 3-4 year olds!
What to put in your 3-4 year old's stocking
Stickers. We're going through a Thomas & Friends phase right now, but you can find stickers for pretty much everything.
Scavenger hunt game. This is such a cute set of cards that makes for a perfect rainy day game! (One of my best friends is getting this for her daughter and I totally stole the idea from her!)
Toothbrush and mini paste. My daughter LOVES to brush her teeth, but a toothbrush is a great stocking stuffer anyway. This year she will get a Thomas & Friends toothbrush and this princess toothbrush set too.
Princess "Lipstick" aka chapstick. She's always putting on my lipstick, so I'm sure these will be a hit.
Elsa hairbrush. This is my favorite brand of hairbrush, so for Valentine's Day I gave E one featuring Elsa & Anna. She loves having a brush just like mine!
Underwear. Yes, it's a practical gift. But it's also something I'm going to buy anyway and it takes up space! Hah. But for real, just pick a theme that they'll love and add it in!
Books. We read a LOT of books in our house, and now that we aren't going to the library every week, we'll put a couple of books in her stocking. This Little Blue Truck's Christmas book is a new favorite.
A new coloring book. E loves to color pretty much every day, so we go through coloring books pretty fast.
A preschool-readiness tracing book. We've had so much fun with this one already! It was supposed to be a gift, but we had a very rainy/cold day recently so I pulled it out early.
Hair bows! I found the best deal on a full set of bows- velvet bows for the winter months or linen bows for the summer months.
A foam craft kit. I stocked up on foam craft kits a few weeks ago, and we already have gone through 3 of them.
An ornament. Every year I buy an ornament related to something E is really into at the time. Last year's was a tractor to represent farms, and this year she picked out Thomas (from Thomas & Friends). It would be fun to include one in the stocking, too, so they could go put it on the tree! Don't forget to write their initials and the year on the bottom of the ornament! I also love to get photo frame ornaments and put a memory from the year in there!
A small pack of M&Ms. We don't encourage candy in the house, but Christmas is a special day worthy of a special treat!
Socks. Okay, sounds boring, but part of each morning is letting my little one decide what she's wearing that day. She might choose a top or a pair of pants and I pick something coordinating, but we have a bin of her socks and undies that she can choose from, and she takes great care in deciding which socks to wear each day! (Future fashionista, for sure) I'm going to add some more crew cut Minnie Mouse socks (these Minnie Mouse socks look so cozy and warm!) and some wool (warm) socks with grips into her stocking.
Most items above are on Amazon, so you can get them in time for Christmas even if you wait to buy until next week!