I keep hearing people talk about the Dyson hair dryer, but its $500 price tag has held me back. I almost bought it when it was 30% off recently. But then I did some research and found out that there's a much (MUCH) cheaper alternative. I was curious how well a $56 product could work compared to what I'm hearing about a $500 product, so I put it to the test! Here's my Revlon hair dryer review.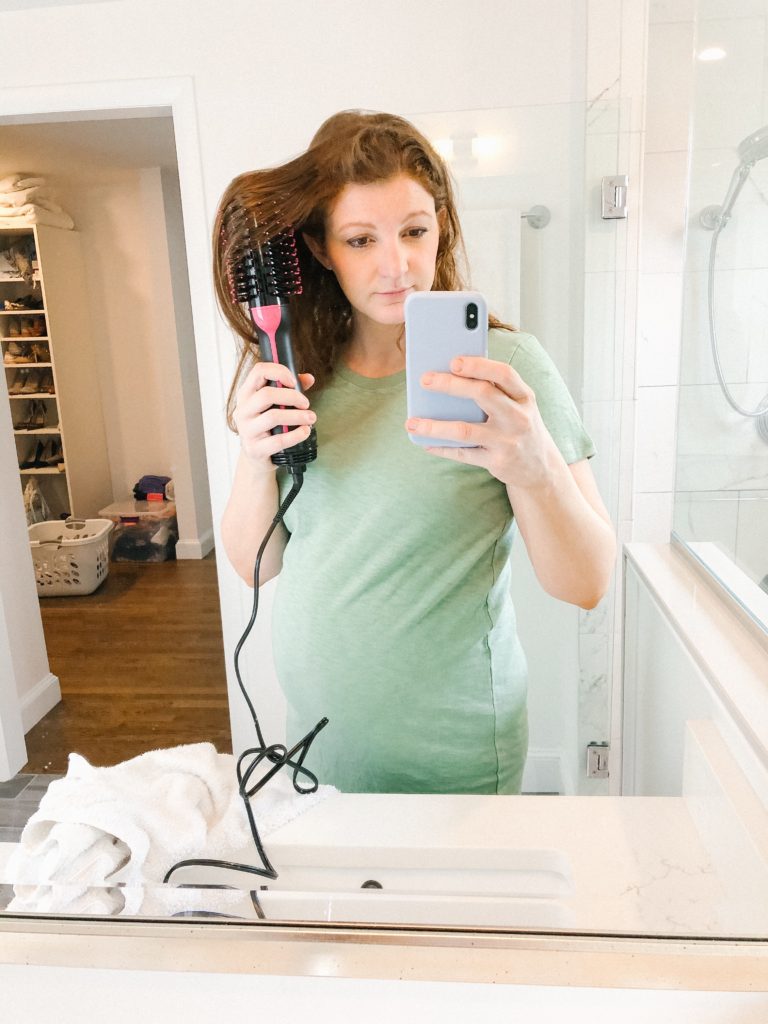 I've never been able to get a salon blowout at home. It's just too hard to handle a brush and a blow dryer at the same time! Normally when I want to straighten my naturally-curly hair, I blow dry with my hairdryer and a round brush, then follow up with a straightening iron on all of my hair.
With this new hairdryer brush, though, I'm able to blow dry and straighten my hair at the same time. It means I'm doing a LOT less damage to my hair heat-wise, which I'm happy about.
FYI: You can get the dryer at Target, Walmart, and on Amazon, too!
Pros
I'm really impressed with how smooth my hair came out. When I first tried this it was a quick blow dry, and it looked pretty close to a salon blowout!
There are 3 modes: low, high, and cool. I use the cool to blast my hair once I'm done drying, so I was glad this was included.
Obviously the price. At $56 vs $500, it's a fraction of the cost of the Dyson dryer.
After blowing out my hair, it felt so much smoother. My hair dresser has told me in the past that drying my hair upside down can rough up my hair (which makes it frizzier in bad weather). But a lot of times it's just faster that way. The Revlon dryer is quick, but it smooths your hair at the same time.
Cons
The dryer is only able to dry your hair/straighten it. There aren't any additional attachments, so there's no curling wand like the Dyson has.
It's louder than my normal hair dryer. That's not a huge problem for me, but it's worth mentioning!
If you need a smaller brush, you're out of luck. The dryer is just one size of a hair brush, so you don't have other options.
You might also like: My 2019 Commitment to Cruelty-Free Makeup + The Best Cruelty-Free Beauty Brands
Overall thoughts on the Revlon One-Step Hair Dryer
I love this thing. When I shared it on Instagram Stories, I got so many DMs from people who have had it for years or got it recently and recommended it, too. I also heard that it used to be only $35 or $40! Oh well. It makes drying my hair straight so much easier.
You can get the dryer at Target, Walmart, and on Amazon, too!