We had a three-day weekend because T took Friday off from work, but it still flew by just as fast!
The weather in Boston lately has been so, so strange. It's November 6 and still in the mid to high-60s! The temperature is supposed to drop this week, which I am actually hoping happens because I have SO many sweaters for the fall and winter but can't wear them yet. It was a little chilly on Saturday night, though, so we made use of our outdoor fire pit. Apple crisp and ice cream on a crisp fall night? Yes, please!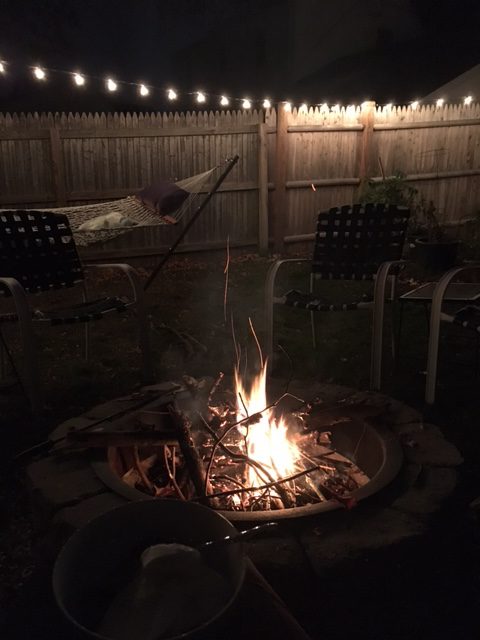 The rest of the weekend was busy – lots of family and friend time! – and one of the highlights was little miss E meeting my college roommates. From the four of us, there will be three babies added to the group in the next half year…  From our college bar to marriage and motherhood… Time flies!
Speaking of time flying, Sprout's SEVENTH birthday is coming up this winter. HOW did that happen?? I love celebrating this pup, because he's just the best. He is on the fast track to becoming E's best friend! He makes sure to follow her around the house, supervise when people are visiting and are holding her, etc. 🙂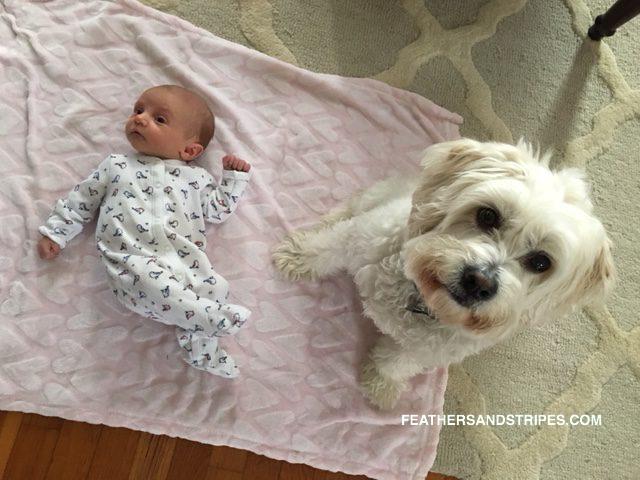 Being on maternity leave is awesome because I can spend all of my time with E, but it's also difficult because I'm not used to being at home all day everyday. E and I get out everyday, whether it's to take Sprout for a nice walk around the neighborhood or to go (early) Christmas shopping at the mall. Being on maternity leave means I'll hopefully have all of my Christmas shopping done really early this year! 😉
I'm kicking off my gift guides this week, and I'd love to know what other holiday content you'd like to see. If you fill out this short form telling me what you want to see, you'll be entered to win one of three Starbucks gift cards. Just make sure you leave your email address at the end of the form! Thank you in advance!