I was going to wait for a few more weeks before I put out this year's gift guides, but I realized that if I'm already shopping, you guys probably are, too!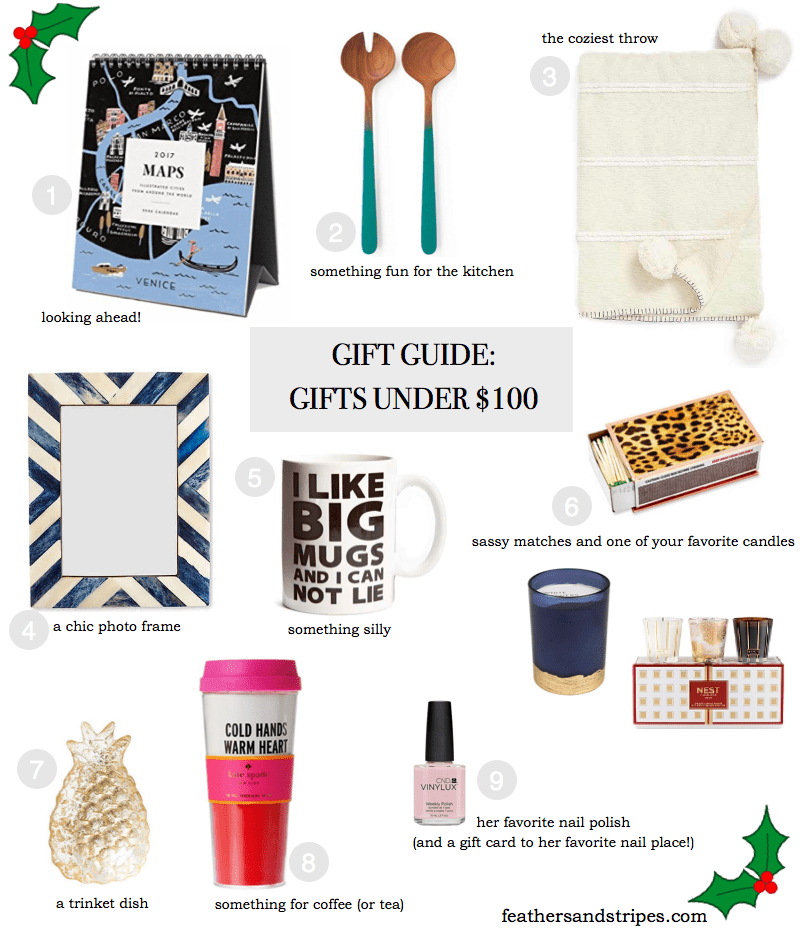 So today's gift guide is the first in the series, and it has 9 gifts for anyone on your list – and they're all under $100. These are perfect for everyone from your best friend or mom to your dog walker, mailman, or even kids' teachers!
This graphic (below) with the gifts is shoppable – so all you have to do is click on the item you're interested in, and it will go right to the site for that item!
1 / 2 / 3 / 4 / 5 / 6 (matches, blue candle – comes in other colors!, candle set) / 7 / 8 / 9
Shop the post:

I like to always have extra gifts on hand, because at the 11th hour I'm always running around saying that I bought this for my sister but should have gotten another because I'd really like to also give it to my mom. These 9 gifts are items you could really gift to anyone. They're perfect for your mother-in-law, your sister, your best friend, yourself… I kid, but really, most of the time don't we pick out gifts for someone because we really like the item and think the person will really like it too?
Some of the favorite gifts I've gotten are ones that make me think of the person long after the tree has been taken down and the snow has started to melt. Why not stuff a cute coffee mug (travel mug or a mug for home) with a gift card to Starbucks, or wrap up a really cozy throw blanket (the name of this one is "Feather Stripe" – so I think I need to get it!) with your favorite read of the year? And if you're giving to someone who loves to cook, some fun dip-dyed kitchen utensils, along with a few of your favorite recipes or a top-rated cookbook, would be the perfect gift.
I'm going to post (more than) a few gift guides, so start budgeting because the gifts this year are good.
In the meantime… What has been your favorite gift to give?