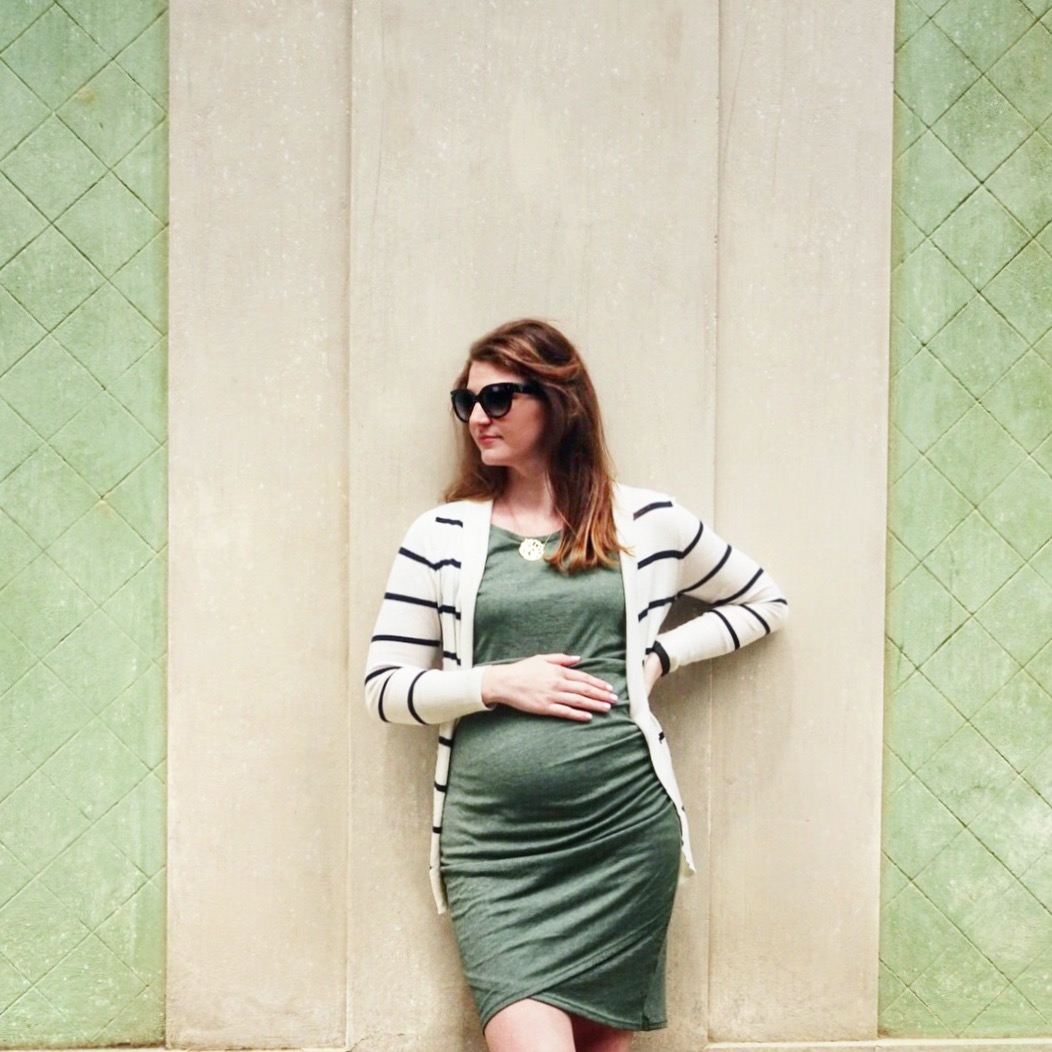 I can't believe we're already more than halfway through this pregnancy! I remember being 6 weeks pregnant and thinking "I'm going to be pregnant forever" about the 34 weeks ahead.
Then when I hit 10 weeks, I was SO excited to be in the double digits! Then my sister said to me "geez it takes a while doesn't it?" and I realized we were only 25% of the way there… but just kidding, because now, time is flying!
Bumpdate: 20 Weeks
How far along: 20 weeks!
Baby's size: About the size of a carrot. According to the app I have, that means about 10 inches long and weighs 3/4 of a pound.
Movement: All of a sudden when we were in Italy, I started feeling more and more movement by the day. It could have been the daily gelato I was eating?… I feel it most when I lie on my back! It feels almost like popcorn kernels popping in my stomach, which is a strange feeling but oddly comforting at the same time. I had thought that feeling movement would be totally creepy and something I wouldn't enjoy, but it's a nice reminder that our baby is growing! It's really fun to do ultrasounds, too, because we get to see our baby basically doing gymnastics.
Name: None yet!
Cravings/Aversions: Nothing surprising here. I've always had a sweet tooth, and that hasn't really gone away at all! I do find myself looking for fruit more and more, specifically raspberries, but otherwise I'm eating how I typically do. I still can't be around garlic or have it anywhere near my food. Pesto also creeps me out.
Most excited about: Starting on the nursery! I have an idea of what I'd like it to look like, and I know I want it to feel calming and serene. Now it's just finding the exact pieces I want.
Least excited about: Balancing the increasing doctor's appointments with the rest of my life/schedule. I'm only at the doctor once or twice a month, but it feels like a lot more when I'm trying to find the time during my work schedule. I don't know how people do it if they don't work in a flexible work environment!
Weight gain: A little over 10 pounds so far. The recommendation is somewhere between 25-40 pounds, so we are on track for a "normal" weight gain.
Exercise: Pilates is really the only exercise I have consistently kept up with over the years. When morning sickness hit early in pregnancy, it was hard enough to finish a full day of work, never mind also get to the gym and make it through an hour long class. That's when we started going on longer walks – getting up off the couch and walking actually made me feel a little better. (On our trip to Italy, we were walking about 5-7 miles a day. I wouldn't choose to walk that much on a normal basis!) We also make a point to go out for a short hike (up to 2 hours) over the weekend, especially if the weather is nice. I'm planning to keep up both the walking and the hiking, but I also need to add in some easy weight training. I've always had trouble with my arms, and that's one area I need to focus on!
Maternity clothes: Unfortunately, it hasn't been easy finding maternity clothes that are my style and fit well. I purchased a couple pairs of maternity denim, but I actually like wearing my old jeans and just adding a belly band over them. Belly bands are the greatest. invention. ever. Seriously. Just leave your regular jeans unbuttoned, slip one of these bad boys on, and call it a day. I also recently bought this dress and find it to be both flattering and comfortable. (I went up a size to accommodate my growing bump!) And I've had to go up a couple of sizes in bras, so even though they're not maternity, I'm still counting them.
Baby purchases: So far we haven't purchased anything for the nursery, which is stressing me out a little. My goal is to get at least the crib and dresser set up by the time we hit the late 20s (in weeks). Unfortunately, our travel schedule isn't allowing for a ton to happen just yet!
Gender Reveal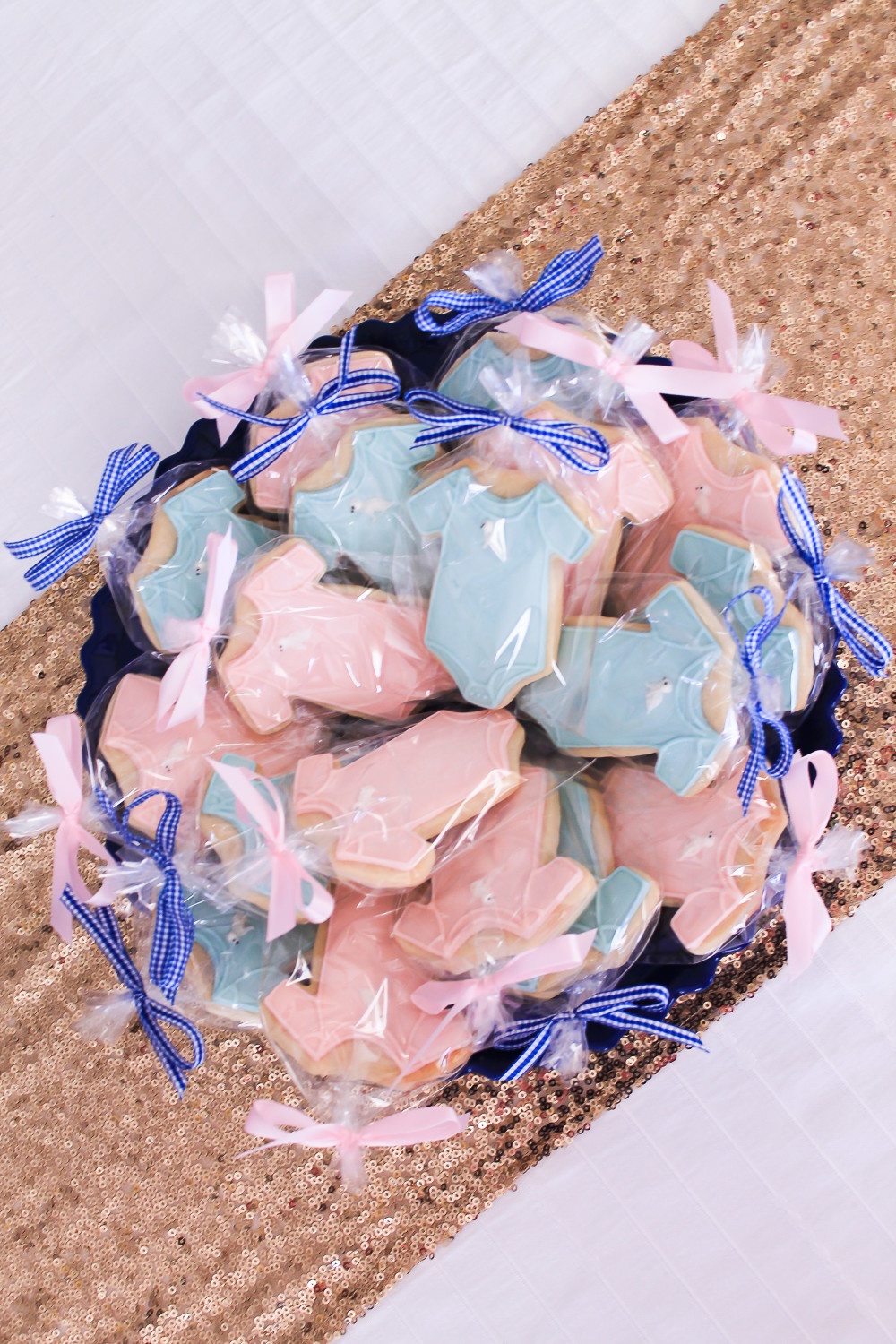 I'm so thrilled that my "mom instincts" were right, and we're having a baby girl!! Because this is the first baby on my side of the family and just the second on T's side, we hosted a little party to share with our family (and my 2 best friends, who are basically family!). I had delivered an envelope with the gender to our baker, who made us a cake with white frosting on the outside and pink frosting on the inside. When we cut into the cake, we found out that Baby T is a girl!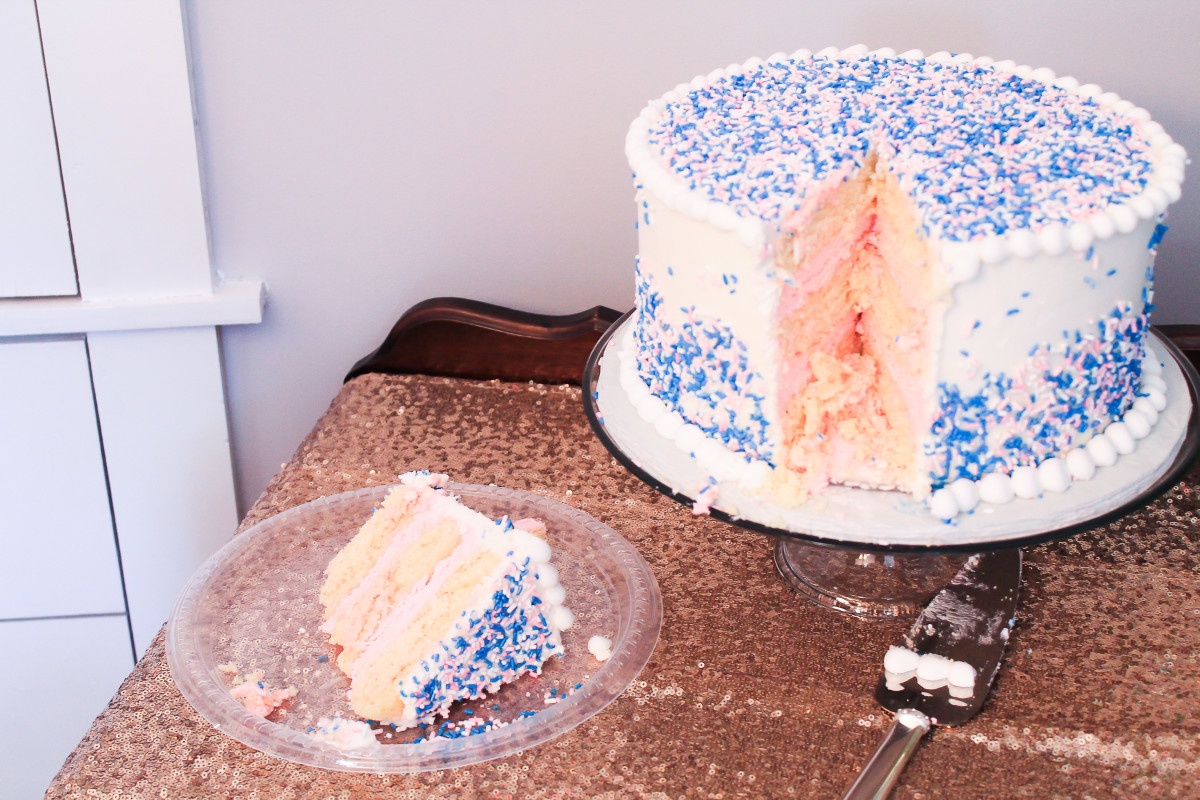 So moms… any advice on the next half of pregnancy?