We had an amazing trip to San Francisco and Monterey County a few weeks ago, and today I'm excited to share our travel diary from Monterey and Carmel.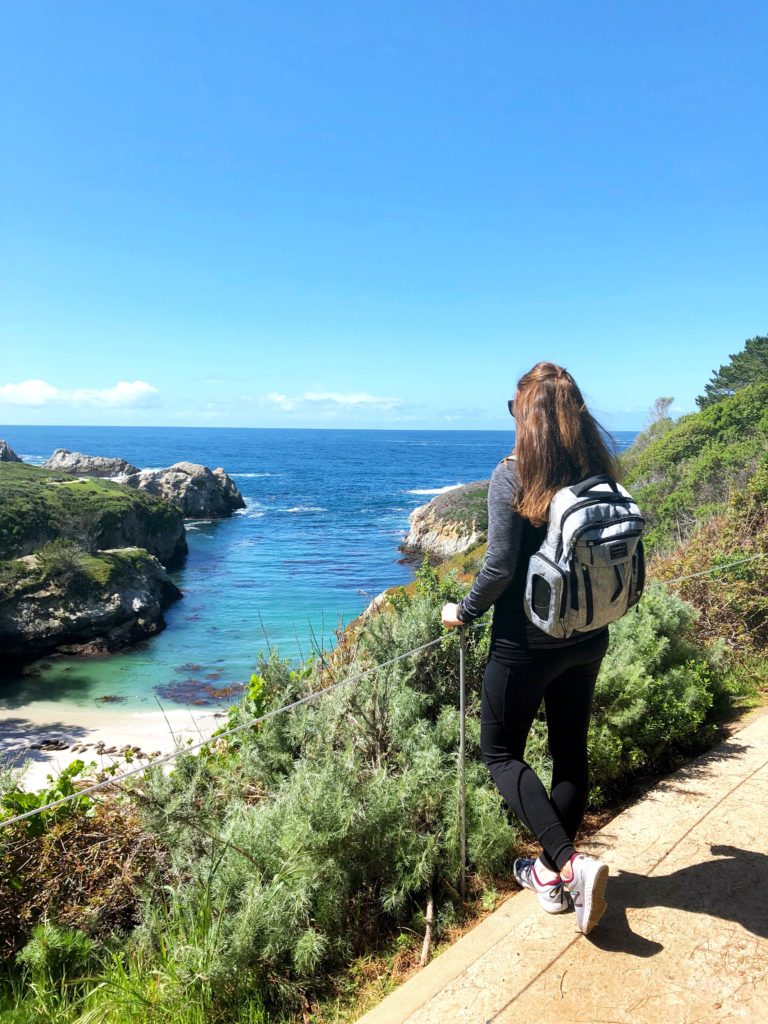 Monterey vs. Carmel
Monterey and Carmel are two very different areas. We decided to stay in Monterey, but I wish we had stayed in Carmel instead! Here's why:
Monterey: An old fishing/cannery town, and now a tourist attraction. Key attractions include Cannery Row and the Monterey Bay Aquarium. The hotels in Monterey are mostly larger hotels, though there are some inn-type hotels, too. Part of the town is on the ocean, but there are few areas where you can walk down to the water.
Carmel: An island-feeling town with a beach at the end of the road. (If you're a New Englander, Carmel might remind you of Nantucket!) Carmel has a lot of shops, restaurants, and coffee shops along its streets. The lodging in Carmel is primarily B&Bs and inns, smaller and more quaint than what is in Monterey. At the end of the main street in Carmel is a large beach with a small kids' play area.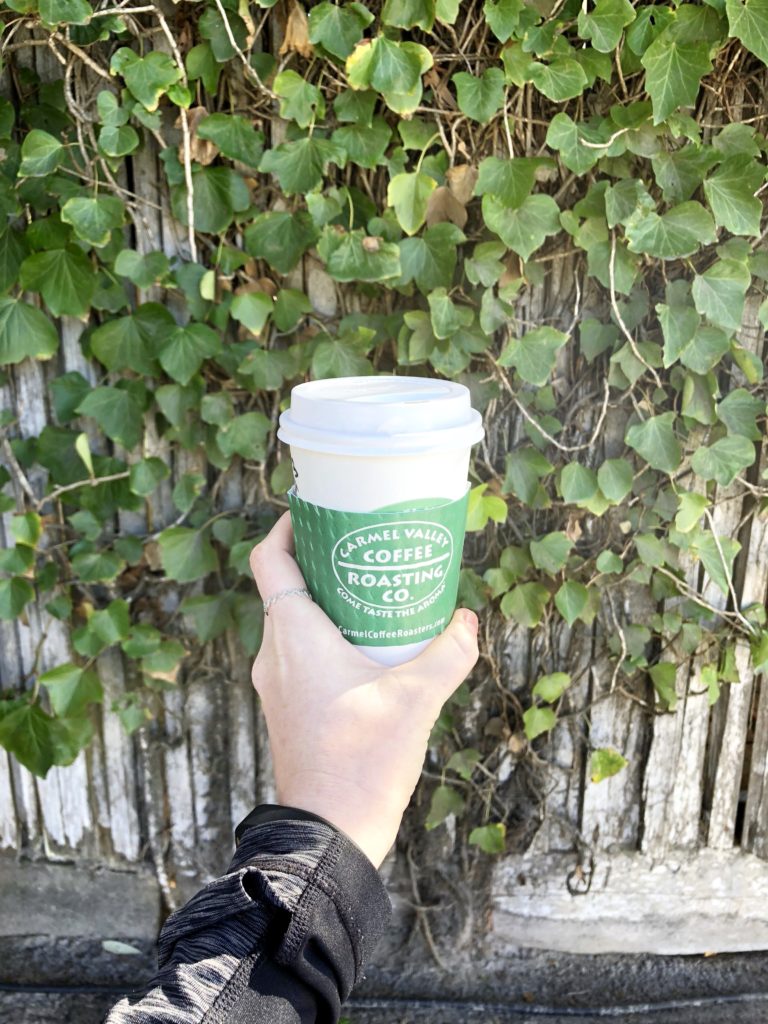 Hotel
For this trip I wanted to stay in Monterey because I didn't want to bring a baby to a small B&B (which is what you'll find in Carmel). We also didn't realize it until we got there, but we booked this trip right at the start of California's spring break (so there were tons of families in town).
We stayed in Monterey at the Best Western Plus Victorian Inn. Originally I wanted to be right on the water, but then I found out you can't just walk down to the beach from any of the hotels, so it didn't matter to me where we stayed. Typically when we travel, we are not in the hotel very much (unless, of course, we travel for a specific hotel). We are go-go-go travelers.
Pros
Walkable to restaurants, coffee shops, attractions (like the Monterey Aquarium), and a drugstore/pharmacy
Parking was super easy and fairly inexpensive at $15/night (I had looked at another hotel nearby where parking was $30/night)
Wifi was free for all guests with no limit on number of devices (it always annoys me when the hotel limits you to 2 devices but you want to use wifi on 3)
Small courtyard (we ate breakfast outside one morning because it was so nice out)
Cons
No restaurant on site, and the (free) breakfast left a lot to be desired
In a busy traffic area, and many rooms face onto the main street
Pet-friendly hotel (which might be a plus if you're traveling with your pet) with seemingly no rules… We had one very annoying experience where our neighbor left their dog (barking) for 2+ hours one evening. The walls are pretty thin at this hotel, so the barking actually woke up our baby, and I was not a happy mama. The front desk told us there was nothing they could do, so we got to listen to the dog bark until the people came back.
Where we would stay next time: I'd definitely look into staying in Carmel next time. When we walked by some of the B&Bs/inns, they were larger than I thought they were, so it's not like we would be in a house with just a few other guests.
How to get around
We had a rental car, which I would highly recommend for staying anywhere in the Monterey County area. Many of the main attractions are a short car ride away, but if you're going to Point Lobos, for example, you probably want to have a car where you can leave some items. Getting to Monterey County is about a 2 hour drive from the San Francisco airport, too, so that would be a pretty expensive cab ride.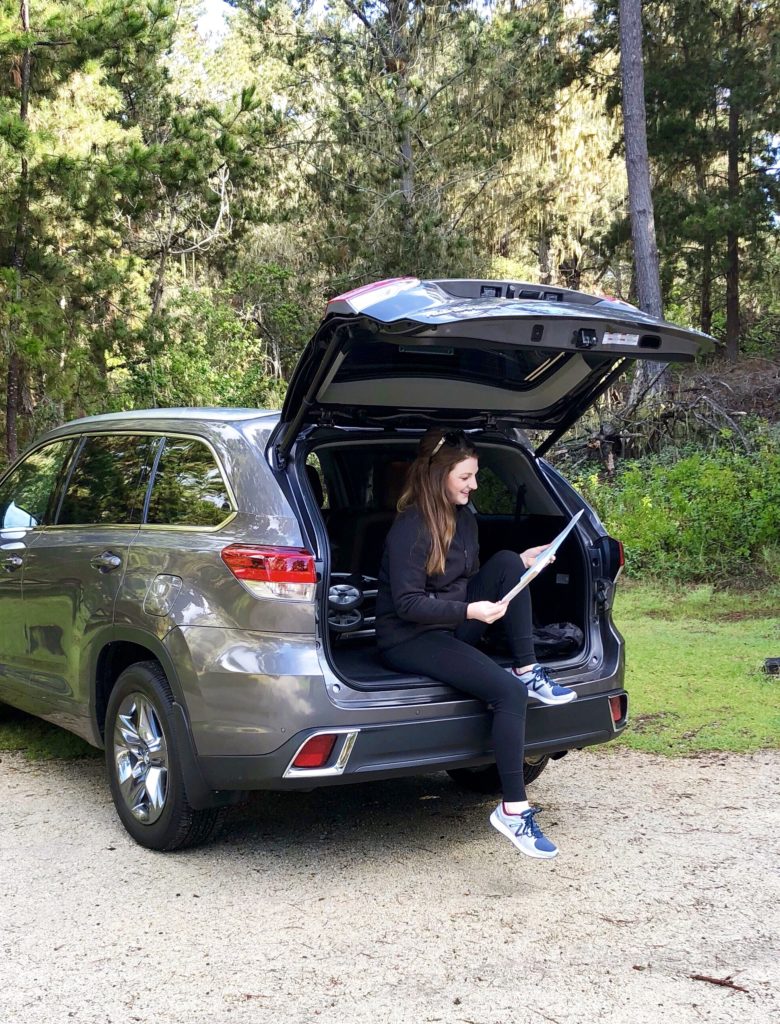 What we did
Monterey Bay Aquarium Everyone told us this was a must-do, so we did! The building itself is very well set up. There's a huge deck off the back where you can use viewfinders. We saw blue whales! In the wild! I also was extremely determined to see sea otters holding hands (like in the meme), but every sea otter I saw out in the wild was by itself. We've been to a few aquariums around the US, and this one is well done. Definitely worth a day if the weather is bad or if you have kids who would have fun with the touch tanks! We saw a few families outside with their packed lunches, which was so smart! The food you can get at the aquarium is exactly what you would expect: fries, burgers, sandwiches, etc.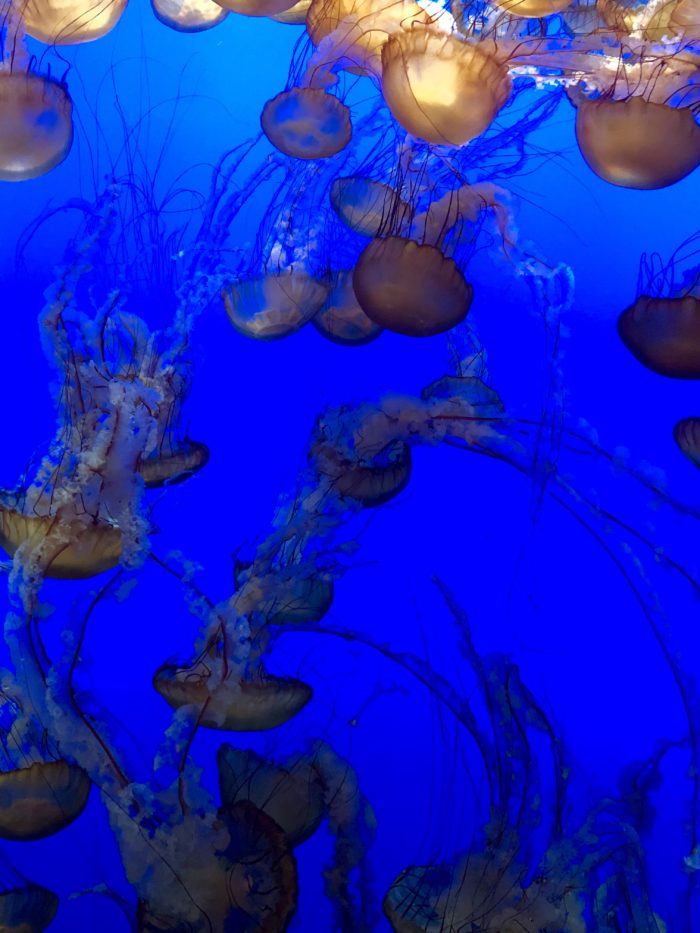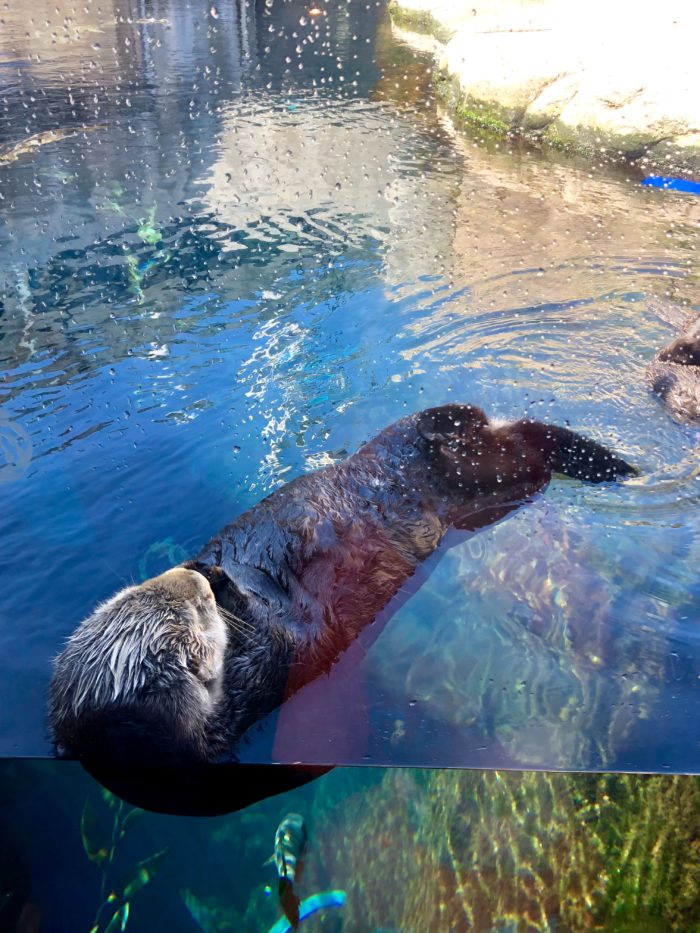 Cannery Row The other main attraction in Monterey was Cannery Row. I was honestly underwhelmed by this. I thought it was going to be this big cool exhibit, but it's just a bunch of stores and restaurants in an old cannery building. Still kind of cool, but there's a cannery exhibit in the aquarium too.
Walk from aquarium to Lovers Point Such a nice walk! I think we walked about 3 miles in total, but it was a pretty day and we weren't in a rush to get anywhere. We saw a big group of seals on a beach, which was definitely a highlight for me. They were in "pupping" season, so there were quite a few baby seals with them.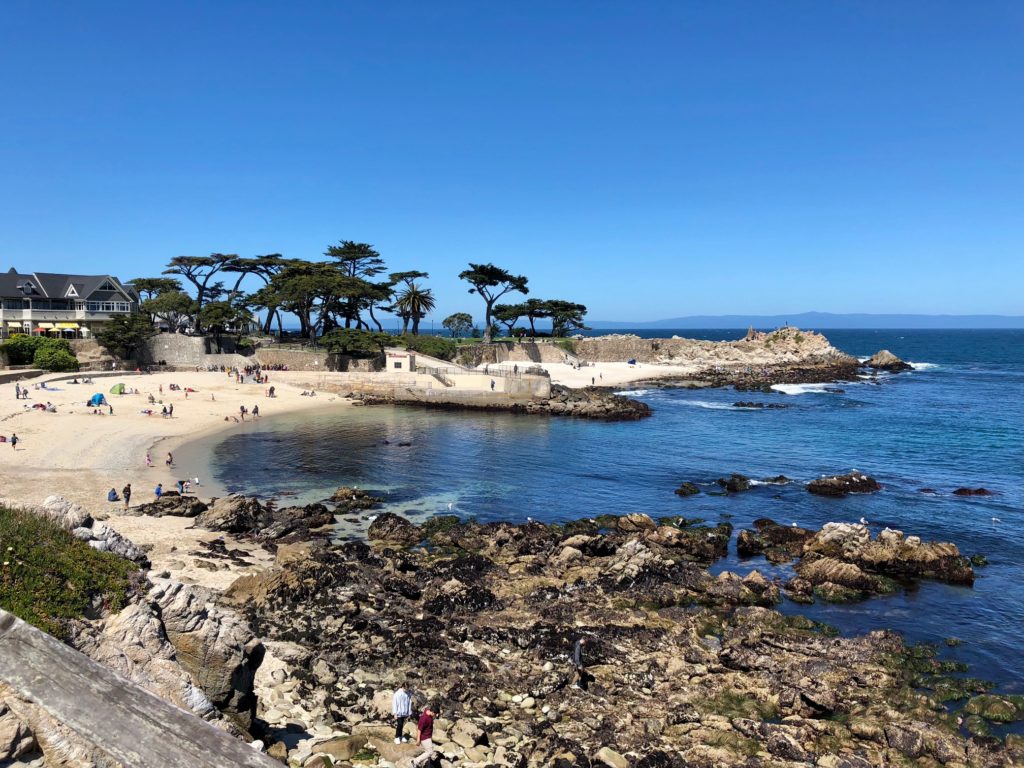 Drive 17 Mile Drive and stop at Pebble Beach We tried to do this for sunset, which I would not recommend with an infant when you're in a different time zone. However… it's a beautiful drive with many stops along the way where you will want to get out of the car and take photos. We made a quick stop at Pebble Beach, one of the most famous golf courses in the US. A few people recommended that we stop in Spanish Bay for a cocktail at sunset and to hear the bagpiper, but someone (looking at you, baby girl) was just too tired for us to be able to do that. (Note: It does cost $10 to enter the 17 Mile Drive, but if you spend money on food or golf they will reimburse you.)
Point Lobos We drove to Point Lobos for a couple of hikes. This is such a gorgeous place… The waves were huge, crashing against massive rocks. Along the trails were cypress trees (or "serengeti trees" as I like to call them). And the best part? The seals hanging out on one of the beaches! We did one of the guided docent walks, and we learned some interesting things about the area. (Note: There is a charge of $10 to enter the nature reserve, and you cannot bring non-service animals. You can park outside of the gates and walk in if the lots are full.)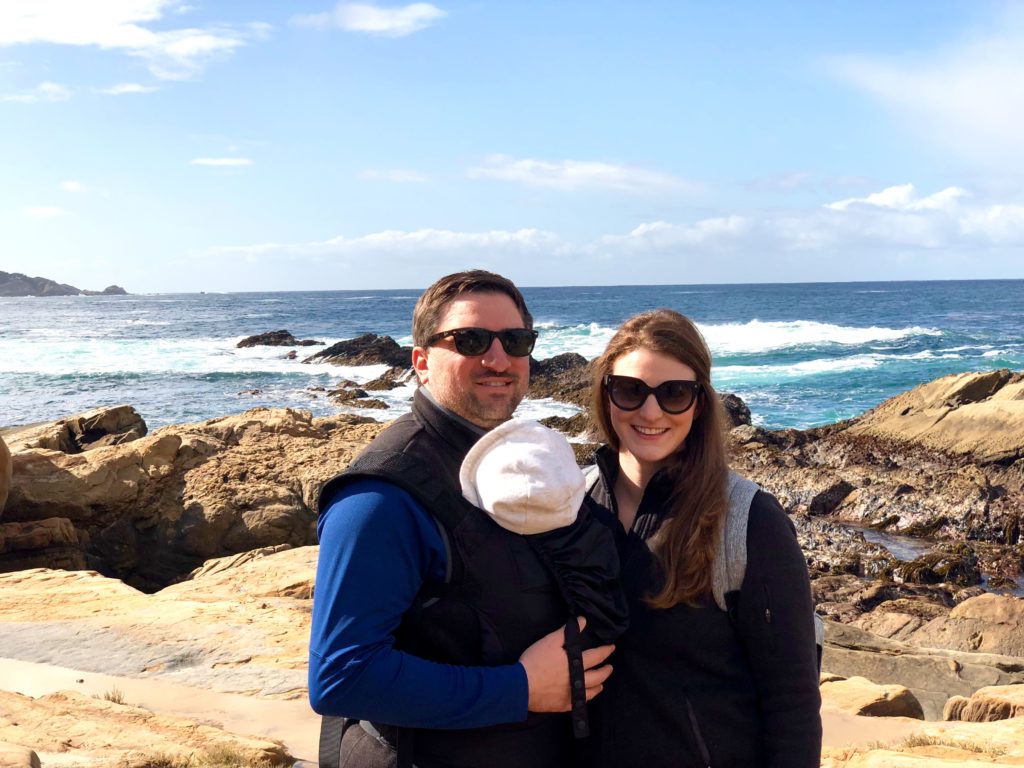 We used our baby carrier so much on this trip!
Where we ate
Carmel Valley Coffee (Carmel) for a quick latte
Basil Seasonal Dining (Carmel) farm-to-table food. I had a really good burger with yummy fries. They have a cute outdoor dining area that is nestled in away from the main road, and you almost feel like you're in wine country.
First Awakenings (Monterey) for breakfast. It is a standard diner-type of restaurant, though I loved that they had a little coffee cart for everyone waiting in line for a table.
La Bahia (Monterey) for dinner takeout. I was craving tacos, so one of the nights that we did takeout at the hotel, we ordered from here and T walked to pick it up. Simple but good!
Fun facts about Monterey
The city had California's first theater, public library, and newspaper
Monterey was a busy fishery until the 1950s (hence, Cannery Row)
The California sea otter ("threatened" subspecies) inhabits the Monterey Bay. There is a federally protected ocean area along the coast called the Monterey Bay National Marine Sanctuary.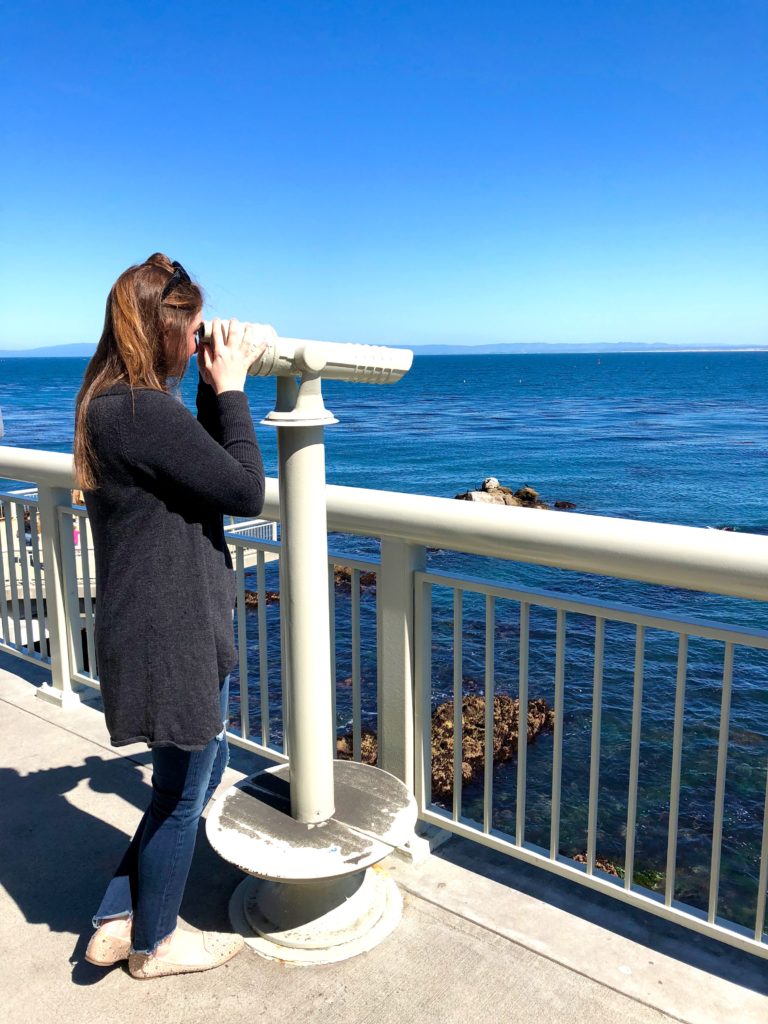 Where to see sea life
I love to see wildlife, so I was a big fan of checking out the sea lions, seals, and sea otters every chance we got. Two of the best places to see wildlife in Carmel and Monterey were both in Monterey.
Along the walk from the Monterey Bay Aquarium and Lovers Point is a beach where tons of seals were just hanging out. We were told that in March/April it's pupping season for the seals, which means that they're giving birth and/or weaning their babies. There are a lot of protective laws in California for the seals, so you can't get too close (and disturbing them is a crime).
Behind the Monterey Bay Aquarium we used the viewfinders to see sea otters floating around in the kelp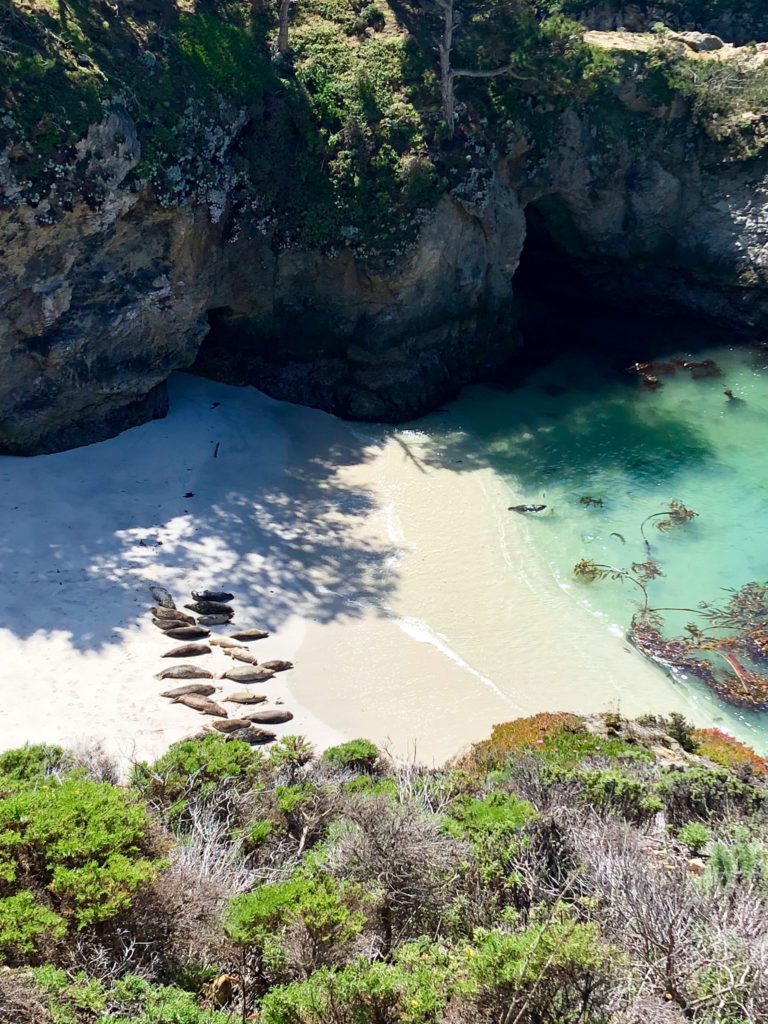 Are you going to Monterey County soon? Bookmark this post for the future!