This past weekend was my last trip down the aisle as maid of honor for one of my sisters.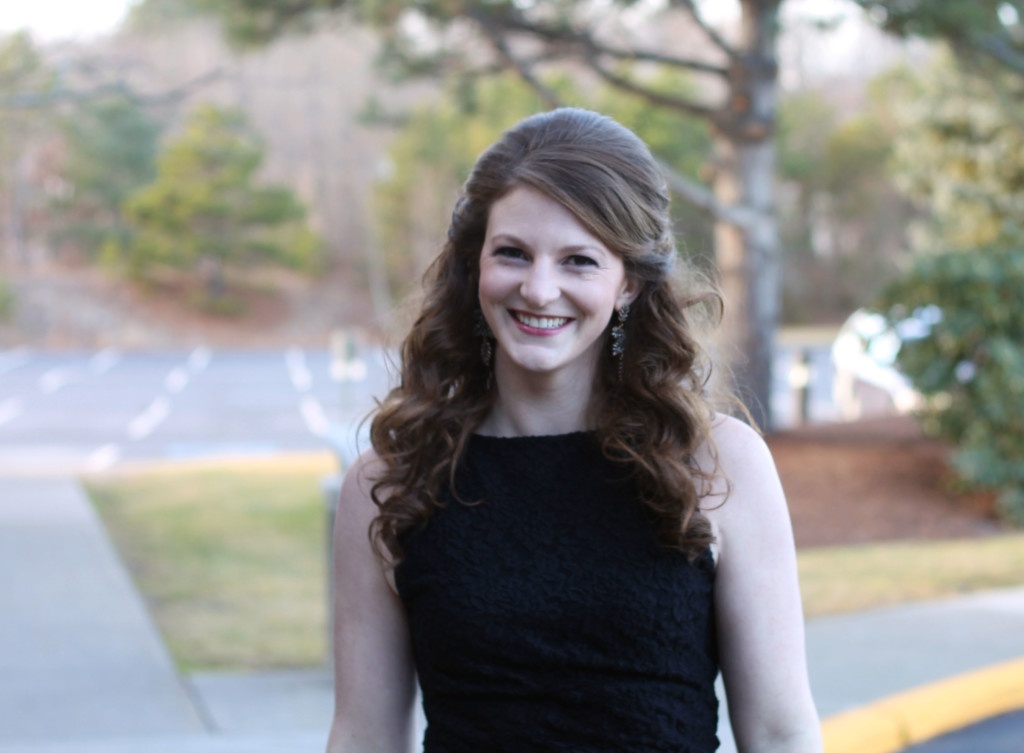 The sister for whom I was in Mexico just a little over a month ago had a second wedding back home on Saturday because quite a few extended family members couldn't make the first trip. She and her now husband got married in the church we grew up in, where my grandparents and parents (yep, both of them!) were baptized. It was such a special day to be back there, and I think we all got a little emotional at points during the day.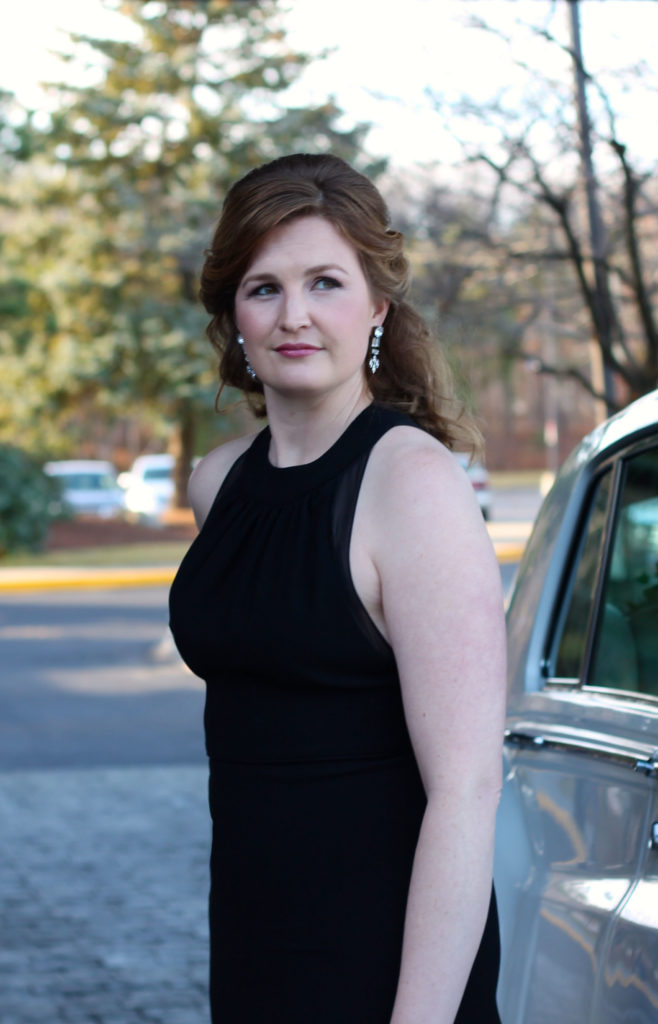 Isn't my sister Brittany a beauty?!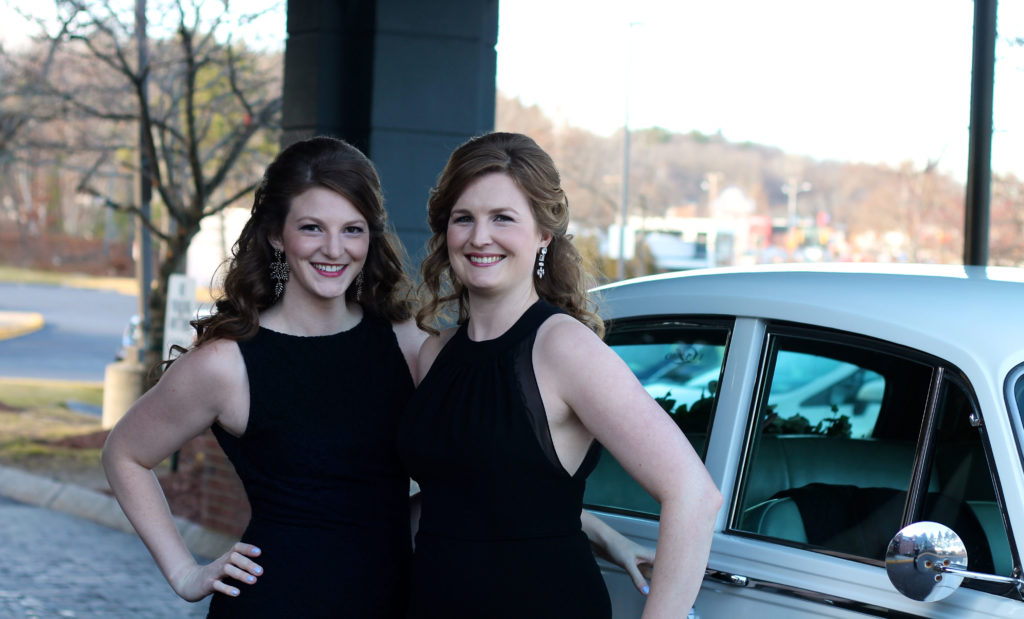 Alyssa's dress c/o Best Dressed (Alice + Olivia, similar here, here, and here), earrings (similar here and here); Brittany's dress c/o Best Dressed (Jill by Jill Stuart, similar here), earrings c/o Best Dressed (J.Crew, similar here and here)
For the wedding in Mexico, my sister had a very clear vision of what she wanted, so us matrons (ugh, that word!) of honor wore white dresses. For this time around, she trusted us to pick out our own dresses but suggested that we go with long gowns. We knew that she was planning the reception to be very Christmasy, with lots of white lights, big fake trees, and (because why not) a fake snow machine. Brittany and I were both feeling like we've bought about 9,000 dresses in the past couple of years and wanted to try something different (rather than buying one more dress to hang in the closet), so I contacted the ladies at Best Dressed, a new dress rental shop in Charlestown, just outside of Boston. Nikoleta, one of the owners, was so kind to let us come in on a Sunday afternoon and help us pick out what we would wear to the wedding. We tried on a bunch of dresses, finding two in navy and two in black that we really liked. The two dresses I picked out for myself were almost identical silhouettes (one had a cap sleeve and one didn't – I know, I'm an animal), so I let Brittany decide which she liked better for herself and then matched hers. We ended up going with the black bridesmaid dresses, which was a little bit of a surprise because neither of us wears black that often!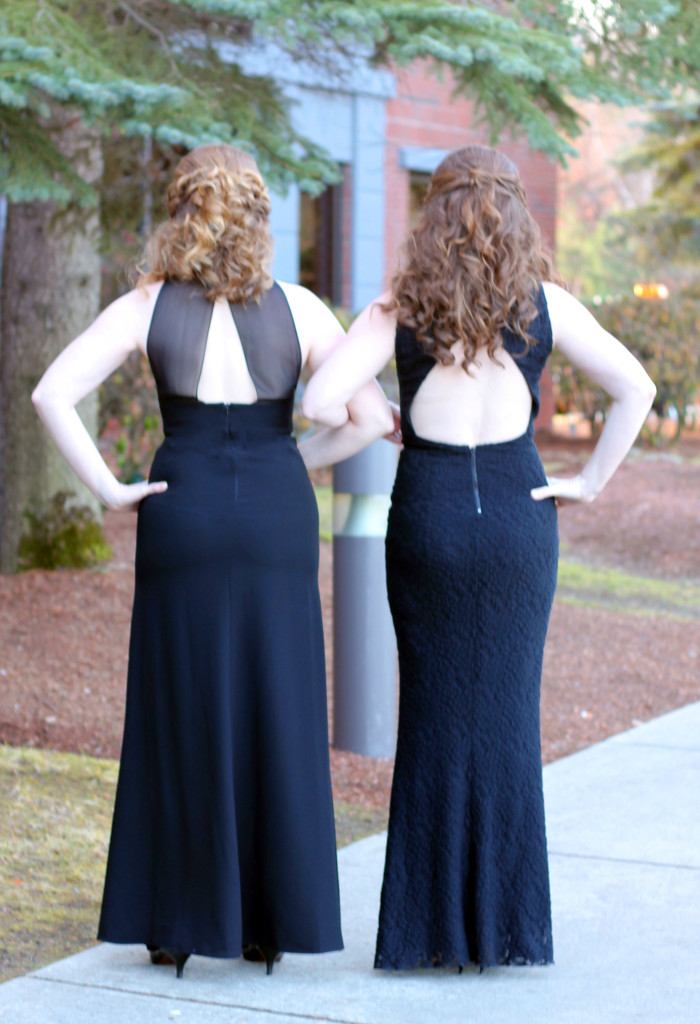 Then we ran around the shop like nuts, and I went home with three new pairs of earrings (oops) and a bracelet that I not-so-secretly purchased for Brittany for Christmas because she kept picking it up and asking if I thought it was pretty (clearly, she did). Brittany decided to also rent earrings to go with her dress and picked pretty dangly J.Crew earrings.
On Saturday I was so thrilled with how everything came together. Our husbands were all in tuxes and we were in our black bridesmaid dresses (with Amanda in her white), and I was pleasantly surprised at how gorgeous everything looked. I normally shy away from black because of how light-skinned I am, but after seeing these photos, I may be adding more black to my closet! (Um also, I want to steal the man who did our hair and make him come live with me because I am obsessed with how my hair came out.) Don't hate me, but I'm probably going to be posting images from Saturday on Instagram for a few weeks to come.
To be honest, I've tried dress rentals before and was skeptical that it could be as amazing as people kept telling me it was. But after this past weekend, I think I'm going to be a dress rental convert! If you live in Boston or are just visiting for a special event, definitely visit Best Dressed!